NHE targets String of Pearls in East African Rift System
Disclosure: S3 Consortium Pty Ltd (the Company) and Associated Entities own 4,166,307 NHE shares and 2,437,037 options, and the Company's staff own 54,339 NHE shares and 2,000 NHE options at the time of publishing this article. The Company has been engaged by NHE to share our commentary on the progress of our Investment in NHE over time.
Our Investment Noble Helium (ASX:NHE) is gearing up to drill two high impact helium exploration wells in Tanzania next quarter.
Yesterday, NHE suggested the farm-in agreement to fund the entire drilling costs (up to US$20M) should be finished by the end of this month (in 8 days...).
NHE also expects to be paid back 50% of the project expenses to date, another ~US$5M in the NHE coffers once the farm-out is signed.
We look forward to finding out the identity of this mystery preferred bidder, and the removal of pre-drill funding risk which will hopefully be the trigger to start the pre-drill share price run we are waiting for.
NHE's drill targets have a combined 16.5BCF helium potential.
For context on the size of this prize - some "back of the napkin" calcs arrive at a US$7.5BN in ground value, based on 16.5Bcf recoverable helium multiplied by the long term helium contract price of US$450 per mcf.
That US$7.5BN represents <10% of NHE's total unrisked prospective resource which sits at ~175.5 Bcf.
We are hoping that NHE's exploration can follow on from some of the most successful exploration in Africa, including Hardman Resources.
Back in 2006, the CEO of NHE, Justyn Wood, was working as an exploration geophysicist at Hardman Resources.
Most small cap investors over the age of 30 will remember Hardman as one of the great small cap success stories of the 2000's.
Justyn was the technical geophysicist at the time, designing the first seismic survey and exploration program over Hardman's East African Rift System project area in Uganda.
Hardman went from 2 cents to $2, pushed along by the first oil discovery in the East African Rift System (EARS) and eventually bought out by 50% JV partner Tullow Oil in 2007 for ~AU$1.5 billion.
14 years later, Justyn is looking to repeat this success with NHE through a helium discovery in the East African Rift System in Tanzania.
After months of seismic and target generation work, NHE's first drill campaign is just a few months away.
We have been Invested for over two years (at pre-IPO) and followed NHE as it listed on the ASX in 2022 and progressed towards its first drill campaign anticipated for next quarter.
Justyn's Hardman discovery in 2006 was in the East African Rift System and made famous the "string of pearls" concept.
The string of pearls analogy is a concept in oil and gas exploration where one discovery on a target (a "pearl") in the "string" implies a high chance of success on all other targets in the "string".
A little bit of background on the East African Rift System.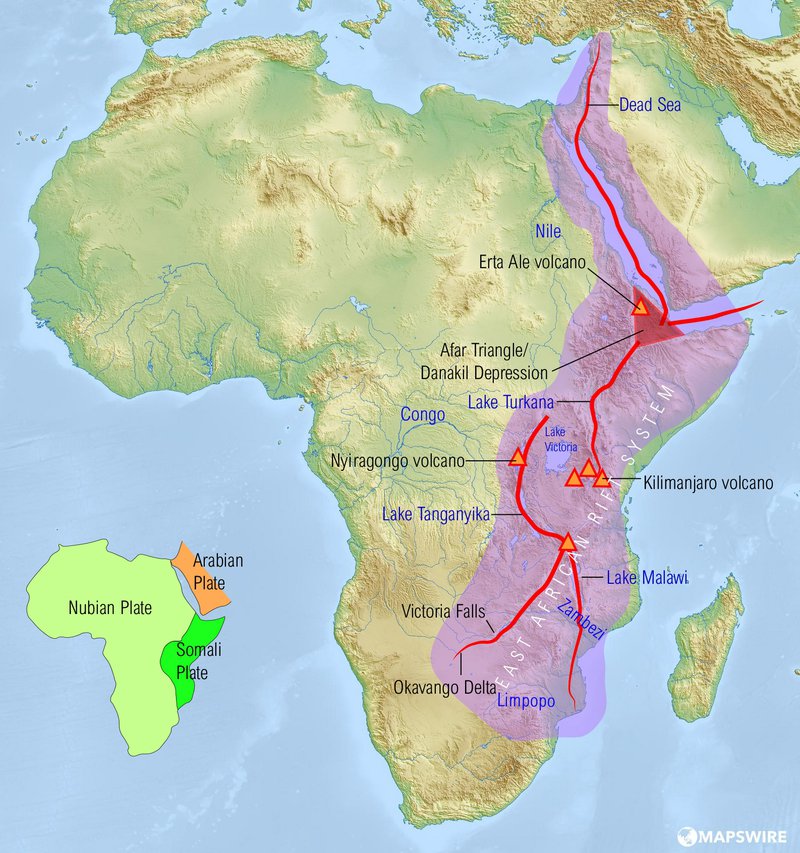 Hardman only had a small land holding in the EARS when they made their first "string of pearls" discovery...
Hardman's first discovery triggered a land grab on all EARS oil exploration permits with similar structural characteristics.
Hardman had left potentially billions of $ on the table by NOT securing all the best, similar land BEFORE testing (and proving) their EARS "string of pearls" hypothesis.
The companies that swooped in and took all the other EARS permits included Tullow Oil, Heritage Oil and Africa Oil Corp.
We invested in Africa Oil Corp around the time they started scooping up all the other "string of pearls" plays in the northern part of the East African Rift System (sorry Hardman, you snooze you lose).
Africa Oil ended up being our best investment of that particular decade after they made a discovery on their first drill (share price rose from ~$1.50 to over $11) - so naturally we are very keen on the "string of pearls" concept in the East African Rift System.
Fast forward to 2023, NHE isn't making the same mistake with their East African Rift system "string of pearls" hypothesis on helium.
NHE has made sure that this time it holds all of the prospective land across Tanzania's North Rukwa Basin in anticipation that its hypothesis is correct.
Prior to testing its hypothesis that the EARS contains helium in a "string of pearls", NHE has secured all the most prospective land just in case they make a discovery and prove the hypothesis.
This is to get ahead of a similar land grab that happened over 10 years ago post the Hardman discovery
NHE has the permits to ALL the best land in the system: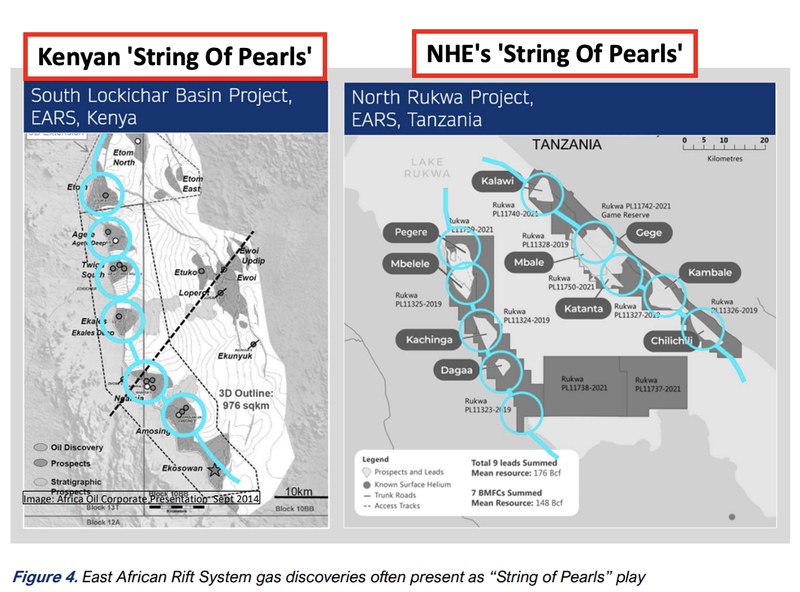 Now all we have to do is wait for the first drill in a few months time, and hopefully NHE delivers a commercial helium discovery and proves its EARS helium hypothesis.
If NHE can deliver this first discovery, all the other prospective land they have secured should suddenly become way more valuable under the "string of pearls" model where a successful drill result implies a higher chance of success on all other similar rift basin margin fault targets.
Now we wait for the first drill...
Rig to get to site in September
NHE is set to drill its two wells next quarter and expects the drill rig to be on site in September.
In the meantime for NHE it is all about locking down its farm-out partner and firm up the financing for the drill program.
A farm-out partner is where another company agrees to fund exploration costs in exchange for a slice of the project in question.
NHE is aiming to have that process done by the end of May, which is just 8 days away.
The key terms of the farm-out agreement based on the current non binding Heads of Agreement (HOA) is as follows:
Farm-out partner pays 100% of drill costs (capped at US$20M).
Farm-out partner reimburses NHE for 50% of the costs incurred to date (~US$5M).
In return the farm-out partner gets a 50% interest in NHE's North Rukwa licences AFTER the drill program is completed.
Note: This is on just SOME of the licences, not all of them. NHE is retaining 100% ownership on its other permits in Tanzania.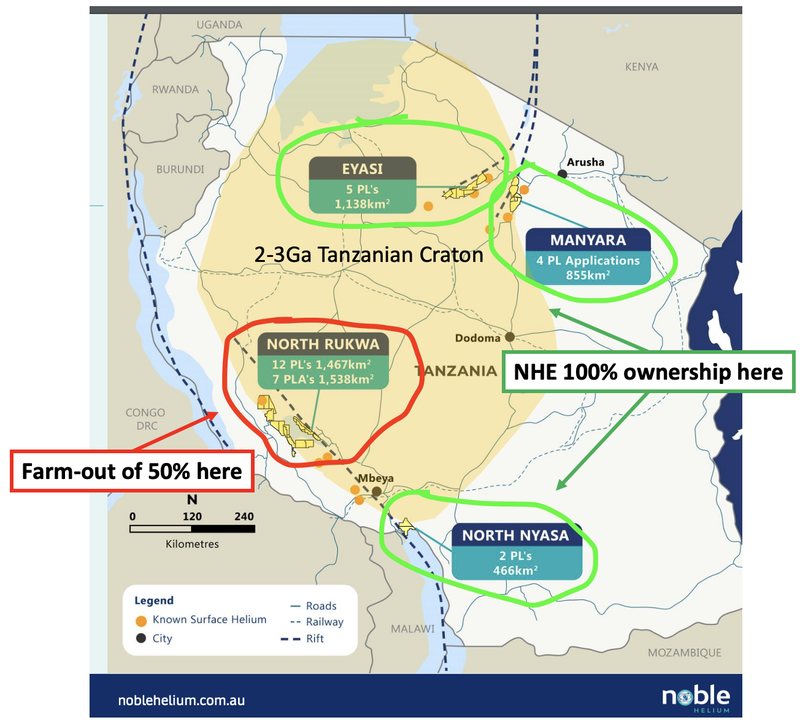 The counterparty to the deal is Prime Energy which is acting as a nominee for "a member of its client group" - this means that the interested parties are being represented by Prime.
Interestingly, Prime Energy's client base includes companies that have been involved in East African Rift System plays before including Africa Oil Corp and Tullow.
Ultimately, interest from majors like these companies forms the basis for our NHE 'Big Bet' which is as follows:
Our 'Big Bet'
"NHE discovers the world's largest helium reserve held by a single company and is strategically acquired by a major company OR a state owned enterprise to secure supply (USA, China, Qatar)."
NOTE: our "Big Bet" is what we HOPE the ultimate success scenario looks like for this particular Investment over the long term (3+ years). There is a lot of work to be done and many risks involved - some of which we list in our NHE Investment Memo. Success will require a significant amount of luck. There is no guarantee that our Big Bet will ever come true.
To monitor NHE's progress since we first Invested and to track how the company is doing relative to our "Big Bet", we maintain the following NHE "Progress Tracker":
Click to see our NHE Progress Tracker here: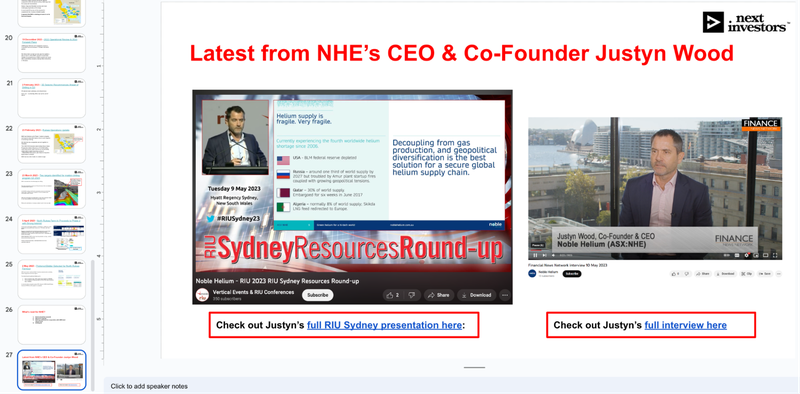 How NHE fits into the greatest "rift" discovery in African history
NHE's CEO and co-founder has been there and done it all before.
He was the exploration geophysicist and Key Project Proponent for (previously ASX listed) oil and gas junior Hardman Resources.
Justyn designed and interpreted the first ever seismic survey over Lake Albert in Uganda, designed a two well drill program and led the Hardman team to the company's first two wells in the basin back in 2006.
In 2006 one of Hardman's wells flowed ~12,000 barrels of oil per day from 3 zones and was effectively the play opener across the entire East African Rift System (EARS).
But the EARS story started a long time before that...
Hardman held ground in Uganda back in 1997 but eventually relinquished its ground in 1999 due to low oil prices.
On the 8th of October 2001 Hardman signed a Production Sharing Agreement ("PSA") with the Government of Uganda for a ~4,700sqkm block in the northern part of Lake Albert in north-western Uganda.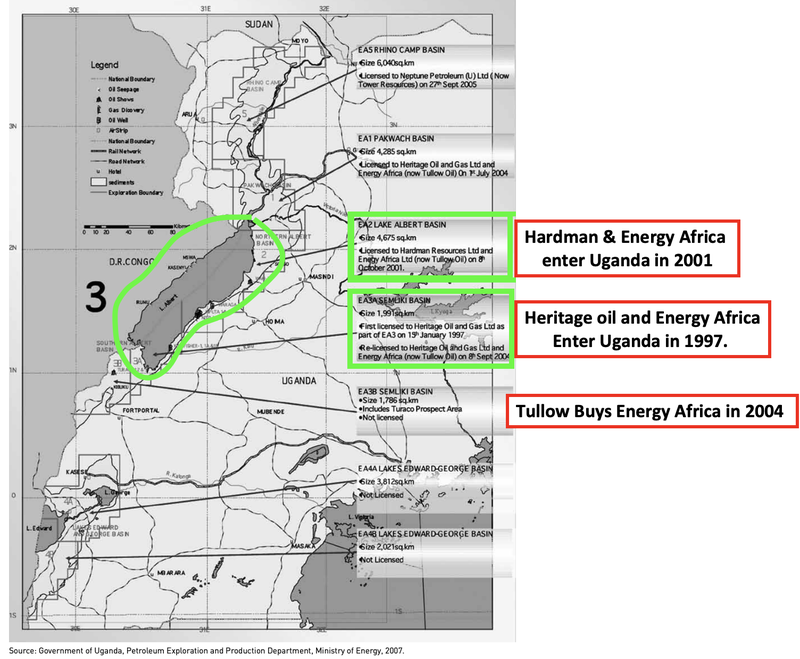 Hardman was 50-50 joint ventures on the block with Energy Africa.
Energy Africa had already moved into the basin ahead of Hardman and was the 50% partner with another company (Heritage Oil and Gas) in the southern part of the Lake Albert area.
At the time only one well had been drilled across the Lake Albert area - a well by Shell in 1938 which returned oil shows.
Hardman's work in Uganda started with 2D seismic surveys and as the merits of the project became clearer (well before any drilling was done) Tullow swooped in and bought Energy Africa for $500M.
Just like that after spending a few billion dollars Tullow became the main player in the EARS system in Uganda.

In 2006 Hardman drilled its first two wells and made its discovery.
Six months after Hardman's play opening discovery Tullow acquired the junior for ~$1.47Bn.

Fast forward to now, more than 6 billion barrels (2C) have been discovered to date in the East African Rift System.
The exploration success rate across the EARS was ~80%.
Nearly 40 exploration wells proved more than 4 billion barrels of oil and gas in two EARS basins - the Albertine Graben Uganda and South Lokichar Basin, Kenya.
Of the 40 wells drilled ~14 were drilled across Basin Margin targets with a 100% discovery rate - the 14 wells were part of a "string of pearls" system which resulted in a string of discoveries.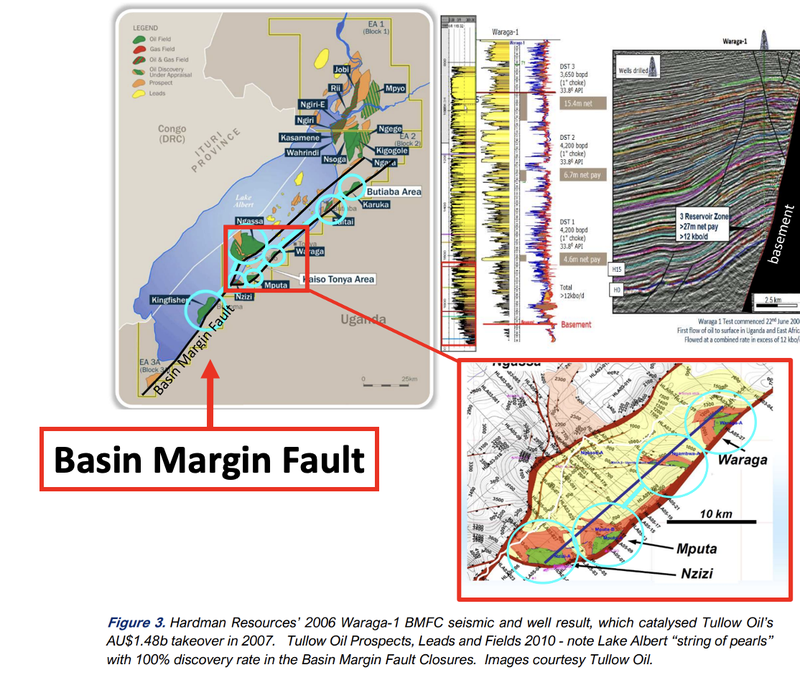 NHE's helium project sits inside the EARS but is also sitting on the Basin Margin.
Essentially, NHE has its own "String of Pearls" which hosts ~138Bcf of its project's total 175.5Bcf unrisked prospective resource.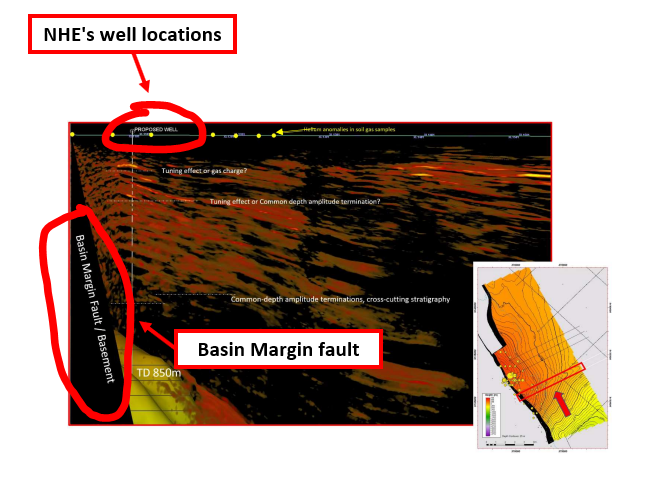 Both of NHE's first two wells (Mbelele-1 and Pegere-1) are basin margin targets.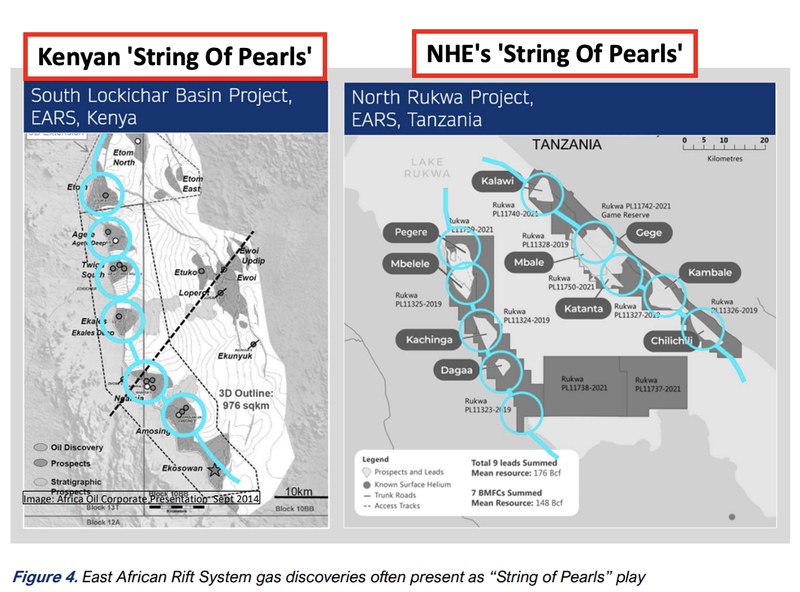 Ultimately we are hoping NHE's drill program acts as the play opener for NHE's own string of helium pearls.
If NHE is successful, just like Hardman became a takeover target from a major producer, we expect NHE to become the prime takeover exposure for any of the majors around the world looking for helium exposure.
Managing Directors latest take on the upcoming drill program
With drilling set to start next quarter, NHE's CEO and co-founder Justyn Wood has been busy getting the story out into the market over the last few weeks.
We caught up with the NHE board in Sydney where Justyn presented to investors at RIU Sydney.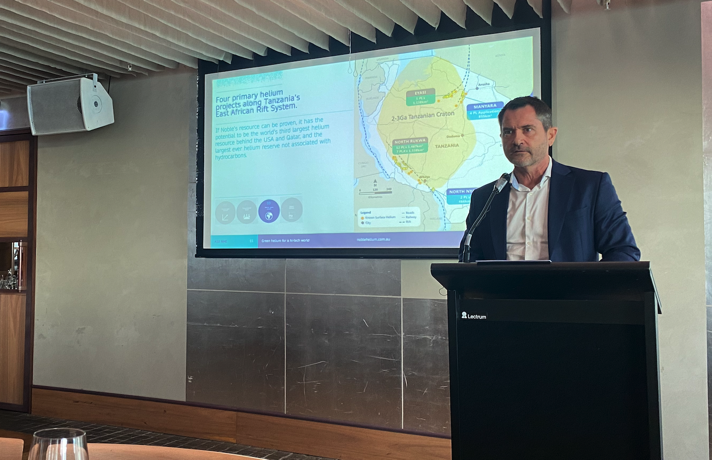 For those who haven't seen it yet here is an interview with Justyn & the recording of the RIU Sydney presentation.
Check out Justyn's full interview here:
Check out Justyn's full RIU Sydney presentation here:
What's next for NHE?
Farmout partner secured 🔄
NHE recently announced that it had signed a non-binding Heads of Agreement (HOA) to fully fund its two-well drill program in Q3.
The deal (if/when it is signed) will see NHE free carried for up to US$20M in drilling costs AND reimbursed ~50% of the costs incurred on the project to date (~US$5M).
In return the farm-out partner gets a 50% interest in NHE's North Rukwa licences after the drill program is completed.
Note that this is on just SOME of the licences, not all of them. NHE is retaining 100% ownership on its other permits in Tanzania.
NHE confirmed today that the deal is expected to be completed by the end of this month.
Rig contract and mobilisation 🔄
NHE is currently looking to secure its rig under a cooperation agreement with its Tanzanian helium neighbour, Helium One.
NHE signed a Letter of Intent (LOI) with a drilling company called Sanofi for a rig.
Just yesterday NHE confirmed that its selected drill rig (Sofori's Drillmec HH102 rig) is currently undergoing maintenance and upgrades in Tunisia.
NHE expects the rig to be mobilised in Tanzania in August, NHE's neighbour Helium One will drill first before the rig moves on site to NHE's drilling locations.
NHE expects the first well at its project to be drilled in September and the second in October.
NHE confirmed that the final drilling locations had been finalised and all agreements are in place to start building the well pads.
⚠️The Big One: Drilling ⚠️ 🔄
NHE expects to be drilling two wells next quarter.
Across the two wells NHE will be targeting a ~16.5 bcf (billion cubic feet) unrisked mean recoverable helium volume.
The two targets represent <10% of NHE's overall resource which sits at an independently certified Mean Unrisked Prospective helium resource of 175.5Bcf.
For some context on what a "good result" might look like, NHE has previously referred to a benchmark of 6Bcf recoverable helium as a "company maker".
Closer to the drilling event, we intend to outline our bull/bear/base cases for NHE's drilling.
What could go wrong?
Below are the two key risks we are focussed on ahead of drilling, with more detail provided as per our NHE Investment Memo: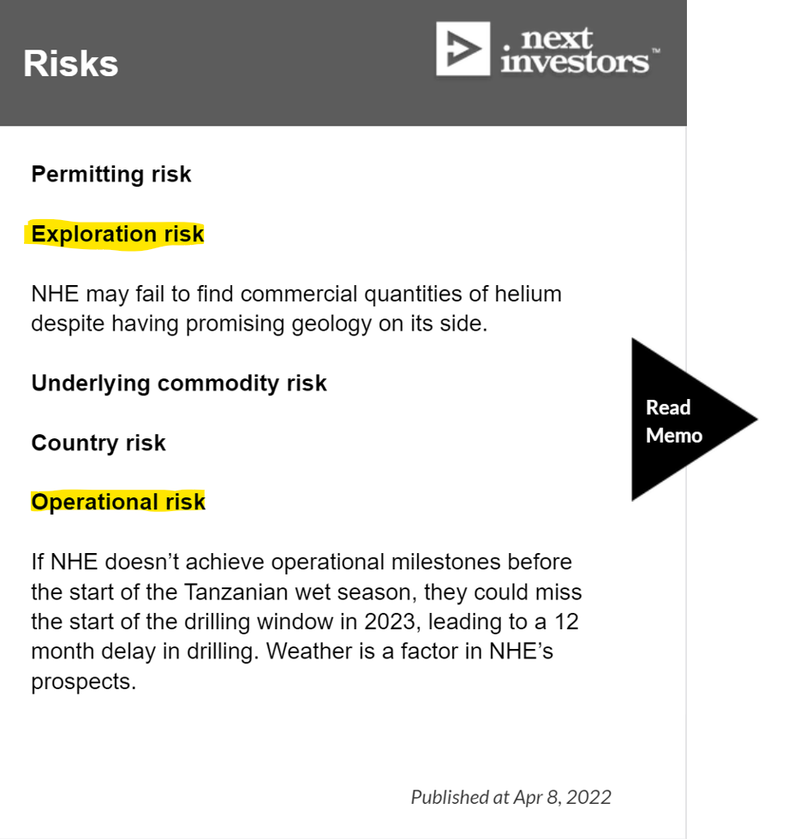 With the current newsflow, operational milestones such as executing a rig contract could hamper NHE's ability to deliver a drilling program in the necessary timeframe.
As an addition to the risks listed above, if a farmout partner is not secured, we would also note that funding risk could materialise or precipitate a capital raise in order to fund the two wells.
If a farm-out is locked away before the end of this month then we will consider funding risk mitigated as part of our Investment Memo.
Our NHE Investment Memo
Click here for our Investment Memo for NHE, where you can find a short, high level summary of our reasons for Investing.
In our NHE Investment Memo, you'll find:
Key objectives for NHE
Why we are Invested in NHE
What the key risks to our investment thesis are
Our investment plan
---