MOZ's Graphite Resource: The Largest in Tanzania
PUBLISHED: 26-01-2016 19:49 p.m.
The Next Small Cap presents this information for the use of readers in their decision to engage with this product. Please be aware that this is a very high risk product. We stress that this article should only be used as one part of this decision making process. You need to fully inform yourself of all factors and information relating to this product before engaging with it.
They have been saying it for months.
And now Mozambi Resources (ASX:MOZ) has lived up to its promise and potential of having the largest JORC Graphite Resource in Tanzania.
The Company announced its maiden JORC Resource totalling 179 million tonnes at 5.1% Total Graphitic Content (TGC) on Friday 15 th January.
It's shallow too – all drill holes went to a depth of less than 100m – translating to cheaper production costs down the line.
The official JORC certification means MOZ has pipped Magnis Resources (ASX:MNS) to having the largest graphite resource in Tanzania.
To put things into perspective, Magnis currently has a JORC Resource of 156Mt at 5.2% TGC with a fully diluted market cap of A$200 million.
MOZ on the other hand, now has an Inferred JORC Resource of 179Mt at 5.1% TGC and is currently capped at $26.3 million.
That's around 10 times less than Magnis...
Before we go too far, it should be noted that MOZ is a very high risk stock. Getting mining projects up and running in Tanzania is no simple feat for political and social reasons, and there will be challenges ahead.
The official JORC resource is major news for MOZ and it comes on the back of continuous positive news flow.
In fact the current news flow from Namangale is coming thicker and faster than the spray from a jumbo elephant's trunk.
Jumbo is the operative word here.
The most recent diamond core and RC drilling at Namangale produced exceptional flake size results, confirming favourable mass distributions in the premium priced categories of flake graphite.
Put simply, MOZ's exploration could uncover graphite that sells for top flight prices.
Couple this with the latest JORC Resource news and it has likely pricked the ears of potential off take partners.
But wait there's more...
If you thought that was enough news to get you by, think again.
MOZ has taken a leaf out of Demtel spruiker Tim Shaw's book and thrown in the steak knives... figuratively speaking of course.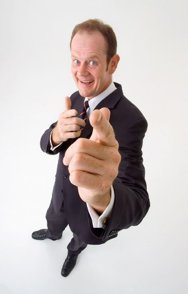 The 'steak knives' in this case is the appointment of former Magnis founding director Stephen Hunt, who is expected to play a key role in obtaining offtake partners and securing big deals: he has done it before with Magnis, and is looking to repeat his success with MOZ.
It is this appointment that has shareholders thinking 'big future'.
Shareholders are like jumbo elephants, they are powerful, smart and never forget, so if MOZ is able to repeat the feats of Magnis, especially now Hunt is on board, it could auger very well for the company's future in East Africa.
With results flowing thick and fast and an operations structure in place that is intended to help it attract partners, we take another look at ...

Hot off the production line is a video interview with Mozambi Resources (ASX:MOZ)'s new Chairman, former Magnis leader Stephen Hunt – you can watch him explain why he left the $200 million capped Magnis for little MOZ – just one tenth the size of Magnis.
In this video you can also find out why he is calling the South East of Tanzania the 'Pilbara of graphite' – and MOZ have a hold on the largest JORC resource here. Mr Hunt sees MOZ in the same place as Magnis 18 months ago, and he would know.
Did you watch to the end? If you did, you may have heard a little piece of information that may surprise you...
When we last covered MOZ in the article JORC Resource Imminent for MOZ: Super Jumbo Flake Graphite Confirmed , we reported that super jumbo' flake mineralisation (larger than 1000 microns) had been confirmed at the Namangale prospect by ALS Metallurgy and that mineralisation had been extended to a 3.2km strike length, while remaining open to the north and south.
That was big news.
It even gained attention in The Australian Business Review .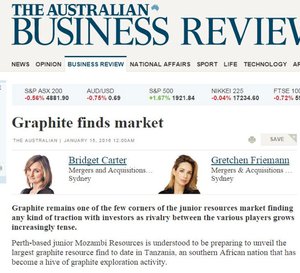 The confirmation of jumbo and super jumbo flake meant MOZ were exploring for high quality graphite that was in high in demand and could fetch premium prices.
This confirmation also meant that MOZ was working in what was potentially one of Tanzania's largest graphite deposits.
Now that has been confirmed and MOZ's Namangale Prospect is in fact the country's largest graphite deposit and rapidly emerging as world-class.
We know that is a big call, but results in early January do nothing to dampen the enthusiasm for this graphite play.
This was made evident with the recent release of a report by Taylor Collison Research Analyst Ryan Armstrong, which included a Speculative Buy recommendation. You can read the full report here .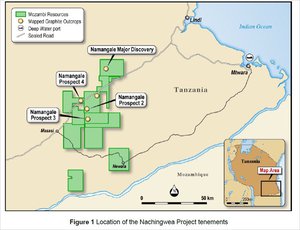 At the same time, and there is no guarantee that MOZ will go up in value on this report alone – always consider a range of factors before making an investment, including your own personal circumstances.
Of course, regular readers would have been well aware of MOZ since back in February 2015.
We first covered the company with the article $3M ASX Nano-Cap Next Door to the Biggest Graphite Resource Known to Man . Since then, we have brought you the news at every step of the way, and MOZ has risen as high as 360% since: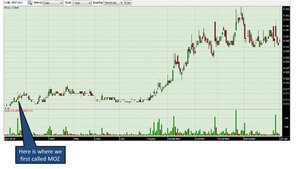 The past performance of this product is not and should not be taken as an indication of future performance. Caution should be exercised in assessing past performance. This product, like all other financial products, is subject to market forces and unpredictable events that may adversely affect future performance.
It seems MOZ is getting all its ducks in a row now.
With positive results continuing to flow from the region, MOZ is focused on capitalising on its maiden JORC Resource and proving up the potential to produce high quality Jumbo and Super Jumbo flake graphite.
All while new acquisition Steven Hunt attempts to do with MOZ what he did with the $200M Magnis Resources...
And that is seal commercial sales deals for MOZ's high quality graphite resource.
Now, it must be said here that MOZ remains at a much earlier stage of development than Magnis, as it is yet to seal any offtake deals with customers. Caution must still be adhered to when considering MOZ for your portfolio, it's a high risk stock.
The maiden over
In cricket the maiden over is the bowler's main goal, next to taking a wicket or three.
In exploration when the wait for the maiden JORC resource is over, it's like dismissing an entire batting team before the lunch break.
It's a big event in the big scheme of things and it means the play takes a very favourable turn.
This is exactly what has happened with MOZ in the last week, where its 100% owned Namangale Project just scored its Maiden JORC compliant Resource.
For those who like to record the numbers, the Mineral Resource estimate comprises 179Mt at an average estimated grade of 5.1% TGC classified in the Inferred Resource Category in compliance with the 2012 JORC code.
The Resource has been calculated from 82 reverse circulation (RC) holes and 9 Diamond holes with a maximum depth of 100m with mineralisation starting at or near surface.
What this means, and it's big, is that this Resource is now the largest reported JORC graphite project in Tanzania and one of the largest coarse flake projects in the world.
MOZ Chairman Stephen Hunt believes that the combination of factors including flake size and depth goes a long way to ensuring the success of Namangale as a genuine graphite project.
To give you an idea of the breadth of MOZ's Namangale Project, the map below illustrates the Project's main graphite prospects that have been identified to date on the Company's tenement package: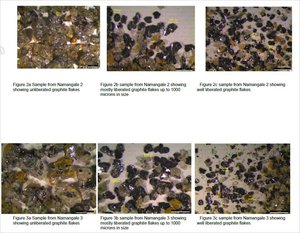 JORC Inferred
The Inferred JORC estimate was carried out by 'ROM Resources' and compiled by Mark Biggs, following classification criteria based on drill spacing, geological mapping, trenches and pitting results. Together this information was used to confirm the grade and geological continuity of the graphite schist mineralisation.
If you look at the map above, you will notice there are four deposits. It's the first three that have so far brought home the graphite bacon.
All three deposits are hosted in a graphitic schist within a sequence of meta-sedimentary schists in with minor pegmatites. Other rock types occurring are unmineralised gneiss with minor amphibolite and marble occurring at Namangale 1.
Parts of Namangale 1 and 2 are covered by a cretaceous age sandstone unit.
Here's a look at the numbers.

Now let's take a look at the assay results.
Assay results for the first thee diamond core composites samples have been returned confirming excellent proportions of +300μm and + 600μm size fractions. For the three composites between 76% and 85% of the graphite was in the +300μm size fractions.
As you can see Namangale 1 represents the largest portion of the mineral resource and occurs as a flat lying graphite schist unit striking in a north-south orientation.
Here's a visual aid: this shows the resource model, shaded by modelled TGC grade: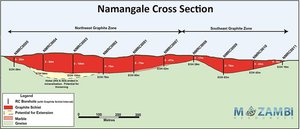 You'll notice the grade distribution is shown by colour coding the blocks by estimated total graphitic carbon grade. It highlights two higher grade coherent zones which are displayed in yellow.
These zones could potentially be targeted early in the mining schedule.
Now here's a map illustrating the drill hole locations and significant intercepts.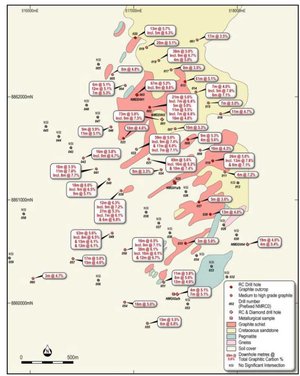 So now you have a sense of the significance, let's have a look at the drilling itself.
Diamond results for diamond drilling
Flake size and consistent mineralisation grade are essential to maximising revenue and enabling the fast tracking of a graphite project into production.
It is evident that MOZ ticks both these boxes.
In its most recent drilling developments , results from both its diamond and RC drilling campaign have shown exceptional metallurgical results, noting Super Jumbo and Jumbo flake mineralisation at Namangale 1, 2 and 3.
Not only that, but the results show that distribution of up to 96.6% is confirmed in categories of Super Jumbo, Jumbo and Large flake graphite.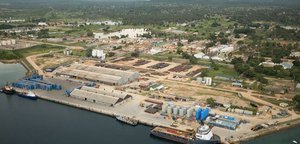 Initial metallurgical results delivered by ALS Metallurgy across all three prospects indicate that the graphite is easily liberated from the rock at a coarse crush size of 1mm.
Meanwhile the RC Drilling results confirm wide intervals of mineralisation over a strike length of 3.2km at Namangale 1.
In fact, the results are positive across all prospects.
The distribution results from schist samples show up to 37.9% Super Jumbo size of larger than 500μm and low proportions of amorphous graphite. The best results came from Namangale 2 where they found the aforementioned 96.6% distribution in the Large, Jumbo and Super Jumbo categories.
These are some pretty jumbo results.
However, these results alone shouldn't be the sole investment trigger and caution should be applied when considering this stock for your portfolio.
Yet, with Jumbo flake and a jumbo-sized deposit to drill into, investors are turning a keen eye to what MOZ does next...
Off takes could take off
What MOZ is trying to do next, is secure offtake partners.
It is doing so not only on the back of its positive drilling results, but also on the back of positive sentiment towards the graphite market, with its importance to the renewable energy sector growing by the day and demand continuing to surge on the back of the lithium-ion battery revolution sparked by Tesla.
The energy sector has been experimenting with graphite for years... take this one for instance: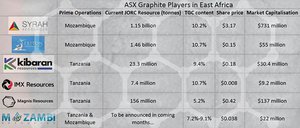 And the discoveries have been ground breaking – so any company that can get its hands on good quality jumbo graphite flake, could get a leg up into this energy revolution.
MOZ is being looked at by several interested parties and is reviewing requests from potential off-take partners including end user groups requesting sample product.
This is big news for MOZ who will carefully consider what is before them.
In tandem with partner reviews, MOZ is also in discussions with a number of specialist companies with regards to initiating a pre-feasibility study on its Namangale projects.
Discussions are ongoing, but as the market strategy broadens, so does MOZ's ambitions.
Good will hunting
While the team at MOZ has played a deft hand in bringing their drilling to bear in an area that could prove quite successful with regard to delivering high-grade graphite, there was one piece of the puzzle missing.
It's all well and good finding a resource, it is another step again when you have to deliver the resource to market.
To meet your lofty ambitions, usually requires someone with marketing nous, who knows the game and has the contacts.
For MOZ, this man was Stephen Hunt.
Say hello to Mr Hunt...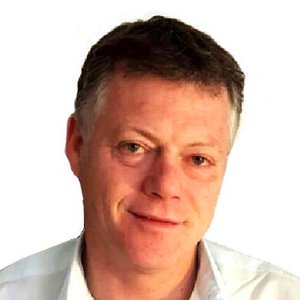 Hunt is a well-known figure around parts of Tanzania.
As a founding director of Magnis Resources, he was responsible for delivering many of the company's offtake agreements.
Hunt has history too.
He spent 15 years at BHP Billiton, including five years in London marketing minerals to European and Middle Eastern customers.
Hunt also ran his own minerals trading company with a strong Chinese focus; so he knows the lay of the land and he has a broad understanding of global markets.
That's exactly what MOZ needs at this current stage of play.
Like he did with Magnis, Hunt will oversee potential off-take contracts and investment discussions with strategic partners.
MOZ Managing Director, Alan Armstrong, see's Hunt's appointment as crucial to MOZ's forward projections as it moves towards feasibility and development of the Project.
The final word
It's been a jumbo few months for MOZ who have extended their strike length to 3.2km, confirmed super jumbo flake mineralisation and secured the services of high profile graphite executive Stephen Hunt, who was the founding director of key participant in many of Magnis' deals and offtake agreements.
Now MOZ has a bigger JORC resource than the $200M capped Magnis.
Now, there is no guarantee that MOZ will tread the same path of growth as Magnis – minerals exploration is risky and anything can happen, especially in countries like Tanzania which have a raft of political and social issues associated with them.
Although MOZ's maiden JORC Resource is currently in the Inferred Category, it has plans to upgrade the deposit to the Indicated and Measured categories later this year.
MOZ is now focused on progressing Namangale further.
Here is a timeline of what it intends to do.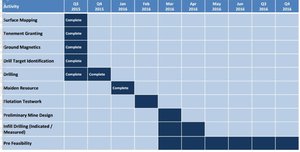 As the table infers, MOZ is already ahead of schedule and in discussions with a number of specialist companies with regards to initiating a Pre­feasibility study (PFS) on the Namangale Prospect.
It is talking to potential offtake partners.
Meanwhile the PFS is expected to occur this quarter.
With all these positive results, Namangale is emerging as a world class Tanzanian graphite deposit, rivalling larger explorers such as Magnis...
---