$3M ASX Nano-Cap Next Door to the Biggest Graphite Resource Known to Man
PUBLISHED: 19-02-2015 02:21 a.m.
One pint sized stock has snuck up and took a position in one of the most sought after graphite neighbourhoods in the world.
It lies in the prolific Cabo Delgado region of Mozambique – famous for carrying the two single biggest graphite deposits on the planet.
These deposits are controlled by two other ASX listed companies: Syrah Resources and Triton Minerals.
Syrah is currently valued at over $700 million, and Triton at around $50 million.
Somehow, Mozambi Resources (ASX:MOZ), with a market cap of less than $3 million, has signed an option to acquire a piece of ground that literally joins with Triton's monster Nicanda Hill graphite deposit.
It is also just 5km from Syrah's world leading Balama graphite and vanadium resource – recent China's state owned Chinalco called Balama one of the best graphite deposits " ever known to man ".
And that's not all... MOZ also now holds sway over another unexplored potential graphite project to the southeast. This tenement is more than double the size (in km 2 ) of the tenement that holds Syrah's Balama deposit...

Previously a coal explorer, Mozambi Resources (ASX:MOZ) has undergone a re-brand and is now very much focused on its graphite play in Mozambique.
The company has just signed an option to purchase two licence applications, which the Mozambique Mines Ministry is expected to grant imminently.
Triton's Nicanda Hill deposit contains 1.45 billion tonnes at 10.7% graphitic carbon and 0.27% vanadium – the ground shaded black in the map below.
Syrah's Balama holds 1.15 billion tonnes at 10.2% graphitic carbon and 0.23% vanadium – that's located in the blue box on the map below.
Now look where MOZ's graphite tenements are... the ones in red: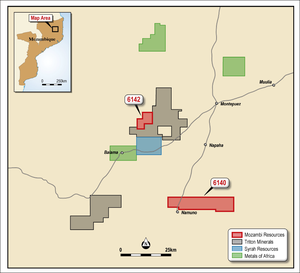 Could MOZ's License Application 6142 hold a continuation of Triton's Nicanda Hill graphite mineralisation?
Think about that possibility... a $3 million nano-cap now has the option to acquire land that may be a direct extension from the biggest graphite deposit known to man.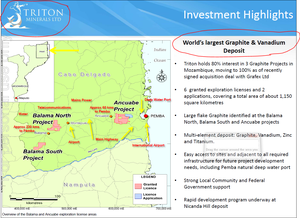 To gain further appreciation, here's a Triton drill core from Nicanda Hill: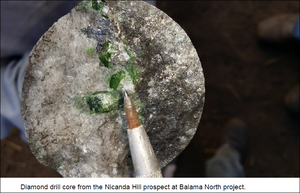 The latest news with Syrah's Balama deposit – just 5km to the south of MOZ – is that China's state owned Chinalco has signed a binding supply agreement covering 35% of the planned production from Balama. The Chinese control close to 70% of the world's graphite production – and are hungry for more: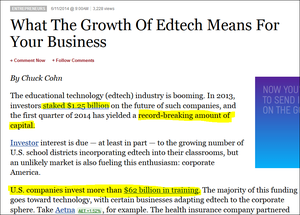 MOZ must be paying a fortune for these pieces of land, right?
Not at all...
MOZ has negotiated to pay US$50,000 upon formally acquiring the option, and another US$50,000 plus 15 million shares upon execution.
Based on MOZ's current share price of 1.1c, that equates to just AUD$300,000...
MOZ will also need to make performance based payments based on the successful development of these graphite assets.
If the projects reach a JORC resource of 300 million tonnes at over 5% total graphitic carbon MOZ will issue a further 15 million shares to the vendors – That would equate to a paltry AUD$165,000...
Another 15 million shares and US$250,000 is to be paid by MOZ upon reaching a JORC resource of 600 million tonnes at over 5% graphitic carbon.
If MOZ can make it that far, by that time they would own a graphite resource half the size of the $670 million cap Syrah! Obviously this is a long way off and would take a lot of exploration dollars and time to get to that stage.
The only other payment MOZ is required to make is a net smelter royalty of 3% on all minerals produced.
The key here is that the vendors are being paid mainly in MOZ shares...
So while MOZ's purchase price is fixed, the value of the vendors' shares will continue to grow alongside any graphite resource proved up.
This is probably why the former owners accepted, or perhaps even requested, to be compensated with MOZ equity – this way they retain a beneficial financial exposure to any significant discoveries made by MOZ.
Our Track Record
Did you see the Next Tech Stock article on Ziptel (ASX:ZIP) ?
ZIP has been up as high as 160% since we first released our article: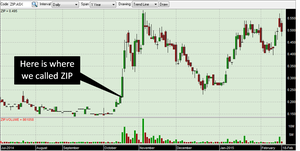 Source: Etrade Australia
The past performance of this product is not and should not be taken as an indication of future performance. Caution should be exercised in assessing past performance. This product, like all other financial products, is subject to market forces and unpredictable events that may adversely affect future performance.
What's Under the Bonnet?
The underlying geology of the region comprises high grade graphite bearing rocks that stretch from southern Mozambique all the way to the Red Sea in the north.
Several areas within this continental scale structure are known to host big tonnage, large flake graphite deposits.
There has been virtually zero fieldwork conducted on MOZ's tenements to date.
This means it's a ground floor entry of pure, untapped graphite discovery potential...
MOZ could find absolutely anything... another Balama or Nicanda Hill?
At the same time, they may find nothing at all – it's a very early stage project, and MOZ are still a very tiny company, capped at $3M.
However, it's not like other explorers have already searched for big deposits here and failed, which is sometimes the case when mining tenements that are sold cheaply.
Here's a diamond drill core from Triton's Nicanda Hill Project – showing both graphite and vanadium: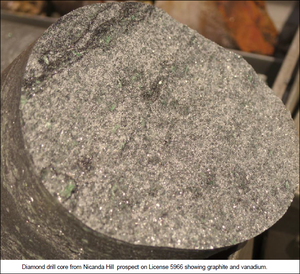 MOZ is Getting Busy
MOZ will commence exploration immediately after licenses are granted... this could be within 2 weeks.
Fieldwork will include trenching, rock chip sampling, mapping, and ground geophysical surveys.
The goal here is to find out whether License 6142 contains a continuation of the mammoth graphite unit that delivered riches to Syrah and Triton shareholders...
Target definition at the 6140 tenement is the other game, and work here will be undertaken immediately after license grant also.
Keep reading the Next Small Cap to follow the MOZ story!
Are you a MOZ investor and want to spread the word?
Get the message out there – make sure everyone knows about MOZ and share this article by clicking the buttons below:
[sd_share_article title="A $3M ASX Nano-Cap Next Door to the Biggest Graphite Resource Known to Man?"]
---