$1.7 Trillion Telco Market: ASX Tech Company Weeks Away From Global App Launch
PUBLISHED: 21-10-2014 20:54 p.m.
Global telecommunications revenue is around $1.7 trillion dollars – per year . For decades and decades traditional phone companies dominated this market, using the old telephone lines. These companies had an almost monopoly of the system and raked in big profits doing so. However over the past 15 years or so, with the rise of faster and faster internet connections, plus the invention of the smartphone – a new breed of telcos have developed. These companies make money by permitting free or very cheap calls to be made over the internet. Most people have taken advantage of these new services before, and some of us depend on them for business or to communicate with loved ones – especially internationally.

Like Telstra and Optus, some of these newer companies are household names now, and have been making a large dent in traditional phone company profits over the past few years. Recent takeover deals on these companies shows just how quickly the telco game has changed – traditional telcos are scrambling to catch up to these tech savvy upstarts eating away at their profits. If you can develop an excellent product with millions of users, big money can be put on the table for it:
Skype: Microsoft paid $8.5BN for this internet telephone company in 2011.
Whatsapp: Facebook bought this company for $19BN last year – and you can't even make calls on it – it's just a chatting service.
Viber: A competitor to Skype, was acquired for $900M in an all cash deal by a Japanese e-commerce giant Rakuten this year.
These companies have great technology and a large user base... But it all depends on how fast your internet connection is.
There are 1.9 billion mobile phone subscribers who live in developing countries who are serviced by slow internet (2G networks).
On a poor quality internet connection, Skype and Viber just don't cut it, as they rely on 3G or a fast Wi-Fi connection to function reliably. If you have ever experienced feedback, robot voices, or jittery Skype or Viber calls you will understand the dependence of these services for high quality, fast internet. The Next Tech Stock has just made an investment in a $12M market cap company who is set to unveil a new app in the coming weeks which will cater to this overlooked, slow internet market.
Unlike Skype and Viber, this new app allows internet calls on 2G connections
Skype and Viber cannot function reliably on a 2G network – but our latest investment's technology can. 1.9 billion people can't use Skype or Viber for high quality, low cost calls – but they can use this new app. This tiny company is weeks away from the global launch of their app – even if they can attract a few million users, with a conservative revenue per user of $2, significant revenue would be generated. If it goes viral and a few hundred million users take it up then the revenue pile could become very large... Introducing the company behind this potentially revolutionary technology: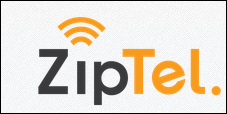 ZIP's flagship product is the ZipT app – set to launch globally in the coming weeks. This video explains how the ZipT app works:
ZipT is a mobile-based data application, which allows customers to send and receive free calls and SMS internationally. It has the ability to deliver superior crystal clear call quality in 2G and low bandwidth data environments globally – where current applications on the market (like Skype and Viber) are unable to operate.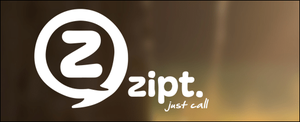 At first we didn't believe it – so we decided to speak to the company and get a look at the technology ourselves – and we were given a live demonstration of the app yesterday. We were shocked at what we witnessed. Three calls were made in a low bandwidth environment, one on Skype, one on Viber, and one on ZipT. The call made using the ZipT app came through crystal clear – with a quality that left Skype and Viber in the dust.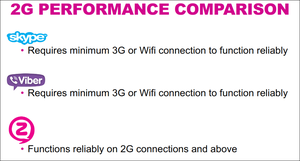 Source: Ziptel
ZIP have the potential to blow the global telco market over with this product.
Quite simply, the ZipT app will allow customers to make international calls at very low rates, with low data consumption.
1.9 billion humans in 2G countries with slow internet will now be able to communicate clearly and cheaply – using ZIP's app.
It's not just developing world customers that can take advantage of this app – if anyone is tired of poor quality calls on other platforms, they may well soon be switching to this company's app. Due to the slashing of data consumption, ZIP's technology can heavily reduce international roaming costs. International bill shock may soon become a thing of the past – the ZipT app may become the first choice in telecommunications when travelling. You can pre-register now as a ZipT founding VIP member where exclusive promotional offers will be rolled out. Let's just go over this one more time:
ZIP's technology doesn't need super-fast Wi-Fi or a strong phone connection to work.
It doesn't require both people on the call to be using the app like Whatsapp or Viber.
It doesn't chew your data allowance and you don't have to use a clunky card and pin number system to access it.
ZIP has signed distribution and marketing agreements ahead of ZipT's global launch into the multi trillion dollar telecommunications market... It's early days right now, but through this company's new app – set for imminent launch – there is the potential to tap into every international calling market on the planet. Based on previous takeover deals in the space, and assuming the ZipT app gains significant market penetration, it could make ZIP the next billion-dollar telco. Key target markets for ZIP would be regions with poor quality networks or travellers looking to avoid international roaming bill shock.
Even capturing a few millions users may catapult this company into the stratosphere and make it a potential takeover target.
We believe that ZipT is better (we heard it with our own ears), cheaper and more inclusive than any other international calling app or service on the market today. ZipT allows anyone with a smart phone who has downloaded the app to call any other phone on the planet and get a crystal clear connection, no matter whether the other phone has ZipT installed or not. Or no matter if the other phone is in an area with slower internet speed or a slower mobile network. ZipT compresses the signal so it gets through, consumes less data and costs you less. But it's not just the ZipT app that ZIP have in their arsenal. ZIP already has an up and running product called AussieSim – a SIM card that lets you use your phone overseas without getting whacked with huge roaming fees. ZIP recorded revenues of $180k for the last quarter of 2014 with AussieSim – up 243% from the previous corresponding period. ZIP has also struck a deal with travel company Trafalgar Tours as an exclusive supplier and distributor of the AussieSim cards to Trafalgar customers globally – that's expected to be over 17,000 AussieSim Cards out there in the short term... AussieSim is a revenue generating product that's keeping the beat for ZIP right now. The Next Tech Stock has just made an investment in ZIP – If this is the first time to our site, you should know we always invest in companies we write about – as long term holds. For more information please see our Financial Services Guide and Disclosure Policy . In this article The Next Tech Stock is going to run you through:
The huge market opportunities ZipT is going to open up for ZIP
How ZipT works – technically, financially and creatively
Let you know about AussieSim, ZIP's money making SIM business
How ZIP plans to take on the world with ZipT.
So in the next section, let's get the conversation started!
Our Track Record:
Just last week we released a Next Tech Stock article on Connexion Media (ASX:CXZ) – did you see it? Since the article was released, CXZ has been up as high as 55%: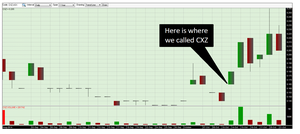 Source: Etrade Australia
The past performance of this product is not and should not be taken as an indication of future performance. Caution should be exercised in assessing past performance. This product, like all other financial products, is subject to market forces and unpredictable events that may adversely affect future performance.
A crystal clear market opportunity
Within the global, multi trillion dollar communications market, ZIP is focussing on two market segments:
International roaming, and;
Regions with poor quality, 2G networks – think India, China and Brazil – huge swathes of the global population who don't have access to 3G.
As the world becomes more connected, the international roaming sector of the telco market is growing fast and there are predictions that it will hit $80BN and beyond in a few years: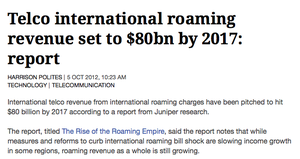 Roaming charges occur when regular telephone operators slap users with extra fees to use their devices overseas or to contact overseas numbers – if you have returned from overseas with a large unexpected phone bill you will know how high these charges can be. International charges are a cash cow for telecos and everyone who makes international calls is always looking for a way to reduce their bills. ZIP is aiming to disrupt this predicted $80BN international roaming market with its ZipT app – remember the ZipT app allows cheap international calls due to its low data consumption – plus it works on those standard mobile networks. Roaming charges represent the higher end of the scale for international calling – which is fine where high speed internet or powerful mobile and landline networks with 3G and 4G connections are the standard. But 1.9 billion people in the world live in areas with 2G connections – the most basic links.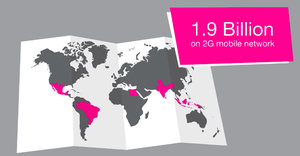 Just because it's basic doesn't mean it's not profitable. Take Lebara for example: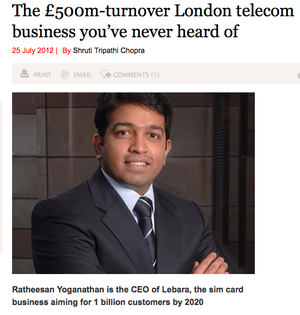 Lebara sells pay-as-you-go SIM cards that people use to phone overseas numbers with – usually nations with 2G networks. It's big business – Lebara had a revenue of over 500M GBP in 2011. This is the real growth area for ZipT's services – the developing world where 1.9BN people around the world still use a 2G network for communication and the modern apps and services barely cater for this huge market. Brazil, Mexico, India, Egypt, Indonesia – large parts on these countries still rely on 2G networks, especially in remote areas. The ZipT app will be open to almost all telecommunications markets on the planet. ZipT's technology allows true connection – it doesn't matter what internet speed you have, ZipT can connect you. So you can see clearly now the size of the market ZIP is about to tap into. And as you're about to see, ZIP's ZipT app offers a superior way to connect – doing it cheaper, clearer and easier than anything we have seen on the market today...
Our Track Record:
Did you see the Next Oil Rush article on Real Energy (ASX:RLE) ? RLE has been up as high as 115% since: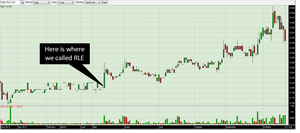 Source: Etrade Australia
The past performance of this product is not and should not be taken as an indication of future performance. Caution should be exercised in assessing past performance. This product, like all other financial products, is subject to market forces and unpredictable events that may adversely affect future performance.
All sewn up – ZipT's tech edge
Let's get a bit technical with how ZIP's app actually works: The ZipT app allows a person to make a crystal clear international call utilising very basic networks that its competitors cannot utilise. If someone in Sydney, Australia initiates the call on a 4G network to a phone on a slower 2G network, ZipT will ensure that when the connection is made there is no loss of quality.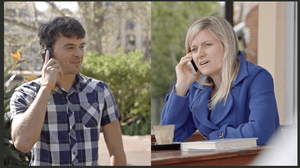 It does this by compressing the data into just 6kps – six kilobytes per second – which is far lower than the 50kps needed by Skype to make a clear call – reducing costs and data usage as well. Another way ZipT ensures quality is to reduce the number of 'hops' a call makes. For example, if a person in Malaysia calls someone in Australia using Viber, the call goes to the nearest Point Of Presence (POP) server (i.e. Singapore) and from there is routed to Australia. The additional distance travelled by the data packets often causes high jitter or packet loss. ZipT uses servers known as GTH to connect the calls – they are present in almost every country save for Cuba and some African nations. This reduces the call travel distance, which in turn reduces jitter. Moreover, most ZipT calls are routed through private leased lines, which ensures absolute crisp voice quality.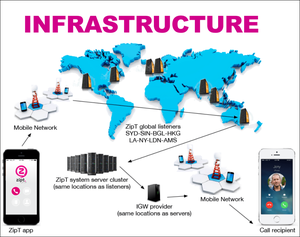 Source: Ziptel
ZipT's codec technology processes the voice at call origin and receiver to ensure that even if the voice is broken it is fixed and played to the end user in its exact state. ZipT also encrypts all communication packets, bypassing most firewalls and enabling the application to run in regions such as the UAE, Qatar, China and more. Now, what's in it for consumers?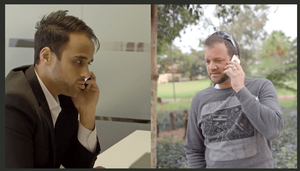 Using leading apps like Skype and Viber to make international calls is fine, but they tend to create more problems than they solve: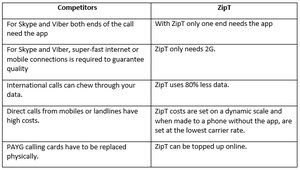 The big advantage of using ZipT is that you get all the benefits of Skype, Viber and regular mobile and landline services without any of the disadvantages.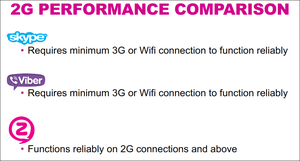 Source: Ziptel
ZipT ensures crystal clear voice quality to any network through its compressed 6kps data packets. It can call any phone even if the app isn't installed on the other end. It uses less data and costs less than its rivals. And as an online connected service it's convenient to manage and top up. ZipT has the potential to become the hot new app for instant messaging and international calls – The messaging service WhatsApp was famously sold to Facebook for $19BN and it doesn't even do half of what ZipT does! $1.7 trillion is spent on global communications each year – this is a market worth having a crack at – especially with a product like ZipT that can target pretty much every aspect of it.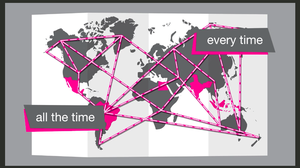 The team at ZIP are working toward a global launch for the product in the coming weeks and based on what we have seen so far, we cannot wait to see it hopefully storm the markets: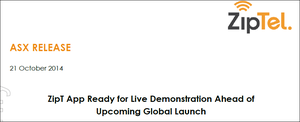 Live demonstrations are happening, the user interface design is complete, the technical side of things is locked in, and it runs smoothly on the iOS and Android operating systems for smart phones – a Microsoft version is on the way. This is why at The Next Tech Stock we're saying ZIP has the potential to become the next billion-dollar telco. It is early days as the app is a few weeks away from launch, but ZIP plan to attack a massive market with a product that has the potential to hoover up profits from every level.
Our Track Record:
Did you see the Next Small Cap article on Segue Resources (ASX:SEG) ? SEG has been up as high as 215% since we first released our article: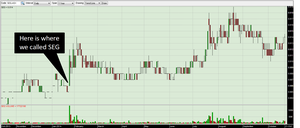 Source: Etrade Australia
The past performance of this product is not and should not be taken as an indication of future performance. Caution should be exercised in assessing past performance. This product, like all other financial products, is subject to market forces and unpredictable events that may adversely affect future performance.
ZIP's Mpire is growing
Right now ZipT is almost ready to go and the gang at ZIP are gunning for a market launch of the product in the coming weeks. And when it hits, ZIP says it will make sure ZipT has a marketing push that will make your head spin. A great sign of things to come in this regard is ZIP's commercial relationship with this guy: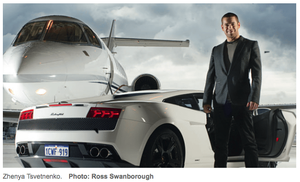 In case you don't know, that's Zhenya Tsventenko – net worth of $60M – and he's one of three Aussies who made fortunes in tech to be included on the BRW rich list for 2013. The 34-year-old West Australian tech entrepreneur is behind the internet-based advertising and software group Mpire Media and these days he's getting right into Bitcoins. He's also working with ZipT: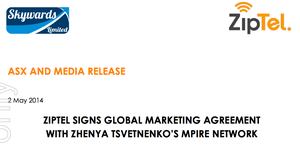 The way Mpire Media works is that it uses advanced digital tools that measure the true performance of its advertising and marketing services – and then bills accordingly. The Mpire Network is going to run a global marketing campaign for ZipT and access millions of potential customers in over 120 countries. First up is a test campaign to develop metrics in the US and Brazil, and then the full spectrum global campaign will be rolled out when ZipT is launched. Because of Mpire's metrics based approach, ZIP will be getting more bang for its bucks – it will pay for what works – and get a tailored campaign that hits all the right notes. We'll be keeping an eye out for more details on ZIP's marketing push with Mpire for ZipT as the end of the year approaches and we look forward to seeing what they come up with. Once again, if this video is the starting point for ZIP's marketing of ZipT then we're looking forward to see what else they can create!
It's not only the ZipT app that ZIP own – they have another product that is already generating revenue...
AussieSim – ZIP's calling card
ZIP's main revenue stream right now comes from AussieSim – a prepaid travel SIM card that lets you use your Australian phone number when you're overseas in up to 180 countries. Revenues from the June 2014 quarter total $180k (unaudited) – up 243% from the same period in 2013.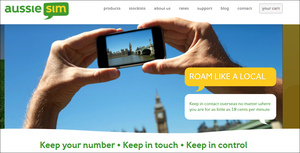 AussieSim is a pre-paid SIM card for international travellers – you can load in your number and a dollar amount and then you're good to go. While overseas, slot the card in your phone and make calls, send texts or surf the net – no worries. The main market AussieSim target is of course Australia but it also has presence in the US, UK and Europe. And it's very good business for ZIP: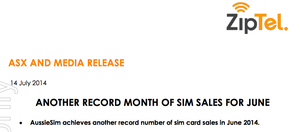 In June 2014 alone AussieSim sold 1,440 units – a 305% increase on the 356 cards sold in June of 2013. This is a record for AussieSim and the third month in a row that its sales have risen: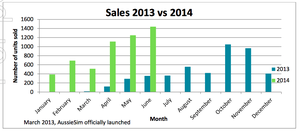 One key man driving all of this growth is the telecoms gun Alun Cooksley, who ZIP appointed head of sales and distribution earlier this year. Cooksley was 3 Mobile's National Sales Manager from 2003 to 2009 and grew 3's retail channel from 35% of total sales in 2006 to 50% by 2008. He was also General Manager of Vodafone's retail Partners from 2009 to 2012 where he achieved sales volumes of over 1M SIMs and $900M in revenue. Cooksley's brief with AussieSim is to aggressively market the product and get more market penetration in Australia and overseas.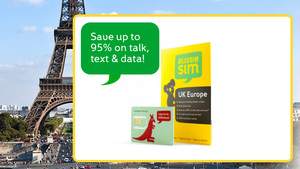 AussieSim is sold in 160 stores in Australia right now and ZIP reckons that figure could rise to over 1,500 by the end of 2014... Another big tick for ZIP's AussieSim is this new deal: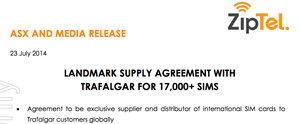 AussieSim is supplying over 17,000 of its SIMs to Trafalgar Tours Australia , which is part of a global travel company with over 2 million customers worldwide. Under the deal, for 6 months from August 2014, every Trafalgar customer will receive a free AussieSim card and upon activation will receive $10 worth of credit. ZIP and AussieSim are creating a large base of customers with this deal and getting its product out.
The bottom line for ZIP investors is that AussieSim has been generating revenue for 18 months and is continuing to do so, and growing by the day.
So while ZIP concentrates on getting ZipT launched, it's also letting AussieSim is take care of business.
Incoming calls for ZIP
So with the end of 2014 fast approaching it's going to be a busy time for the team at ZIP. Its ambition is to get ZipT launched globally in the coming weeks and from what we understand, just about everything is ready to go. The technical side is sorted – live demos are happening now, plus the app passed beta testing with flying colours. The ZipT mobile application currently runs on iOS and Android with Windows Mobile under development – we'll keep an eye out for developments there. And for AussieSim it's business as usual – keep selling SIM cards and ensure more and more shops are selling it across Australia – the target is 1,500 or more by the end of 2014. At The Next Tech Stock we think we've timed our long-term investment in ZIP very well – right before it launches its potentially revolutionary ZipT international calling app into a global market hungry for a product that can work anywhere, anytime, no matter what signal or service is available. We reckon ZIP has the potential to be the next billion-dollar telco and with AussieSIM keeping the financial beat and expanding too, we reckon this currently tiny company may not stay that way for long...
Are you a ZIP investor and want to spread the word?
Get the message out there – make sure everyone knows about ZIP and share this article by clicking the buttons below: [sd_share_article title="$1.7 Trillion Telco Market: ASX Tech Company Weeks Away From Global App Launch "]
---