MNB's Angola Fertiliser development "a Project of National Importance"
This morning our long term investment Minbos Resources (ASX:MNB) announced that its Cabinda Phosphate Project was affirmed as a 'Project of National Importance to Angola'.
An event was held last night for Angola and the Economic Community of Central African States (ECCAS) — attended by political representatives, foreign embassies, Angola's sovereign fund and other high profile development organisations — where MNB's CEO delivered a presentation on its project.
Following the event, MNB says that "an invitation was extended from the President's Office to meet with the Secretary for the Productive Sector of the President of the Republic, to deliver a brief on the Cabinda Project and the AFFPP, during the meeting it was conveyed that the [MNB's] Cabinda Project was strongly supported by the Government as a project of National and Regional importance which would receive the full support of the Office of the President and of relevant Ministries."
MNB is developing a phosphate (fertiliser) project in Angola with a 6 million tonne mining target and a 21 year mine life.
Phosphate is used to make fertilisers and helps increase crop yields and deliver food security. MNB is in the project development stage and has already ordered long lead items to build their plant.
We invested in MNB because their Scoping Study indicates that spending just US$27M (CAPEX) will get them a project valuation (after tax NPV) of between $159M and US$260M. We believe phosphate prices will continue to be strong as global food security comes into play which will only lift that valuation.
Phosphate prices have surged since the scoping study was released, higher than the "extreme point" contemplated in the scoping study - we did some rough calcs showing if prices stay this high the NPV could be as high as US$550M (take into account higher input prices to build if steel prices continue to rise too).
Today's MNB news comes out just as Australian mining giant BHP announced the divestment of its oil and gas assets to Woodside so it can focus on "future commodities, like electrification materials and fertilisers for food security" - like MNBs project.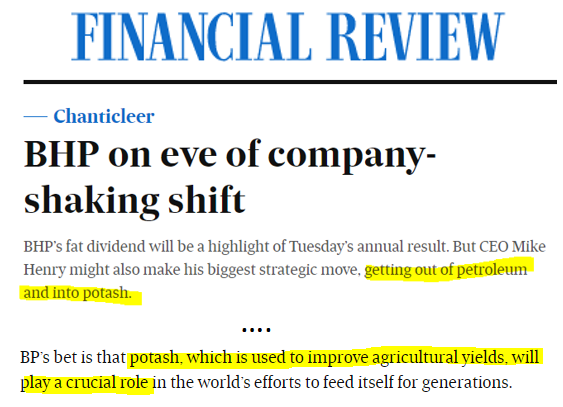 "BHP is arguably betting on two big themes defining the next century: the electrification of the planet to tackle climate change; and the need to lift food production to meet growing demand from a bigger global population.
When Henry talks about future-facing commodities, these are the needs he wants to meet. BHP's iron ore, copper and nickel assets speak to electrification. Potash, which is used in agriculture to improve crop yields, speaks to food."
Full article here:
Like MNB's phosphate product, BHP's potash will be used to increase crop yields to provide food security for a growing population. Potash prices just hit 8 years highs.
Phosphate prices are also sitting at multi-year highs (we wrote about how high phosphate prices have a positive impact on MNB's net present value calcs a few weeks ago).
This is a big bet for BHP. It is reportedly spending up to US$5.7 billion ($7.8B) on a new potash mine in Canada, however it's not surprising that BHP wants to move into the fertiliser space as a long term strategy - humans will always need to eat.
MNB's project will be up and running a lot faster and is forecast to cost just US$27M to build (yes, it is much smaller though).
Food Security in Africa
We wrote last month in a weekend note about the report: The State Food Security and Nutrition in the World that was released by the UN:
Key stats from the report are:
Hunger affects 21% of the population of Africa
In 2020, 46 million more people in Africa were affected by hunger than in 2019
Nearly one in three people in the world (2.37 billion) did not have access to adequate food in 2020
With today's news, it is clear that the Angola government is taking actions to improve their food security.
In Angola, the International Fertiliser Development Center (IFDC) revealed the short, medium and long term fertiliser forecast, with the "market to grow 10x and quickly off the back of the Angola Fertiliser and Farm Productivity Program (AFFPP)".

This is exciting news and quite an impressive audience to have heard about MNB. We tried to pick up the phone to CEO Lindsay to get his feedback on the session to include in this note, but it's after midnight in Angola so he didn't answer. We'll include any extra comments from him in our weekend update if we speak to him.
Company Milestones & Progress for MNB
We weren't expecting this announcement in our milestone plan so have added it in as unexpected positive announcement [UPA]
We have been invested in Minbos for nearly a year now first investing at 3c and topping up at 8c
New to MNB? Here is our commentary on our investment journey so far:
In August 2020, MNB was added to our portfolio after releasing the results of a Scoping Study that demonstrated it could generate strong cash returns on the Cabinda Phosphate Project for a relatively small capital investment.
By December, we had called MNB "the most undervalued stock in our portfolio". This came after it signed a MoU with the International Fertiliser Development Centre and added 3 new board members.
The company then got the 'green light' from the Angolan government to move forward with the company's Definitive Feasibility Study (DFS) and firm up the project economics ahead of development.
Phosphate prices doubled in just over 12 months to February 2021, lifting the project's forecast value. MNB also announced adoption of global ESG reporting standards.
Long-term mining title approved in less than 2 months (compared to the usual 3-5 years).
MNB reported in April that it is investigating the potential for zero carbon ammonia production in Angola.
By June, phosphate prices reached US$780/t — above what the Scoping Study said would be an "Extreme Case" at US$643 that would give a project value (after tax NPV) of US$343.7M, up from US$159M-US$260M.
Then, in July, we took a deep dive into phosphate prices and what they mean for MNB and its project.
MNB discloses Environmental, Social and Governance (ESG) Quarterly report
Global fund managers, high net worth family offices and millennials are now actively seeking to invest exclusively in ESG companies. Consumers are demanding best in class ESG products and smart people only want to work with top ESG credentialed companies.
MNB uses the world economic forum ESG framework to regularly report their ESG progress so they can best tell their story to international ESG investors.
MNB's ESG goals are multi-faceted in sub-Saharan Africa:
Improve food security and nutrition
Decrease levels of poverty
Mitigate the impacts of climate change on farmers.
Click to review MNB's ESG progress:
---