KNI Hits Visual Cobalt in all 5 Holes at Middagshvile Target
Disclosure: S3 Consortium Pty Ltd (The Company) and Associated Entities own 2,739,750 KNI shares and the Company's staff own 7,500 KNI shares at the time of publishing this article. The Company has been engaged by KNI to share our commentary on the progress of our Investment in KNI over time.
We have been watching our European battery metals Investment, Kuniko (ASX:KNI), for the last few weeks in our "upcoming share price catalysts" list.
And yesterday KNI announced it has hit what looks like cobalt mineralisation at its cobalt project in Norway.
There was a little hiccup and KNI had to re-release the announcement with a table of visual estimates of mineralisation - but with that now in, we can see some strong early signs of mineralisation.
I.e enough mineralisation to actually see it in the drill core.
In all 5 holes drillied at its Middagshvile target.
It's early days - we just have some visuals and will have to wait between 60 and 90 days for proper assay results when we will find out the all important grades.
But it's the result we were hoping for at this stage - and one we've been eagerly waiting for.
In fact, the results were strong enough for the company to expand its drilling program from an initial 2,800m from 7 holes to approximately 3,000m from 10 holes.
KNI also completed further modelling of geophysics data to hone in on extra targets.
Here's the key language from yesterday's announcement:
"The modelling yielded conductive plate anomalies over Middagshvile for each of the six crossing flight lines. The position of the conductive plates plunges toward the north, providing further targets open along strike towards the north."
KNI looks to be onto something here and the upcoming assay results should give us a good grip on how much cobalt there could be at its Norwegian cobalt project.
In our last KNI note we laid out our expectations for this drilling program are as follows:
Bullish case = Several intercepts with cobalt grades ranging between 0.5-1%.
Base case = At least once intercept with cobalt grades around 0.5%.
Bearish case = No mineralisation found in any of the drillholes.
As a result, we think KNI are on track to hit our BULL case (pending assay grades).
OR at a bare minimum, KNI should achieve our BASE case, which we would also be very happy with.
This also means KNI has made excellent progress on Objective #2 from our KNI Investment Memo:
Looks like there's cobalt in KNI drill cores
It's always a good sign when there's visible mineralisation and here is what KNI found in drill core KNI_MDV002 at 74m:
KNI thinks this is cobalt because of portable XRF reading and the simple fact that it looks like cobalt.
A portable XRF device is a hand held device which gives you a quick early reading on whether there are minerals in a drill core while out on site.
XRF readings are just a guide - the proof will come when assays are received in 60-90 days from the ALS labs in Sweden.
Another good thing about these results is that the visually identified cobalt came from 74m, which is not all that deep and quite close to surface.
The closer to surface a mineral discovery is, the easier (and cheaper) it will be to mine.
These are the four holes at KNI's highest priority target the Middagshville prospect:
Those two red squiggly lines are the interpreted mineralisation and it looks like, as before, its open along strike towards the north.
In exploration results, "open" means that it appears the mineralisation keeps going in a certain direction, which makes the follow up drilling in that direction very interesting.
"Toward the north" is in the direction of the other two drill targets to the north. We think this increases KNI's chance of getting onto a nice continuous zone of mineralisation and being able to confirm a cobalt discovery: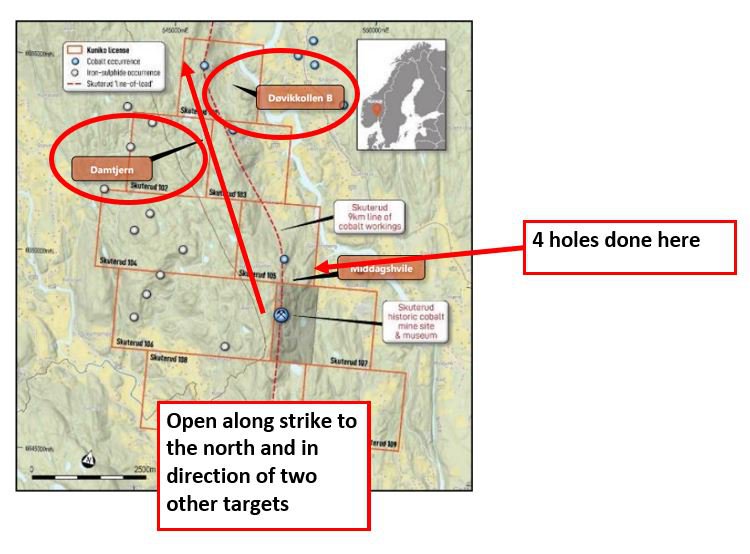 All of this is located in what used to be the largest cobalt producing region in the world.
What we want to see next from KNI
KNI has now completed a total of 2,500m of drilling and the program is anticipated to conclude in mid-July 2022.
KNI is sending off the cores to Sweden in batches to get assays as quickly as possible. We expect the first assays to fall anywhere in the region from August to September depending on how quick the lab can turn around assay results.
Based off yesterday's results, KNI decided to expand its drilling program from an initial 2,800m from 7 holes to approximately 3,000m from 10 holes.
We are hoping to see more visible Cobalt in the remaining drilling over next few weeks, including the KNIs interpretation of what it finds in the upcoming extra drill holes.
Risks
We take yesterday's visual results as a sign that KNI may reduce its exploration risk, pending results from assays:
Our 2022 KNI Investment Memo
In our 2022 KNI Investment Memo you can find a short, high level summary of our reasons for investing.
The ultimate purpose of the memo is to track the progress of our portfolio companies using our Investment Memo as a benchmark, throughout 2022.
In our KNI Investment Memo you'll find:
Key objectives for KNI in 2022
Why we continue to hold KNI
What the key risks to our investment thesis are
Our investment plan
---