Kazakhstan and Europe announce battery materials MoU - SGA releases high graphite grades
Disclosure: S3 Consortium Pty Ltd (the Company) and Associated Entities own 4,802,500 SGA shares and 1,466,250 SGA options, the Company's staff own 50,000 SGA shares and 12,500 options at the time of publishing this article. The Company has been engaged by SGA to share our commentary on the progress of our Investment in SGA over time.
Our Investment Sarytogan Graphite (ASX:SGA) holds 100% of a huge graphite project in Kazakhstan, strategically located between Europe and China.
Graphite is a key ingredient in batteries and today SGA released high grade drill results, in what is already the highest grade and second largest graphite resource on the ASX.
⚠️ Breaking News - in the early hours of this morning AEST, the European Union announced that an MoU has been signed with Kazakhstan to establish a partnership on battery materials supply, specifically to:
"...allow both sides to advance trade and investments into a secure, sustainable and resilient raw materials value chain, which is key to achieving the transition to climate-neutral and digitalised economies."
Interesting to note, the European Union currently gets 98% of its natural graphite from imports.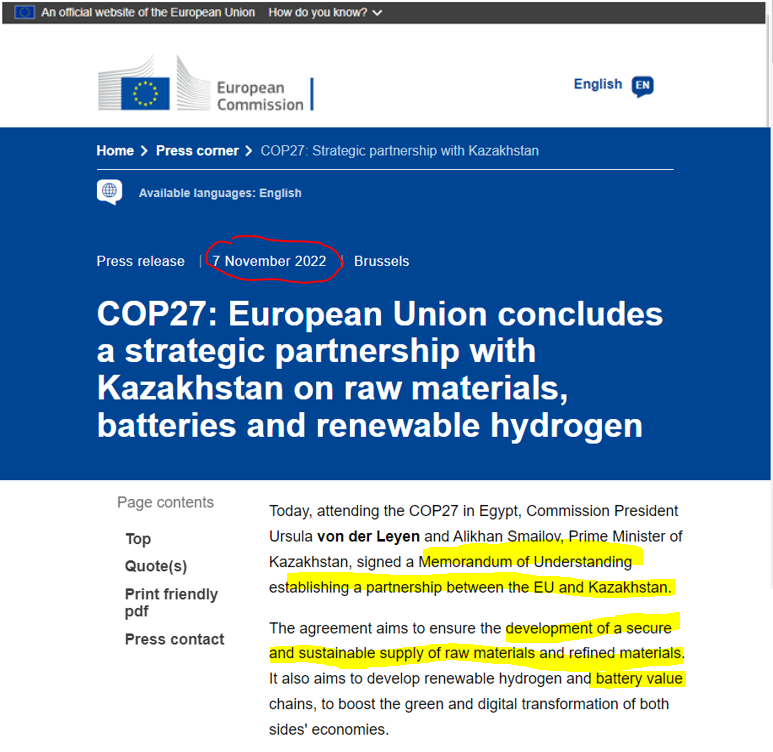 Read the full announcement here - more about this MoU later in this note.
Meanwhile, SGA (graphite project located in Kazakhstan) this morning put out more high grade drilling results to complement its already huge resource which stands at 209Mt @ 28.5% Total Graphite Contained (TGC) Inferred Mineral Resource.
We already know that SGA has the highest grade graphite resource of any ASX listed graphite company and the second largest contained graphite resource on the ASX.
The key catalyst we are waiting for with SGA is news on metallurgical testwork ("metwork") - which is basically processing samples from SGA's graphite deposit to test if they can be extracted to the level of purity required to be used in batteries.
Successful metwork results are the key question the market currently has over SGA. Metwork is currently underway at labs in Germany in Australia and we are eagerly awaiting these results in the next month or two.
Our Big Bet
"Given this graphite project's strategic location in between China and Europe, we hope that if SGA proves out the size and economic extractability of the resource, it will generate interest from major mining companies, leading to a takeover of SGA for $1 billion+."
NOTE: our "Big Bet" is what we HOPE the ultimate success scenario looks like for this particular Investment over the long term (3+ years). There is a lot of work to be done, many risks involved - just some of which we list in our SGA Investment Memo. Success will require a significant amount of luck. There is no guarantee that our Big Bet will ever come true.
For a summary of SGA's progress over time see our SGA Progress Tracker: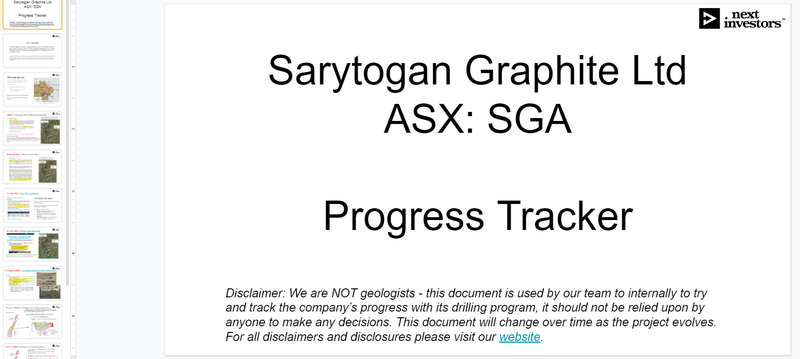 Were the grades SGA released today good?
In short, yes.
Half of the intercepts reported today came in above the grade of the existing 209Mt @ 28.5% TGC Inferred Mineral Resource - the significance of this being that SGA could potentially increase the overall grade of its resource.
With drilling scheduled to be completed later this month, we expect these drill results to form an important part of an updated Mineral Resource Estimate which is due in Q1 2023.
This is all part of increasing confidence in the resource which is Objective #2 from our SGA Investment Memo: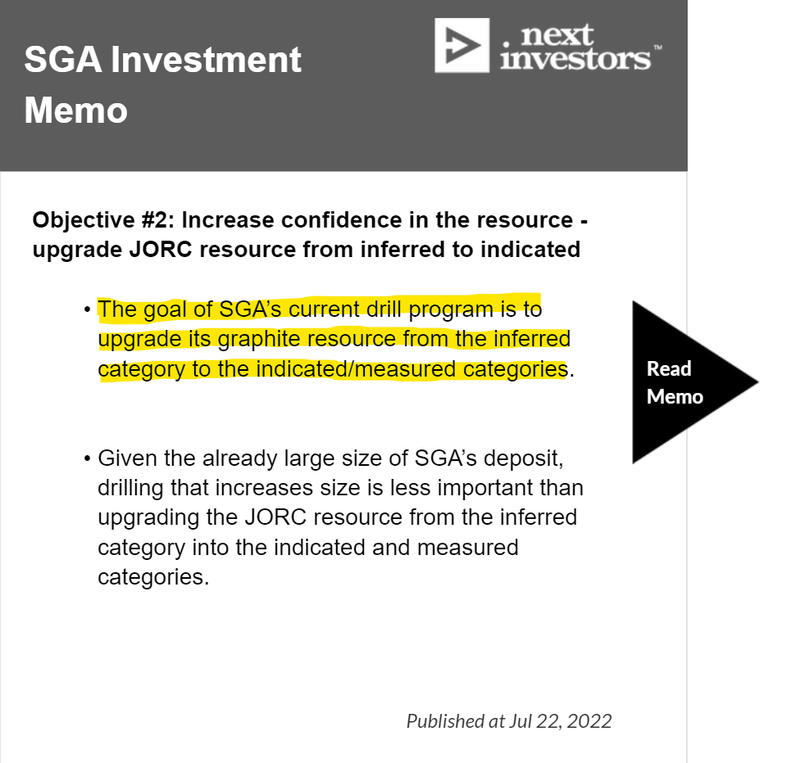 Today's results move SGA one step closer to achieving the bull case for Objective #2 which is:
Bull case = Total contained graphite >20mt in the "indicated" resource classification.
Base case = Total contained graphite 15-20mt in the "indicated" resource classification.
Bear case = Total contained graphite <15mt in the "indicated" resource classification.
We have shaded some of SGA's hits from today's announcement in yellow: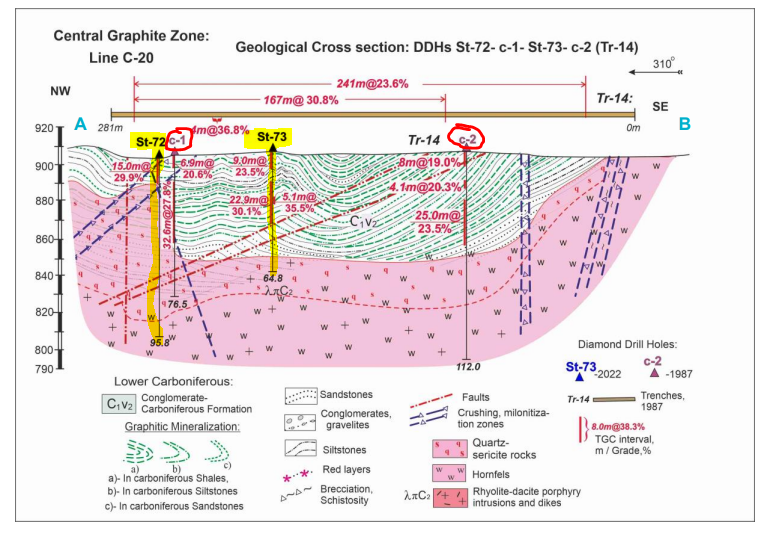 Today's drilling results come from a part of SGA's project that was previously only lightly drilled (previous drilling circled in red).
The old intercepts show grades ranging from ~19% to 23.5%.
The intercepts highlighted from today's announcement produced grades of up to 35.5% - a significant increase when compared to those historic holes.
As the image shows, the graphite comes from surface, something which we were able to visually confirm on our site visit to SGA in Kazakhstan.
Kazakhstan sits at the crossroads of Europe and Asia, and as such, it stands to benefit from competitive tension surrounding the supply of battery materials that are critical to both continents' push to decarbonise.
Importantly, Europe seems to have moved first to build a stronger relationship with Kazakhstan and secure these critical raw materials, which is where the latest news out of the COP27 global climate summit comes in.
Kazakhstan and the EU ink MoU on battery materials, green energy
The UN's annual climate conference, COP27 is now in full swing.
Global leaders have gathered in Egypt to discuss how they will achieve the ambitious net zero targets set last year.
Energy security and reliability is still front of mind, countries are aware of the situation in Russia and the need to secure local supply chains of critical raw materials.
Last night, the European Union took one step closer towards this goal, signing a Memorandum of Understanding with Kazakhstan to "integrate... strategic value chains related to raw materials, to batteries and to renewable hydrogen".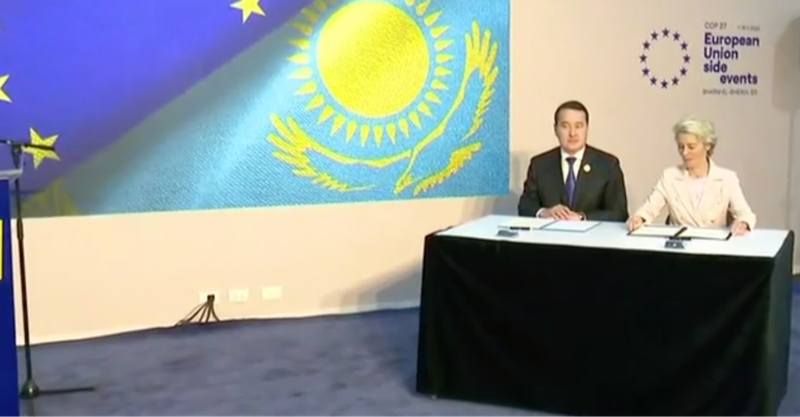 Read the official statement here.
The EU is by far the largest foreign investor in Kazakhstan, making up 60% of the foreign investment in the country.
Graphite is of particular interests to the EU as the automobile industry in the area rapidly shifts towards electric vehicles.
Graphite makes up ~50% of the raw materials in every lithium-ion battery and over 95% of every battery anode. As a result, graphite demand is expected to increase by over 700% by the year 2030.
Automakers are keenly aware of the need to secure graphite and in July of this year, Ford signed an MoU for offtake of Syrah Resources' graphite to secure future supply.
We expect similar kinds of offtakes to follow in the years to come from European automakers as the graphite market enters a sustained period of structural supply demand imbalance.
This makes the Kazakhstan/EU partnership all the more significant.
At past UN climate conferences, countries have been slow to make deals and often haggle over minute details. But this deal was made on the first day of the conference - indicating the importance to both parties.
All up, it shows a strong commitment from the EU and Kazakhstan to advance battery materials projects - a good sign for SGA.
Our SGA Investment Memo
Here is our SGA Investment Memo, where you can find a short, high level summary of our reasons for Investing including the following:
Key objectives for SGA for the coming year
Why we are Invested in SGA
The key risks to our Investment thesis
Our Investment plan
---