GTR Primed for Maiden Drilling at Emerging WA Gold Hot Spot
PUBLISHED: 13-08-2020 10:02 a.m.
The gold price is soaring, currently at US$1911 per ounce and presents a highly bullish environment for WA gold explorers.
GTi Resources' (ASX:GTR) Western Australian gold project is starting to look increasingly interesting to investors, given the lofty gold price.
As such, if GTR identifies high grade gold in its upcoming drilling program, it could see a significant rise in value.
The company's 100% owned Niagara Gold Project is located near Kookynie in the Eastern Goldfields of WA.
This region is starting to attract exploration attention and dollars, which has given GTR momentum to drill test its own ground here.
Genesis Minerals Ltd (ASX: GMD) recently acquired its own Kookynie Gold Project, a 248km2 tenement package that includes 15km of strike length and a JORC Indicated and Inferred Resource of 414,000oz. GMD's Greater Ulysses Project in this region holds 1.28Moz, and the company is currently capped at $113M.
Kookynie is where GTR's neighbour Metalicity Ltd (ASX: MCT) recently conducted a highly successful drilling campaign. MCT gained almost 250% after hitting "spectacular" high grade results from first assays at Kookynie in its joint venture (JV) with Nex Metals Exploration Ltd (ASX: NME).
MCT's success hints at the potential of GTR's WA ground, which is only circa 2km north of GTR's project. MCT has a 50% interest in its Kookynie project and is currently capped at $32M, which you could reasonably ascribe a project read through value of approximately $64M for 100% of the project.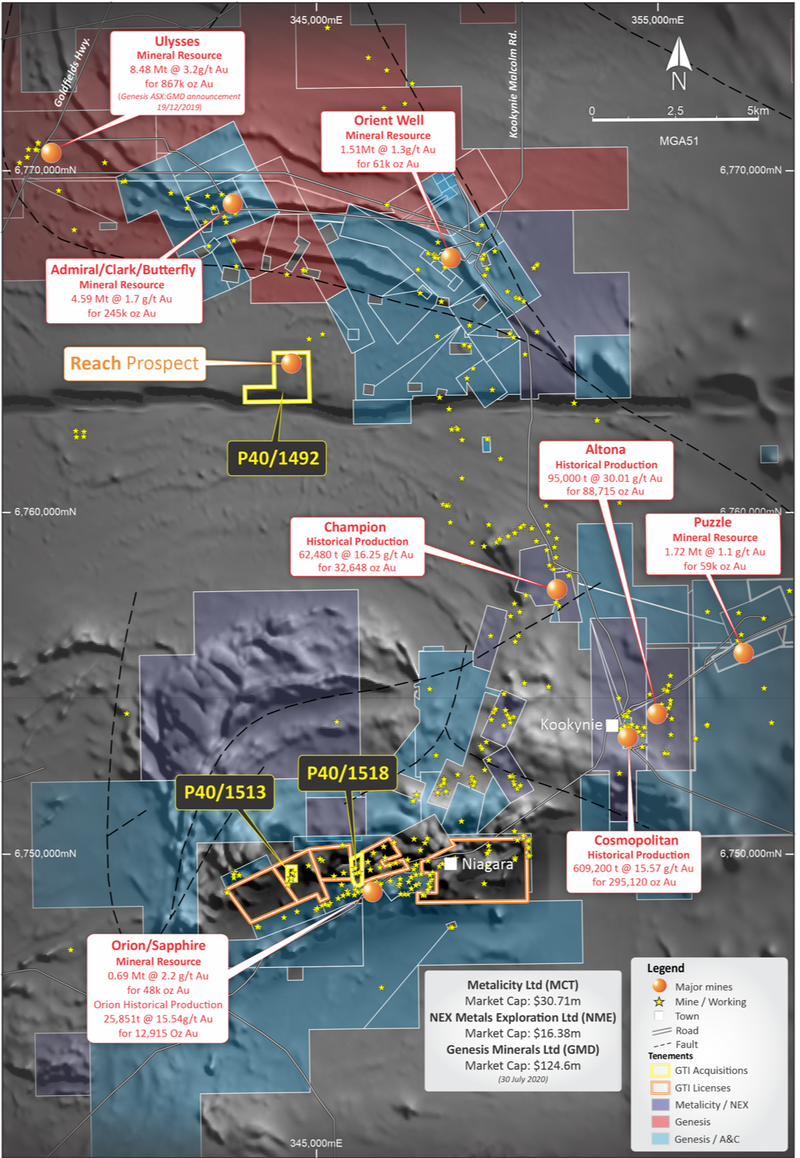 GTR is currently capped at circa $17M – considerably less than this, and is about to undertake maiden drilling on untested targets on its 100% owned Kookynie project.
This points to a great deal of upside in the coming months with its gold project in tandem with the potential of its US uranium assets.
When we first introduced readers to GTI Resources (ASX: GTR), it was best known for its flagship uranium assets.
Those assets located in the Henry Mountains region in Utah, USA, are known as a hot spot for high grade uranium deposits, and GTR was a first mover on the ASX in entering this region.
On the strength of the uranium price and its USA assets, we first took a position in GTR when it was 1c, it has been up as high as 500% since, and is currently sitting around the 3c mark.
We continue to hold GTR and given the company has recently raised over $1.8M at 3c and is currently closing out a fully underwritten SPP to raise a further $978k at the same price, we are looking forward to upcoming exploration programmes on both assets.
Today, GTR has confirmed a first phase 50 hole aircore drilling programme for September, which will lead into a second phase RC drilling programme for October. GTR is permitted to conduct 10,000m of drilling at its Niagara Project.
It appears the market has not fully priced in GTR's WA gold project, but it is unlikely to remain that way for long. It is one of the reasons we have taken a long-term position in GTR and are closely following its results.
With two highly prospective and diversified projects, in two tier one regions, this could be GTR's time to shine.
So let's catch up with GTR for all the latest...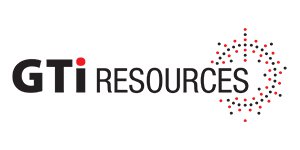 Share Price: $0.029
Market Capitalisation: $18.7 million
Cash: Cash at the end of last quarter was $2M, plus GTR recently raised $1.8M before costs via a placement (a fully underwritten SPP is set to raise $978,000 and is set to close on 21 August).
Here's why I like GTR: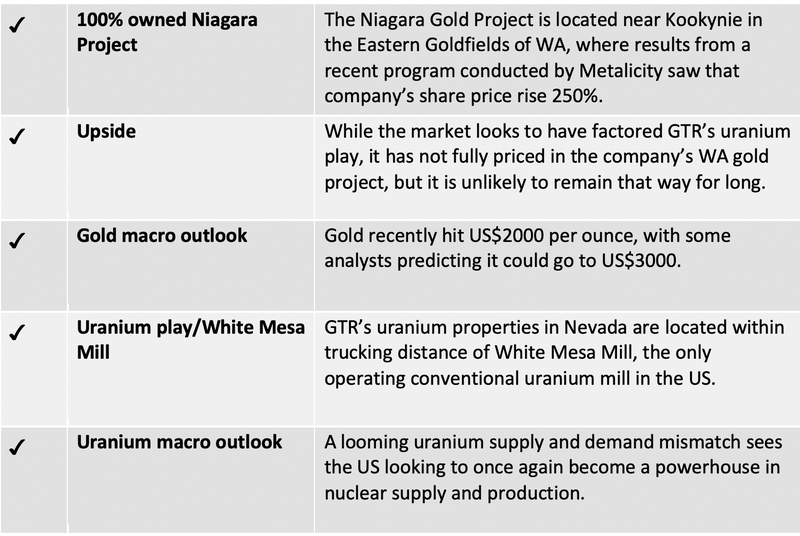 A brief recap
After raising over $1.8M at $0.03 cents per share, and with a fully underwritten SPP set to raise $978,000 in the works, GTi Resources (ASX:GTR) is cashing up to build work programmes across both the WA gold project and the uranium project in Utah.
Interestingly, the raise was supported by major shareholder and influential mining investor Tolga Kumova.
When we last caught up with GTR, it was all systems go at its Utah uranium/vanadium project.
The company holds over 2000 hectares of ground within trucking distance to the White Mesa Mill, operated by Energy Fuels Inc (TSE: EFR) – which is the only conventional fully licensed and operational uranium / vanadium mill in the US.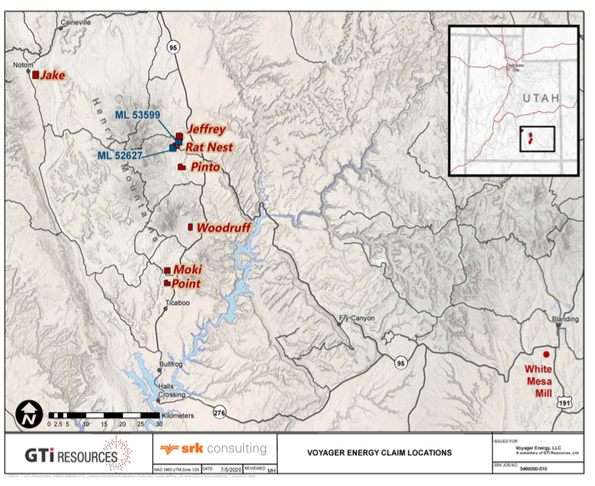 There is a global uranium supply squeeze happening which is being significantly exaggerated by the COVID 19 pandemic, and GTR is well positioned to leverage this with its USA project.
You can read our in-depth appraisal of this project in the article: The Early Mover in USA Uranium – GTR's Drill Results Due in Days.
Since our initial coverage, GTR has been up as high as 500%, however as its stands, the company is capped at just $17M, and has more cash in the bank to fund its exploration.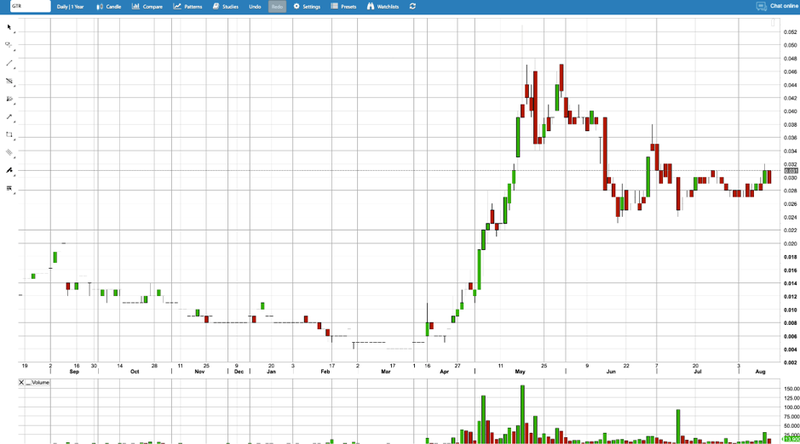 GTR - 1 year chart
In recent months, GTR has completed a full review of its recently secured historical data package covering the leases being acquired from Anfield and the existing Jeffrey, Rats Nest and Moki project areas in the Henry Mountains Utah, USA, which has significantly enhanced exploration and targeting work.
The company is now preparing for Q3 exploration activity and is progressing with field checks of the historical data currently in progress.
As preparation continues in Utah, the company has turned its attention to its gold exploration at its Niagara gold project in Kookynie.
GTR's own Kookynie Gold Project – can it deliver investors the same result as MCT?
Located ~6km southwest of Kookynie in the central goldfields of WA, the Niagara gold project is covers 10.2km2 and comprises one granted exploration licence, E40/342 and six contiguous prospecting licence applications including existing applications, P40/1506, P40/1515, P40/1516 and P40/1517 plus the recently acquired P40/1513 and P40/1518.
Earlier this year, GTR more than doubled the size of its WA land holding by pegging and acquiring past producing mineral leases adjacent to the Niagara project.
Niagara is located within the central part of the Norseman-Wiluna greenstone belt and the geology of the area is characterised by large rafts of semi-continuous greenstone stratigraphy within the Mendleyarri monzogranite batholith.
Numerous historical workings occur within and to the north of the project area, with a number of major historical mines located in the immediate vicinity of Kookynie, including the Cosmopolitan Mine which produced circa 360,000 ounces of gold at average grade of 15 g/t gold from 1895 to 1922.
As we noted earlier, Niagara is located close to and along strike from Nex Metals Exploration's (ASX: NME) tenements that are being successfully explored by Metalicity Ltd (ASX: MCT) who is earning into the project under a JV agreement.
The following map outlines how close GTR's Niagara ground is to the MCT licences: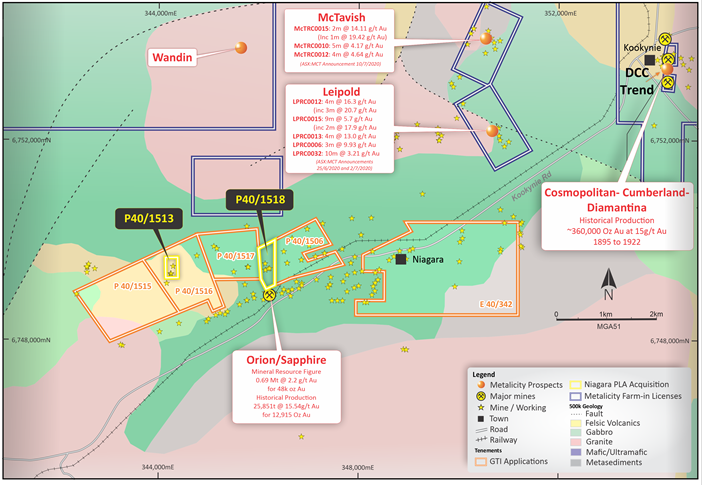 Niagara Project – Licences and Mineral Occurrences, Metalicity Prospects on 1:500,000 Geology.
Successful exploration drilling was recently conducted at the Leipold and McTavish prospects at the JV's Kookynie Gold Project, that demonstrates the potential of the region to be a prolific area.
It is worth pointing out again that this drilling resulted in significant share price growth for MCT. The stock gained almost 250% after announcing "spectacular high grade results from first assays at Kookynie".
MCT is currently as a $32M market capitalisation – almost double that of GTR.
Given the gold anomalism identified in its recent soil sampling program and MCT's success, GTR made the strategic decision to allocate a portion of recently raised funds to drilling here.
GTR Executive Director, Bruce Lane said: "Results from our recent soils program along with Metalicity's spectacular success, in close proximity to our Niagara (Kookynie) Project, encouraged GTI to accelerate our next phase of gold exploration and drill targeting at Niagara.
"Our initial interpretation of the recently completed Aeromag survey has provided additional encouragement for us to do further work. Timing of the program fits perfectly from an execution planning point of view, with the exploration preparation work being undertaken at GTI's Utah projects."
Lane now sees conditions as "optimum" to accelerate exploration at Niagara, where the company hopes to identify structures similar to those being successfully drilled immediately to the north.
Aeromag survey to lead to drilling
On 11 August, GTR received final results from its detailed fixed wing, aeromagnetic survey, which comprised 2,053 line kilometres at 20m line spacings over E40/342, P40/1506 and P40/1517.
Initial processing of the aeromagnetic data has been completed and GTR is now undertaking further structural interpretation of the airborne survey data with the aim to define and map potential north trending structures, within the buried magnetic basement that are associated with gold mineralisation in the Kookynie region.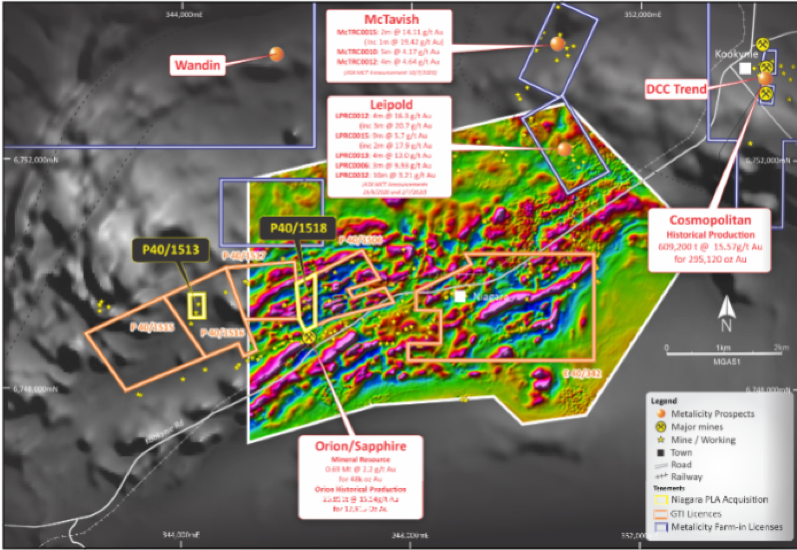 Niagara (Kookynie) Project – Aeromagnetic Survey Results.
An aeromagnetic survey, along with ground truthing, sampling and drill targeting, will culminate in an Aircore drill programme during September 2020 followed by an RC campaign in October.
Interpretation of aeromagnetic, geological and geochemical data is rapidly enhancing GTR's understanding of the mineralising systems and gold anomalism at Niagara.
Ground truthing and a significantly expanded 1,000-hole auger soil sampling program commences Monday, 17 August.
GTR already has permitting in place for up to 10,000m of drilling.
The first phase follow up drilling of circa 50 Aircore holes is planned for September, while the second phase RC drilling is expected to commence during October.
Drilling will test the most attractive zones of mineralisation.
Exploration by GTR has already identified a number of significant gold in soil targets within the northern and central parts of E40/342, including a strong 500m long, 100m wide anomaly up to a peak of 38ppb gold, in the north‐eastern corner of the licence. The sigmoidal shaped, north to north‐northeast trending anomaly is open to the north east and adjacent to a major east to northeast trending regional fault.
Lane commented, "Niagara is an exciting exploration project which now covers over 8 kilometres of prospective strike length on the underexplored Niagara Trend, adjacent to historical high-grade gold mines. We are very encouraged by the results of July's aeromagnetic survey when it is combined with the geochemical results from our initial soil sampling program. These programs are guiding our structural modelling and interpretation and have provided us with some very interesting targets.
"The next stage of our field exploration activities starts next week with a significantly expanded soil sampling campaign to be followed up in September with first phase Aircore drilling of circa 50 holes. This field work will further refine our understanding of the mineralising system and will help us locate the most attractive prospective zones for October's planned second phase deeper RC drilling campaign."
Could there be a major catalyst on the horizon?
A drilling event could prove to be a major catalyst for GTR.
Certainly, any work conducted at Niagara, along with its progress in Utah, could be significant shareholder value drivers over the coming months.
GTR expects the injected capital will be sufficient to achieve its ambitious work programs for the rest of 2020.
The segment of news coming from its Aircore and RC drilling in WA, could be its first catalyst. This initial program should take place in September 2020 – just weeks from now.
As long term holders in GTR, drilling results are highly anticipated. So, as GTR attempts to emulate MCT's drilling success in WA, we will keep readers informed of any major news events as they come to hand.
GTR is well placed to see out 2020 on a high as it ramps up operations at both highly prospective projects.
---