GTi Resources (ASX: GTR) Up 380%
The Next Mining Boom first alerted you to the emerging uranium small cap GTi Resources (ASX:GTR) back on April 29 at 1.2 cents. Since that time, GTR has been on a strong run, climbing another 33% this morning and up 380% since we first initiated coverage.
The story has caught on in the wider market, and we were proud to bring our subscribers this stock early. It is, indeed, one of the hottest small caps on the ASX this month.
This seemingly undervalued exploration company is focused on uranium in the Henry Mountains region of Utah, USA and is preparing for its maiden drilling program at a past producing project known as the Jeffrey Project.
The Henry Mountains region contains high grade uranium and vanadium deposits having produced 17.5 Mt of ore averaging 2,400ppm U3O8 and 1.25% V2O5 (92 mlbs U3O8 and 482 mlbs V2O5) dating back from the early 1900s.
The Next Mining Boom first covered GTR in April in the article $5M ASX Micro Cap Launches Uranium Exploration - Near the Only US Processing Facility.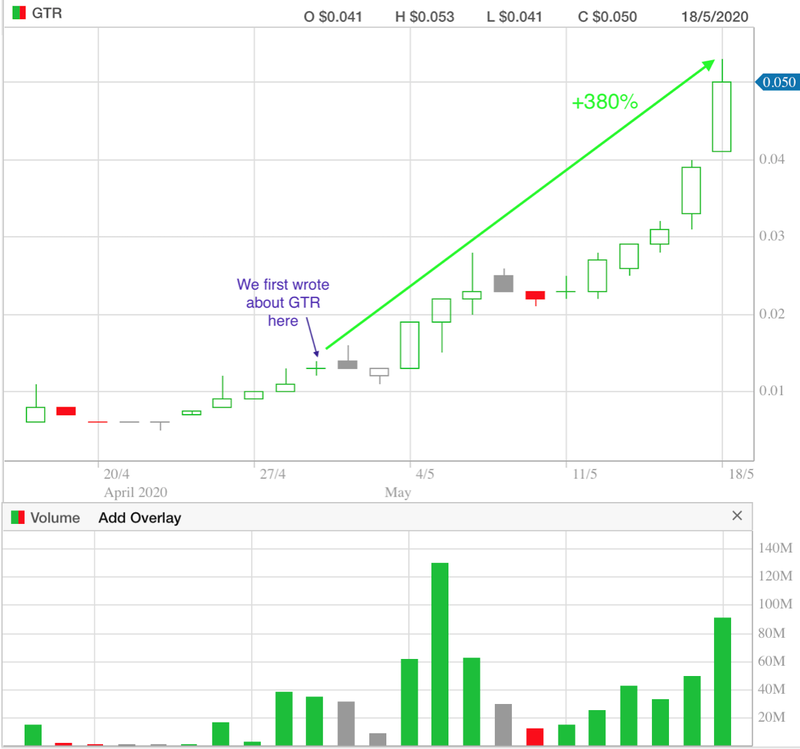 GTR is up almost 400% since we first initiated coverage at 1.2 cents on April 29.
The company is now 5.3 cents and could climb further, following the release of a Wise Owl Research report to its subscribers on Friday.

GTR's Jeffrey Project has the potential to deliver uranium ore to fill existing mill processing capacity. The company is also buoyed by support from the US government for domestic uranium producers, and uranium market developments.
Uranium is set to become a bigger discussion point in the clean energy revolution.
US president Donald Trump's 2021 budget now includes spending A$230.7 million per year for 10 years to create a strategic uranium reserve.
GTR is just one of our recent success stories
Next Investors owns and manages a carefully selected portfolio of ASX listed small caps in which we intend to hold substantial long term positions.
We continuously encourage our millions of yearly readers to invest alongside us in our portfolio companies.
Along with GTR, we have taken positions in:
Elixir Petroleum (ASX:EXR)
This week we doubled our holding in EXR.
Elixir Energy is a CBM Gas exploration company located in Mongolia, close to Chinese infrastructure
This is the first ever CBM discovery in Mongolia and EXR offers an attractive EV due to COVID19. The company held up around 6c for a few months, but is now down to 2c, after a couple of months of COVID-19 selling.
We think the stock could be ready to run as the register seems to be mainly sticky holders now.
EXR recently raised $2M so they are funded for next drilling program, while many other frontier explorers can't drill due to COVID-19 travel restrictions.
The new drill program will begin in June.
Vulcan Energy Resources (ASX:VUL | FRA:6KO)
Vulcan has developed the world's first and only zero-carbon lithium process and plans to produce battery-grade lithium hydroxide from geothermal brines pumped from wells with a renewable energy by-product.
First commercial production is targeted for 2023.
VUL also has Europe's largest lithium JORC Resource (13.95Mt contained LCT) at its Zero Carbon Lithium Project in Germany — the world's fastest growing lithium market.
The project has potential for dual revenues — zero-carbon lithium and geothermal energy.
The company will soon commence its Pre-feasibility study followed by construction of pilot plant, then a DFS in 2021.
Since we coverage of VUL (formerly KRX) in August 2019, the stock is up 41% and has been up by as much as 60%. We named Vulcan as our Top Stock Pick for 2020 in February in the article, REVEALED: Our Top Stock Pick for 2020.
WhiteHawk Limited (ASX:WHK)
Founded by a former deputy director of US Naval Intelligence, WHK has developed a SaaS platform for identifying, prioritising and mitigating cyber risks for businesses.
WHK has contracts with key US federal government departments, Fortune 500 companies, top US financial institutions, major insurers, manufacturers, utilities providers and a leading US Defence Industrial Base (DIB) company to protect these organisations and their supply chain companies.
WHK generated revenues of US$1.03M (A$1.5M) in FY19 — up 100% on prior year. Q1 2020 revenues of US$516k (A$787k), were up 55% from US$333k (A$508k) in Q419 and up 282% on pcp. It has US$1.5M (A$2.3M) cash and a $8.3M market cap.
Whist WHK is currently down, however we believe further contract signings and new US Federal Contractor Cybersecurity Regulatory policies will present opportunities with tens of thousands of DoD supply chain companies requiring cybersecurity.
Tempus Resources (ASX:TMR)
Tempus Resources has two major gold projects: Zamora in Ecuador and Blackdome-Elizabeth in Canada and was up as high as 47% when we first initiated coverage in February. It is currently up 17% in the last six month period.
TMR's Ecuadorian gold asset is next to $2 billion Lundin Gold's greenfields gold discovery, which could have a major north facing impact on TMR's valuation. Furthermore, drilling at its Blackdome Project in Canada will commence shortly following a $4 million capital raise to fund the program. This Canadian gold asset has a high grade historic mineral resource with past production of over 230,000 oz.
Alexium International Group (ASX:AJX)
Although 34% down in the last six months, we feel AJX is one to watch in the long term.
The specialty chemicals company is developing and commercialising high-performance, environmentally friendly, nonhazardous flame retardants (FR) and phase change materials (PCM). Key markets are military uniforms, workwear, and bedding products.
New management with a reengineered product suite. Solid financially — December capital raising (A$22.3M) allowed AJX to repay its existing expensive debt facility.
AJX recently partnered with major flame retardant chemical company Israel Chemicals Ltd (TASE/NYSE: ICL) to launch Alexiflam® NF into target markets and it will continue commercialisation efforts across its 5 near term growth pillars.
Galileo Resources (ASX:GAL)
Galiileo is exploring for nickel in the Fraser Range Nickel Belt where it has over two kilometres of untested strike length just 50 kilometres along strike from Legend Mining's (ASX:LEG) recent discovery.
The stock has gained 36% for shareholders since we first wrote about the company on March this year.
Major shareholders include IGO (8.9%) and Mark Creasy (26%) — there have been no discoveries in the Fraser Range that haven't involved Creasy.
The company recently raised $5M at 22¢, adding to the $4.8M cash (at 31 March), to fund further exploration.
88 Energy (ASX:88E | LON:88E)
We have been long term holders in this Alaskan North Slope oil exploration company.
With significantly increased scale and demonstrated operational capability, 88E is focused on the world class oil potential of the North Slope of Alaska. Geological and operational expertise, specific to the North Slope of Alaska.
88E and XCD Energy (ASX:XCD) have agreed to an off-market takeover — XCD will become a wholly owned subsidiary of 88E.
Final word
GTi Resources (ASX:GTR) is the latest in a long line of companies we have covered that has real potential to move from undervalued small cap to so much more.
Just today, the company is up 33.3% and it looks like this momentum could continue.
Like, all the above-mentioned companies, we'll be keeping a close eye on GTR's performance and will continue to provide you with updates when the company has news to report.
As stated, we are in for the long term and hope that you can come on this journey with us.
---