Friday Stock: Production in sight for MNB, offtake "shortly"?
Disclosure: S3 Consortium Pty Ltd (the Company) and Associated Entities own 8,645,000 MNB shares at the time of publishing this article. The Company has been engaged by MNB to share our commentary on the progress of our Investment in MNB over time.
It appears to be "go time" for our 2022 Wise-Owl Pick of the Year Minbos Resources (ASX:MNB).
We're talking about actual production - expected to begin before the end of 2023.
MNB has two projects in Angola.
The most advanced is the phosphate-fertiliser plant which is expected to be constructed and in production before the end of the year.
The second is a green ammonia project which is at the feasibility stage, using cheap renewable power to create nitrogen-fertiliser and explosives for mining.
The latest update today is that an offtake partner to take up "most of" the entire Stage 1 phosphate production volume could be "a few weeks" away.

It's not often that an offtake partner takes up "most of" a company's planned production volume...
It's a sign that the demand for MNB's product must be extremely firm, and this mystery offtake partner is intent on securing supply.
Basically an "offtake" is an agreement with a buyer to purchase some or all future production from a mine - very important in the eyes of potential financiers to build the mine.
We think locking in a customer for its entire Stage 1 production is going to accelerate the financing of the remaining CAPEX required to complete construction of the plant.
The usual pathway we've seen for the rare small caps that actually make it into production is:
Prove the resource and do the economic studies
Use the resource and studies to sign an offtake agreement
Use the offtake agreement to help secure financing
Use the financing to build the mine
Sell the production from the mine to fulfill the offtake agreement
MNB traded as high as 17.5c just a few months ago, but seems to have been caught up in the traditional May and June weakness seen across small cap stocks.
Today's news has seen MNB come back from recent lows of 10c back to 12c at time of writing.
MNB is one of our favourite Investments, especially after we visited their projects in Angola earlier this year, and saw for ourselves the progress being made:

Check out our site visit note here: On the Ground in Angola: Our MNB Site Visit.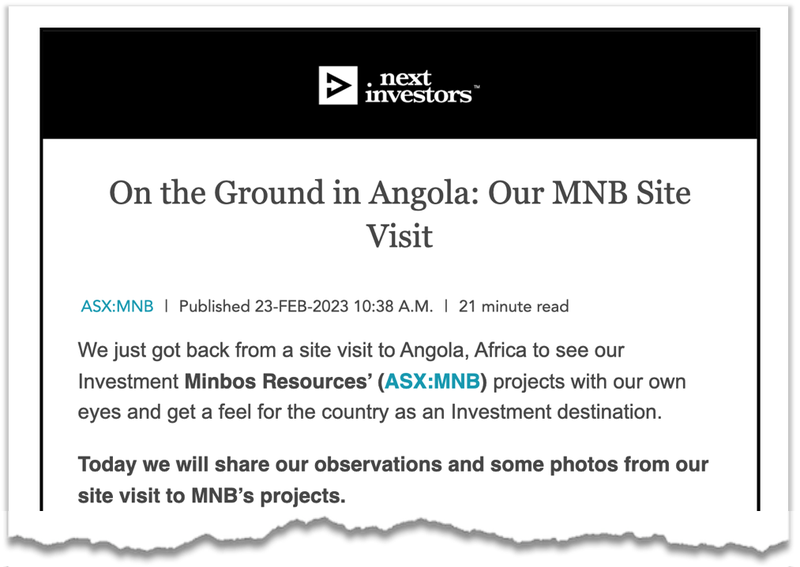 Africa is seeing new waves of capital coming into the continent as the US and China race to secure resource projects in Africa.
It's been a long time coming, but Africa looks to finally be getting the development money it needs as the two superpowers compete on the continent.
We're expecting MNB and our other African resources Investments to benefit from this strategic competition.
Most recently, the US government has made US$30BN in funding available for infrastructure projects in Africa.
The funding is going into "key economic corridors" targeting transportation and energy infrastructure.
The ultimate aim being to promote "greater investments in agriculture" in the region.
One of the main corridors is the "Lobito Corridor" where the US government has made an initial investment in rail capacity that runs through Angola.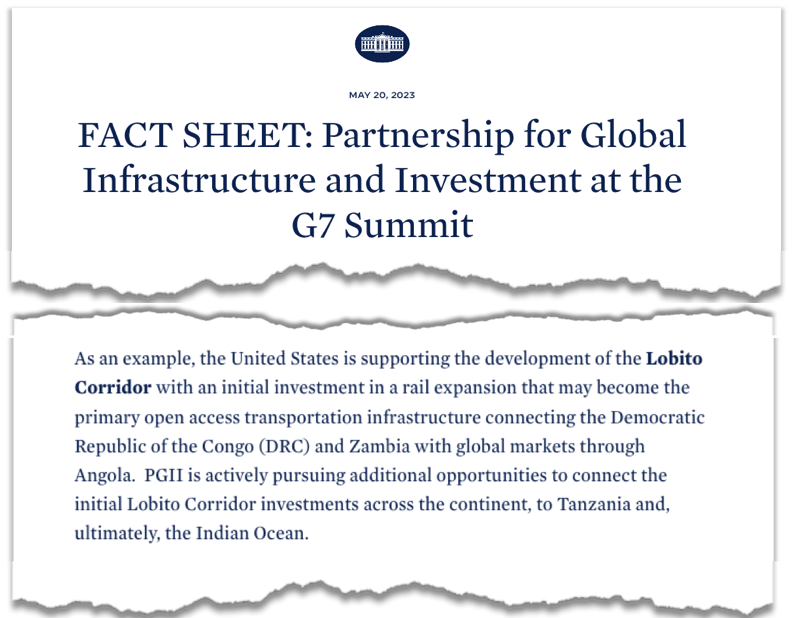 Our 2022 Wise-Owl Pick Of The Year Minbos Resources (ASX:MNB) is one of the companies responding to the funding pouring into the region.
MNB has two projects, upstream and downstream in the agricultural sector:
1) Phosphate fertiliser project currently in construction - offtake partner news expected "shortly"
MNB is currently building its phosphate fertiliser mine and expects to have the project in production before the end of 2023.
MNB's phosphate will be used to make fertiliser for the agricultural industry AND the type of phosphate used in lithium iron-phosphate (LFP) batteries that are popular in electric vehicles, especially in China.
Today MNB received all of the environmental permitting for the project and is in the final stages of development.
The project economics are as follows:
NPV of US$203.4M (base case) - That figure was based on a long-term average phosphate rock pricing of US$422 per tonne — the 15-year average price.
NPV of US$399.4M (upside case) using October 2022 figures.
Post-tax internal rate of return (IRR) of 61%
Payback period of 3.6 years
It is worth noting that the DFS project economics don't include the processing of phosphate rock with a high silica content as it cannot be used in fertilisers. However, MNB still plans to sell this "waste product" as it is ideal for the Lithium-Ferro Phosphate (LFP) battery market, which is growing in popularity in China.
Also, the DFS doesn't include any of the additional resources MNB might add through the pegging of more phosphate ground in the area (which the company has begun doing).
These two factors provide additional upside to the economics of the project, not contemplated in the DFS.
Most of the phosphate project's CAPEX has already been funded, as of MNB's March quarterly report, the project had US$30M in CAPEX remaining.
On that front today, and as we pointed out above, MNB confirmed that MNB was in advanced negotiations to sign an offtake agreement and a funding deal that would pay for most of the projects remaining CAPEX.
In today's announcement, we learnt that in the coming weeks, MNB is expecting to have an offtake agreement, and by August/September, most of the funding locked away.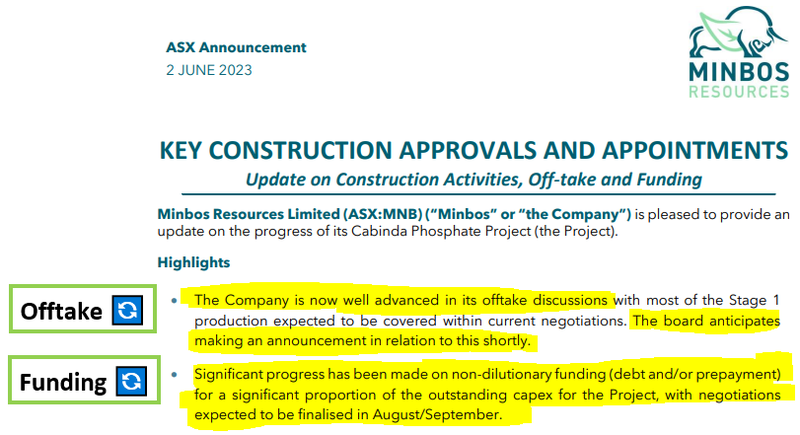 2) Green ammonia project at the feasibility stage
Ammonia is the key ingredient used to produce nitrogen fertilisers and mining explosives.
MNB recently put out a technical study completed by Stamicarbon who helped build the first industrial-scale renewable energy ammonia project in Kenya.
Now MNB is completing a Pre Feasibility Study (PFS) for the project.
Globally, ammonia production is carbon intensive with 98% of ammonia plants using fossil fuels - 72% natural gas and 22% coal.
MNB's project is unique because it has access to clean, cheap renewable hydroelectric energy.
On the 14th of December 2022, MNB signed an MoU with the Angolan energy operator for some of the world's cheapest clean energy.
For some context, MNB's power supply would be ~90% cheaper than prices being paid by industry users in Australia and the USA in 2022.
In Europe, energy prices hit >US$0.50 per kWh in early 2022 - almost 45x higher than the price that MNB will pay for renewable electricity under the MoU.
Angola is ranked second for the cheapest power available in the world.
Source: Energy Data Pricing 2021
Ultimately we think access to affordable renewable energy will make MNB and Angola's green ammonia highly competitive.
Below is a visual we made that summarises the two projects MNB is developing: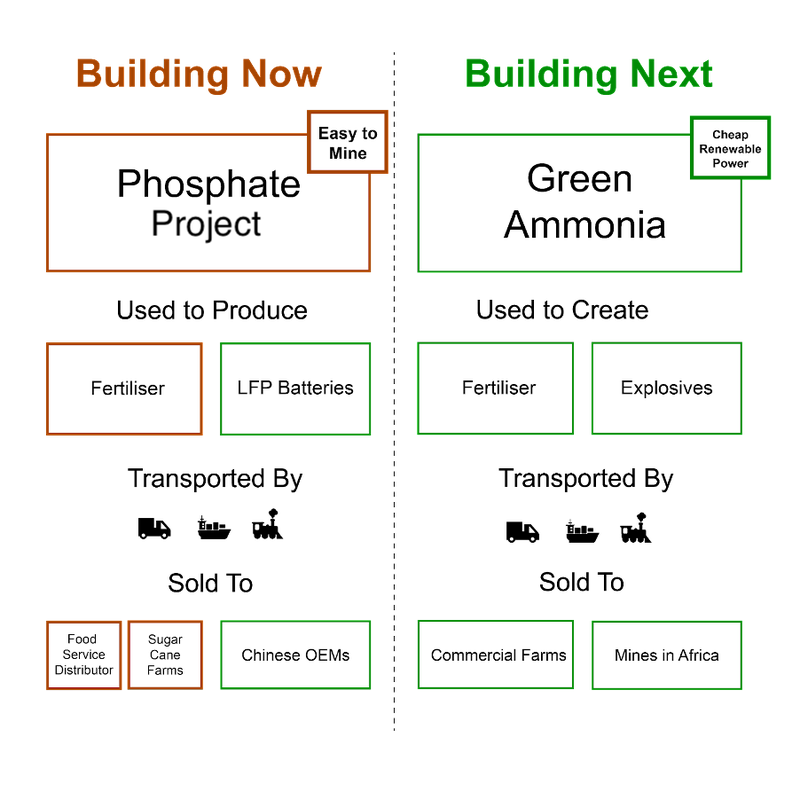 The two projects form the basis for our MNB "Big Bet" which is what we hope happens to MNB's valuation after the two projects move further down the development process.
Our MNB Big Bet is as follows:
Our MNB Big Bet:
"MNB delivers a 10x return by building a profitable phosphate project AND progressing its green ammonia project to construction phase."
NOTE: our "Big Bet" is what we HOPE the ultimate success scenario looks like for this particular Investment over the long term (3+ years). There is a lot of work to be done, many risks involved - just some of which we list in our MNB Investment Memo. Success will require a significant amount of luck. There is no guarantee that our Big Bet will ever come true.
To monitor the progress MNB has made since we first Invested and how the company is doing relative to our "Big Bet", we maintain the following MNB "Progress Tracker".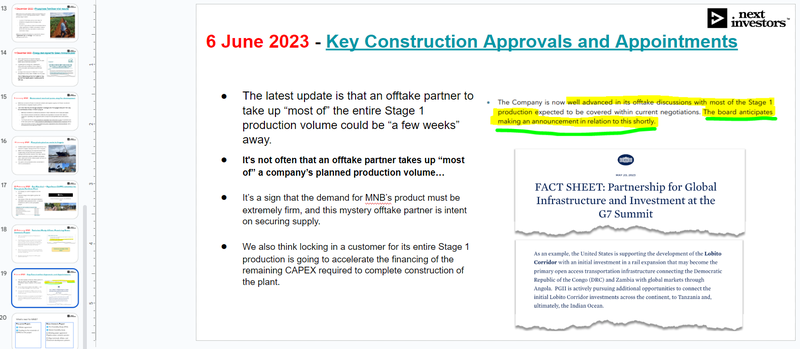 Our MNB site visit
Regular readers will know that we were on-site in Angola checking out MNB's projects earlier this year.

Check out our site visit note here: On the Ground in Angola: Our MNB Site Visit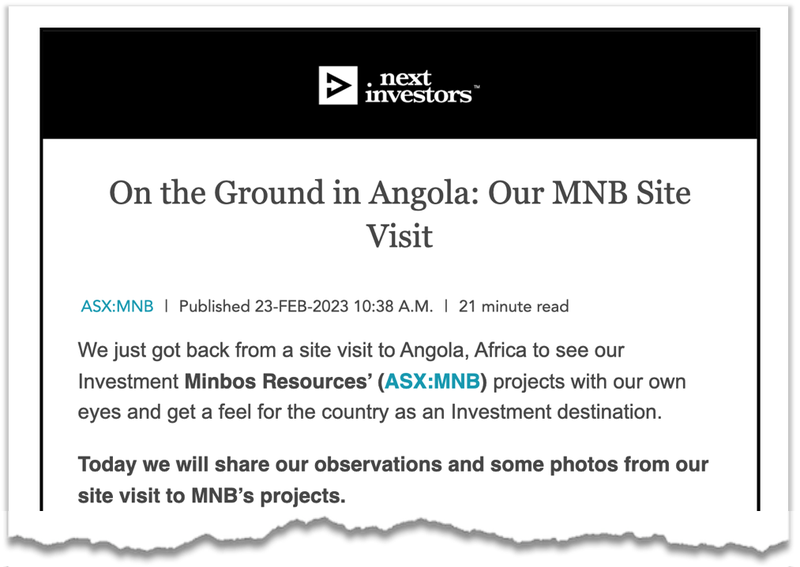 MNB Board of Directors visits site last month
Last month, the MNB board went to site to check out the progress at its phosphate project.
Here the team are standing on top of MNB's phosphate deposit (everything below them is what we are hoping MNB will be mining by the end of this year).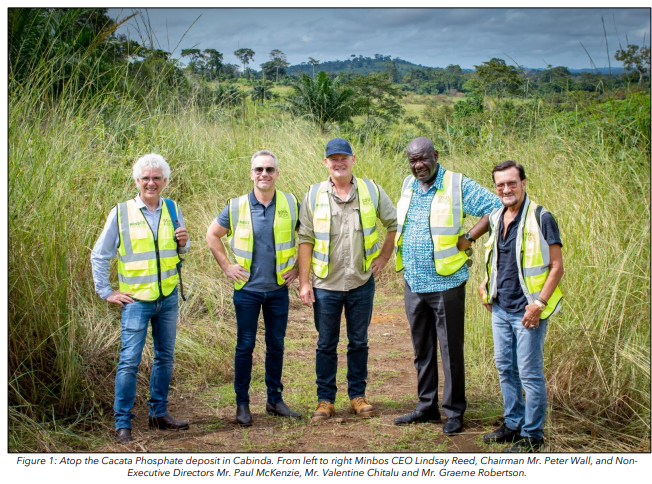 Here the board is in a meeting with the in-country MNB team: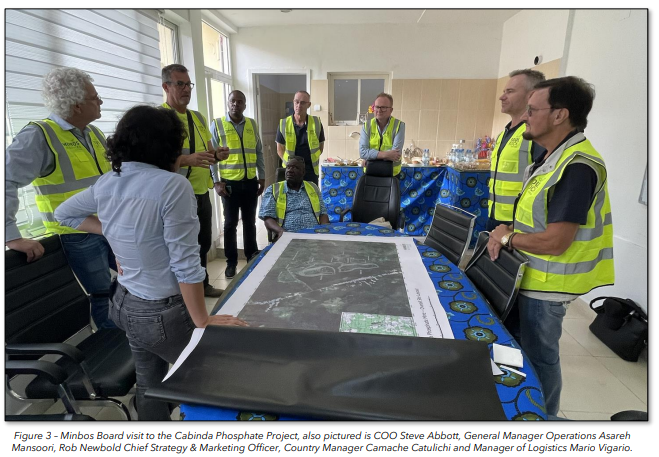 The next photo is a trial field showing how MNB's phosphate is effective as a fertiliser product on crops - the difference is pretty clear...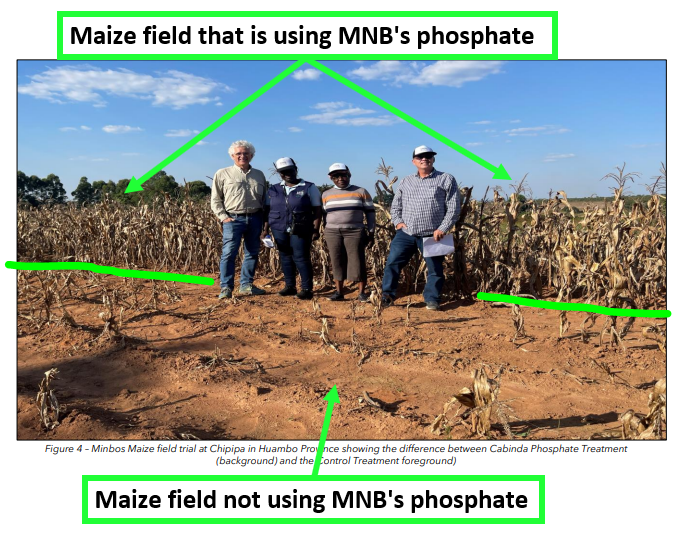 What's next for MNB's fertiliser project?
🔄 Offtake agreement
In today's announcement, MNB confirmed that offtake discussions were "well advanced".
We are hoping MNB can get this locked away before the project is ready to start producing fertiliser.
🔄 Funding for the remainder of CAPEX on the project
Today MNB confirmed that progress was being made on non-dilutionary funding (debt and/or prepayment) for most of the remaining project CAPEX.
In the March quarterly report MNB confirmed that the remaining CAPEX for the project was ~US$30M.
MNB expects this to be finalised in August/September.
What's next for MNB's green ammonia project?
🔄 Pre Feasibility Study (PFS)
MNB is now working on a PFS for its green ammonia project, which will provide us with more information about the operating costs, revenues, and Net Present Value (NPV).
Ultimately the feasibility study will determine whether or not the project is commercially viable.
🔄 Market feasibility study
MNB intends to undertake a market feasibility study on opportunities to sell its green ammonia in Angola and to take advantage of the recently announced Lobito Corridor rail link (Angola, Democratic Republic of Congo and Zambia).
🔲 Binding power agreement Angolan power network operator
We want to see MNB convert its Memorandum Of Understanding (MoU) with Angola's National Electricity Transmission Network (RNT-EP) into a binding power agreement.
We expect this to come after feasibility studies are completed.
🔲 Sign technical, offtake, and investment development partners
Much of the world's ammonia is produced using fossil fuels which makes MNB's green ammonia project unique.
As MNB's project advances, we are hoping potential offtake and development partners start to become more interested in the project and a deal is signed with MNB.
What are the risks?
In the short term the key risks are around project financing.
MNB has said that a funding agreement is being negotiated and that an offtake agreement is close BUT there is always a risk that these negotiations fall through and nothing is agreed.
Below are the risks we have listed as part of our MNB Investment Memo.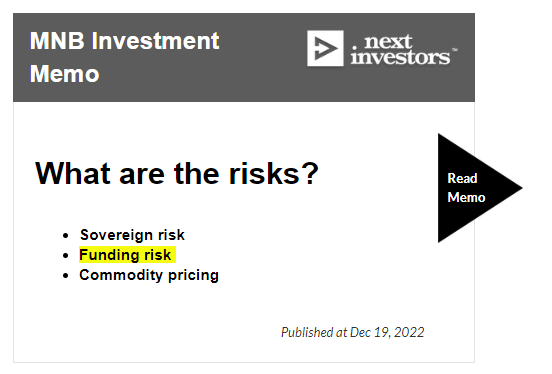 Our MNB Investment Memo
Click here for our Investment Memo for MNB, where you can find a short, high level summary of our reasons for Investing.
In our MNB Investment Memo, you'll find:
Key objectives for MNB
Why we are Invested in MNB
What the key risks to our Investment thesis are
Our Investment plan
---