On the Ground in Angola: Our MNB Site Visit
Disclosure: S3 Consortium Pty Ltd (the Company) and Associated Entities own 8,645,000 MNB shares and 1,562,500 options at the time of publishing this article. The Company has been engaged by MNB to share our commentary on the progress of our Investment in MNB over time. The Company visited Angola as a guest of MNB.
We just got back from a site visit to Angola, Africa to see our Investment Minbos Resources' (ASX:MNB) projects with our own eyes and get a feel for the country as an Investment destination.
Today we will share our observations and some photos from our site visit to MNB's projects.

MNB has two projects located in Angola — a "near construction" phosphate fertiliser project and "studies stage" green ammonia project, for use in fertiliser production.
We believe fertilisers for food security will be a key global issue over the coming years.

Source: Bloomberg
And we think MNB can play a prominent role in addressing this issue.
We recently named MNB our Wise-Owl Portfolio 2022 Pick of the Year.
We've been Invested in MNB for over two years now, first taking a position in August 2020 at 3 cents per share. We Invested again at 8 cents, then again at 11 cents in the most recent placement in July 2022.
MNB is currently one of the biggest positions in our Portfolio.
Today, we hold 8,645,000 MNB shares and 1,562,500 options.
MNB is developing a phosphate (fertiliser) project in Angola which is currently being built and expected to be in production later this year.
Angola currently spends more than US$2BN each year on food imports.
Much of this food could be grown inside of Angola, but the country needs a lot more fertiliser to get there.
Phosphate is the natural source of phosphorous, which provides a quarter of all the nutrients that plants need for their growth and development.
Phosphate is mined and then processed in a facility to make fertiliser to improve crops.
MNB's phosphate fertiliser is unique to MNB and Africa.
Usually, phosphate rock can't just be applied straight onto soil...
However due to Angola's unique soil conditions, field trials have shown that with just a bit of crushing and granulation, MNB's phosphate CAN be directly applied.
As an added bonus - some of MNB's phosphate can be used in iron-phosphate batteries for electric vehicles, the majority battery type used in China.
MNB has also been working on a separate project to produce green ammonia. We think of this as the "blue sky" opportunity for MNB.
Ammonia is the main building block for nitrogen fertilisers.
To make the ammonia "green", renewable energy is required.
MNB recently secured supply of some of the world's cheapest renewable energy which will come from Angola's underutilised hydro-electric dam, built by the Russians in the 80's.
The hydro-electricity dam was one of the best things that we saw on our visit, more on this later...
Green Ammonia is MNB's second project and represents the enormous blue-sky potential of Angola's agriculture industry.
We travelled up and down Angola, visiting all of the key places for both of MNB's projects and saw with our own eyes the scale of the opportunity and just how close MNB was to getting there.
NOTE: In this article we are focusing on what we observed during our MNB site visit, to read about the key reasons we Invested in MNB, objectives we want to see MNB achieve or potential risks - see our MNB Investment memo.
As MNB Investors, the key reasons for our visit to Angola was to:
1. See MNB's construction-stage phosphate project
See the location of the phosphate deposit;
See the site of the soon to be built phosphate processing plant;
See the plant equipment that has already arrived;
Confirm the quality of the roads, rail, ports and power supply; and finally,
See some of the potential buyers of the end product.

2. See MNB's green ammonia project
See the hydro-electricity dam, which will provide low cost, clean energy to the green ammonia project;
See the potential site of the ammonia plant (confirming it is close to clean power and water sources required to produce ammonia); and
See the export infrastructure required to deliver the product to its end markets:

3. Meet the in-country MNB team
We had the opportunity to spend some time with MNB management and some of the MNB in-country team who are working on the projects in Angola:

4. Gain an understanding of Angola as a country and an Investment destination
In Angola we had the opportunity to spend a bit of time in the main cities (Luanda and Benguela) and also out in some of the regional areas.
Angola is not what you might expect and we were impressed with the main cities and our experience venturing deep into the regions:

We travelled for over 30 hours from Australia to get to Angola, and then spent a lot of time on the road in the country to visit key MNB sites and public infrastructure.
Today we will report back on what we saw on our site visit - we will start with a summary of both of MNB's projects, including photos and a summary of our observations.
But first, a look at investing in resources projects in developing countries.
Why we like Angola as a country for Investment
We have been Investing in small cap resources stocks for 20+ years and have found that developing countries like Angola offer a favourable risk/reward proposition IF the country is still an emerging economy and has been politically stable for a while.
Typically, these developing countries offer untapped resource potential that can be realised with some capital investment and technical expertise.
Of course, these types of locations come with a whole different set of risks such as geopolitical/jurisdictional risks.
We look closely at each country on a case by case basis, and in some developing countries we feel comfortable taking on these risks for the potential rewards on offer.
We have seen this play out specifically in the "critical resources" space over the last few years.
Securing critical resources has become a three-way battle of control through financing between "Team West" (USA & friends), "Team East" (China & friends) and thirdly, whichever country hosts the actual mineral deposit itself for its own internal use.
Some of our best results have been from Investing in ASX listed small cap stocks with resource projects in Mongolia, Brazil, Kazakhstan, Kenya and Zimbabwe.
While we have had success in the past, remember that past performance is not an indicator of future performance, and a lot of things can go wrong while investing in small cap stocks.
A quick stop on the way...
On the way to Angola, we stopped at the Mining Indaba conference in Cape Town, South Africa and saw the Angolan minister for Mineral Resources, Petroleum and Gas deliver a keynote address about why Angola is a great destination for mining investment.
At the conference, the auditorium was packed for the Angola session and we could clearly see that there was significant interest in the region (we literally couldn't find a seat):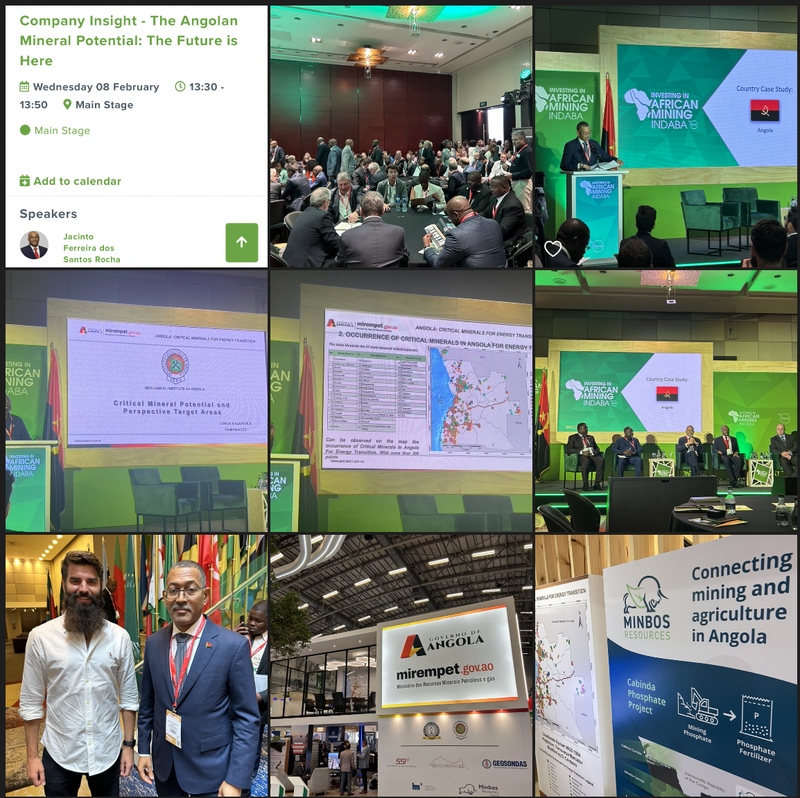 Angola is predominantly known for its oil and gas resources and outside of the diamond trade there has been very little mining done in Angola.
The Minister highlighted that the time is now for investors to help Angola unlock the geological and mining potential of the country, and he will do everything he can to reduce the barriers for investment.
Given that 75% of Angola's revenue is driven by oil exports, there is a significant need to diversify the economy into other industries, like mining and agriculture - both of which MNB's projects support.
So much so that MNB's phosphate project was declared to be a project of "national significance" by the Angolan government in 2021:
Source: MNB Announcement
In the Minister's address, he highlighted that in the next five years Angola will " become self-sufficient in fertilisers and start exporting Ammonia".
Hmmm, I wonder which company he could be referring to...?
The country currently spends US$2BN on food imports each year, and we think that MNB's project will soon be able to provide a fertiliser that will grow Angola's domestic agricultural industry, and in the future, even surrounding countries.
Angola has one of the youngest and fastest growing populations in the world, is experiencing rapid urbanisation rates and has an abundance of natural resources all of which bodes well for medium and long-term economic growth.
Coupled with its vast natural resources, ranging from large tracts of fertile land to immense hydropower potential, Angola is emerging as a stable economy with enormous growth potential.
To get a sense of Angola's appetite for mining and private investment, watch this interview with the Minster after his speech at the conference (warning, it's in Portuguese so you'll need to turn english subtitles on):
Bottom line... Angola is open for business and investment.
Now, our next stop is actually in Angola...
Here is a rough approximation of our journey in Angola: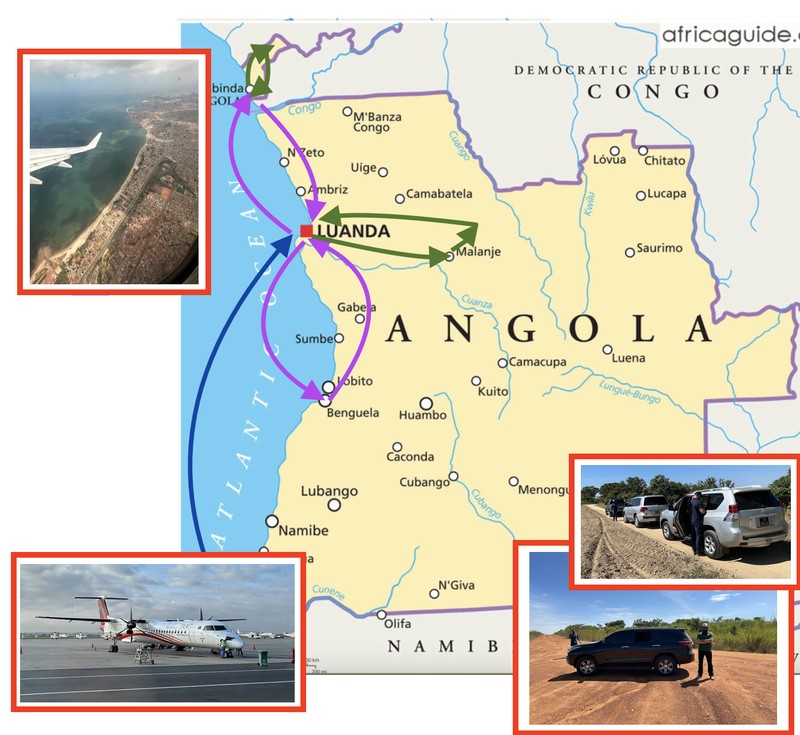 Summary of MNB and our Angola site visit
Before we get into more detail on the site visit and what we saw - here's a quick visual explainer of:
MNB's two projects in Angola;
Who will be the buyers; and
How MNB will make money.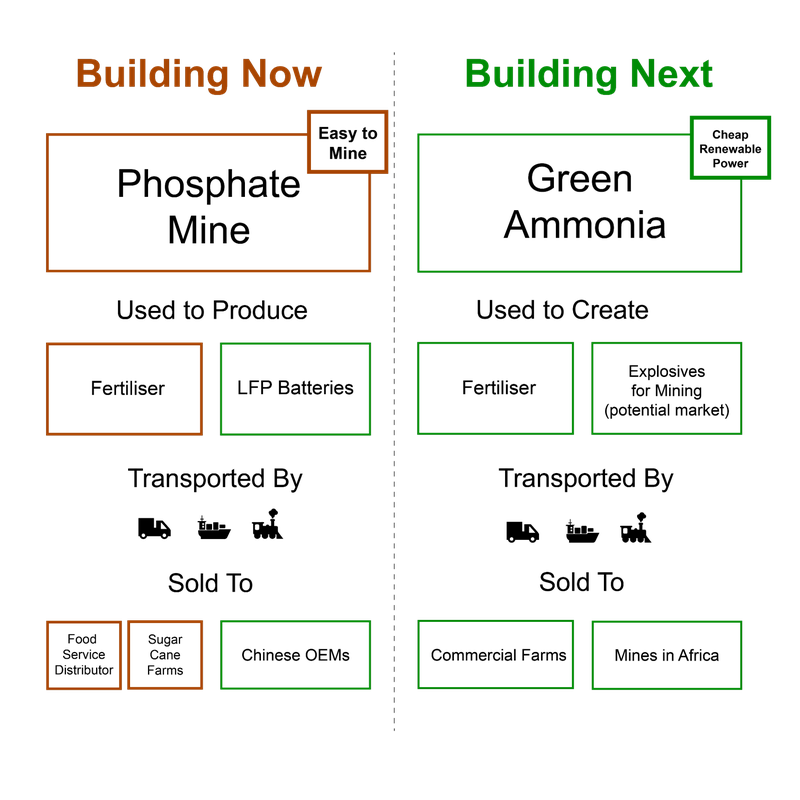 Quick summary: MNB's Phosphate project
Project: Building a phosphate mine, first production forecast for 2023
Why is it useful: Phosphate is used to make fertiliser for food. It is also the key ingredient in lithium iron-phosphate (LFP) batteries that are popular in electric vehicles, especially in China.
Who will buy it: Angola and surrounding countries to go into fertilisers, Chinese battery manufacturers to go into phosphate batteries.
How will they get it: MNB's phosphate deposit and processing plant are next to main roads with access to a port less than 16km away from the processing plant.
Project Economics: Project NPV of US$203.4M (base case) or almost double the base case of US$400M (at then current fertiliser prices). Remaining CAPEX of US$40M - figures as per the Oct '22 Definitive Feasibility Study. Note this study was based on fertiliser producers as end customers only and did not take into consideration the battery market.
BREAKING: At the time of publishing MNB announced :"Significant CAPEX reduction for Phosphate Fertilizer Plant" from an improved flow sheet, expecting the upfront CAPEX cost to be reduced by around $US10M.
Key reason we like it: Easy to mine phosphate deposit, close to power, roads, port and end markets. We like that first production scheduled for late 2023.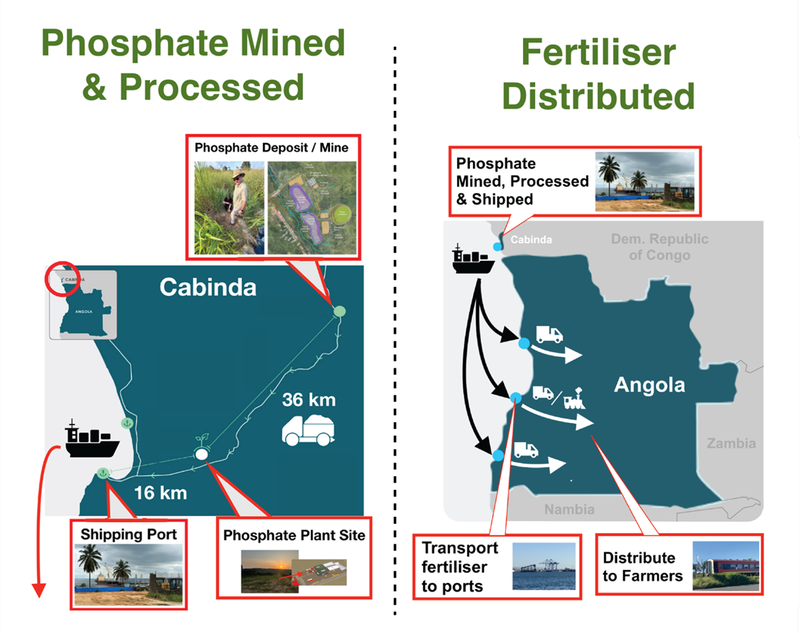 What we saw: Phosphate Project
On our first day we saw MNB's actual phosphate deposit and drove the well maintained roads to get there. Building work has already commenced: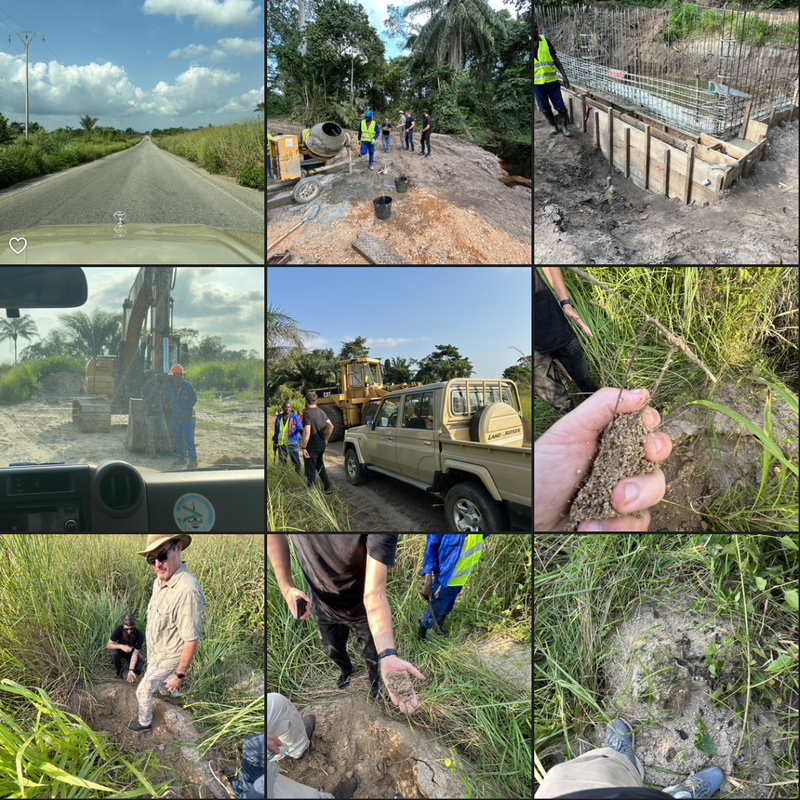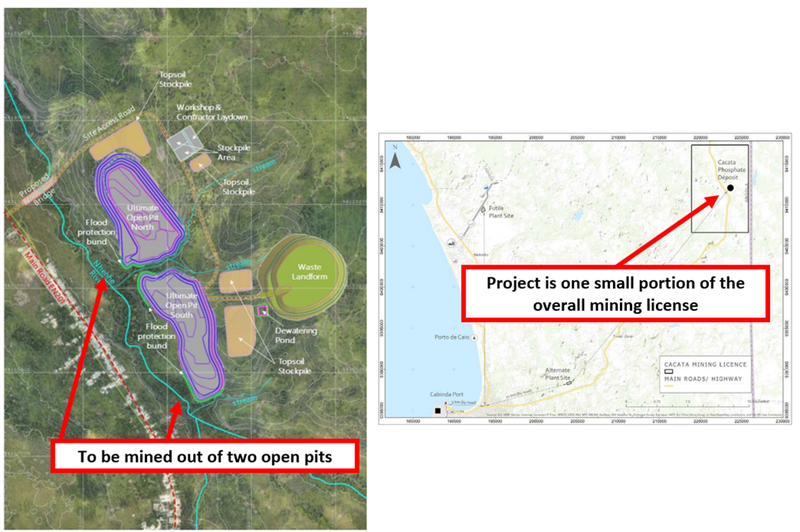 Here is the access bridge getting built to allow heavy machinery to access the phosphate deposit.
The bridge needed to be strengthened so trucks carrying loads of mined phosphate can access the main road, which is literally about 100m from the phosphate deposit: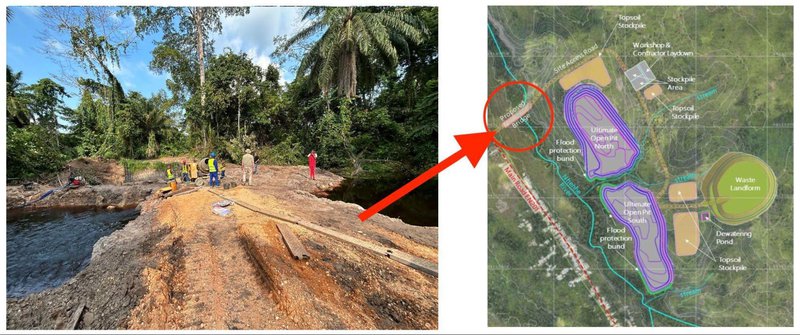 We drove to the site where MNB's phosphate processing plant will be built - confirmed it is near roads and power, plus just 16km to the existing port and 34km from the phosphate deposit: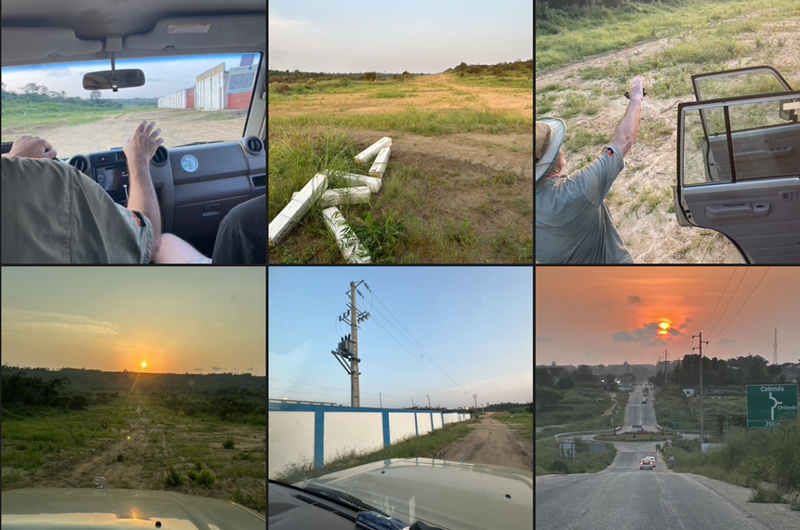 Phosphate processing plant - coming soon: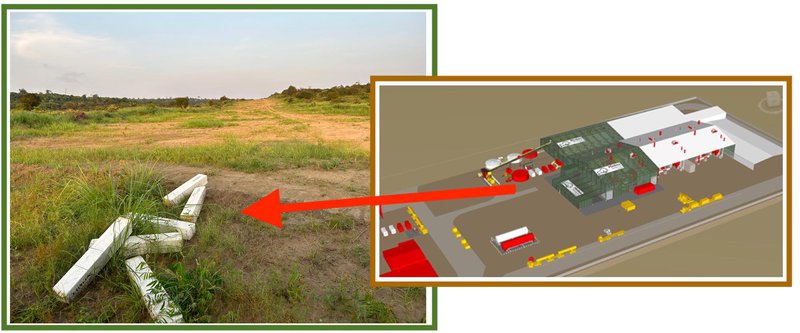 We drove past the existing port, it took 15 minutes on well-maintained roads, we also saw other trucks - which is a good sign of nearby industry: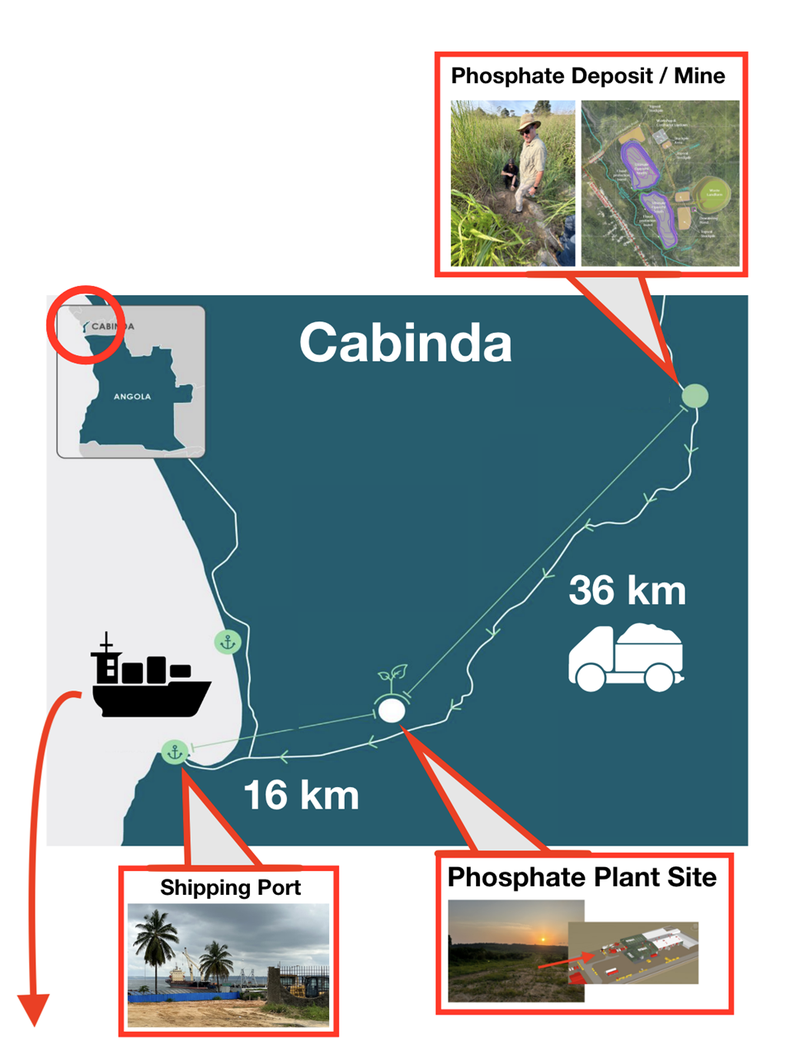 We also visited the new higher capacity Porto de Caio that was being constructed. This port is a lot bigger and able to handle larger ships, which could increase the size of individual phosphate shipments made by MNB: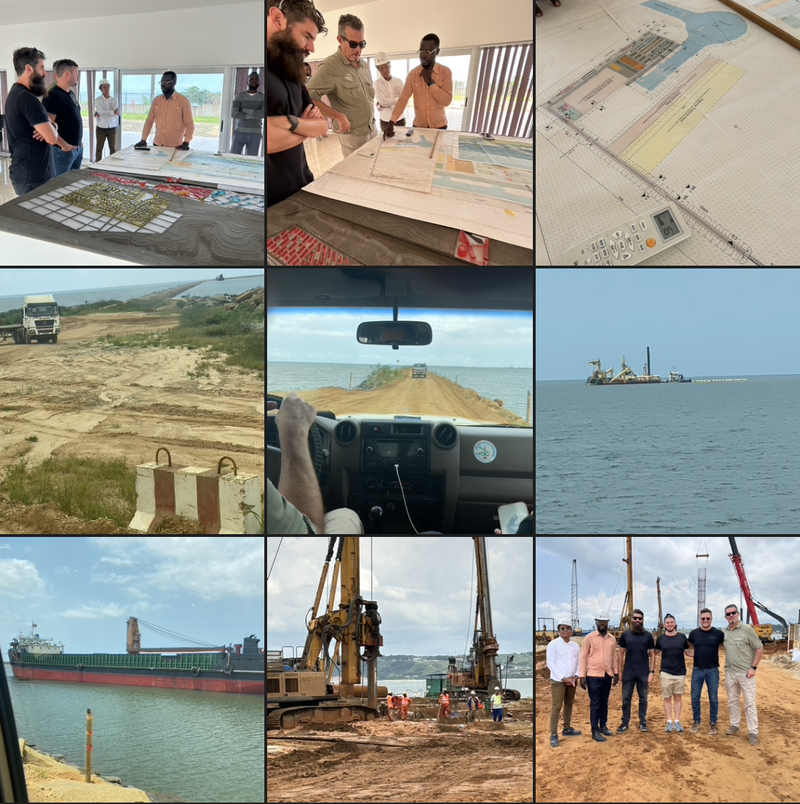 We saw the warehouse that stored parts of the phosphate processing plant that had already arrived in the country, and also saw MNB's new fleet of cars that will work on the project, allowing the growing in-country team to move around project sites.
Seeing the plant parts and new fleet of cars in the warehouse made the project progress feel very real: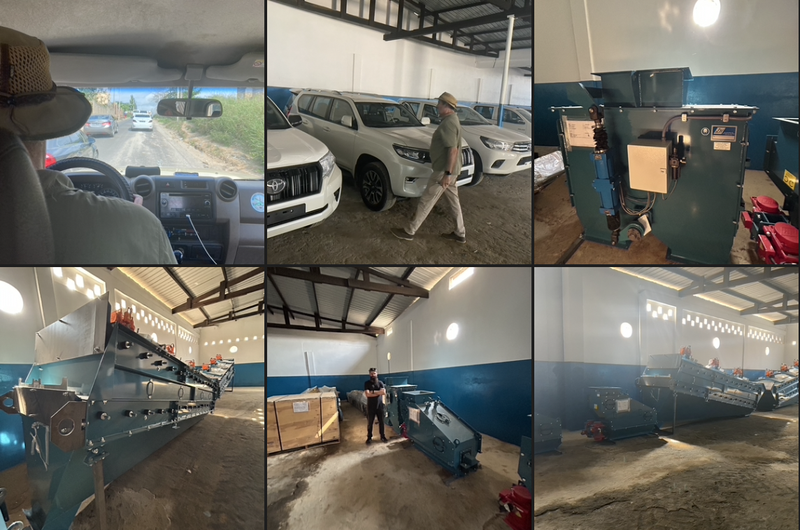 We did not have clearance to enter the port where the other recently arrived plant parts had just arrived on a ship, but one of the MNB in-country team called in a favour to the ship's captain to send some photos of parts of the phosphate processing plant in the port: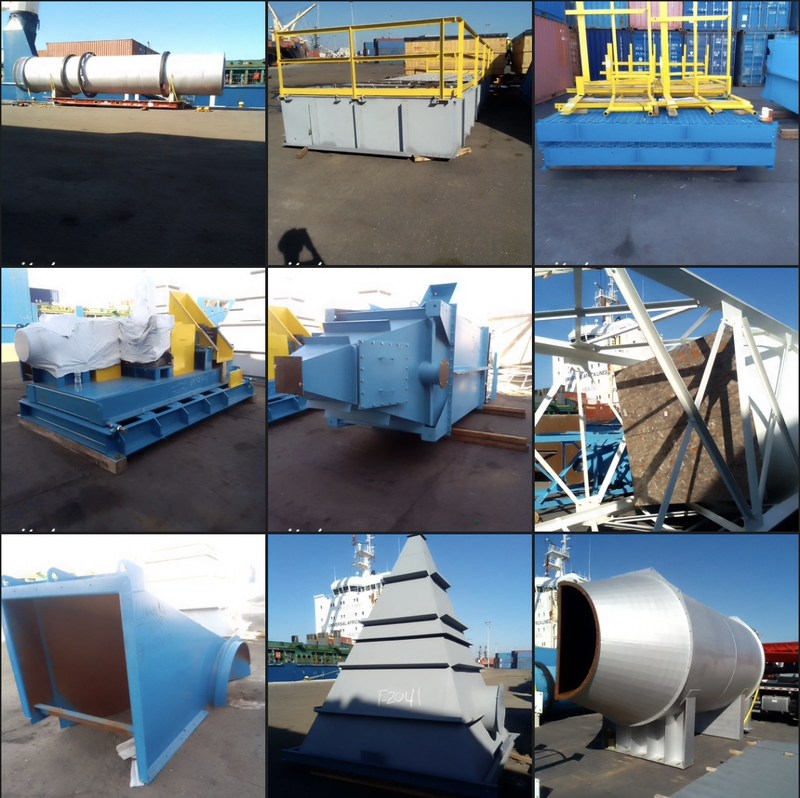 (Note: these are not our photos. We did not sight these components with our own eyes)
This is as close as we got to seeing the parts that were still on the ship when it arrived at port: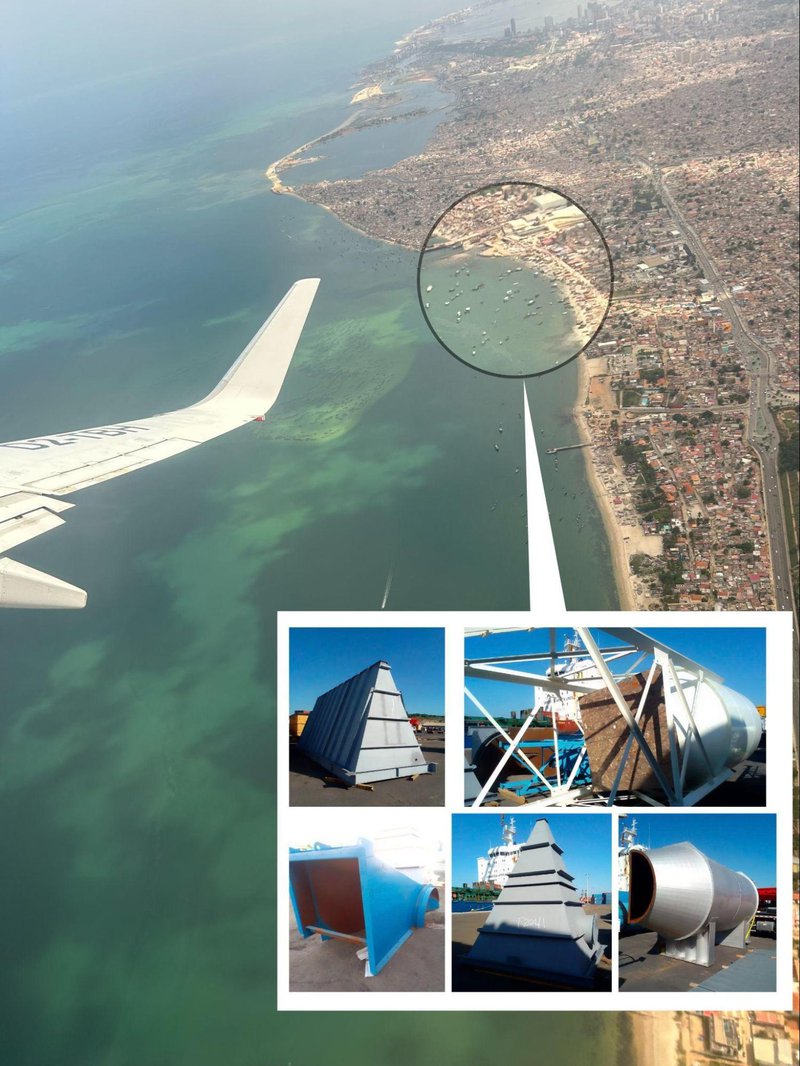 You can see how all of these plant parts are going to be stitched together in the flow diagram image from MNB's latest announcement: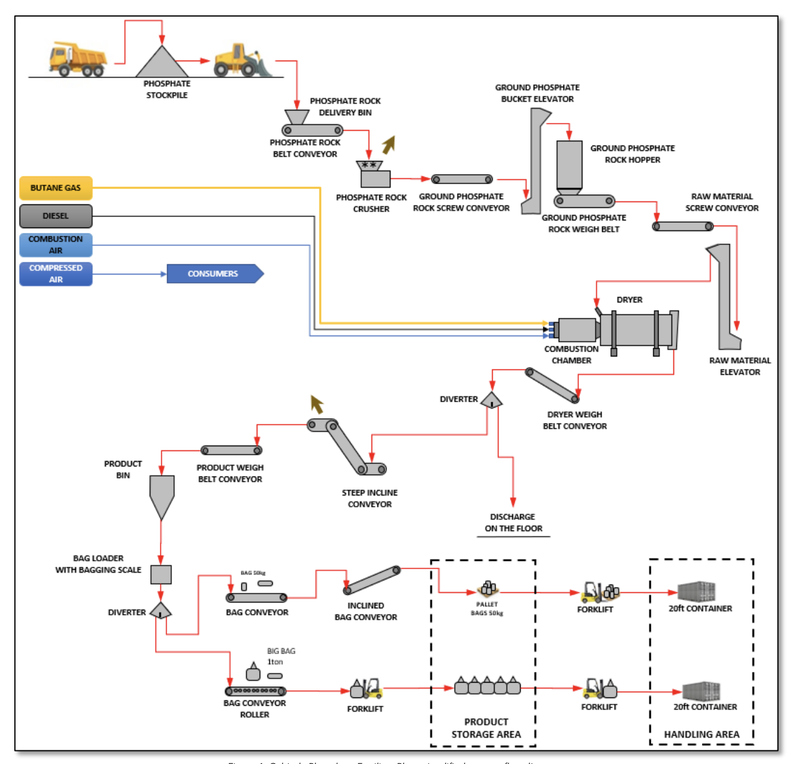 Source: MNB Announcement
The next day we flew 500km south to the Benguela Corridor and the Port of Lobito. Here we saw the port where fertiliser shipments will be received for distribution into inner Angola and surrounding countries via the Benguela rail line.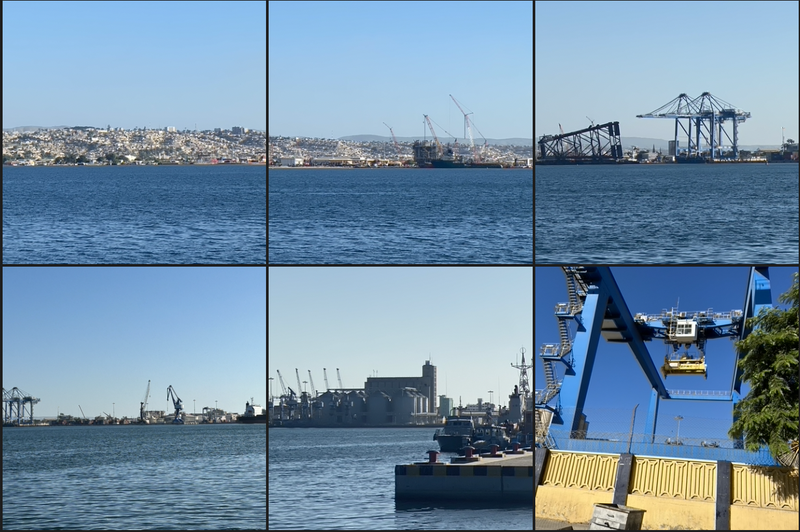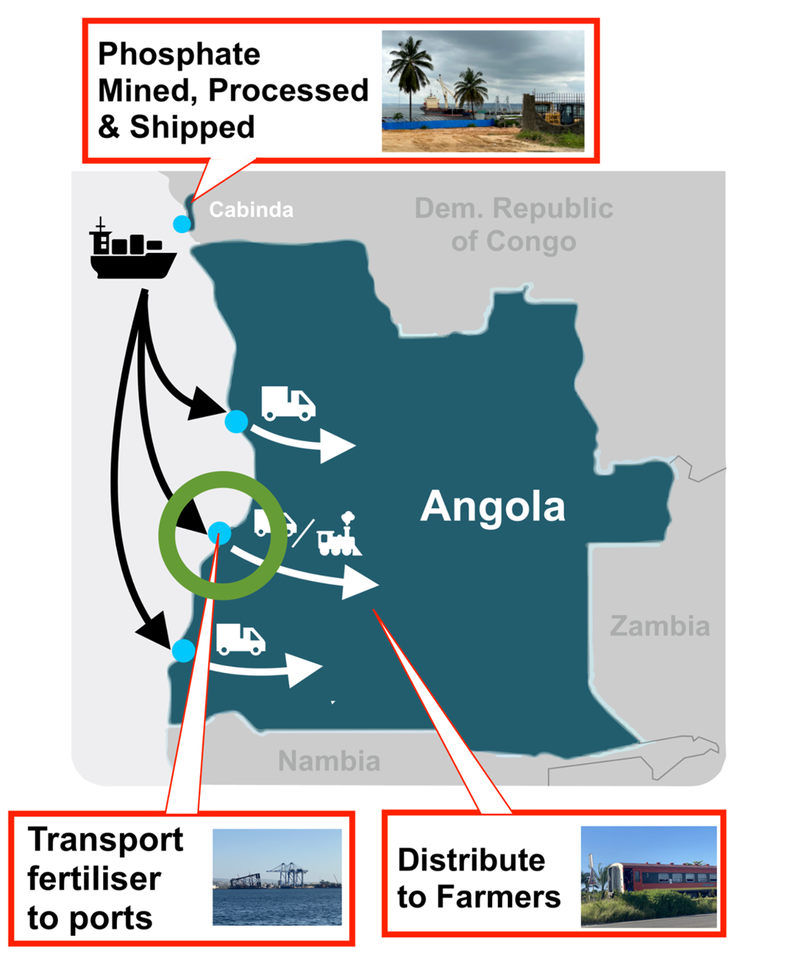 It was a timely visit with the announcement that Angola together with its regional neighbours Zambia, and Democratic Republic of Congo (DRC) had taken major steps to create a trade corridor that could transform how the region's resources are exported.
Transport ministers for the three countries signed an agreement to facilitate transport through the Lobito Corridor, which will connect the port of Lobito in Angola with regions that contain many active mining operations in Angola, Zambia and DRC.

Source: Bloomberg
Basically this means MNB could have access to new markets in new countries via this newly established trade and resource shipment corridor.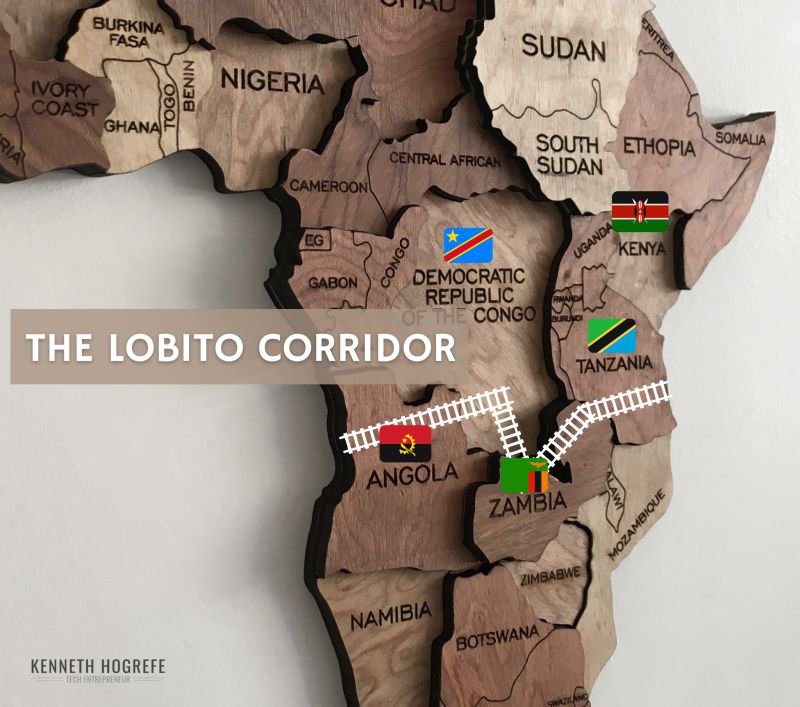 That same day we drove past Angola's largest grain co-operative, an example of the type of organisation that could be the end buyer and distributor of MNB's fertiliser:

Finally, we visited a "test farm" where samples of MNB's phosphate are being trialled to optimise growing and crop yields for various crop types in the local region: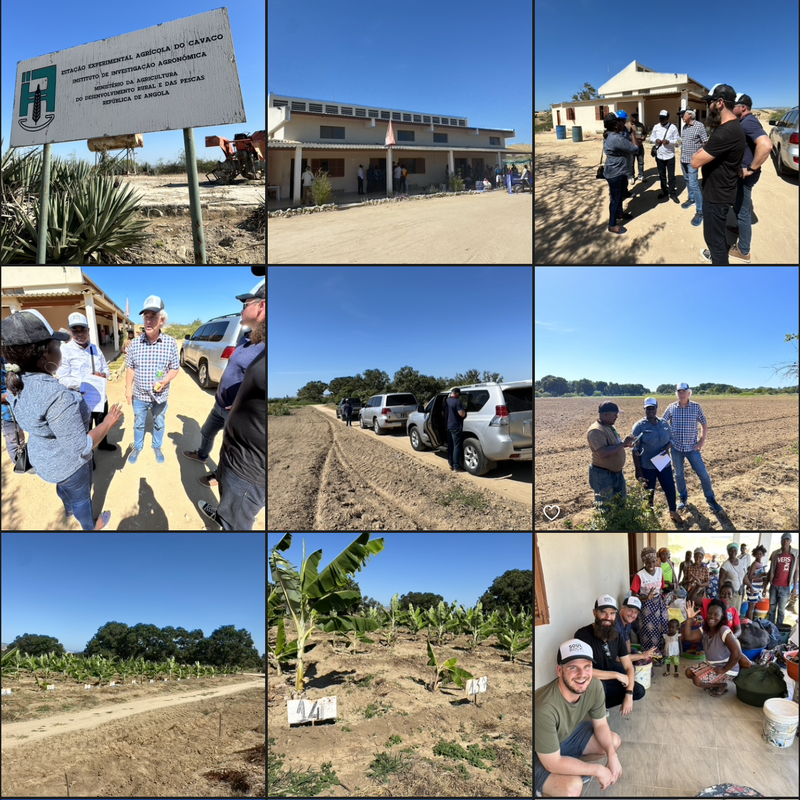 Batch 14 looks like a winner: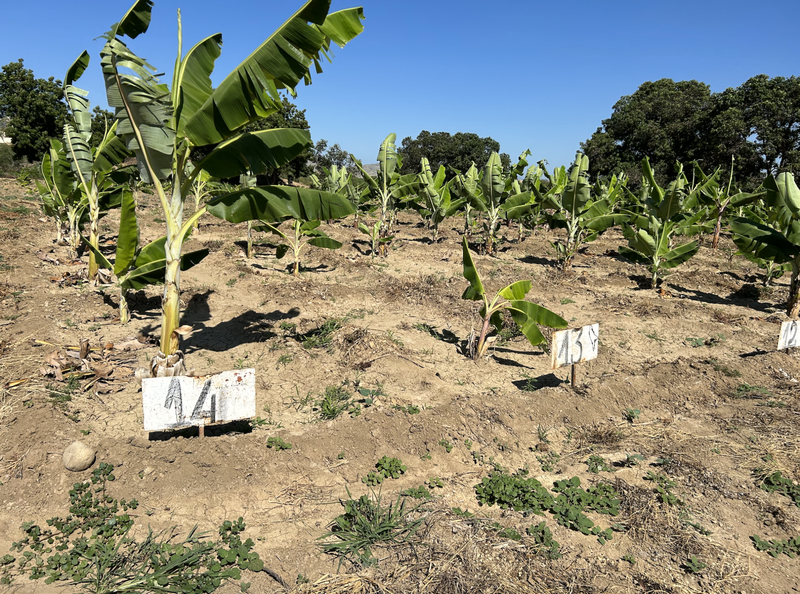 So in summary, we saw the phosphate deposit itself, drove the roads to the processing plant and then on to the port - the roads and power infrastructure looked excellent and well maintained.
Seeing the processing plant components at the warehouse and the work commenced at the site of the deposit was very encouraging to our hope that MNB will deliver first production in 2023.
Quick summary: Green Ammonia Project
Project: Produce "green" ammonia using low cost hydro-electric energy
Why is it useful: Green ammonia can be used as a feedstock to produce nitrogen fertilisers. It can also be used to make ammonia nitrate (mining explosives).
Who will buy it: Fertilisers can be sold to large scale commercial farms in Angola and surrounding countries. There is a potential to sell ammonium nitrate to mining companies in Africa to use as an explosive, especially to mines in the Zambian Copper Belt via the new Lobito trade corridor
How will they get it: Trucked to major ports for export via sea, or trucked to major railroads for export via land.
Project Economics: At this early stage, there is no economics for this project and studies are ongoing.
Key reason we like it: It's the perfect place to make green ammonia. Low cost, clean, renewable energy, located next to a water source and with the right infrastructure to get the end product to nearby markets. Key point being the hydro-dam is already built and operational, so no giant CAPEX required.
What we saw: Green Ammonia Project
We drove to the Capanda hydroelectric dam that was built by Russia in the 1980s.
Capanda is part of a network of hydroelectric dams that provides more than 70% of Angola's power, but is underutilised, meaning MNB was able to secure low cost power to make green and emissions free ammonia: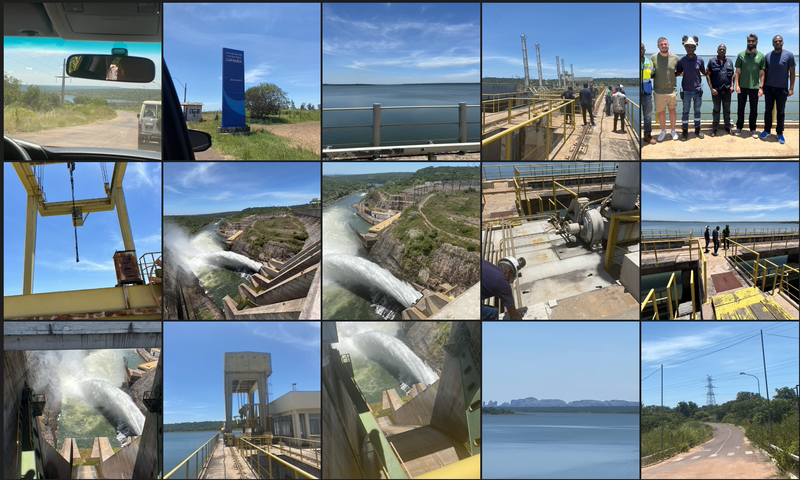 It was incredible to see such an advanced bit of engineering and construction up close - especially how a concrete wall could hold back such a huge body of water.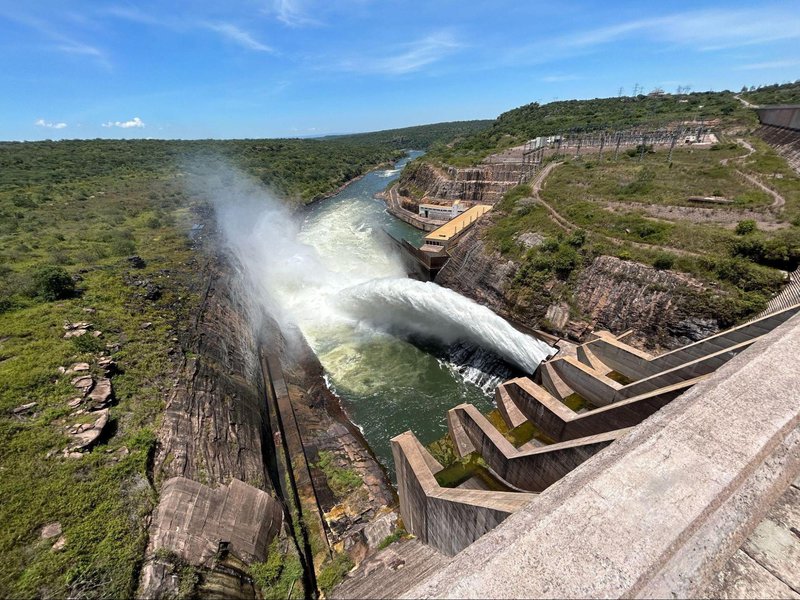 The photos don't do justice to how powerfully the giant stream of water that was turning the turbine was shooting out, and it gave us an up close idea of just how much clean, renewable energy can be generated by Angola, and its existing infrastructure.
MNB recently signed a Memorandum Of Understanding (MOU) with the Angolan power network for the supply of 100%-renewable power from the Capanda Dam that we visited.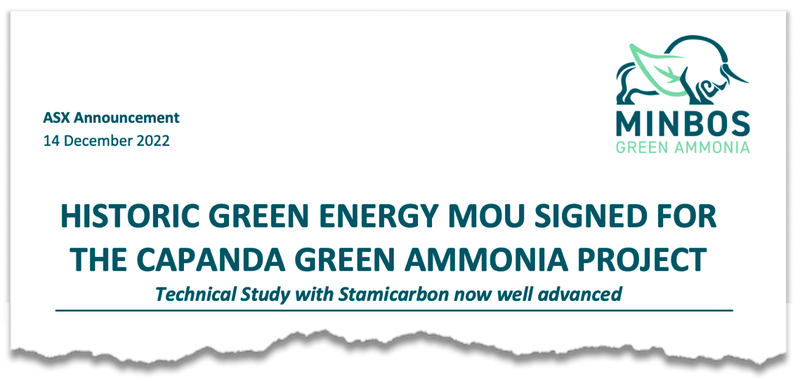 Source: MNB Announcement
The cost of power will average US$0.011 (1.1c) per kilowatt hour for the entire 200MW over 25 years.
For some context that is ~90% cheaper than the ~US$0.16 (16c) per kwh paid by industry users in Australia and the USA in 2022.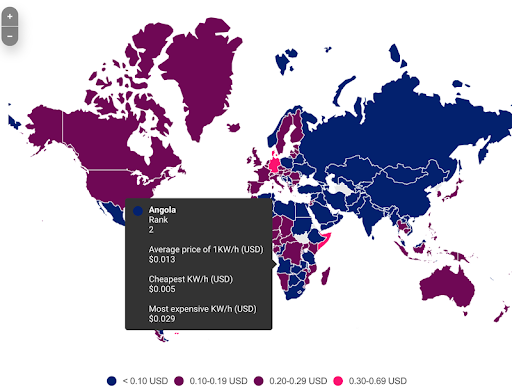 Source: Energy Data Pricing 2021
Europe, which is suffering from an energy supply crisis, had energy prices hit >US$0.50 per kwh in early 2022 - almost 45x higher than MNB's price.
We think access to affordable renewable energy will make MNB and Angola's green ammonia highly competitive.
See our detailed breakdown of the power agreement here.
The main inputs to create ammonia are energy and water to make hydrogen, then it is combined with nitrogen to produce ammonia.
The energy required is the key input and expense to make ammonia.
Almost all of the world's existing ammonia is produced using energy from burning using fossil fuels - recent increases in natural gas prices has meant ammonia prices have increased substantially.
The clean, affordable energy to make MNB's "green" ammonia will come from the hydroelectric dam that we saw.
We also saw the new proposed green ammonia plant site.
We confirmed the ammonia plant site was close to the clean energy source from the hydro dam and near plenty of water (the two key inputs to make green ammonia) - the nitrogen is literally "pulled from the air".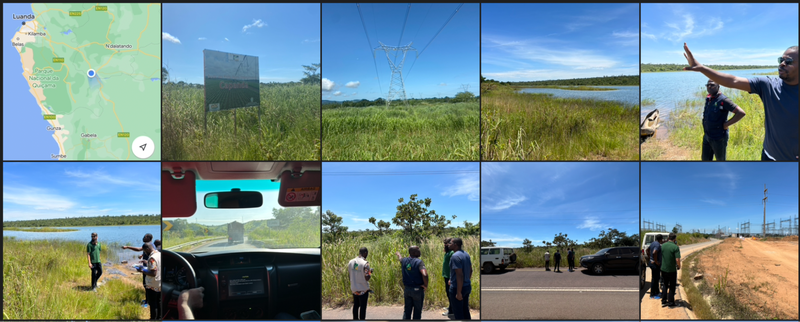 The proposed site is in a known industrial zoning area, where many industrial farming operations are situated in Angola, below is a map where MNB's project site is proposed: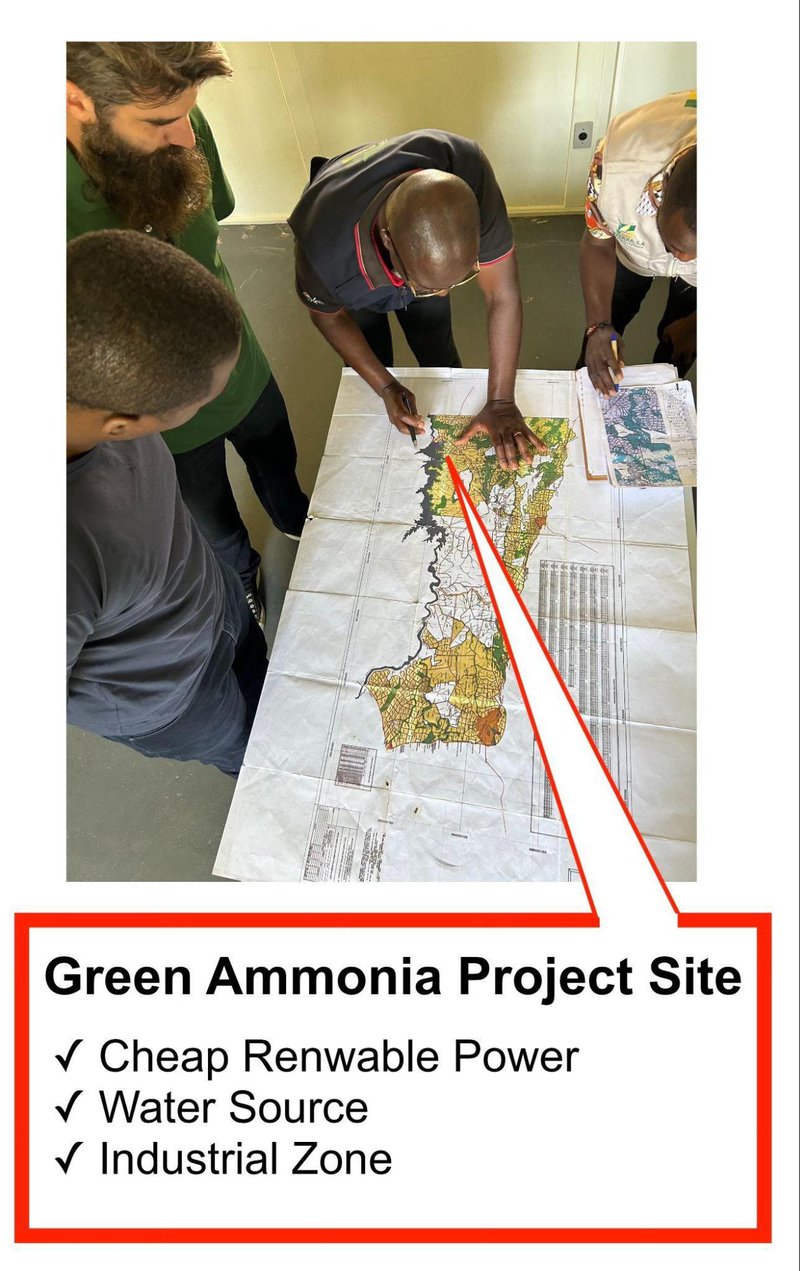 We also visited the Capanda Agriculture Centre, where the International Fertiliser Development Center (IFDC) trains small hold farmers on modern farming techniques and facilitates new technologies to improve farm productivity: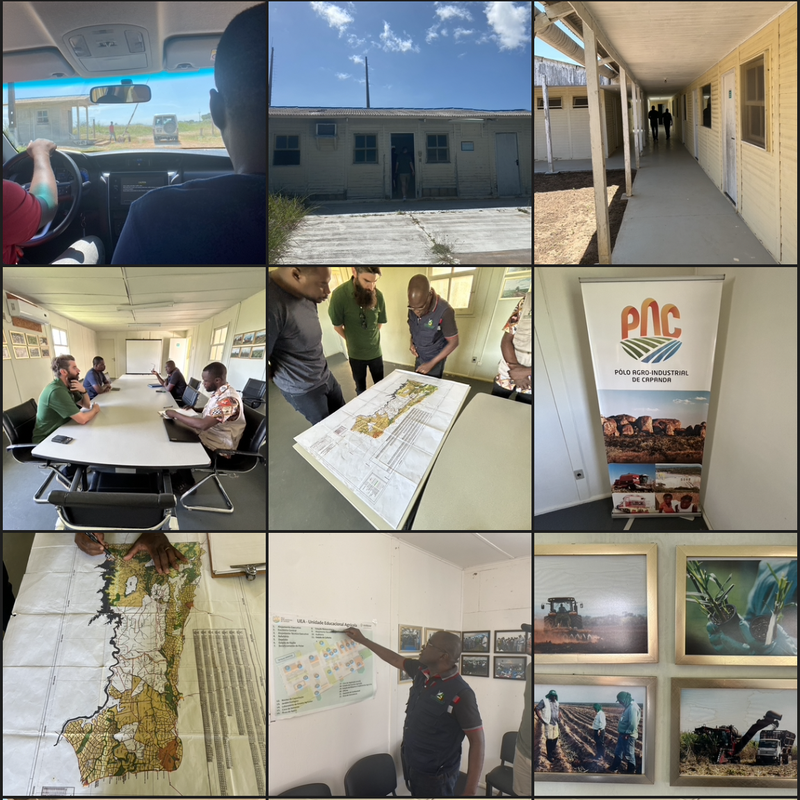 Below shows how IFDC operates.
Clearly a green ammonia project with applications in fertilisers fits in with its organisational mission of catalysing farm productivity: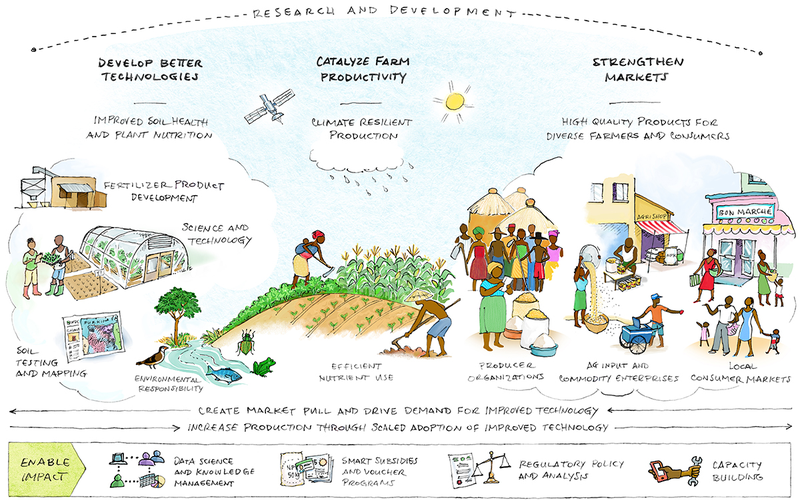 Source: IFDC website
So at MNB's green ammonia project we saw the all important hydroelectricity dam from which MNB has secured a low cost clean energy supply contract (it was an amazing bit of engineering to see), and we saw the proposed location of the ammonia plant, which was close to a major water source and right next to power lines from the hydroelectric plant.
What is the Positive Community Impact of MNB's projects?
At the Mining Indaba conference it was clear that Africa wants to play a big part of the global energy transition.
However, the continent has been burned in the past from external countries and organisations extracting the resources from the continent without much in return.
What we heard from key stakeholders in the region is that for companies that want to build mines and extract resources from Africa, the project needs to make a lasting positive impact on the local communities.
We think that MNB's phosphate project will provide not only a return for shareholders, but also a significant positive impact on Angola, for several reasons:
Reduce poverty / hunger: MNB's project will help fight poverty and hunger within Angola, by providing a more suitable fertiliser for the arable land, small hold farmers will get better crop yields and be able to sell the excess back to the economy.
Jobs: The project will create many jobs, not only from a mining and industrial perspective, but from a logistics perspective as well.
Education: MNB has partnered with the International Fertilizer Development Center to help teach small hold farmers modern farming techniques to "do more with less".
Local Support: The company will provide two clean water bore holes in the village next door to the mine site, and will employ several workers from the village.
Country Support: Angola will reduce its food imports which is over $2BN per year. This will help the country maintain its USD reserve, which can be used for importing other goods and services.
MNB ESG Report
Global fund managers, high net worth family offices and millennials are now actively seeking to invest exclusively in ESG companies. Consumers are demanding best in class ESG products and smart people only want to work with top ESG credentialed companies.
MNB regularly reports its ESG progress.
MNB's ESG goals are multi-faceted in sub-Saharan Africa:
Improve food security and nutrition;
Decrease levels of poverty;
Mitigate the impacts of climate change on farmers.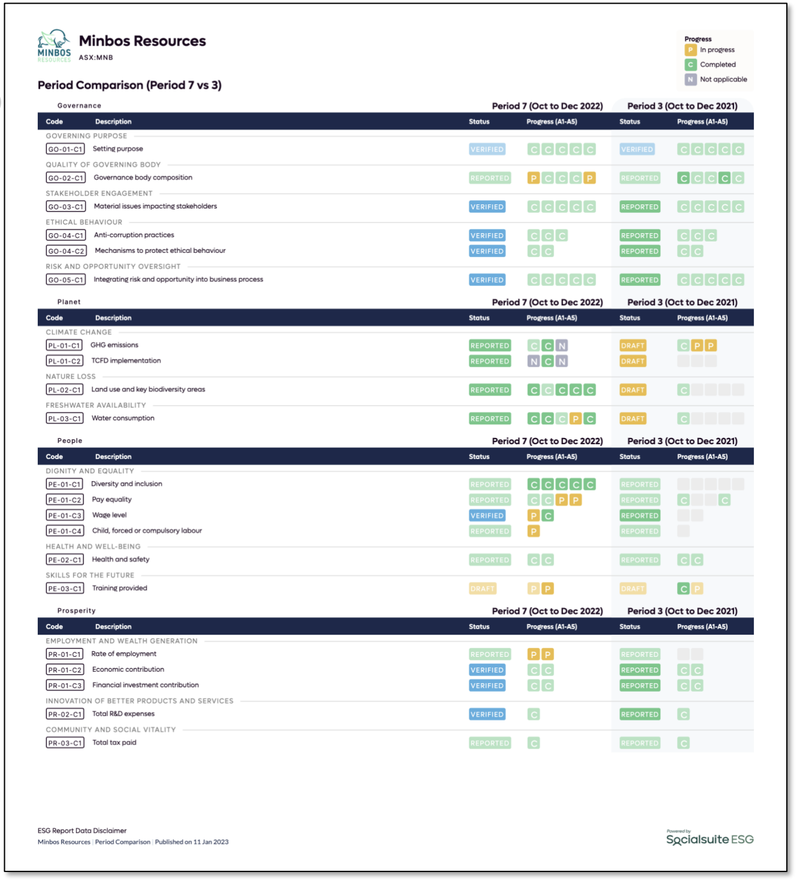 Source: MNB Quarterly Report
MNB's in-country team
The first night we visited Angola, we stopped by the new in-country MNB office.
It was great to see the project grow into what it is today, with real people working hard behind the scenes to accomplish a unified mission.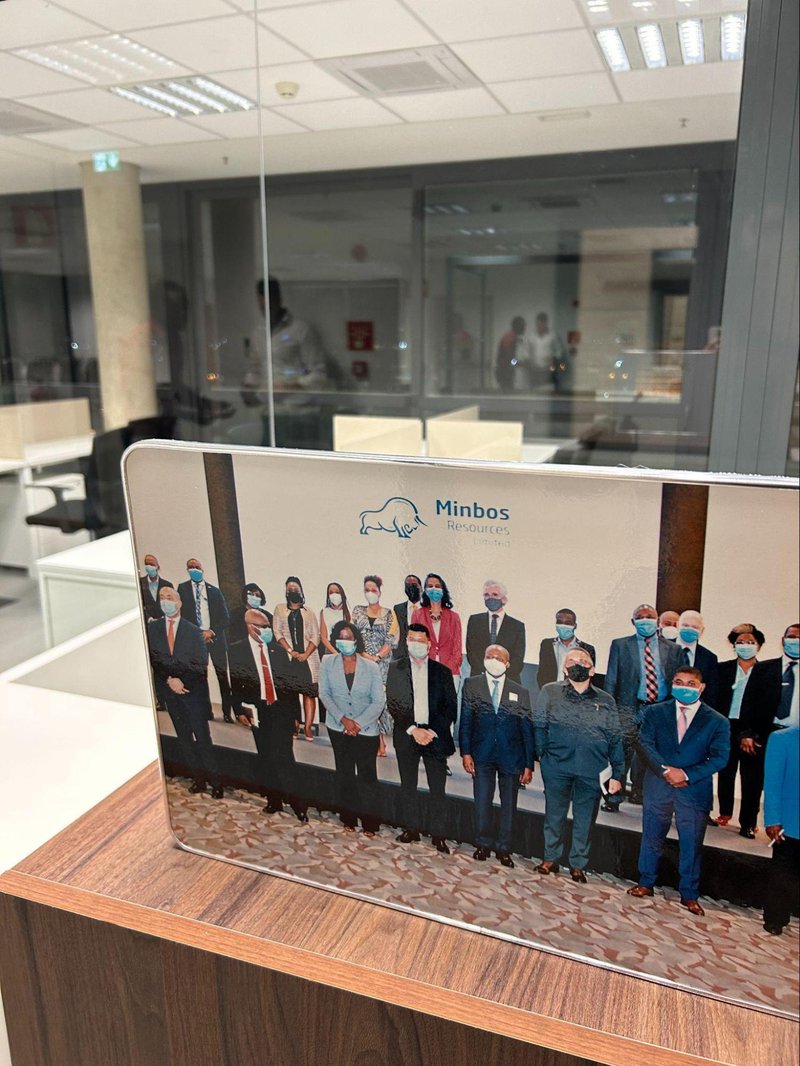 At its core, MNB's mission is to help Angola become the agricultural hub of Africa.
Along our journey we met many of the people behind the project, the people working hard to make MNB's mission a reality.
Camache
Camache is MNB's in-country manager.
Born in Angola, Camache studied Law in the UK and has been working in the mining industry for many years. He had a wealth of knowledge about the country and history, particularly within the resources space.
He is in charge of corporate affairs with oversight of in-country administration.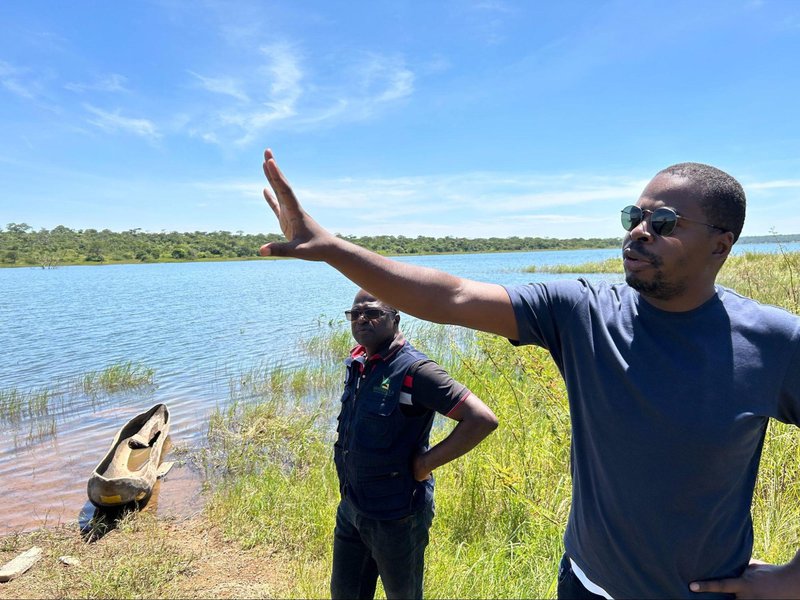 Camache (right) describing the vision for the green ammonia plant
Mario
Mario has been living and working in Angola for over 25 years. He is in charge of logistics and is the community manager that helps make sure the project is running smoothly. Mario has been involved in this phosphate project for many years.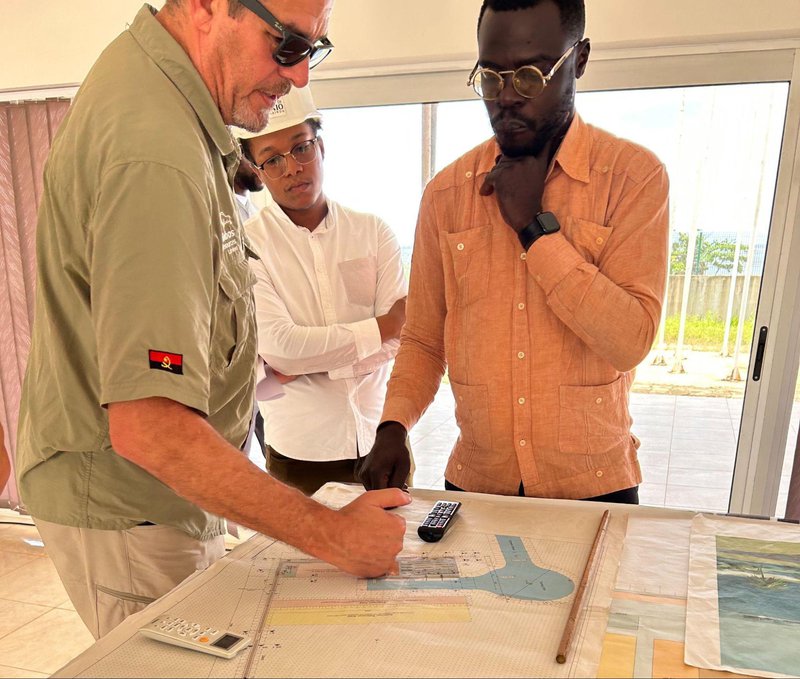 Mario (left) talking to the project manager at the Porto de Caio
Monica
Born in Angola, Monica is an agronomist, which means she specialises in finding the best ways to improve crop yields and crop quality.
Monica is still involved with the Instituto de Investigação Agronómica.
Monica works very closely with Angolan farmers, and helps run field trials on MNB's phosphate on how best to apply it to various crops in Angolan growing conditions. Positive results in these trials will assist in marketing MNB's end product to final markets.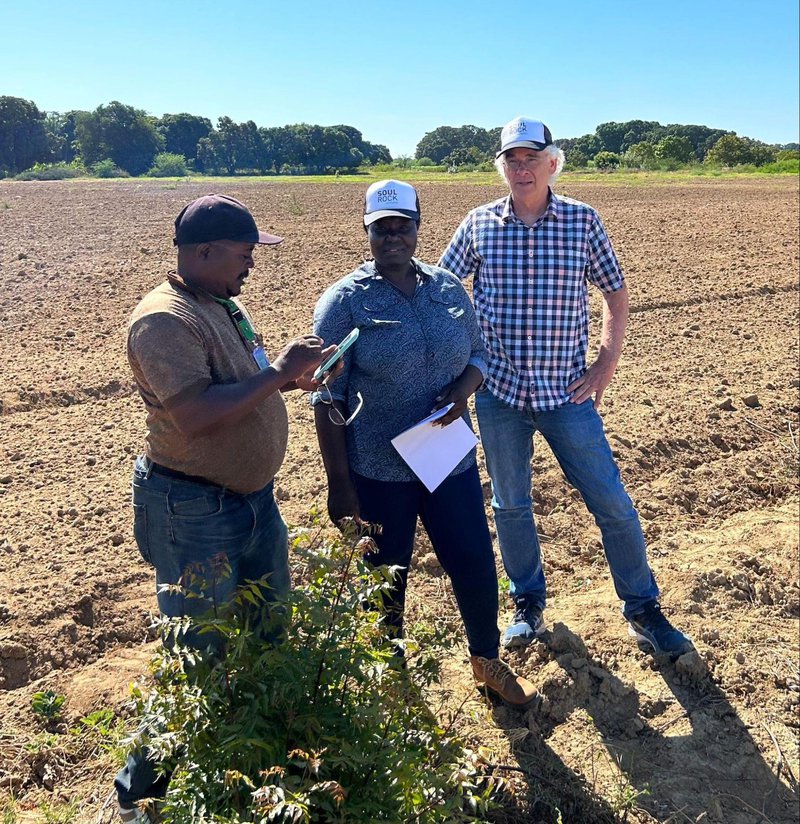 Monica with the latest field trial experiment
Lindsay Reed
Lindsay has been MNB's CEO since 2014.
He has been living between Perth and Angola for the past two years, working on the ground to get MNB's project up and running.
A mining engineer by trade, with over 30 years of exploration, development and operational experience, Lindsay has managed a number of resources companies across Australia, Africa and Asia.
In 2020 Lindsay became a member of the International Fertiliser Society.
The IFS has been around since 1947 and brings together people from over 50 countries worldwide with a professional interest in fertiliser production, marketing and use.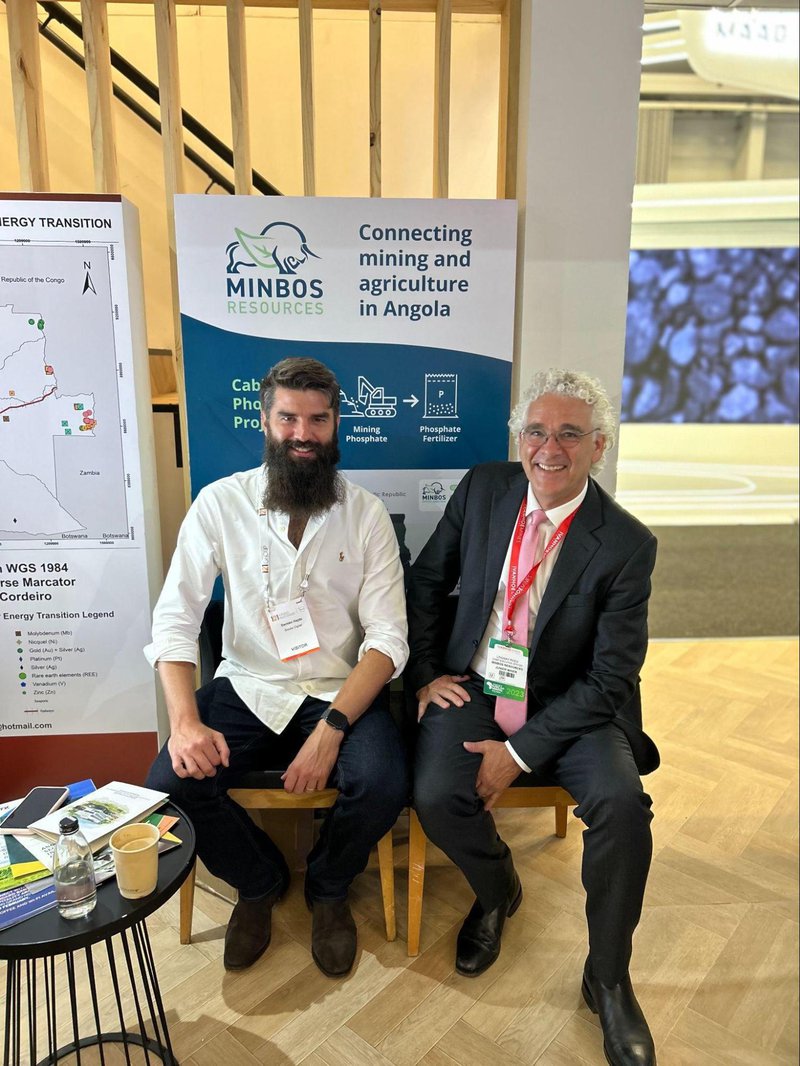 A big thank you to the entire MNB team for taking the time to show us around and explain about the projects and the country.
We think that 2023 will be a big year for MNB and have seen with our eyes the power of work that has gone into this project already and the fantastic team behind the scenes pulling everything together.
All going to plan, we may be back in Angola late this year for the ribbon cutting ceremony to turn on the phosphate plant.
Good luck to the MNB team and thank you again for hosting us.
Why we Invested in MNB
if you want to know more about why we Invested in MNB and more financial or technical information on the projects, be sure to read this article: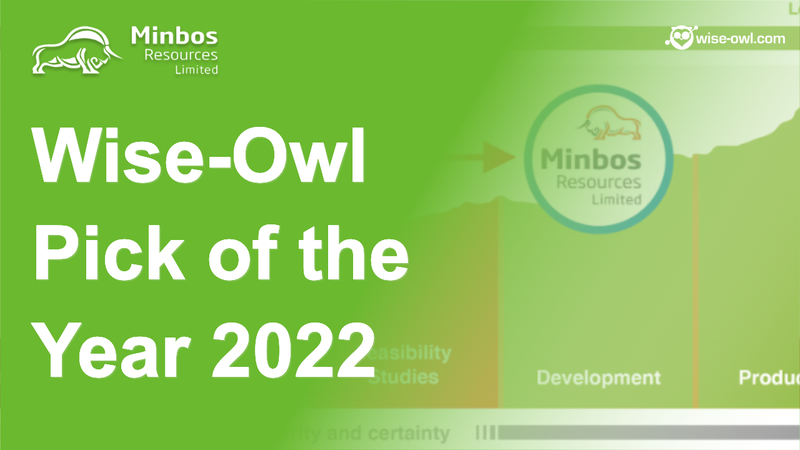 Disclosure: S3 Consortium Pty Ltd (the Company) and Associated Entities own 8,645,000 MNB shares and 1,562,500 options at the time of publishing this article. The Company has been engaged by MNB to share our commentary on the progress of our Investment in MNB over time. The Company visited Angola as a guest of MNB.
---