CPH to be the First ASX Stock to Acquire 100% of a Psychedelics Company
Creso Pharma (ASX: CPH) will be the first ASX listed stock to acquire 100% of a psychedelics company.
CPH is set to acquire Canada based Halucenex Life Sciences Inc., an established psychedelics company developing treatments for a range of mental illnesses.
Over a billion people worldwide have depression, anxiety, or post-traumatic stress syndrome or are dealing with substance abuse.
Studies have shown that psychedelics may be able to treat disorders such as depression, anxiety, substance addiction, and obsessive compulsive disorders.
In fact, growing evidence demonstrating that psychedelic medicines are safe and non-addictive when used in medical settings has sparked renewed interest in Psychedelic-Assisted Psychotherapy (PAP).
You can read more about PAP in this comprehensive Finfeed article: Creso Pharma set to be the first ASX listed entrant in new market
It's early days but psychedelics have the potential to solve vast problems for large numbers of people.
Halucenex is focused on synthetic psilocybin. Psilocybin is the active ingredient in 'magic mushrooms' which has been shown to have considerable evidence-based mental health benefits.
Halucenex has access to one of the largest supplies of synthetic psilocybin in Canada.
Its short-term focus is to become a clinical drug pipeline provider.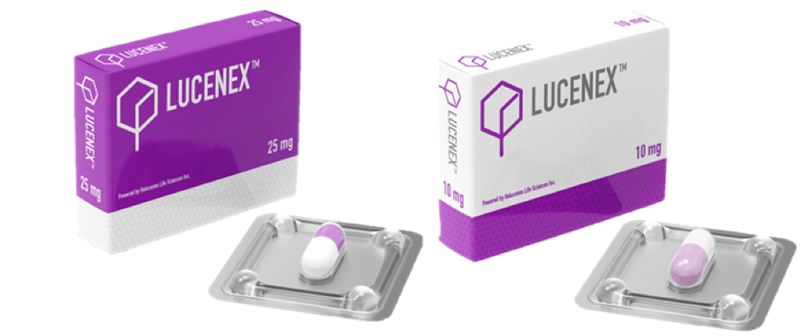 Halucenex's Proposed "Lucenex" 10mg and 25mg packaging.
WATCH: CPH strategic advisor Bruce Linton and Halucenex President and CEO Bill Fleming discuss the opportunity:
On completion of all due diligence, shareholder approval and legal requirements, Creso will pay Halucenex $500,000 in cash and advance Halucenex $250,000 as a loan for the sole purpose of funding Halucenex's operations prior to settlement.
Creso has also agreed to apply at least a further $1M in funding to Halucenex in the 12 months following settlement of the acquisition.
Details of the deal are as follows:
$500,000 in cash (Cash Consideration)
29,251,795 Creso Pharma shares (Consideration Shares)
17,551,077 Creso Pharma performance shares that will convert into fully paid ordinary shares if the Dealer's Licence Amendment within 12 months of settlement of the Acquisition (Consideration Performance Shares)
The Consideration Shares and any Creso shares issues on conversion of the Consideration Performance Shares will be subject to voluntary escrow for 6 months following settlement.
How can Halucenex help
Halucenex has a three tiered strategy to become a vertically integrated provider of psilocybin and psychedelic assisted psychotherapy to revolutionise the treatment of mental illnesses: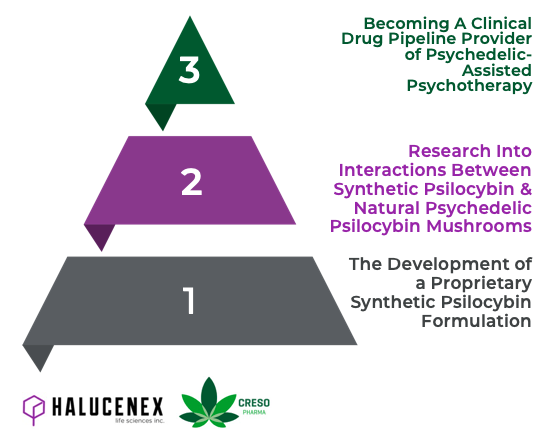 The acquisition could be transformational for CPH, putting it squarely in the frame to help treat this growing problem.
Mental illness grew exponentially during the COVID-19 pandemic.
On the back of this, the psychedelic medicines market is estimated to be worth up to US$100 billion.
Recent studies have shown that psychedelics can be used to treat mental health illnesses such as:
Depression
Anxiety
Substance abuse disorder
Obsessive Compulsive Disorder (OCD)

Halucenex is targeting two specific verticals:

The cost of mental illness worldwide is set to hit $23TN by 2030.
The PTSD therapeutics market is expected to grow to US$10.5BN by 2025.
Halucenex's affiliation with Canadian Veterans will provide a fast track to early revenues:

The acquisition also delivers CPH several multiple near-term catalysts:
Entrance into a new, and potentially highly lucrative industry vertical, with additional potential future revenue streams in mental health.
Licencing deals
Clinical trials
Could this be a case of right place, right time, right acquisition for CPH?
Psychedelics: a nascent, but growing industry
If investor interest in the space is anything to go by, there will be a raft of deals in the psychedelics space to come in the near future.
Here are two of the most recent prominent deals:
US$1.4BN capped Compass Pathways was one of the first psychedelic drug companies to reach the magic billion dollar valuation. The London based company counts billionaire investor and PayPal co-founder Peter Thiel and ex-hedge fund manager Michael Novogratz as investors.
The $1.03BN capped Mindmed is providing $5 million over five years for a psychedelic medicine research training program - and as we have pointed out before, CPH and Mindmed share some familiar names.
Mindmed was valued at over C$1.5BN at its peak in December, and now still commands a very robust C$1BN market cap.
MindMed has a drug development pipeline of innovative treatments based on psychedelic substances in clinical development and R&D.
Mindmed rocketed from US$0.37 to US$4.37 between October and December last year a gain of 1,080%.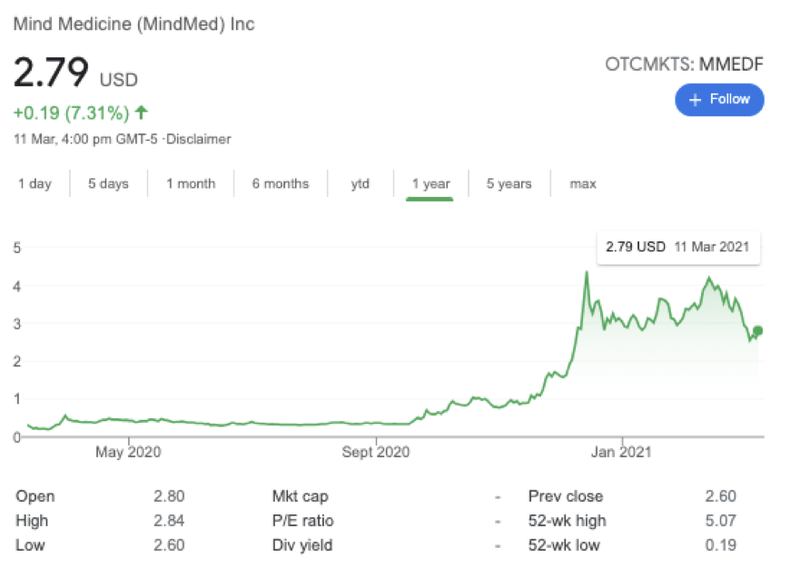 There is also a strong connection between Mindmed and Creso.
Dr Miri Halperin Wernli sits on the boards of both CPH and Mindmed: she is the Co-founder and Head of Technology & Innovation at CPH, and is the President of MindMed.
Bruce Linton is a Strategic Advisor to CPH and sits on the Board of MindMed.
There are two people that are very experienced in both cannabis and psychedelic markets.
Halucenex, under CPH ownership, will be able to leverage off the expertise of both, plus the rest of the CPH team, who have years of experience in clinical trials, pharmaceutical product development, and go-to-market know-how.
Between their influence with CPH, Hallucenex and Mindmed, both Dr Halperin Wernli are set to make a strong statement in the overall alternative health market.
Here's a look at how this space is growing: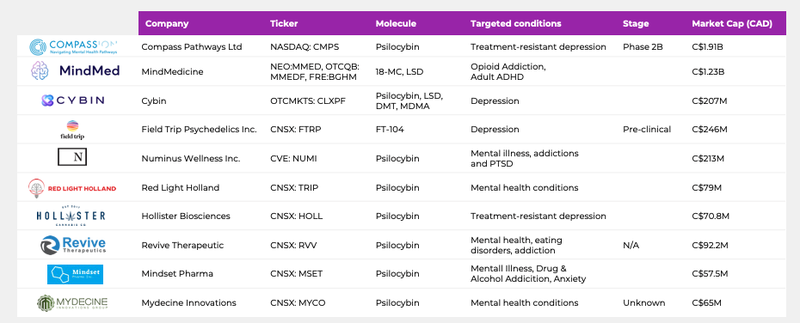 And here are some of the broader headlines:
CNBC: Peter Thiel backs Berlin start-up making psychedelics in $125 million round
Business Insider: Kevin O'Leary of 'Shark Tank': Why I'm betting big on psychedelics, and how investors should be thinking about this opportunity
Bloomberg: 'Magic Mushroom' Company Goes Mainstream, Jumps 71% Post-IPO
Forbes: NYU Establishes Center For Psychedelic Medicine With $10 Million From MindMed, Philanthropists
Fortune: Business gets ready to trip: How psychedelic drugs may revolutionize mental health care
As speculative, early stage investors, this is just the kind of early trend we like to jump on - before the broader market cottons on.
Enormous benefits highlight CPH's acquisition
Halucenex has a Controlled Substances License and CTA Permit under application, that once granted will make it one of just a small number of companies with this regulatory approval.
On receipt of its Dealer's License, Halucenex can possess and conduct R&D of psychedelic molecules including psilocybin.
In anticipation of a worsening supply shortage, Halucenex has signed a supply agreement with one of Canada's only pharmaceutical grade synthetic psychedelics manufacturers, Psygen Industries Inc., securing supply of 11.6g (11,600mg) of synthetic psilocybin for use in Phase 2 and Phase 3 clinical trials.
Halucenex is currently one of approximately 11 companies to secure supply from Psygen, significantly de-risking the clinical trial timeline.
Halucenex also operates a 6,000 sq. ft. medical treatment facility in Nova Scotia, located next to the Hants Emergency Hospital, with a Controlled Substances laboratory and 18 treatment rooms dedicated to providing psychedelic-assisted psychotherapy.
There are, in fact, many benefits for CPH:
direct access to the emerging psychedelics medicines market
an early-mover advantage to bring psychedelics medicines to market
fast track to early revenue generation in the psychedelics space based on Halucenex's strategic affiliations with Veterans Affairs Canada and Veteran Support Groups
Synthetic psilocybin supply secured from Psygen, guaranteeing supply and availability for defined clinical trial program
favourable global regulatory changes especially in North America, making psychedelic-assisted psychotherapy more accessible (already legally available in Brazil, Jamaica and the Netherlands)
established global distribution network and partners in the pharmaceuticals space can help it to fast track the roll out of Halucenex products
cultivation of magic mushrooms could be done at CPH's cutting-edge cannabis cultivation facility in Canada
expertise of Creso Pharma's leading management team including cannabis pioneer Bruce Linton, which has significant experience in clinical trials, pharmaceutical product development, and go-to-market know-how will benefit Halucenex's progress
The Halucenex acquisition positions CPH at the forefront of innovation in the psychedelic medicines sector and continues the company's turnaround, which has seen its share price consolidate around 20c and its market cap grow to over $200M.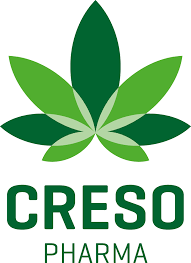 ---