CLI's Strategic Move into Hemp CBD is Paying Off
PUBLISHED: 21-08-2019 09:56 a.m.
Making waves in the ASX pot stock space is award-winning global agronomy, farm management and ag-tech company, CropLogic Limited (ASX:CLI).
The company's stock has been on a run, making higher-highs and higher-lows since February and rewarding shareholders with a more than 550% gain all up.
We can expect more of the same for the still only $27 million capped junior, as it leverages its agronomy and ag-tech expertise and progresses towards its first CBD-producing hemp biomass harvest at its 500-acre industrial hemp trial farm in Oregon.
Here, CLI expects to produce 800,000 to 1.1 million pounds of hemp biomass from the current growing season. It recently shored up a US$10.5 million sales agreement with a hemp processing facility to supply biomass in weekly allotments. That agreement is for less than 30% of total 2019 production estimates.
The company also recently entered a JV agreement with an established west coast US grower to grow an additional 16.6 acres of premium trimmed flower hemp, which is priced at a very lucrative US$300 to US$600 per pound.
But CLI isn't just catching our attention. In a 12 August research report, The Green Fund rated CLI as a 'speculative buy', stating that it "offers investors a potential 275% uplift from the current [$0.07] price".
It's early days still, for both CLI and the budding US industrial market, and with significant opportunity for growth, this is the type of opportunity that small cap investors dream of.

Crop Logic Limited

Market Capitalisation: $26.9 million
Share Price: $0.072
Here's why I like CropLogic: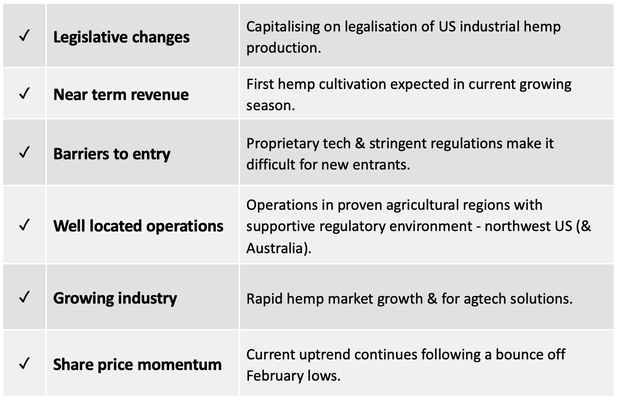 CropLogic surges ahead
As you can see on the chart below, CropLogic (ASX:CLI) has surged since we first brought it to your attention on 3 December last year. At the time it was trading at just 1.7 cents, but has since more than tripled its share price to 7.6 cents.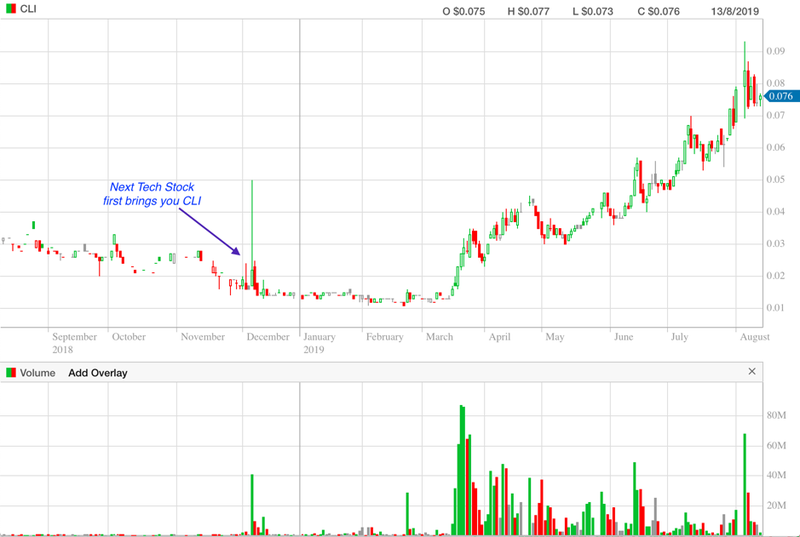 The stock has also made some big moves — more than doubling in price — since our last update, Agtech Junior onto a Winner as it Looks to Service Booming CBD Industry, published on 6 May.
Coming off such a low base — along with the fact that CLI is really only just getting started with hemp — suggests there remains plenty of potential for further gains.
CropLogic's move higher attracting attention
CropLogic's move higher attracted the attention of The Green Fund as detailed in an August 12 report.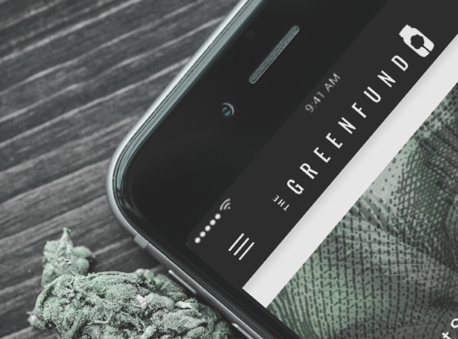 The group placed a 20 cent per share valuation (using a discounted cash flow model) on CropLogic — believing it offers investors 275% uplift from its August 12 share price of 7.0 cent, along with a 'Speculative buy' recommendation.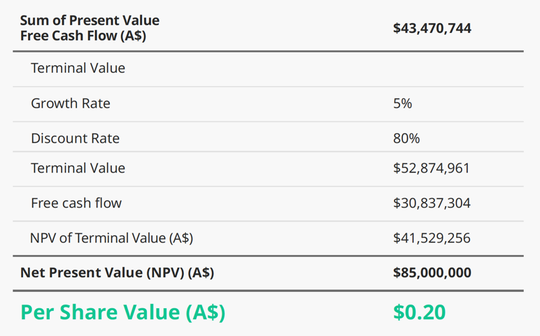 The key assumptions in coming to this valuation were technology offering, other agronomy services continuing to organically grow at a conservative 10% per annum and CLI's guidance of plans to plant a 3,000 acre crop in the CY20 harvest. It also made the assumption, that as more and more hemp is produced, the supply will start to catch-up to demand and the associated value per pound of biomass will decrease.

The comprehensive report came after "visiting the farm, meeting with the team and seeing the technology first hand, we are very confident in management's ability to execute the strategy".
The Green Fund highlighted three 'key milestones to watch out for':
The Hemp Oktoberfest
If the company pulls off a harvest that yields a million or more pounds, they would be one of the first companies in Oregon to harvest on this kind of scale. Most of the competitor farmers harvest between 5 to 50 acres at best.
Off-take agreements
The key to the revenue is the off-take agreements. They have started this process with the announcement of a US$15 million revenue agreement which accounts for approximately a third of the harvest.
IP development
Announcements that show commercial IP being developed for one of the world's fastest growing agricultural crops should create significant value in for the company, and its shareholders
How the rally began
The stock's rally began with the company's decision to enter the lucrative US hemp and CBD market, which has had no trouble attracting attention since the passing of the 2018 US Farm Bill last December.
In anticipation, CLI appointed an advisor to investigate "opportunities in the potentially billion-dollar hemp market".
It then made the decision in February to pursue trial farming of industrial hemp in central Oregon and in May CLI received a licence to cultivate industrial hemp in that state. With that licence in hand, the company set about establishing the hemp trial farm.
The trial farm is a showcase for the company's technology, providing a platform to trial a variety of hemp genetics and growing environments to showcase CLI's agronomy, farm management and agtech skill set — including CropLogic realTime.
Leveraging over 30 years of research with the expertise of leading agronomists, CLI developed CropLogic realTime — a hardware technology that monitors and tracks key crop metrics, such as soil moisture and irrigation, and converts observations into actionable insights for users to make cost-saving decisions.
The data generated from the farm this season will help CLI better support the fast-growing US hemp market with its agronomic and technical support.
At the same time, CLI is also seeking to produce a profitable hemp crop.
That ambition is so far proving to be a winner.
The trial hemp farm effectively transitioned CLI from technology supplier and service provider to a legally permitted industrial hemp grower.
The company planted 500 acres of CBD-producing hemp biomass at the trial hemp farm and also embarked on a joint venture program to grow a further 16.6 acres of premium trimmed flower hemp.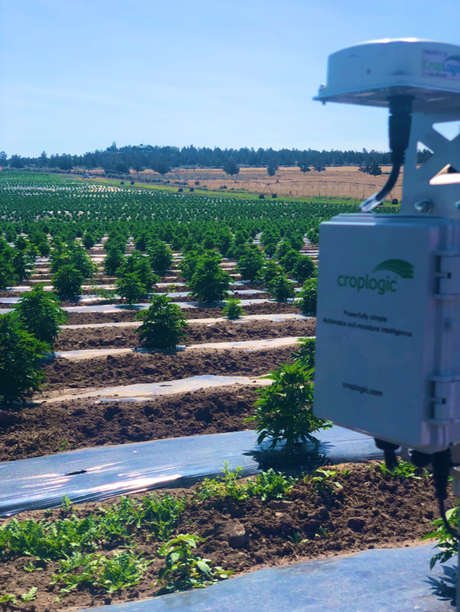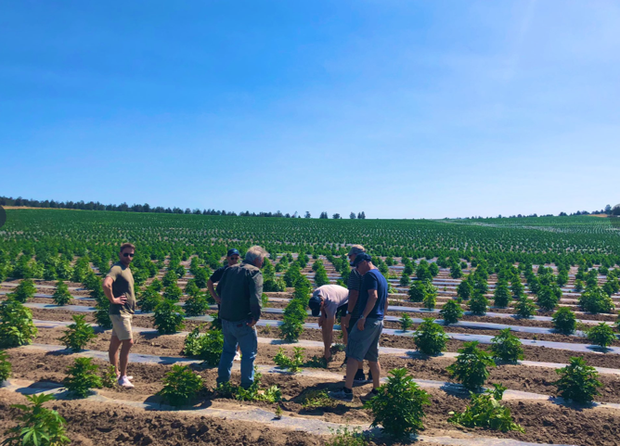 The following video (from April) is of CLI CEO, James Cooper-Jones, explaining the company's decision to expand the trial farm and vertically integrating CLI's agronomy and agtech expertise.
First harvest approaching
The first harvest at the hemp trial farm is set to take place just next month, in September.
The company has provided production estimates, suggesting that the 500 acre farm could produce 800,000 to 1.1 million pounds of industrial hemp biomass.
It notes that hemp biomass had quite low production costs — similar to that of potato or alfalfa — and anticipates those costs to fall within a range of US$5-US$7 per pound for one million pounds of production.
CLI also points to the going price of hemp biomass at US$35 to US$45 per pound. But given CLI's agronomy and ag-tech expertise there's potential for higher than average CBD concentration.
CLI, this season, settled on three different seed varieties known for their resilience, CBD compliance and having a proven record of production in central Oregon and in similar growing environments.
These varieties include T2, Midwest and Berry Blossom all of which consistently yield above 10% CBD and have potential to yield up to 16% CBD.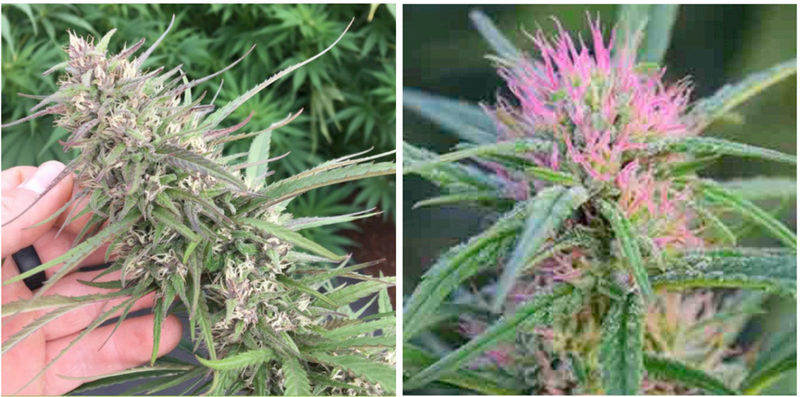 One more factor to note is that hemp biomass is graded based on its contained CBD and buyers will pay a dollar amount per CBD percentage point.
Assuming a CBD yield of 10% we can estimate potential revenue for CLI's hemp biomass production this season.
Assuming a yield of 900,000 pounds biomass and a mid-point price per CBD point of US$4.00 per CBD percentage, CLI estimates it could generate US$36,000,000 (A$53.2M).
This highlights the potential value on offer with CLI's current $30 million capitalisation looking very appealing to investors.
While US$4.00 per CBD percentage was used here, CLI reports that it has observed price per CBD point as high as US$5.60. And the 10% CBD target could also be considered conservative potential of the genetics varieties planted of up to 16% CBD — in ideal growing environments.
Taking the high production estimates above, the company anticipate that sales could hit $64 million, as reported in the article below.

Like any cropping operation, this comes with a high degree of risk, so of course these returns cannot be guaranteed — a sentiment confirmed by company management.
Hemp trimmed flower
CLI has also entered into a joint venture with experienced Oregonian agriculturalists, the Shephard Brothers. The JV will see the companies work together to grow premium CBD hemp trimmed flower with proceeds to be split equally.
Having operated a successful nursery business in Oregon supplying flowers and vegetables to much of the west coast, including some of the largest chain stores in the USA, the Shephard Brothers bring valuable experience.
The JV will see CLI bring its agricultural skillset and agtech to an additional 16.6 acres of premium hemp, cultivated specifically to produce trimmed CBD flower.
This CBD hemp trimmed flower is a premium product so attracts a higher sale price, as opposed to hemp bio-mass.
As I mentioned, hemp biomass sells for US$35 to $45 per pound, however, CBD hemp trimmed flower prices of US$450/lb have been commonly observed by CLI, while price ranges of US$300 to US$600/lb are common, varying due to grade, marketing and quantity.
The company anticipate that the venture will produce between 8,000 and 10,500 lbs of trimmed flower.
Taking the lowest price within CLI's given range for trimmed flower at US$300/lb and production of 8000 pounds, we get US$2.5 million.
At the highest end of the range — US$600/lb, for 15,000 pounds, would generate US$9.0 million.
That's a range of A$3.7 million to A$13.3 million to the JV, with half going to CLI.
Again, keep in mind CLI's current market capitalisation of less than A$30 million – even after its recent run.
Also, keep in mind, this is only for the trimmed flower component. The 500 acres of hemp bio mass is separate altogether.
Finfeed reported on the JV with Shephard brothers...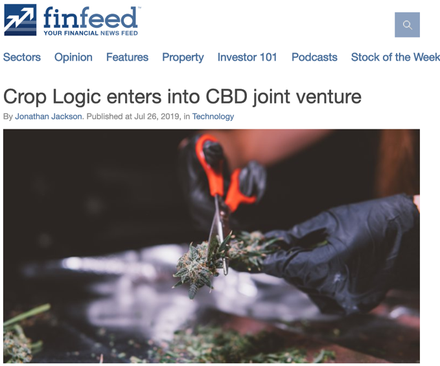 Funding sorted
As for funding its operations, CLI recently announced that it had secured pre-revenue bridging finance loan with its existing lender, Atlas Capital Markets, of US$2 million to cover the costs of its hemp trial farm through to the processing and sale of the product in November.
This loan is further to the convertible note agreement entered into with Atlas in May that included a provision for a second tranche of up to 2 million convertible notes. The Bridging Finance Loan will be in place of this second tranche and will be available for draw down as soon as conditions are satisfied.
Upon draw down under the facility, CLI will issue 8,947,057 options to Atlas exercisable at A$0.12 with a three-year term. Atlas has elected to convert US$750K (A$1.1M) of the amount outstanding under the May Note for the issue of 18,502,067 shares at A$0.06 per share.
CLI CEO James Cooper-Jones explained that the market's response to its hemp trial farm has enabled it to negotiate the terms of this bridging finance.
With the share price, at that time, up more than 50% since entering into the May note resulting in the conversion of part of the original note, the company saved some US$750,000 in cash repayment.
Additionally, the loan conversion confirms the noteholder's confidence and re-rating of CLI. The new bridging finance should de-risk the hemp trial farm by providing contingency funding for CLI through to compliance testing and harvest.
As the hemp trial farm project progresses, so does the interest in CLI both in the form of attention from investors as well as sales enquiries from customers.
Supply agreement with Deschutes Labs
On August 6, CLI secured a supply agreement with a new industrial hemp processing facility, Deschutes Labs that's located in Central Oregon, USA.
Under the supply agreement CLI's wholly owned subsidiary, Logical Cropping LLC, will supply biomass in weekly allotments beginning 20 October 2019.
The total value of the supply agreement is US$10.5 million (A$15.4M), provided that these deliveries are completed, with payment to be made after each delivery, in US dollars.
To put that in context, let's keep in mind that even after the sharp share price rise in recent months, the company is still capped at less than A$30 million.
Plus, this agreement is for the supply of less than 30% of total production estimates.
Deschutes Labs is a reputable CBD wholesaler offering quality, consistency, and accountability.
It is operated by the industry's best — boasting an extraction team with over a decade of professional experience, having worked in the CBD and extract industry and with a track record of success in the cosmetics industry, including the successful marketing of retail products.
Its new state of the art industrial hemp processing facility is due to commence operations next month, with a phase 1 processing capacity of over 10,000 lbs per day.
For CropLogic, the agreement establishes it as a viable producer and assists in developing credibility among other hemp farmers it is pitching to.
Again, you can find a more detailed account in Finfeed.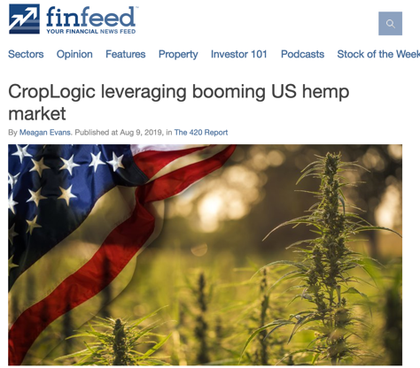 A diversified agricultural business
A key advantage of CLI when compared to other ASX companies operating in the cannabis space, or 'pot stocks' is that it has a track record of operating in the agricultural industry for many years, providing high-tech equipment and expertise to growers of a wide range of crops.
Before it began farming hemp, after the passing of the 2018 US Farm Bill which removed hemp from the scheduled 1 controlled substances list, CLI was already an award-winning global agronomy, farm management and agricultural technology company.
Developed with the expertise of leading agronomists, leveraging over 30 years of research, it's CropLogic realTime technology monitors and tracks key crop metrics, such as soil moisture and irrigation, across a variety of crops, and converts observations into data 24/7.
This information is then collated and displayed in a user-friendly application called CropLogic GrowerView, which provides actionable insights for users to make cost-saving decisions.
The company is assisting farmers achieve optimum productivity and profitability, providing crop growers with digital agricultural technology expertise that's based on scientific research and is delivered with cutting-edge technology.
After launching its product first into Washington State in 2017, CropLogic is now servicing a significant portion of horticultural growers in that region and has a market share in some crops that's as high as 30%.
While CropLogic has a diversified business, it is its trial farm in Oregon that's attracting big attention, especially in the lead up to the processing and sale of the product in the coming months.
---