Agtech Junior onto a Winner as it Looks to Service Booming CBD Industry
PUBLISHED: 06-05-2019 10:07 a.m.
As with any major legislative change, there are winners to be found.
So with the US Congress passing of the 2018 Farm Bill last December, several hemp farmers have made the move to position themselves at the top tier of the cannabis supply tree.
With the passing of the Bill, at least one locally listed agtech company is capitalising on the opportunity.
And it's a big opportunity, at that.
Hemp feeds right into the burgeoning cannabis industry. It is the primary source for cannabidiol or CBD, which is the non-hallucinogenic component of cannabis and which many big name manufacturers are now trying to get their hands on to create out of the box cannabis products.
Figures vary depending on who you speak with, however there is no doubt the legal cannabis market will be worth hundreds of billions of dollars in the next few years as demand increases.
According to The Hemp Business Journal, the market will grow from $390 million in 2018 to approximately $1.3 billion by 2022. Fortune suggests nearly 7% of the American population is already using CBD, placing the potential market opportunity at $16 billion by 2025.
With the likes of Constellation Brands, which produces Corona among other notable alcoholic beverages, making a big play in the space to produce cannabis consumables, those numbers aren't inconceivable.
Even Coca-Cola is looking at potentially dipping its toe in the cannabis infused drink market as it looks to arrest its revenue slide.
Why wouldn't it?
With the legalization of hemp, investment opportunities are set to become almost boundless, with product manufacturers and sellers gaining access to financial development that was previously unavailable.
These manufacturers need partners to work with. Partnerships are crucial and are why Constellation invested $4 billion in cannabis grower Canopy Growth.
With a diversified product line that delivers digital agricultural solutions to farmers in both Australia and the US, today's company has now recognised the emerging opportunities on offer in hemp and is getting straight to work.
The company signed a three-year lease for a 150 acre industrial hemp trial farm in a premier hemp producing region of Oregon, which has now been expanded to 500 acres. It has also been awarded an industrial hemp growers license with harvesting set to commence in September.
As stated, a fundamental requirement in any cannabis product is hemp and this company is making its moves at just the right time.
The company's shareholders are embracing this new development, more than doubling the share price in the two months since our last update when the company first announced its intention to farm industrial hemp.
That said, with a share price of just 3.3 cents and a sub-$10 million market cap, plenty of gains remain on the table in this still early stage agtech play.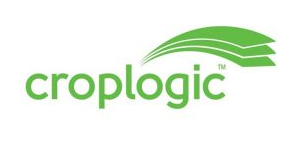 Crop Logic Limited

Market capitalisation: $11.9 million
Share price: $0.032
Here's what we like about it: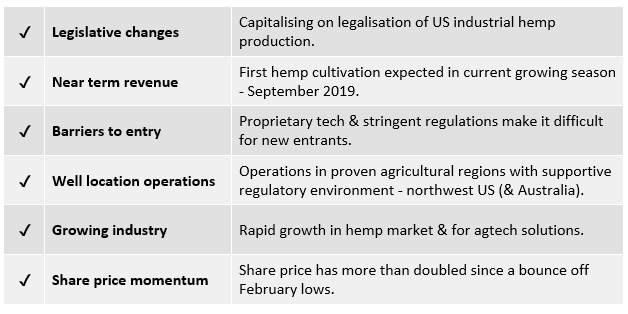 It was early February when we last checked in with CropLogic Ltd (ASX:CLI). As suggested by the report title — CLI to Begin Trial Farming of Industrial Hemp, — the company had just announced that it was pursuing trial farming of industrial hemp in Oregon.
Since then CLI has followed through, making some serious progress and checking off a number of milestones on the path to industrial hemp cultivation.
Its work in that time has also proven to be a catalyst for the company's share price, which sharply recovered from its February lows, gaining almost 250% in just over a month, rising from 1.3 cents in mid-March to a high of 4.5 cents on April 24.
Such has been the recent support for CropLogic that news released mid-March triggered its highest ever weekly volumes with about 300 million shares traded. The previous record was less than 60 million.
Here's a nine-month (weekly) chart — note not only the March rally, but the volume spike too.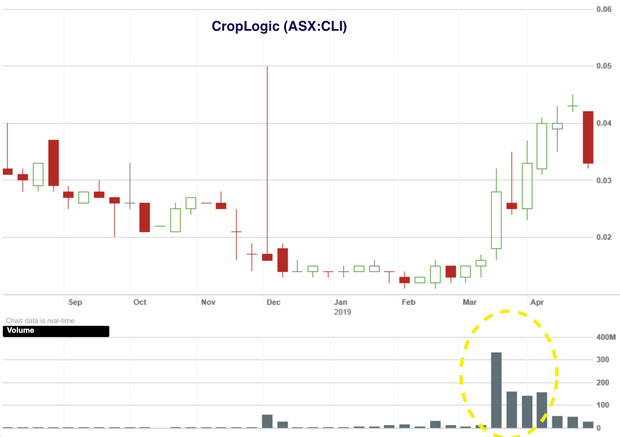 Given there are other catalysts in the pipeline, in regards to CLI's hemp ambitions plus its existing agtech solutions across multiple horticultural industries, this may prove to be the start of a sustained share price run. Another positive factor in regards to the share price, is that it's still recovering after being oversold during the global equities sell-off in the latter half of 2018.
So let's have a look at its hemp activities and why the company is starting to gain the attention it deserves in this market.
The rise of CBD and what this means for CLI
When US Congress legalised industrial hemp in December, it also legalised hemp-derived CBD (cannabidiol) — a cannabis compound that delivers the calming effects of marijuana without the high from THC.
This triggered a demand for cannabidiol (CBD), a chemical derived from hemp and marijuana plants.

Demand for CBD is now booming, so with hemp the primary source of CBD, growers — especially those in at an early stage, like CLI — will help meet this rising demand.

Forbes predicts the CBD market could pull in $16 billion by 2025, whilst Rolling Stone reports a much higher figure. It suggests the CBD market could hit $22 billion by 2022 outpacing marijuana.
We've already mentioned the interest from Constellation Brands and Coca-Cola to support this assertion, but there are plenty of other brands to back this up.
At a glance, Heineken has already launched a cannabis-derived beverage at dispensaries in California.
We've only mentioned the big brands here, but there are plenty of other smaller companies that are producing edibles, drinkables, topicals and a whole host of products that will require CBD supply.
CLI is certainly well placed to capitalise on the legislative shift and the commercial opportunities this has created, and optimise the production and grade of industrial hemp for the CBD market particularly in North America.
It has all started at CLI's industrial hemp farm.
Industrial Hemp Trial Farm
It was early February when CLI first announced that it was investigating Oregon's industrial hemp market.
Oregon has been a long supporter of industrial hemp and has been amongst a handful of US states that legalised industrial hemp production in the years leading up to the passing of the Farm Bill in late 2018. It's now one of the top three industrial hemp producing US states, meaning that it has good infrastructure and knowledge around hemp production.
CropLogic already had a strong presence and regional knowledge of the Pacific Northwest (Washington State, Idaho and Oregon) with an agronomy team that has serviced this region for up to 30 years and with a market share as high as 30% in some crops.
On 13 March, CLI confirmed that its Oregonian subsidiary, LogicalCropping LLC, had leased a 150 acre property in central Oregon. The size of the trial farm has since been expanded to 500 acres. The lease on the property is for three years, with an option to sub-lease in years two and three.
The trial allows CLI to showcase its CropLogic realTime system in use for hemp cultivation within a region where there are over 11,000 acres under hemp cultivation. It will serve as a marketing tool to this market and the broader hemp cultivation industry.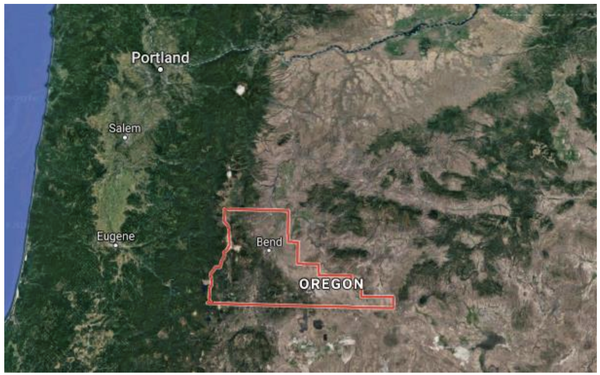 With the lease in hand, CLI got straight to work lining up a series of milestones for cropping of industrial hemp this season, including developing farm plans and preparations.
One of these milestones was achieved less than a week after signing the lease, on 18 March, when the company was issued a registered industrial hemp growers license by the Oregon Department of Agriculture (ODA).
CropLogic CEO, James Cooper-Jones, explained that, "The license permits CropLogic to produce and sell industrial hemp this season and potentially participate in the exceptional returns CropLogic has observed from other growers in Oregon.
"As one of the first ASX listed US hemp growers, the trial farm will also allow CropLogic to demonstrate its agronomy and digital agtech technologies, particularly CropLogic realTime, which will be used to optimise yields."
Securing the licence was a widely reported catalyst for the ASX junior...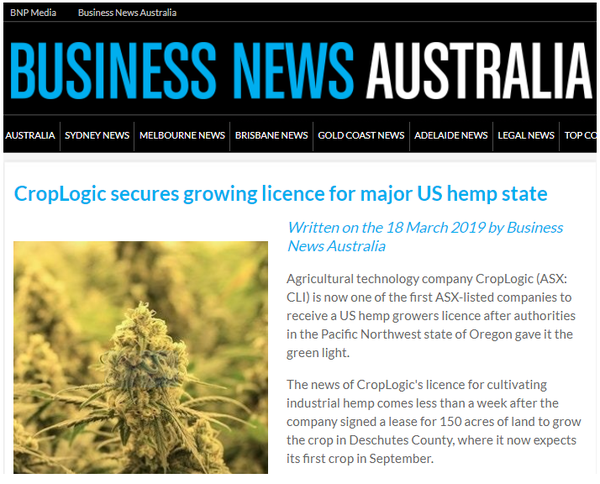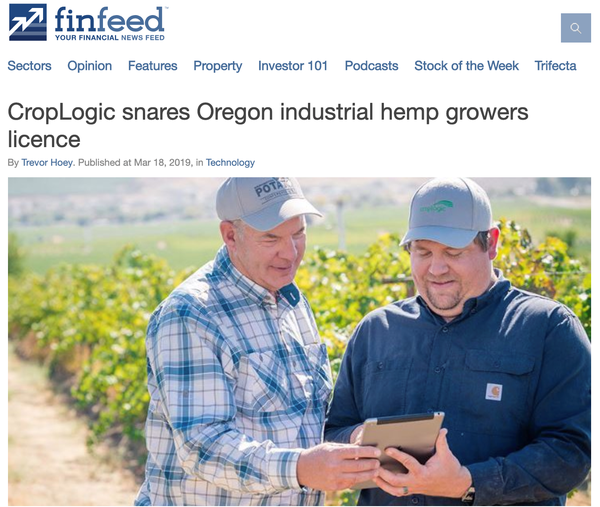 The licence means CLI is now legally permitted to crop industrial hemp in Oregon in the upcoming 2019 growing season that normally runs from May to October, with harvesting set to commence in September.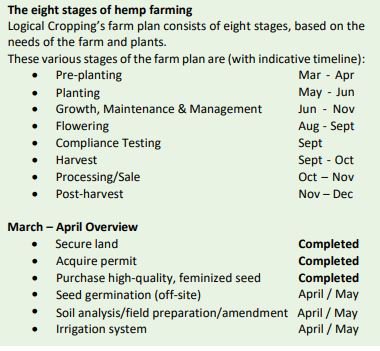 Trial Farm Expansion
On April 24, CLI announced that in order to further vertically integrate its agronomy and agtech expertise it has expanded the industrial hemp trial farm in Oregon from 150 acres to 500 acres.
The expansion means CLI's wholly owned subsidiary, LogicalCropping can evaluate and produce reference data for multiple growing conditions.
Discussions with local hemp growers confirmed the need for representative data across various conditions such as soil types, land contours and elevation in order to optimise crop yields. A variety of irrigation systems and genetics will also be used.
The data CLI generates from farming industrial hemp at the trial farm this season will see it better poised to support the US hemp market, which is projected to triple to $22 billion by 2022, with agronomic and technical support.
There is particular opportunity for CLI in Oregon, where the number of licensed growers climbed from 13 to 584 following the introduction of the 2018 federal Farm Bill, and hemp acreage has swelled from essentially zero to more than 11,000 acres, and is likely to increase further still.
Managing the farm will also allow CLI to demonstrate its agronomy and digital agtech technologies, namely CropLogic realTime and CropLogic aerial imagery will have direct application to optimising the yields and grade of the company's hemp biomass crop.
These elements enable CropLogic to validate its agronomy expertise and suite of ag-tech technologies in a variety of scenarios, adding greatly to its proprietary scientific knowledge.
CropLogic will monitor the production rates from each of the different growing environments over the 500 acres, including the variety of applications, topography and soil types. This knowledge could then be applied to CropLogic's customers not only in USA and Australia, but also to the emerging industrial hemp market outside these areas.
CLI will apply its agronomy expertise, utilising its proprietary CropLogic realTime, CropLogic Aerial Imagery and CropLogic GrowerView. The company's drone technology will also be utilised this season at the Industrial Hemp Trial Farm.
Drone technology is particularly applicable to high value crops such as industrial hemp, but interest has also been shown by other CropLogic clients in the grape industry in Australia and the apple and row crop industry in Washington State.
What could this be worth to CLI?
Across the 500 acres, CropLogic expects production rates to be between 800,000 and 1,100,000 pounds of industrial hemp biomass.
Hemp biomass prices vary depending on the grade and variety, but CLI is working off a US$35-US$45 per pound range based on its own investigations which are in line with third party indices for hemp market spot prices in the region
The indicative cost to produce the Industrial Hemp Biomass will be in the vicinity of US$5- US$7 per pound — also ascertained from the company's own investigations and supported by third party research.
Based on annual industrial hemp production of 800,000 pounds, a mid-range market price of US$40.00 per pound and a mid-range cost of US$6.00 per pound and an AUD:USD exchange rate of US$0.70, the 500 acre farm should generate a pre-tax profit in the order of $40 million.
If slightly higher prices than mid-range indications are achieved, while costs come in towards the lower end of the US$5-US$7 range, and assuming production numbers are more in line with 'same site' comparisons, the pre-tax profit could be as high as $58 million.
A quick comparison with vertically integrated Australian almond grower, Select Harvests (ASX:SHV) suggests there may be value on offer.
SHV generated earnings before interest and tax of $34.9 million in 2018, while carrying net debt of $70.8 million as at June 30, implying an enterprise value of ~$730 million at that time.
This was based on a share price of $6.90, indicating that the valuation isn't all that far removed from where it was then.
This implies an enterprise value to earnings before interest and tax multiple of 21.
Taking into account a recent capital raising and the prospect of some nominal debt financing in the near future, CropLogic's enterprise value should be in the order of $15 million.
If one applies SHV's EV:EBIT multiple to CropLogic's pre-tax earnings that would equate to an enterprise value of about $800 million, based on estimated mid-range earnings over the next 12 months.
While there are other metrics to take into account and this back of the envelope calculation by no means should be used to quantify the extent of the potential, it does give some idea of the disconnect between CropLogic's current valuation and its earnings profile.
The revenue achieved from the proceeds for this first industrial hemp crop will support the further product push and development of CropLogic's suite of agricultural technology products, including CropLogic realTime.
Seeds sourced & ready to go
CLI has received its first shipment of industrial hemp seed through LogicalCropping LLC. The seeds have been delivered to a third party nursery that's experienced in industrial hemp, for germination before planting this month.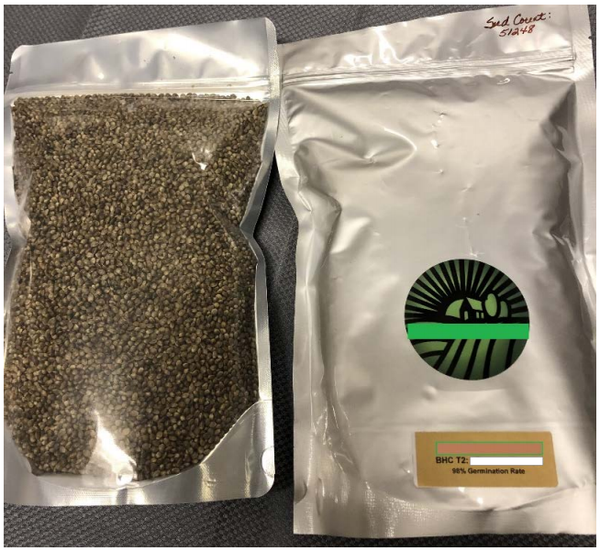 The seeds were sourced from a reputable supplier in Oregon that's known in the industry to be a producer of high-yield, (1+ lbs/plant dried biomass), high-potency (14-18% CBD), ODA compliant (< 0.3% delta-9 THC) mould-resistant, feminized seeds.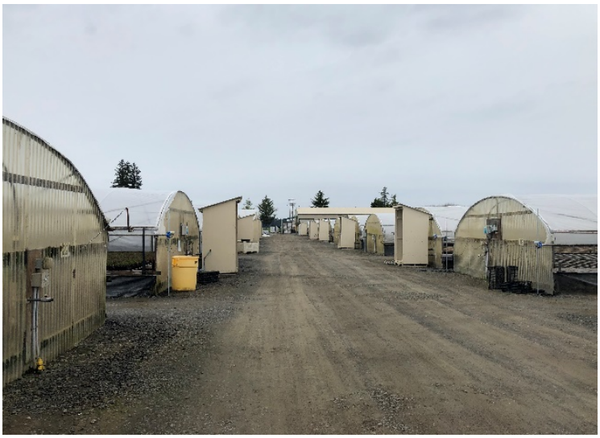 CropLogic is now in the process of working through a series of milestones for cropping of industrial hemp, including developing farm plans and preparations around this property.
The company will benefit from being vertically integrated, where it can control distribution from crop to customer. This is something that often works in favour of the supplier due to supply chain efficiencies and higher margins that would otherwise be diluted by payments to third party distributors.
To see the trial farm financed into production, CropLogic has secured firm commitments from institutional and sophisticated investors to raise $3 million (before costs) through a placement of 75,000,000 fully paid ordinary shares at an issue price of $0.04 per share. It has also secured bridging finance for A$1 million and has engaged Hunter Capital to secure a further US$2 million (~A$2.8M) of debt finance.
Hemp, part of a bigger story
CropLogic's agricultural technology has wide ranging applications and opportunities exist for CLI in a number of agricultural industries in addition to hemp.
This was confirmed when, on 11 April, the company reported that it was targeting the U$2.8 billion US apple and hops industry.
CropLogic realTime was launched in Washington State in 2017 where its operations are located in the midst of the highly productive Columbia Basin, Washington State.
Washington State has some of the most productive growers in the USA with yields double the national average in some crops and it is the largest producing state of other crops such as apples and hops.
Both apples and hops are big business here.
The state is the largest apple producer in the USA. It's an industry that's worth US$2.39 billion and delivers around two-thirds of the nation's apple crops.
And at US$382 million, Washington's hops industry is even larger. Acreage devoted to the growing of hops has grown steadily over recent years in Washington State — a trend that works nicely for CLI which targets hop growers through the establishment of new sales zones.
CropLogic realTime was trialled with apple and hop growers in the 2018 season where the systems were found to be robust and responsive, and growers response was positive.
On the back of the trial, CropLogic increased its marketing to the apple and hop market including opening two new sales zones to the west and north of the current area of operations.
The opening of these two zones presents a total addressable market to CropLogic's Washington State operations of between A$9.3 million and A$18.6 million.
This strategy looks to be paying off, as CLI has seen realTime orders in Washington State jump 50% on 2018.

One to keep an eye on
While CropLogic has a diversified business, it's the industrial hemp grower's licence and trial farm in Oregon that's attracting the big attention.
In part, because it can feed into the momentum building with regard to the multi-billion dollar CBD industry.
The trial farm has effectively transitioned CropLogic from an owner of proprietary technology and an agricultural industry service provider to a legally permitted industrial hemp grower, with first cash flows expected to arrive this year.
Plus, the data generated from this season's trial farm will position CLI to better support the fast-growing US CBD market with its agronomic and technical support.
Yet, hemp is still only part of the story and on this note CropLogic's unique other markets shouldn't be overlooked.
Whether it is the Mildura region as the fruit bowl of Australia or Washington State, CropLogic is assisting farmers achieve optimum productivity and profitability, so expect to hear plenty more from this company.
---