BPM's Lead-Zinc Projects now Underway with Key Permits Secured

Share price when sent: $0.300
We invested in BPM Minerals (ASX:BPM) because of its exploration projects that are next to Rumble Resources' April lead-zinc discovery that spiked its share price by 8x - currently a $297M discovery.
Most importantly, $13M capped BPM's projects are not just NEAR to Rumble's big discovery, their land is GEOLOGICALLY equivalent to Rumble too, which means all the rock types, rock structures and rock age etc are the same, further increasing the chance to emulate Rumble's discovery.
Geological similarity is often overlooked by early stage investors when looking at a nearology play.
We are invested in BPM to see it run a drilling program on its three permits near Rumble's discovery and hopefully make a nice lead-zinc discovery itself.
Before BPM drills: BPM needs to get permits granted, do some geophysical work to identify drill targets and then finally... start drilling - we expect to wait a few months before the excitement of the first drill campaigns starts and the BPM share price starts responding on speculation of results.
Our investment strategy: Like with all our early stage exploration investments, our plan with BPM is to invest way before the drilling starts (done) and wait patiently while all the pre drilling prep work happens (now), then aim to sell a small portion before the drilling campaign starts once the price starts running, then hold a position for the drill campaign and hope for a lead-zinc hit.
Sometimes this strategy works, other times it doesn't - each exploration company and drill campaign is different. Metals exploration is risky, which is why we invest early and wait ages for drilling.
Today's BPM News: Today BPM announced that two licenses in the Earaheady have been granted, but we are still waiting on the (most advanced) permit which BPM said today would be approved in November: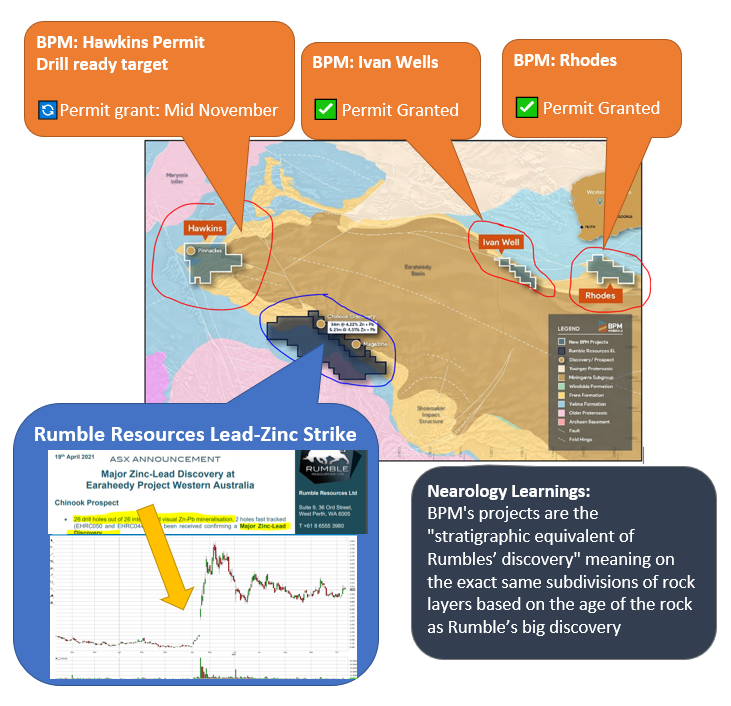 About each BPM permit:
Hawkins permit is expected to be granted in mid-November. BPM has given a time frame on the license grant which we think is good.
Hawkins is BPM's most advanced drilling prospect because it had past drilling for lead-zinc before BPM acquired it... BUT the geologists at the time drilled into different rock structures to the ones where Rumble eventually discovered their lead-zinc - the current BPM geologists now have new knowledge about where and how Rumble drilled and are going to apply this to the BPM's drill campaign.
Hawkins has confirmed "lead-zinc mineralisation" meaning trace amounts of lead-zinc have been found in the soil, which is a very positive sign that there will be more underground if they can drill in the right spot.
We understand that the lead-zinc at Hawkins was originally found through an "outcrop" which literally means a chunk of it was sticking out of the ground - this is what launched the first batch of drilling before BPM owned the project - some holes were drilled but not using the same techniques and learnings as Rumble recently used.
Rhodes and Ivan Wells projects permits have now been granted
Both these projects have the same geological structures as Rumble but there hasn't been any drilling for lead-zinc - We believe these projects have a lot of potential but it doesn't yet have any geochemical support - meaning that its has the same rocks and geological setting that hosts the Rumble strike BUT there has been no testing for lead-zinc mineralisation yet.
Next step is to get the soil samples and do some geophysical work which has already commenced according to today's BPM announcement.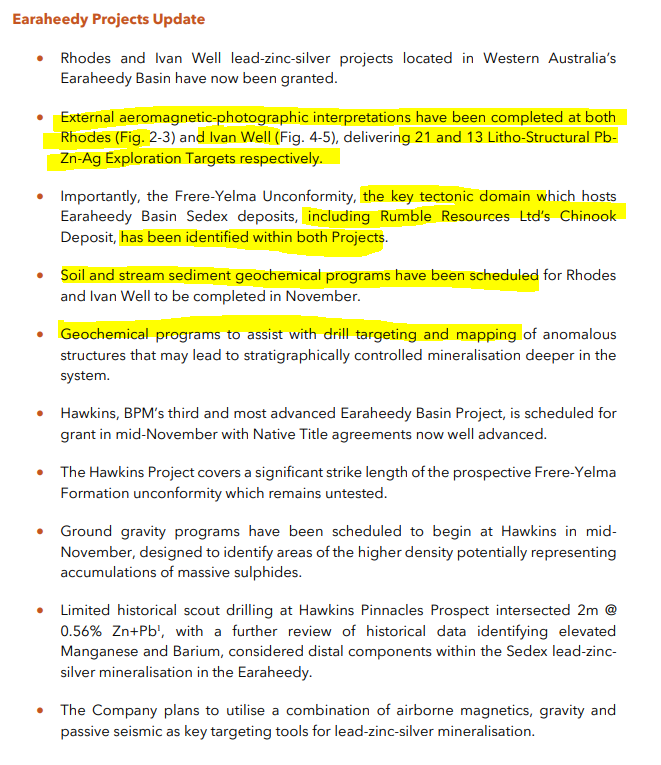 Our past commentary on BPM
We first invested in BPM at 20c back in May 2021 - here is why we invested in BPM
In June, BPM's neighbour Rumble released some more lead-zinc results - read our commentary here including an analysis of the geology.
In July we wrote our commentary on BPM's two other projects, which have been keeping us entertained while we wait for our main reason for investing in BPM - drilling next to Rumble
Earaheady Lead-Zinc Projects (Main Bet)
✅ Project Acquisition
⚔️ Rumble Resources Drilling Results
✅ Exploration licence granted (Ivan Wells, Rhodes)
🔄 Exploration licence granted (Hawkins)
🔲 Soil Sampling
🔲 Surface Mapping & Rock Chip Sampling
🔲 Gravity & EM survey
🔲 Native Title Heritage agreements
🔲 Identify Drill Targets
🔲 Mobilise Drill Rig
🔲 Drill drill drill - 3000m of RC drilling
🔲 Drilling Results
🔲 Rumble Resources Drilling Results 2
🔲 Rumble Resources Drilling Results 3
🔲 Plan next steps based on the drilling results
BPM Investment Milestones
✅ Initial Investment: @20c
🔲 Increase Investment 1
🔲 Increase Investment 2
🔲 Price increases 500% from initial entry
🔲 Price increases 1000% from initial entry
🔲 Price increase 2000% from initial entry
🔲 12 Month Capital Gain Discount
🔲 Free Carry (just before key drilling event)
🔲 Take Profit (just before key drilling event)
🔲 Hold Position for next key drilling event
🔲 Decide New Investment Plan after results of key drilling event
---