BPM's Big Boots Bet Boosted by Bullish Baby Bets

Share price when sent: $0.360
Happy New Financial Year!
We are looking forward to what we hope will be a positive five months on the markets before the Christmas quiet period, and a prosperous one for us all... fingers crossed for a commodities super cycle and rampant global recovery.
To ring in the new financial year we are going to take a closer look at our latest investment - early stage explorer BPM Minerals (ASX:BPM) who are trying to emulate a nearby $325M lead zinc discovery.
Today we will also introduce BPM's two other projects that have near term catalysts. We think these two "side-bets" could accelerate share price activity prior to the main drilling event we invested for in late 2021.
BPM Minerals Ltd
ASX:BPM
We invested when BPM announced the acquisition of exploration projects near Rumble Resources $324M lead-zinc discovery - one BPM project is just 40km away along strike.
BPM currently has a $14M market cap after being sold down during the June tax selling season. The company has $5.1M cash following a recent raise and looks well funded for the coming months of newsflow.
BPM is an early stage exploration investment where our strategy is to invest very early (way before the key drilling event) and wait patiently for what we hope will be a share price rise on speculation in the lead up to drilling. Our aim is to free carry into the result, which is still 6 months away.
While months of patient waiting isn't for everyone, this strategy has worked well for us with our other exploration investments like:
88E at 0.6c now 2.8c
PUR at 1.4c now 6.8c
LCL at 4c now 17.5c
IVZ at 3.8c now 17.5c
Our "Big Bet" in BPM is for its lead zinc drilling expected in late 2021 - $14M capped BPM is drilling near and along strike to Rumble's $325M discovery.
Today we are going to talk about BPM's two other projects that they were working on prior to acquiring the lead zinc project - one in Gold exploration and one in Nickel exploration.
Both of these projects have near term drilling catalysts that could accelerate share price appreciation well before the main drilling event we are waiting for in late 2021.
We call these projects our "BPM Side Bets"
Because both of these side bets are going to deliver key catalysts in the lead up to the drilling of our "BPM Big Bet" lead-zinc project, we are going to be paying attention to them in the coming months.
With BPM's low Enterprise Value and tight capital structure of 49.9 million shares, if one of these near term side bets strikes above expectation we think it will positively impact the BPM share price ahead of the pre Hawkins lead zinc drilling speculation.
BPM Side Bet #1: Gold Project drilling in the coming weeks
BPM's 'Santy Gold Project' features 17 priority drill ready targets, where BPM is planning to complete 5,000m of aircore drilling in the coming weeks.
This project is located in the Tallering Greenstone Belt, covers an area of 232km2 and is anomalous for gold nickel, copper and zinc.
There has been some limited Aircore/Reverse Circulation (AC/RC) drilling and gold identified in rock chip samples so far.
BPM is going to do some aircore drilling in the coming weeks - this is a shallower form of drilling compared to RC and diamond drilling - so this is a good first pass test to see if the project will warrant further exploration and maybe some deeper drilling.
There has been a little bit of previous exploration on this ground, here is what we know so far:
Limited step-out AC/RC drilling with TARC 010 returning 1m at 2.17 g/t gold from 76m.
Gold identified at Santy North in rock chip sampling (Au to 100.6 g/t) followed by limited RC drilling which returned anomalous results.
Gold mineralisation identified at Santy South, Nightjar and Watkins.
Highly anomalous Ni, Cu, Co and Cr reported in Fe targeted drilling on 2.8km long well defined magnetic high at Santy Well.
With BPM's gold drilling to start in the coming weeks, and drill results to flow shortly after, this side bet will keep us entertained while we wait for the BPM Big Bet of Lead-Zinc drilling toward the end of the year.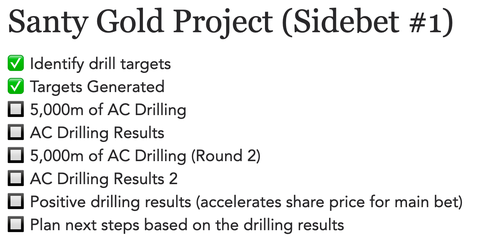 BPM Side Bet #2: Nepean Nickel - Chasing EM targets for RC drilling - 2km from historic nickel mine
BPM's Nepean Project is 2km south of the historic Nepean nickel mine that produced 32,303 tonnes of mined nickel at an average recovered grade of 2.99% nickel.
Nickel is hot at the moment. We like the Nepean area for Nickel. The current plan is for BPM to do RC drilling on Nepean toward the end of the calendar year.
We first got interested in the Nepean Nickel Mine when looking at Auroch Minerals (ASX: AOU) - the current 80% owner of the project and actively exploring below and around the old nickel mine.
We invested in AOU via our Wise Owl portfolio - You can read more about our investment in Auroch Minerals and its nickel exploration plans over at Wise Owl.
AOU is drilling deep under Nepean in late July and positive results could be good for BPM, given the proximity of the projects.
BPM's Nepean ground is prospective for both greenstone hosted gold deposits and nickel sulphide deposits.
BPM's ground is underlain by geology similar to the Nepean nickel mine and a 200m long nickel has already been identified, which warrants further drilling.
In the coming months, BPM plans to run some MLEM (Moving Loop Electromagnetic) surveys and do some more aircore drilling in order to firm up some strong RC drill targets.
BPM has already done some aircore drilling here so has some early sniffs of what might be in the ground - hopefully the next few months firm up some nice RC drill targets.
In May this year, BPM received assay results for a 139-hole aircore program completed at Nepean. Results from Jim's Prospect confirmed a shallow 200m-long nickel anomaly, which is up to 47m thick, and remains open to the southeast.
A Phase 2 work program is now underway which will consist of a split collection of 200 samples, 3,500m of AC drilling, an MLEM survey, 2,500m of RC drilling and a DHEM survey.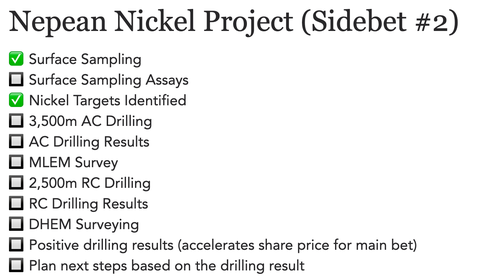 Our BPM "Big Bet" - Lead-Zinc Drilling Near Rumble's $325M discovery
This is our main reason for investing in BPM, and we are looking forward to drilling toward the end of this year.
In May 2021, BPM acquired projects located on the boundary of the Earaheedy Basin, now a Lead and Zinc exploration hotspot due to Rumble's success.
We invested and continue to hold BPM for its proximity to 8 bagger Rumble Resources, which went from 10c to a high of nearly 80c (see chart below), after hitting not one, but two high grade lead-zinc drill results at its Chinook lead-zinc discovery.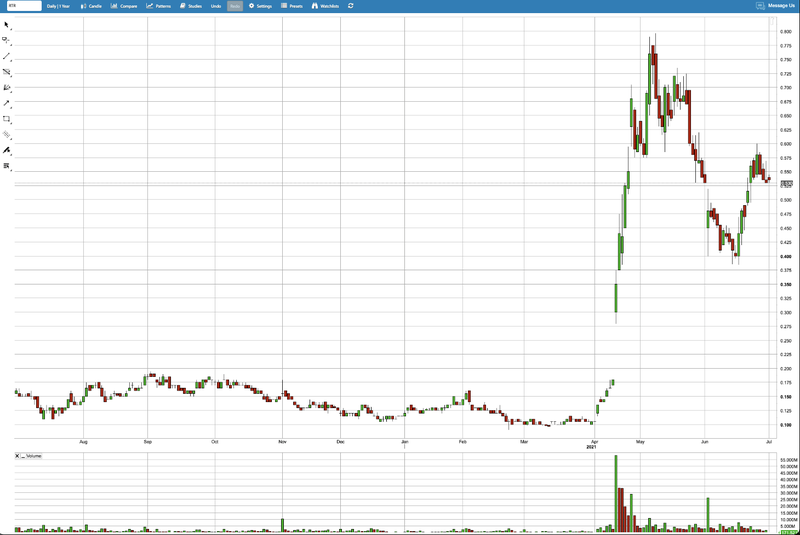 This was one of the biggest metal discoveries in Australia this year.
BPM's Hawkins Project is located approximately 40km northwest along strike from the Rumble Resources Chinook lead-zinc discovery (34m @ 4.22% Pb + Zn).
We are looking forward to the drilling of the Pinnacles target at Hawkins and the other lead zinc projects. You can see the proximity of BPM's ground to Rumble's discovery below: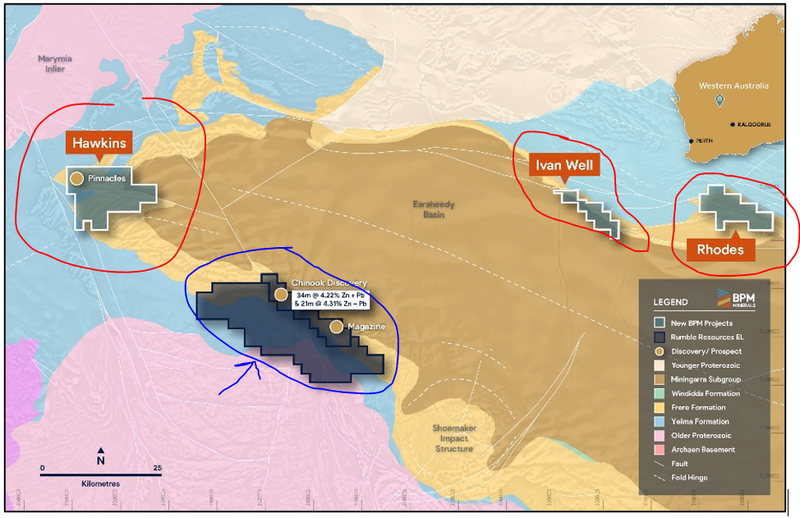 The BPM drill target that we like the most is called Pinnacles and it sits in the Hawkins tenement, on strike from the aforementioned discovery: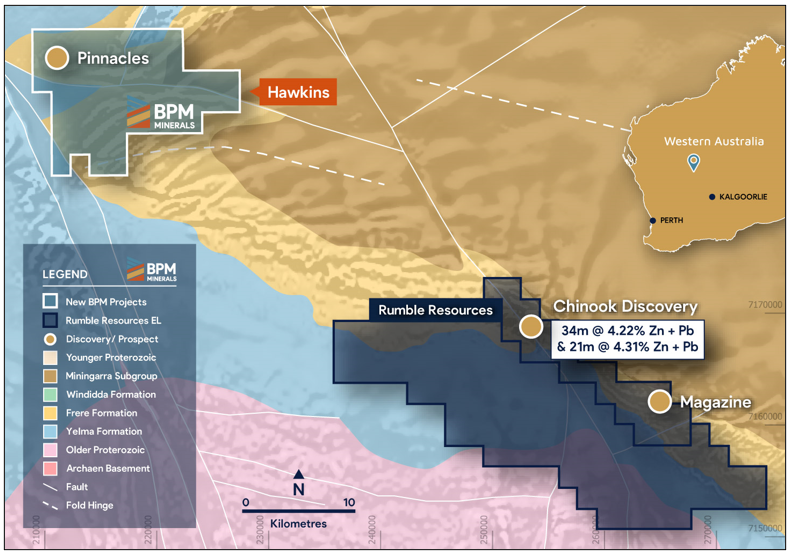 Read more details about our BPM Big Bet here and here.
Our Investment Plan for BPM
Our plan is broadly the same for all of our early stage explorers.
We invest very early, patiently hold in the lead up to drilling, free carry and take some profit before the drill and hold a significant position for drilling results.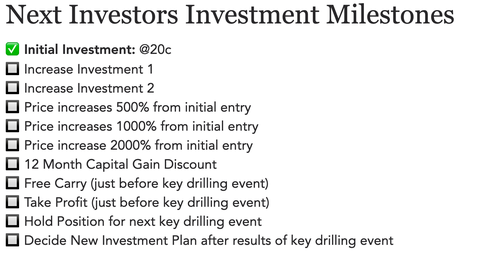 What happens next?
Here's a look at the expected milestones over the coming months: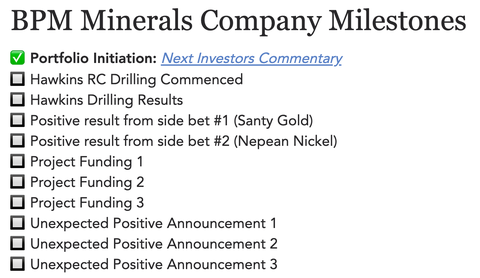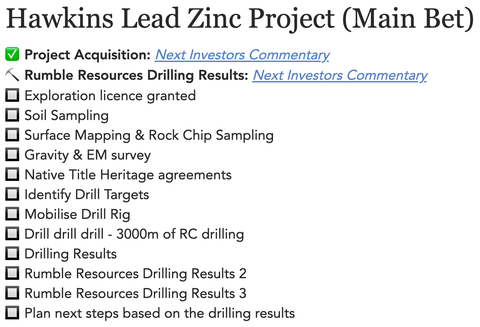 ---