BPH Eyes EU Roll-Out with Distinct Brain Monitoring Device
PUBLISHED: 09-02-2017 10:01 a.m.
Changing how anaesthesia is administered and monitored in order to improve the lives of patients — before and after major surgery – could be one of the most important medical breakthroughs of our time.
Considering the worsening health across Western societies as a whole, the amount of surgery being done is increasing rapidly.
However, this increase is also raising the amount of negative externalities that go hand-in-hand with surgery. We're talking about mental and physical side-effects that ruin patients' lives and costs hospitals millions in litigation claims.
One major issue has to do with anaesthesia. Anaesthetists are struggling to determine the correct mix and dosage of anaesthetics because of external factors that make the entire process opaque.
BPH Energy (ASX:BPH) through its investee company Cortical Dynamics – of which it has a 3.89% shareholding, and option to take over 15% – has developed a unique solution, the Brain Anaesthesia Response (BAR) monitor, to this bugbear issue...
...and the great news for BPH investors is that several companies (as well as government departments) are now biting at their heels for a piece of its technology.
BPH is currently undertaking a non-renounceable rights issue to close on February 22 of one new ordinary fully paid share for every one share held by eligible shareholders at an issue of $0.005 per share to raise $1.8M .
In part, the money will go towards further roll-out of the BAR technology into the global brain monitoring market segment set to be worth US$1.6BN next year and set to be worth US$11.5BN by 2020 across all segments, which sits well with what the company has been up to in the past few months receiving confirmation of both TGA and CE Mark licensing, which enables its BAR monitor to be sold and distributed in the EU and Australia.
Keep in mind however, that this technology is in the early stages of commercialisation, and this is a speculative stock. There is no guarantee of a successful investment here. You should apply the appropriate level of caution to all investment decisions and seek professional financial advice.
Here is a sneak-peak into how BAR is being used in hospitals, today: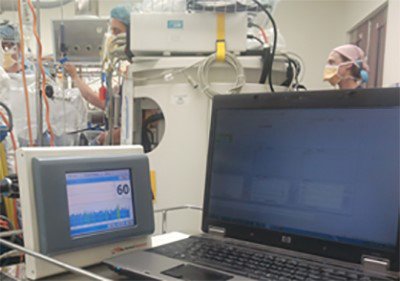 The BAR is designed to improve on currently used electroencephalogram (EEG) technologies by incorporating the latest advances in our understanding of how the brain's rhythmic electrical activity, the electroencephalogram (EEG), is produced.
The technical team behind BPH's medical device venture (Cortical Dynamics) has already been invited to speak at several medical confabs in Asia and is currently prepping to establish distribution and licensing agreements globally.
BPH is putting its future into an innovative tech idea that's even got AusTrade involved — a prominent government department focused on supporting grass-roots Aussie innovation.
We're here to keep you awake, alert and in the loop to: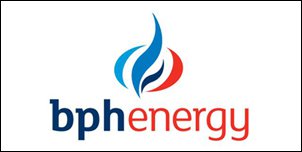 Medical devices that assist patients (and doctors) are growing in popularity at an immense rate due to the achievements made possible by modern technology and smart gadgets.
One medical niche in particular that currently has a big problem is Anaesthesia, so much so that medical professionals responsible for making anaesthetics work properly are looking intently for a better way of putting people into an unconscious state before an operation.
Here is the problem in a Hollywood-made nutshell, presented as a trailer for our time-conscious readers:
And here's BPH's product once again, this time annotated for your perusal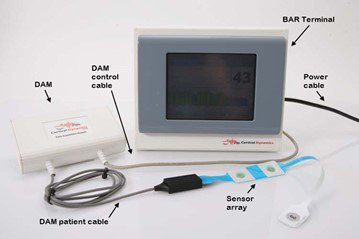 Surgeons have been using anaesthetics for decades, so one would think the medical profession would have found a solution by now. However, this is sadly not the case with patients still reporting being awake during major surgery. Worse still, some patients find themselves awake, but unable to move or communicate, during operations.
It's not just a bit of a nightmare — it actually is a nightmare for around 50,000 patients worldwide, each and every year. Some people have even been unlucky enough to experience such horror more than once.
Have a listen of one man's account of this harrowing experience:
People differ in their sensitivity to anaesthesia, at least the part involving a loss of awareness. The underlying problem is that nowadays anaesthesia involves not one, but several drugs. These include painkillers, sedatives, amnesia-inducing agents, and relaxants that allow the muscles to be pulled aside so the surgeons can do their work.
Getting the mix right is tricky. Too much, and the patient could slip into a coma, or worse. Too little, and the patient may experience the operation as if he was awake, but not able to move after muscle relaxants have taken effect.
Despite years of R&D, today's monitoring equipment including the dominant BIS continues to be criticised in repeated academic research.
Some research has found BIS to be struggling to accurately determine the level of consciousness in a patient.
What Cortical Dynamics has developed, hammers this protruding rusty nail back into place
Cortical Dynamics has developed a ground-breaking device that is able to determine patients' state of consciousness, awareness and even pain sensitivity; via a sensor attached to the patient before an operation.
This is Cortical's device in all its glory, being tested by researchers at Swinburne University of which Cortical Dynamics is a spin-off business: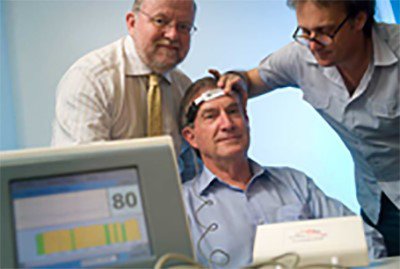 As you can see, it is a simple sensor attached to a very sophisticated and complex box of tricks which tracks and outputs the information required by anaesthetists.
The BAR system is planned to supplement existing monitoring equipment, able to sync up and liaise with other devices connected to the patient: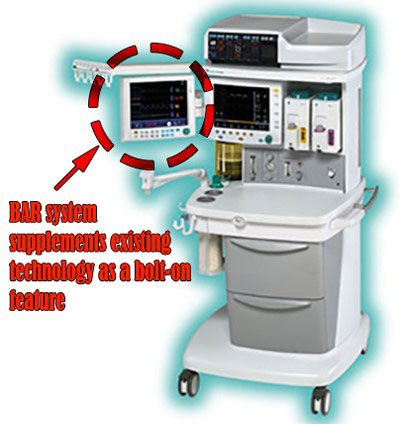 What could make Cortical's device superior to anything else currently on the market, (and anything that has been on the market previously), is the fact that it measures a patients' physiology and brainwave patterns directly, to determine the recommended dose of anaesthetics. This is in complete opposition to the current method of recording what doses were administered to other patients and calculating a statistical average for each new patient.
So you can see why BPH would want to up its shareholding in Cortical.
Furthermore, the BAR Monitor produces a reading within 2 seconds, compared to a sluggish 30 seconds for the leading industry competitor manufactured by Medtronic.
Currently, patients that go through major surgery are reporting increasing incidence of poorly administered anaesthesia, which means BPH has a stake in a market worth $1.08BN as of 2012, set to be worth US$11.5BN by 2020 across all segments and between $83M to $229M in sales — and that's only counting Europe.
However it is difficult to know just how much revenue they could generate in future from sales in this market. Investors should therefore take a cautious approach to their investment decision and weigh up this information with all other publicly available information before making a decision.
When it comes to finding the root causes of why anaesthetics are becoming less effective, the answers are once again rooted in the same old usual suspects: demographics, lifestyle choices and a widespread need for change — this applies to both patients and the medical profession as a whole.
BPH's BAR product has genuine potential to shift the BIS space into higher gear
The BAR has been validated by a range of scientists, researchers and private companies and has been trialled in several Melbourne hospitals.
Next, is the recent addition of AusTrade as a publicly vocal supporter. AusTrade is a publicly-funded organisation designed to help innovative Aussie businesses bloom in earnest. PM Malcolm Turnbull has been raving on about supporting grass-roots Aussie businesses with big, bright tech ideas able to circumnavigate the globe (and boost Aussie tax revenues) in speeches for months already; and companies likes Cortical fit the bill to a tee.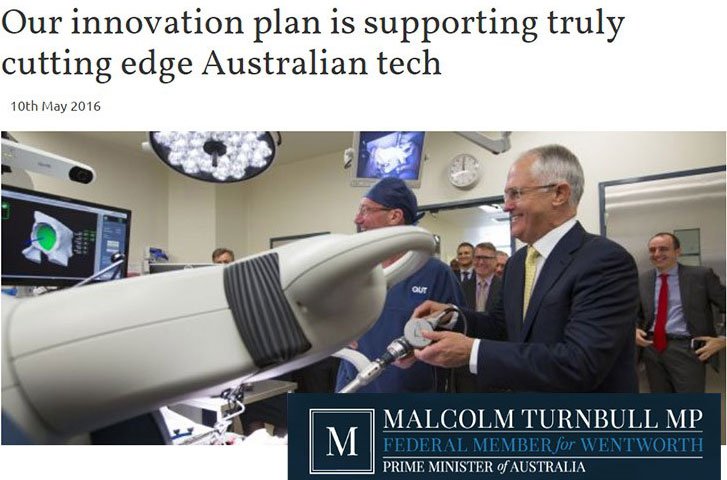 Furthermore, BAR technology has been getting attention and a fair few plaudits across Australia: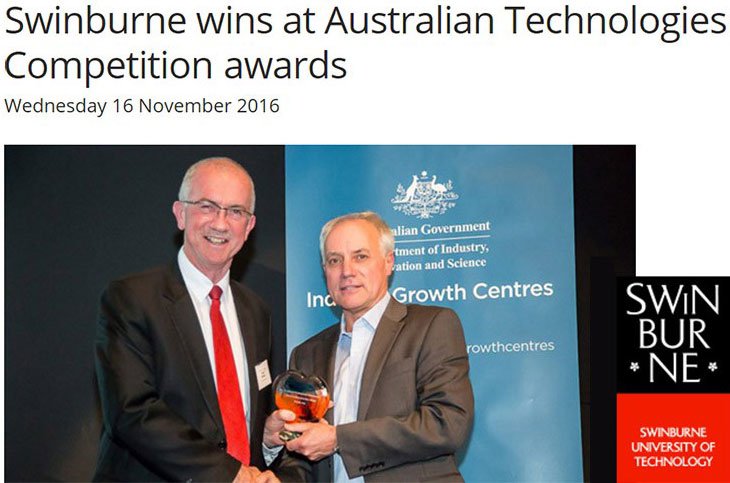 Just in case you are confused by the heading above, as we mentioned earlier Cortical Dynamics is a Swinburne University spin-off company, which gives BPH's investment further credence.
Last year in September, Cortical was invited by Austrade to present in South Korea as a lead presenter at the Austrade Korean Medtech Showcase.
South Korea is a viable and substantial market for Cortical, close to its operational base in Australia. If ongoing discussions go as planned, Cortical could be tasked with kitting out dozens of Korean hospitals with its equipment. It's still early days and bumper distribution deals haven't been signed just yet — although many indicators suggest BPH is one the cusp of such a breakthrough over the coming months.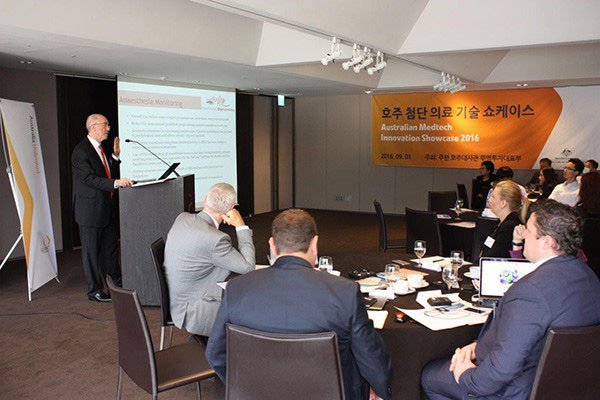 Figure 1Cortical Dynamics presenting BAR in South Korea in 2016
The Korean Ministry of Science has designated brain research as one of their five major focus areas for ongoing research. Cortical has also held discussions with Samsung and S.K — big Asian device manufacturers that are eyeing up the Healthcare sector and its attractive growth rates.
An opportunity also exists in Hong Kong because it still references the CE mark as its regulatory standard.
BPH's BAR monitor stacks up very well in terms of solving a significant problem — but what about its peers?
ASX-listed medical device companies are few and far between, although this sector is growing strongly.
Currently, BPH has Compumedics (ASX:CMP), Resapp Health (ASX:RAP) and Impedimed (ASX:IPD) for competition in the medical device space. Judging by how smoothly all three have climbed from small-cap obscurity into mid-cap revenue-generating businesses, suggests medical devices represent a new market niche worthy of exploration.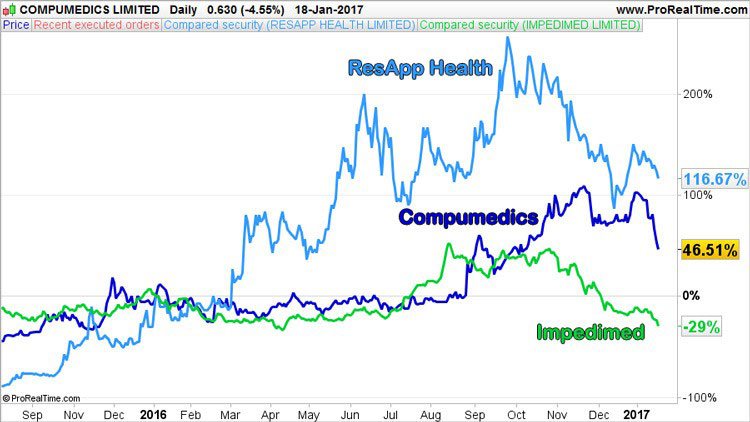 The past performance of this product is not and should not be taken as an indication of future performance. Caution should be exercised in assessing past performance. This product, like all other financial products, is subject to market forces and unpredictable events that may adversely affect future performance.
Gadgets and digital devices are now hogging all the limelight in the medical industry, given their ability to improve outcomes with very little invasiveness or danger to the patient.
This has fuelled a whopping US$1BN per year industry just in brain monitors alone; and given rise to medical device behemoths such as Medtronic and Johnson & Johnson.
These guys don't mess around when it comes to grabbing market share:

With medical devices as a sector now coming to the boil, we think Cortical Dynamics and thus BPH is getting its act together at just the right time.
Cortical has received confirmation of both TGA and CE Mark licensing, allowing its BAR monitor to be sold and distributed without restriction in both the EU and Australia. BPH is also on course to passport into the US, considering the certifications already received coinciding with a host of plaudits, awards, research backing and commercial interest from Asia.
Naturally, BPH has grabbed 20 patents to ensure its IP is well protected: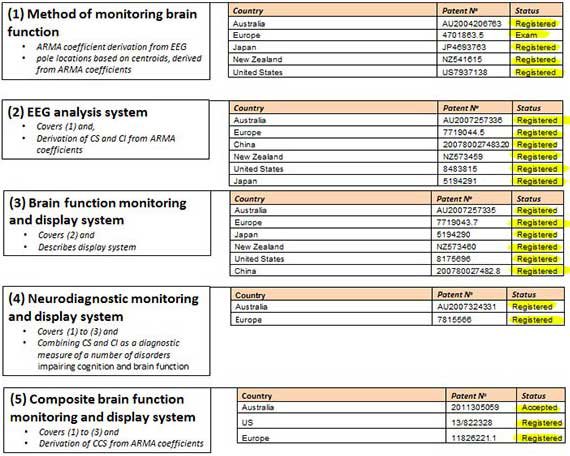 Here is quick summary of the key advantages that validate BPH's market aspirations:
The only EEG based depth of anaesthesia monitor to measure both hypnotic (level of consciousness) and analgesic (pain relief) state.
The only monitor with algorithms based on a model of brain electrical activity derived from physiological principles. Other anaesthesia monitoring systems on the market use statistically based empirical approaches
Fastest BAR monitor with response time <2 seconds compared to >30 seconds from existing BAR products
Can be implemented relatively quickly with little technical risk
Has well defined supply and distribution chains
Well-protected competitive advantage
Medicine is joining the rush to tech-assisted modernity
Approximately 29 million operations requiting general anaesthesia are conducted in the European Union each year, of which 55% are balanced anaesthesia (IV and gas) and 20% are entirely intravenous anaesthesia. Current anaesthetic monitors use features averaged from a large patient EEG database to monitor patients.
The current BIS system used by the vast majority of hospitals and clinics relies on a group-average of responses to anaesthesia when determining rates for individuals.
Through Cortical Dynamics's BAR monitor, BPH could have a holding of a significant cost-saving investment for hospitals, who are facing litigation costs associated with medical blunders – like anaesthesia awareness post-trauma or side effects from too much anaesthesia (particularly in elderly patients).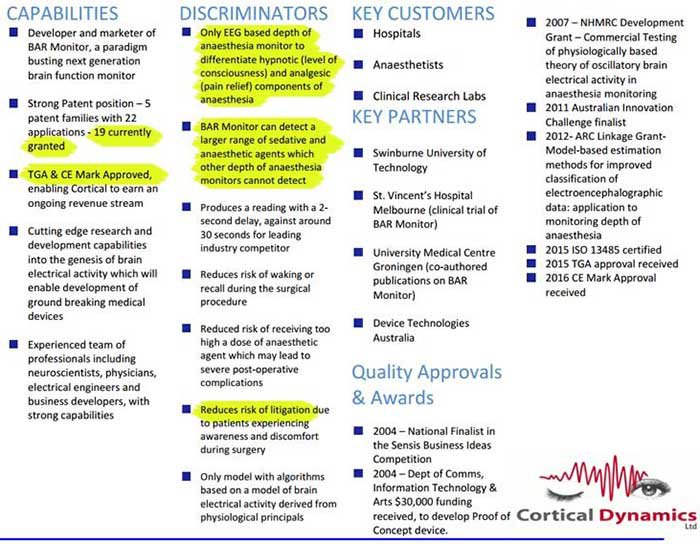 The flood of digital innovation is spilling into Healthcare, for the betterment of patients (and investors).
Surgeons, anaesthetists and patients are looking for a better solution.
They've had enough of missing out on the Digital Age that can inject modernity, efficiency and quality into currently archaic methods of anaesthetising patients.
If patients are having awareness experiences something is wrong.
Both doctors and patients want to see less cable-clutter, better quality tools, better reliability from the spectrum of machines they use and most importantly, they want to see lower prevalence of unwanted side-effects, additional costs and wasted resources.
Cortical Dynamics and by association BPH has developed a way for this small piece of Medicine to join the 21st Century, and the potential rewards could be millions in recurring sales for years to come, just because of the marked improvement over current systems.
Yet the amount of revenues from any commercial arrangements or sales remains to be seen, so investors should take a cautious approach to their investment decision and seek professional financial advice.
Overall, healthcare is a sector that requires automation and strong analytics as a priority, given the importance of accuracy when treating patients. However, with this obvious need, healthcare remains one of the areas looking for new, innovative and high tech treatment solutions.
Something has to give — and here at The Next Small Cap , we're confident that it will be BPH giving back to their long-standing loyal investors later this year as sales revenues potentially spark into life.
---