Big Data: ASX Tech Company Unlocks for $273BN Retail Sector
PUBLISHED: 06-03-2015 09:38 a.m.
The big bean counter PriceWaterhouseCoopers reckons there's an additional $3.8BN of earnings opportunities missed by Australia's $273BN retail sector.
$3.8BN. Left on the table.
PwC says the key to unlocking these billions of dollars is big data.
Big data is the analysis of huge sets of information to identify trends and patterns, make predictions on what will sell and figure out what makes customers tick – and spend.
Retailers across the globe are increasingly turning to big data to get a sales edge, unlocking demand for the company that can sort the data into a strategy that will bring in extra dollars.
But how do companies get a hold of this "big data"?
At The Next Tech Stock we've identified an ASX listed company that's putting big data into the palms of retailers across the world, effectively, efficiently and with scale.
Amongst a string of recent sales deals, the company recently announced that in a partnership with Optus, its services will be rolled out across 21 shopping centres formerly owned by the $22BN Westfield Group global retail empire...
Our company installs, manages and monetises Free Public Wi-Fi networks for shopping centres and retailers.
Through a connection to the consumer's mobile phone, consumer data can be captured, tracked and distilled for the retailer – allowing them to make data driven decisions, and ultimately maximise their profits.
Retailers appear to be lining up to get access to this all important data on their customers...
Along with Westfield, now Scentre Group, the company has also done deals with New Zealand's largest privately owned retail development group and has a Joint Venture to enter Indonesia's retail and advertising sectors.
This company makes money from selling data AND selling targeted advertising which they can push to consumers, based on shopping habits and purchasing history.
It's the future of "bricks and mortar" retail.
It's a future where every customer gets a unique, personalised shopping experience delivered by our company's technology, with every retailer able to deliver a razor sharp tailored advertising campaign.
Reaping revenue from this big data explosion is our latest investment...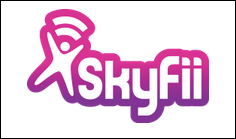 SkyFii Ltd (ASX:SKF) is an ASX listed data services company with a current market cap of under $20M and a focus on making big data pay.
The company already has a list of paying clients using its technology, many of them major Australian retail groups including GPT Group, Brookfield, and Ipoh – which owns Sydney's QVB, Galeries, Strand Arcade and Chifley Plaza.
SKF's deal with telecoms provider Optus will see it provide services to the 21 Westfield shopping centres across Australia, which will soon have SKF's guest Wi-Fi and data analytics services installed and managed.
This is under a 5 year term contracted between Optus and the Scentre Group , who now own and operate all of Westfield's Australia and New Zealand centres...
This could be just the beginning for SKF...
There are hundreds of thousands of shopping malls around the world – the dollars could soon start piling up, especially now that big names like Westfield are getting on board.
And Australia is just the start – SKF is going global with existing market presence in South-East Asia, South America, and Africa already.
The JV in Indonesia alone will see SKF begin to roll out its technology to part of that nation's 135 million strong "consuming class".
The food and retail sectors of Indonesia are expected to be worth some $700BN USD by 2030 – we think big retailers are definitely going to want to understand their consumers better to gain a bigger market share, and SKF can help.
For just one of SKF's revenue channels – its Analytics services, what SKF charges its clients depends on the size of the venue:

At the shallow end there's small venues with $300 set up fees and up to $100 a month management fees. There are hundreds of thousands of these small venues around Australia, and millions around the world... The cash could soon start piling up from these small venues.
But at the deeper end, for large retail centres and airports, SKF charges up to $300,000 set up fees and up to $5,500 a month management fees.
This is where SKF's potential is truly revealed... there are thousands of airports around the world, and hundreds of thousands of shopping centres – imagine if they were all wired into SKF's Free Wi-Fi and data analytics technology?
Anywhere that people gather to make buying decisions, from airport to shopping mall to small business, SKF can offer clients the ability to understand and influence their customers through unlocking the power of big data.
SKF can also make money selling finely targeted advertising to customers based on shopping habit data – more on this later...
In this article The Next Tech Stock is going to run you through this emerging sector and show you how SKF is capitalising now and potentially setting itself up for a big future.
Let's start at the beginning – the point of sale...
Our Track Record
Regular readers of our sites will be familiar with our long-standing interest in high potential stocks.
Since the Next Tech Stock article on YPB Group (ASX:YPB), $1.7 Trillion is Lost Globally to Fake Products: Does this ASX Tech Company Have the Solution? , YPB has been up as high as 60%: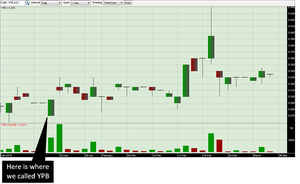 Source: Etrade Australia
The past performance of this product is not and should not be taken as an indication of future performance. Caution should be exercised in assessing past performance. This product, like all other financial products, is subject to market forces and unpredictable events that may adversely affect future performance.
Open wide, come inside – and bring your smart phone
Australian retail sales are worth $273BN , according to PriceWaterhouseCoopers, and the vast bulk of these dollars are spent by people walking into stores and choosing things to buy.
The challenge for retailers is to arrange their advertising, wares and atmosphere in such a way that customers will come inside and spend.
Get it right and they make profits – but get it wrong and sales suffer.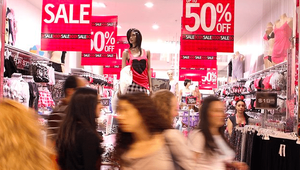 No matter what product or service is being offered, retailers always want to know how they can better influence the purchasing decisions of their customers.
The rise and rise of smart phones and internet connectivity has opened up extraordinary ways to track, in real time, the movements, preferences, trends and even dislikes of customers – the technology SKF has developed and owns is already doing this now.
Retailers who take on SKF's technology will have that edge over their competitors.
SKF has just done a deal with New Zealand's largest privately owned retail development, investment and management company called New Zealand Retail Property Group, or NZRPG:

NZRPG saw the power of SKF's technology and promptly agreed to a three year deal.
SKF will initially roll out its guest Wi-Fi and data analytics services at a shopping mall in Auckland called The Milford Centre, then plan to roll out the same services across three other malls in NZRPG's retail portfolio.
With this technology in place, NZRPG can suck up data on everything a customer does when they enter its stores, from how long they spend in a certain aisle, to what they buy and when.
The power of this big data is enormous – through SKF's technology, NZRPG will be able to predict buying trends, prepare the shops for the coming demand, set the best prices and promotions, target individual customers and get better sales results.
Remember, PriceWaterhouseCoopers reckons there is an additional $3.8BN of EBIT waiting to be unlocked through the use of big data in Australia's retail sector:

This slideshow from IBM's Big Data and Analytics Hub illustrates how this value can be unlocked simply: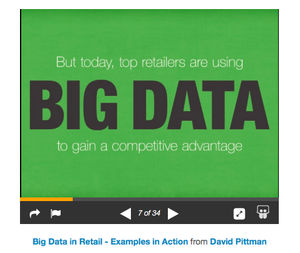 IBM says that in the past a videogame that sold well was restocked quickly to take advantage of the trend and benefit retailers.
However, IBM says that through using big data – delivered by SKF ideally – a store can make a predictive model months away from a game's release to the market to see if it will be a big seller – and plan accordingly.
This is a crucial element of retail success.
Australians spent $45BN in the lead up to Christmas in 2014 – and remote controlled aerial drones were a hot gift item. You'd hate to have stocked up on remote controlled cars instead!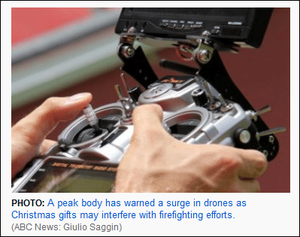 PwC calls big data the "next frontier" for innovation in retail, and companies across the world like SKF's client Scentre Group, are already spending money to get the best data possible – and SKF is there to provide the services they need.
This is SKF's market opportunity.
SKF is determined to become a leader in creating value through big data, and has developed bespoke technology that can be applied to any retailer, big or small, shop or centre, and bring about positive results quickly...
SKF's 360 degrees of big data value:
Connect, Understand, Engage, Retain.
These are the four pillars that SKF's big data technology uses to create value for its customers – and charge for its services: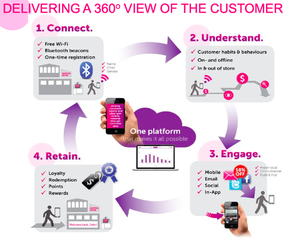 The first, Connect , is the installation of a free Wi-Fi network in a store, shopping centre or precinct. The full details can be seen on SKF's website .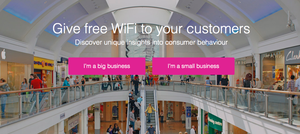 SKF can offer a free Wi-Fi network to retailers which anyone within its range can log into through any Wi-Fi enabled device, including laptop, tablet or smartphone.
A customer who logs into the system only needs to register their details once. Upon entering any future venue where SKF services are running, that user's device will be recognised and automatically passed onto a welcome back page– so it's easy to get online and stay online.
The customer gets free Wi-Fi – a nice bonus for choosing to shop at that location that will help them have a better shopping experience. Plus they can log in automatically to other SKF Wi-Fi hotspots anywhere in the world, any time.

This is when Understand kicks in for SKF.
The free Wi-Fi connection harvests as much data as possible from a customer's connected device. Customer habits and behaviours online and physically, dwell times and even the routes they take through the stores, will all be tracked and represented.
Some anonymized behavioural data can even be collected from Wi-Fi-enabled devices that aren't logged in to the network.
All of the data is sucked up through SKF's free Wi-Fi and turned into the third pillar – Engage – drawing on what SKF calls 'actionable data':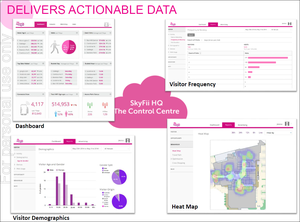 By knowing who is in their store and when, and by knowing what they buy and what they are looking for online, retailers can target their customers with tailored sales pitches.
Banner adverts can be displayed in real time on a user's phone as they approach a store, promotions and offers can be sent, engagement on social media sites like Facebook and Pinterest can be encouraged... more on that soon.
All of this leads to a better shopping experience for the customer and higher sales for retailers. This brings us to SKF's fourth pillar – Retain .
Having free Wi-Fi that helps you shop better is a big reason customers will return again and again to a shopping area. This loyalty can also be encouraged through promotion and reward schemes. Another part of the reason Westfield shopping centres will be rolling out SKF's technology.
So by installing SKF's technology, retailers, customers and advertisers get real time access to each other, making a better shopping experience for all: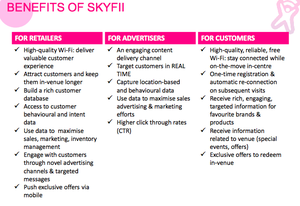 By installing a Wi-Fi network to collect data on customers, SKF offers retailers four powerful aspects to its service – Connect, Understand, Engage, Retain.
Of course, SKF charges fees for the use of its technology by retailers.
But what sets it apart is the ability to bring advertising in to the equation, the Engage pillar of its business model.
Gathering up big data from customers allows SKF to sell something advertisers are desperate to get their hands on – real time customer information...
Our Track Record
Did you see our Next Tech Stock article on Ziptel (ASX:ZIP) ? ZIP has been up as high as 160% since we first released our article: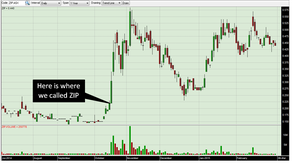 Source: Etrade Australia
The past performance of this product is not and should not be taken as an indication of future performance. Caution should be exercised in assessing past performance. This product, like all other financial products, is subject to market forces and unpredictable events that may adversely affect future performance.
Advertising just for you – SKF's data driven edge
Just to set the scene, let's turn to Hollywood's take on personal advertising in the future:
In the film Minority Report starring Tom Cruise, holographic billboards that use retinal scanners make sales pitches to him as he walks past– an ad for Guinness beer even asks him if he'd like a drink!
This (for now) is pure fantasy – but SKF's very real technology uses big data to tailor advertising that drives sales and reinforces customer loyalty – no holograms or retinal scanners needed!
Let's say a woman in her mid-twenties goes to the shopping mall and logs on to the SKF Free Wi-Fi network. Her retail behaviour while in the store is tracked and collated – and the next time she comes back SKF and their clients have an idea of what she likes to do.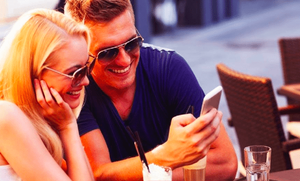 That predictive information can be sold to an advertiser who can place a push promotion on her smart phone – maybe she goes to Coles regularly to get cheese and the store offers her 25% off the purchase price of a grater.
Or, a major mall property owner can bundle together a group of retailers who push offers to the customer when she gets within reach of their stores. No more scattergun approach, this is targeted advertising with no wasted effort, controlled by SKF.
This element of SKF's technology – the ability to push advertising in real time to customers whose habits have been mapped with big data – could be a revolutionary change for the retail industry.
SKF can make money from retailers who adopt its technology AND from advertisers who use the system to access the customers it tracks.
Deals done with more on the way
SKF has signed deals with retailers, retail groups and telecommunication companies around the world.
SKF is rolling out with its technology in Australia, New Zealand, Africa, Asia and South America and it's hunting for more customers across the globe. You can see SKF's presence in global markets via the purple shading in this map: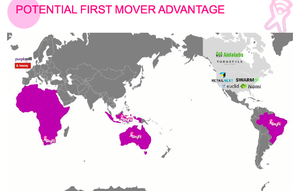 In addition to its substantial and growing global Mall portfolio SKF has networks up and running with retailers below including within several IGA and Mitre 10 venues in Australia. Its technology is compatible with various hardware partners, including Aruba, Ruckus, CISCO and others: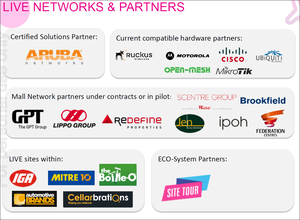 And remember, SKF signed a deal with telecoms provider Optus that will see its guest Wi-Fi and data analytics rolled out in 21 Scentre Group shopping centres across Australia – the mob who run Westfield's down under operations!

To put this deal into perspective, the Westfield Group has a global empire of shopping malls. It's a retail behemoth worth $22BN working on projects like the retail wing of the new World Trade Centre in New York.
The Wall Street Journal says Westfield is even considering listing in the US or London stock exchanges as its empire continues to grow.
So for SKF, this deal with Optus whereby services will be deployed across 21 Westfield shopping malls in Australia is opening up the chance of doing even more business with this retail giant – and who knows, there could be more big groups taking notice.
There are certainly more deals being done right now...
In the past month, SKF has signed a deal with the MLC Centre in Sydney's CBD – a major shopping precinct in Australia's most populous city:

We also mentioned earlier that SKF has also inked a deal with NZRPG, a New Zealand based retail development, investment and management group, further extending its commercial reach.

SKF is concentrating on marketing its services around the world and establishing as many commercial relationships as it can. More networks means more big data and it's always refining its technology.
So as you can now appreciate, SKF is doing business with retailers, telecoms groups and property management groups, all of whom want what it offers – real time big data that can result in more sales, better ads and less wasted effort.
Our Track Record
Since the Next Tech Stock article on Connexion Media (ASX:CXZ), Tiny ASX Company to Supply Tech to GM and Volkswagen: Potential $50BN Market by 2018? , CXZ has risen as high as 90%: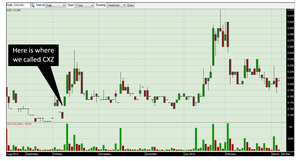 Source: Etrade Australia
The past performance of this product is not and should not be taken as an indication of future performance. Caution should be exercised in assessing past performance. This product, like all other financial products, is subject to market forces and unpredictable events that may adversely affect future performance.
A big shopping list to tick off
SKF has a big year ahead, kicked off very nicely with those three quick fire deals with Optus for Scentre Group, the MLC Centre and NZRPG.
Through the Optus deal, SKF will provide its guest Wi-Fi and data analytics services to Scentre Group shopping malls – owners and operators of Westfield in Australia – a foot in the door to further possible global business.
Next on the list is surely going to be more deals with more retailers and management groups – SKF is always on the lookout.
Plus, it's always refining the website and data analytics tools to make sure they are state of the art and leading the way.
SKF has a first mover advantage in applying big data analysis to retail in Australia, South America and Asia, and is beginning to develop presence in the USA.
And it goes a step beyond, providing real time targeted advertising based on all of that big data – a valuable service that's winning it business worldwide.
At The Next Tech Stock , we've taken a long term position in SKF because we see the value of turning big data into a commodity – and we reckon SKF's developed a wide range of ways to make a buck from it.
We'll be looking out for more deals on the horizon from SKF.
Are you an SKF investor and want to spread the word?
Get the message out there – make sure everyone knows about SKF and share this article by clicking the buttons below:
[sd_share_article title="Big Data: ASX Tech Company Unlocks for $273BN Retail Sector"]
---