Batteries Mineral Focus for LRS: New Drilling Campaign Set to Heat Up
PUBLISHED: 01-06-2017 10:24 a.m.
South America has some of the most abundant sources of high-grade lithium in the world.
Here, Argentina — along with Chile and Bolivia — make up what is known as the 'lithium triangle' where two thirds of the world's lithium supply come from.
Argentina itself represents 15% of total world production of around 200,000 tonnes. But spurred by the growth of electric cars, lithium production is set to explode to reach 400,000-500,000 tonnes per year by 2025.
As a key component in the manufacture of lithium-ion batteries — used in electric vehicles, smart phones and a growing suite of new technologies — the upside for lithium is extraordinary.
This was highlighted in a Cannacord Genuity Battery Material Conference held in Toronto recently.
Within the conference it was noted that car manufacturer VW is expecting 25% car market penetration with its electric vehicles by 2025 and is likely to need 150GWh of battery capacity within this time.
This is massive when compared to current industry leader Tesla's estimated output of over 80GWh.
One Aussie small cap has recognised not only the market potential but also South America's lithium production potential and positioned itself to grab a slice of the pie...
Having invested over eight years of work and $20 million to date in South America on other exploration projects, Latin Resources (ASX:LRS) has seen the writing on the wall and jumped in early to ready itself for the batteries mineral driven future... and the growing need for new sources of supply of lithium ,cobalt and copper.
It has also added a cobalt play, also in Argentina, to its arsenal to strengthen its ground within the fast growing battery energy storage market.
They also have a major copper project with Canada's largest copper producer First Quantum.
We'll come to its cobalt and copper ambitions shortly, but its lithium that is thus far driving the ship in terms of active exploration.
LRS now has more than 100,000 hectares of exploration concessions secured in the lithium pegmatite districts of Catamarca and San Luis Provinces, Argentina.
One of the major reasons for its Catarmarca play is that the region has very similar geology to the $690M capped Pilbara Minerals (ASX: PLS) monster hard rock lithium deposit.
LRS would be looking to fast track exploration in the hope it can emulate Pilbara Minerals in this very underexplored region of South America.
However, it is still an early stage play and investors should seek professional financial advice if considering this stock for their portfolio.
In fact, LRS has several milestones looming now with drill targets and the commencement of field work soon to begin at its San Luis concessions, before drilling begins in July, due diligence to commence this month at its Ansonata Project and potential JORC lithium Resource to be defined in the third quarter of 2017.
The company will also commence design work and PFS on a spodumene concentrate plant when the JORC Resource is completed.
With the potential that's on offer, LRS is now buckling down to hit these milestones in a timely fashion.
And from recent assay results things are looking positive.
LRS recently received assays from its Ancasti Ranges Lithium Project in Catamarca, including lithium grades in excess of 1%, and in three of the six holes drilled, grades of up to 3 metres at 2.77%.
The company is clearly working hard to meet its lithium ambitions, primarily to be the first company to define a hard rock lithium resource in Argentina.
Should it be able to do so, LRS could significantly boost its current $9.5 million market cap.
With that in mind, let's catch up on the latest from...

Latin Resources
ASX:LRS
Whilst Argentina is better known for its lithium brine resources, Latin Resources Limited (ASX:LRS) is looking to successfully identify a commercial hard rock lithium resource in Argentina – and be the first company to do so.
You can read about how LRS came to its current point in our first two articles:
In those two articles we covered why Argentina is the country earmarked for the biggest growth in global lithium supply and how LRS was intent on being the first to define a hard rock lithium resource.
A look at the lithium province in Argentina goes a long way to explaining why this growth will occur.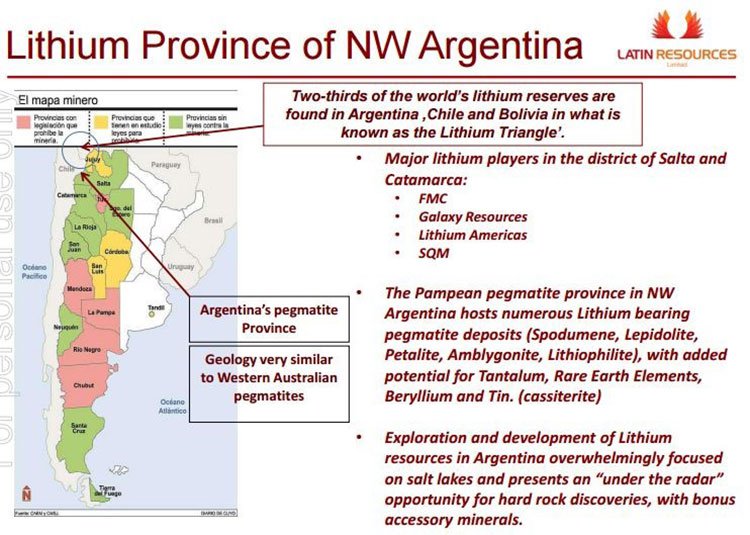 As you can see from the map above, Argentina is a major player in the Lithium Triangle which holds two thirds of the world's lithium reserves and has geology very similar to Western Australian pegmatites.
Shoring up a lithium resource in Argentina would no doubt put LRS on track to enter the global supply chain and become an integral minerals supplier to the electric battery and storage market.
You gain an understanding of just how important this market is when you hear Albermarle CEO Luke Kissam discussing the demand for lithium due to the growing need for batteries.
Now LRS would have to do a lot of work and make a seriously big find to even be in the same ballpark as the $11 billion capped Albermarle Corporation (NYSE: ALB), however if it can take a first mover advantage in Argentina in terms of successfully identifying a hard rock resource, it would go a long way to significantly improving the $9 million cap it currently sits at.
And the company is taking all the right steps to make that happen as reflected in a recent Research Report conducted by RB Milestone Group....
LRS well positioned in relation to its lithium peers
There are a handful of major lithium players exploring alongside LRS in the district of Salta and Catamarca including FMC Corp, Galaxy Resources, Lithium Americas and SQM.
However, comparing LRS to its peers, it seems this small cap has plenty of room for growth for its investors...
In a mid-May, LRS compared its position (as of April 2017) to its ASX-listed lithium peers: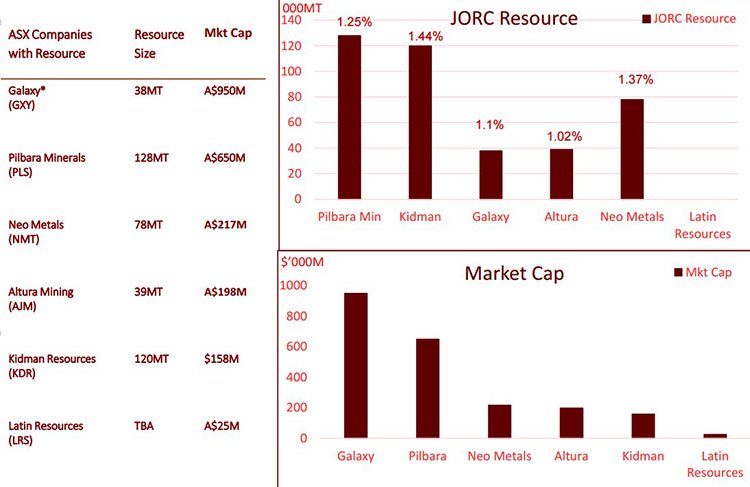 As you can see in the chart above, the size of LRS' resource is 'TBA'. For this reason, it is difficult to compare the company's market cap — which is what the market values the company at — to that of other ASX-listed lithium stocks.
While LRS's JORC Resource is still to be confirmed, when compared to its lithium peers in the market LRS looks to have considerable upside potential.
This is true especially in light of LRS having over 100,000 hectares of secured lithium pegmatite concessions in Argentina. And analysis of 29 new samples collected by LRS of exposures of pegmatites in old mine workings in seven pegmatite deposits within the claim applications reported grades of up to 4.46 Li2O at Catamarca.
So let's have a look at exactly what is driving LRS forward.
The lay of the land
Having identified hard rock lithium targets in Argentina, LRS has gained concessions of over 101,450 hectares of lithium hard rock bearing pegmatites across three projects in north western Argentina.
North western Argentina is home to the Pampean pegmatite province, which hosts numerous Lithium bearing pegmatite deposits, plus potential for Tantalum, Rare Earth Elements, Beryllium and Tin.
Additionally, the country's President, Mauricio Macri, has implemented a number of pro-market reforms since taking office in December 2015, making Argentina a natural choice for miners looking to boost output.
Macri sees his country's lithium reserves as an opportunity to attract foreign investment and boost the sluggish economy, which is the third largest in Latin America.
He also wants to boost manufacturing of lithium ion batteries within the country – which makes sense considering its production potential.
In the past, exploration and development of lithium resources in Argentina was overwhelmingly focused on salt lakes.
This presented an 'under the radar' opportunity for hard rock discoveries, with bonus accessory minerals, which LRS keenly identified.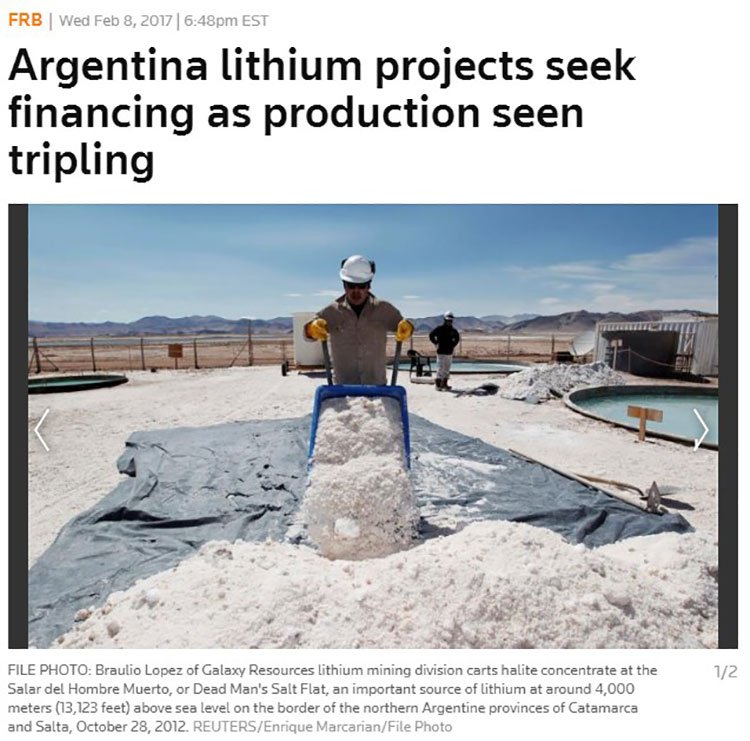 Unlike most competing explorers in Argentina, LRS is targeting hard rock lithium...
LRS has mineral rights secured over two key districts with documented lithium pegmatites occurrences — Catamarca and San Luis. The company also holds an option on the Ansotana Lithium–Tantalum project in Salta.
The following map shows the location of the mining friendly Catamarca, San Luis and La Rioja provinces and the Ancasti Ranges and Maria del Huerto projects in north-western Argentina.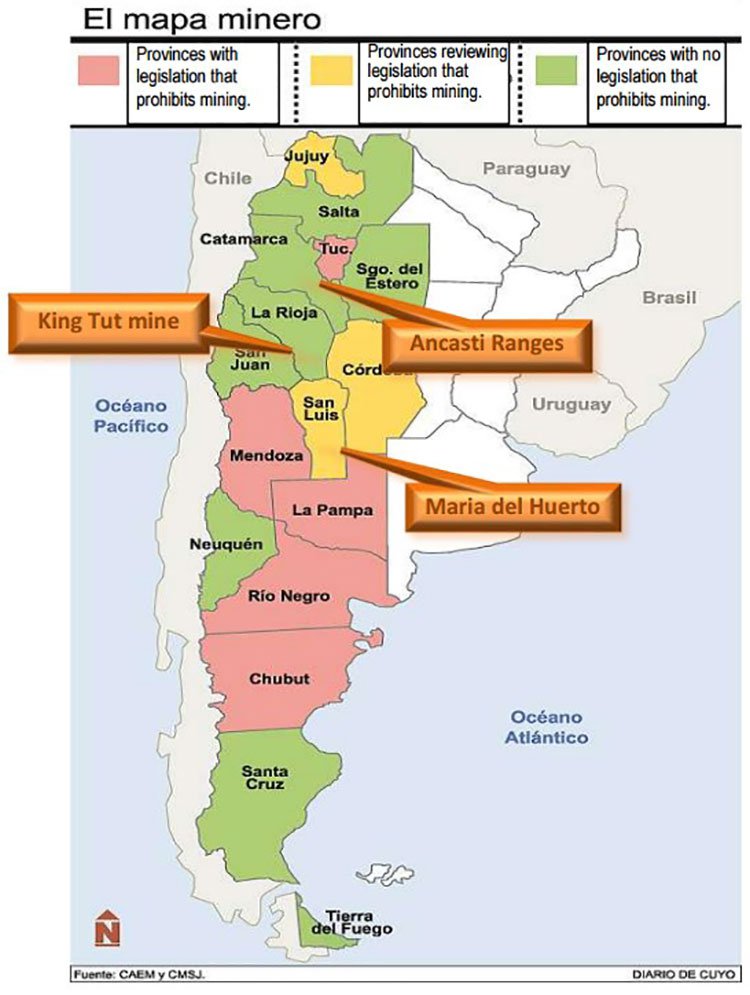 These districts are promising in that they have geology that is very similar to that found at $517 million-capped Pilbara Minerals' (ASX: PLS) monster hard rock lithium deposit.
These districts are also delivering promising results.
First positive assay results now received at Catamarca, Argentina
Back in January we explained that LRS had received drill permits, clearing the way to begin its RC drilling campaign across prospects in Argentina.
Since then the company updated the market with a presentation outlining its drilling progress at its Argentinian lithium operations.
This was soon followed up on February 23, when LRS reported that RC drilling at its lithium project in Catamarca was progressing well, and confirmed continuity and extension of lithium pegmatites at Ipizca II and Reflejos Del Mar deposits.
All but two drill holes, of the 13 drilled in the first pass reverse circulation drilling at Ipizca II, were found to contain significant spodumene bearing pegmatite intercepts with apparent thicknesses ranging from one to nine metres.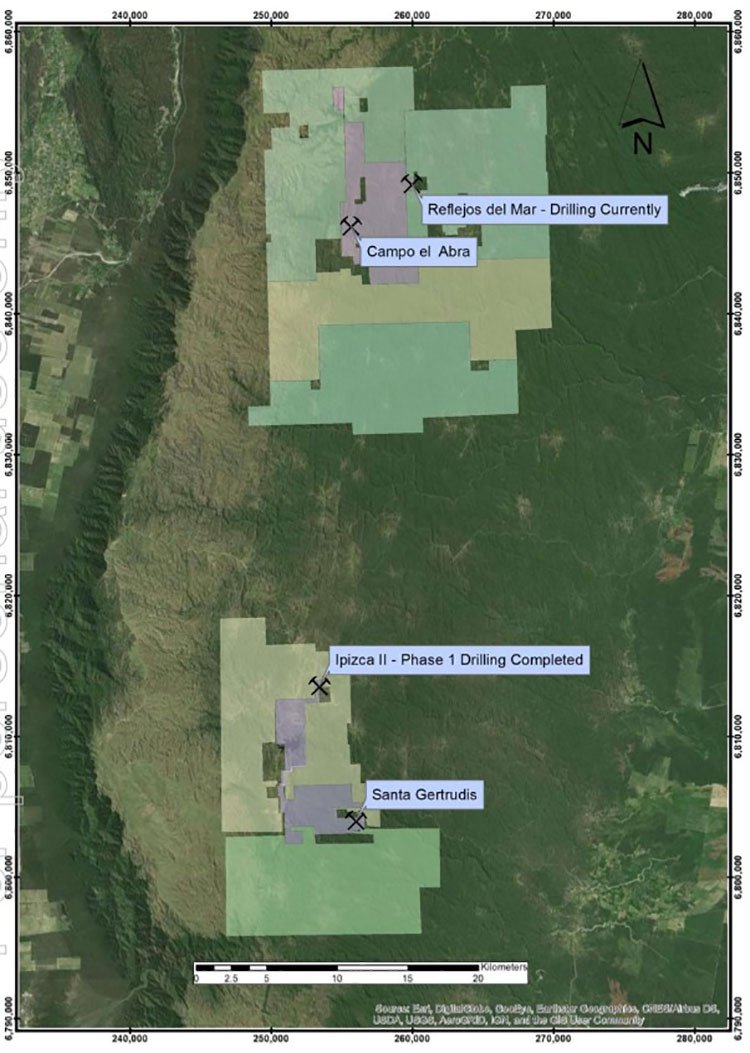 The extension of the strike and apparent thickness of intercepts of the pegmatites was extremely encouraging for the Catamarca project. The visible spodumene in all intercepts proved the theory that there is lithium spodumene at depth at these historical lithium mines.
The positive drilling results at Ipizca II and Reflecto de Mar, inspired confidence in the remaining concession holdings. Two more targets — Campo el Abra and Santa de Gertrudis are still to be drilled.
While these results were encouraging, there remained significant scale still to be tested at the project, with the four projects above making up just 8% of LRS's 76,000 hectares total landholding at Catamarca.
Then on March 8, LRS reported that positive assay results had been received. The company received 58 samples from internationally recognised laboratory, ALS, with first pass exploration drilling is nearing completion at two of the first four targets.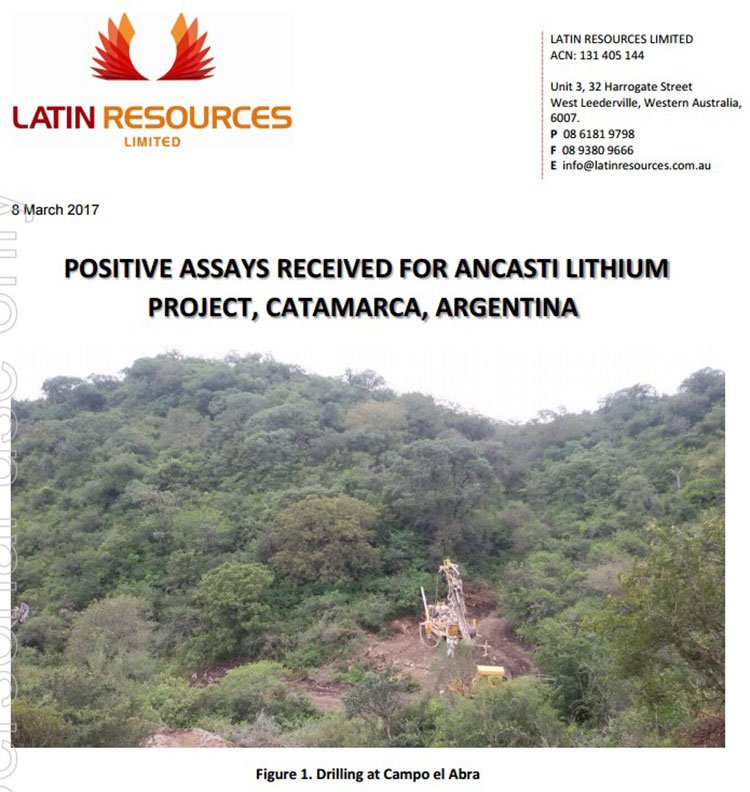 The lithium-bearing pegmatites occurrences in the Ancasti Ranges fall into one of two groups:
The Villsman Group including: La Culpable; Reflejos del Mar; La Herrumbrada; Loma Pelada; Campo el Abra; Juan Carlos; Joyita; Pampa El Coco.
The Ancasti Group including: Ipizca I; Ipizca II; Santa Gertrudis; Flow Morada.
The following maps the location of LRS' Ancasti Lithium Project in Catamarca, which comprises the Vilisman and Ancasti lithium pegmatite groups, (solid red areas), with old mines also marked.
LRS's claims cover the orange shaded areas extending outwards from, and include the known Lithium deposits: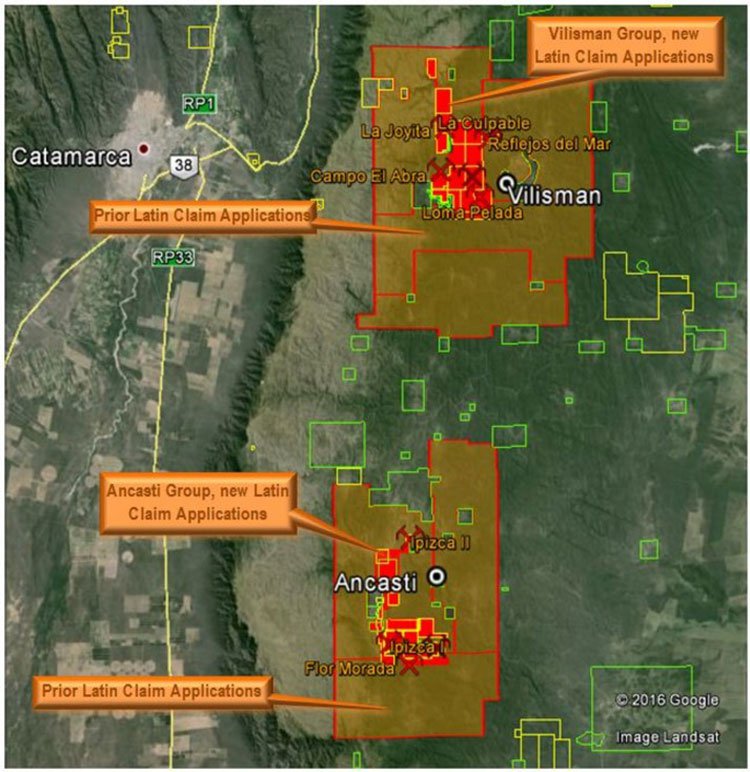 At Reflejos del Mar, in the Vilisman Group of concessions, 14 holes have been completed for approximately 900 metres of drilling.
Results for six of these holes have been released and results very encouraging, including seven meters at 2.17% Li 2 O at Reflejos del Mar.
In three of the six, lithium grades over 1% were recorded, including three meters at 2.77% Li 2 O. Samples of the remaining eight holes will be analysed and released in the coming weeks.
At the Ancasti Group's, Ipizca II, from the five holes that intercepted the pegmatite dyke that is exposed at surface and within and old open pit and tunnel system, only one interval returned significant grades of Li 2 O.
At the third target, Campo el Abra, drilling is progressing well and nearing completion.
Here are the locations of the Ancasti Project: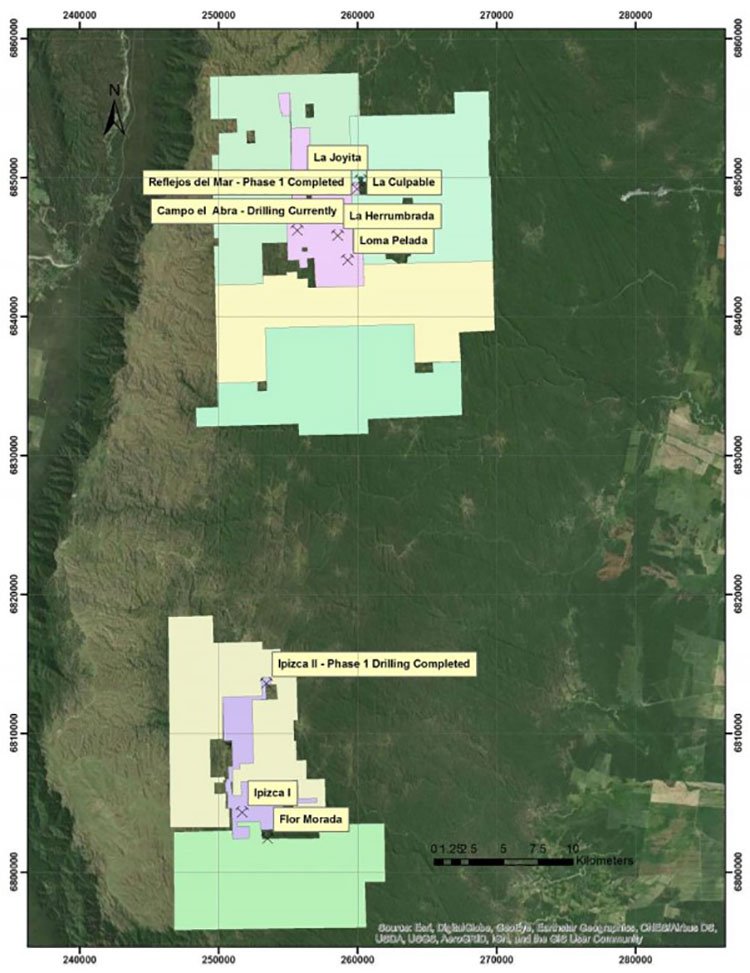 These first assays are extremely encouraging displaying high grade spodumene at depth and go to prove that the historical lithium mines that LRS has secured have the potential to be very economic.
Of course this remains a speculative stock and investors should approach their investment in this company with caution and seek professional financial advice.
LRS still has quite a bit of drilling to complete many more assays results to come from targets but these positive early results are encouraging.
Economic grade lithium confirmed at San Luis
Along with its Catamarca concessions, LRS has concessions in the San Luis province of Argentina. Back in November, LRS lodged claim applications for exploration concessions at San Luis: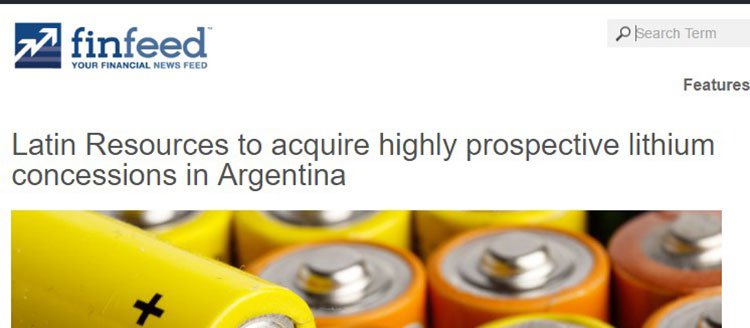 Following up on this, the company has now confirmed the presence of economic lithium grades using rock chip analysis, at the Maria Del Huerte mine in San Luis.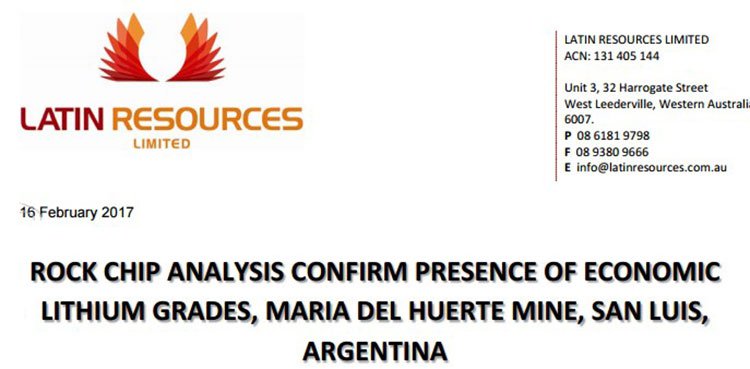 Analysis of twenty samples collected by LRS geologists of exposures of pegmatites in old mine workings and adjacent outcrops in three sub-parallel pegmatites within the mining tenement have reported grades of up to 1.93% Li 2 O.
The encouraging assay results from the San Luis project has now proven LRS' strategy of exploring known lithium occurrences to enable a fast track process to proving up a JORC Resource.
LRS is now awaiting the EIA drill permit which should be completed and submitted this month.
Following that, exploration and resource development drilling is set to commence in shortly and the Resource estimate completed in the coming weeks.
These results combined with successful drilling at Catamarca puts LRS in an envious position with two projects showing compelling results to continue the push towards its first maiden resource.
That would be enough to satisfy most explorers, but LRS has one more play up its sleeve.
Going for... cobalt
LRS is focused on consolidating its position in the lithium rich Ancasti Ranges in Catamarca and the Maria del Huerto project in San Luis.
Yet it's also furthering its Argentinian attack by broadening its search for other battery minerals, including cobalt.
On March 7, after emerging from a trading halt, LRS announced that in line with its recently revised strategy to focus on lithium exploration, the company has applied for exploration concessions in the known cobalt province of La Rioja in Argentina.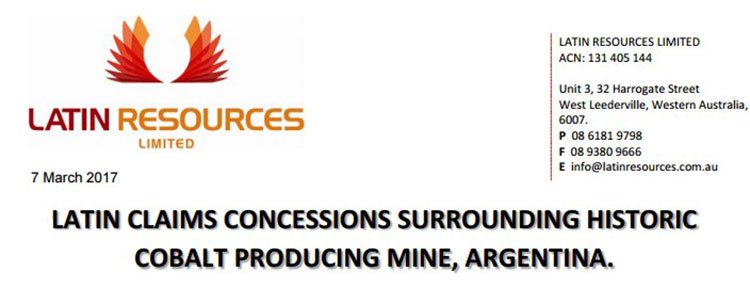 LRS was on the lookout for projects, especially in Peru and Argentina. In its search for projects, LRS look at where miners have been previously identified good opportunities and high grades.
LRS was shown a project — the King Tut mine — in the Argentinian province of La Rioja, which sits between Catamarca and San Luis province.
After conducting due diligence, management decided to go ahead and the cobalt concessions have been applied for.
By lodging the exploration applications in La Rioja, LRS has taken its first steps towards securing cobalt assets in Argentina.
Exploration will start once concessions are granted, which typically takes two to four months.
The addition of the cobalt project to LRS's lithium projects in Argentina adds further value as part of its exploration and development of mineral resources, specifically focusing on the demand of batteries for electric vehicles and storage.
LRS first looked into whether there's free ground around the particular mine it claims, as it did in Catamarca. It is now taking a similar path that the company took in acquiring the lithium concessions in Catamarca, which are now being drilled.
In this video LRS CEO Chris Gale discusses the acquisition of cobalt concessions as surging demand for batteries seeing rising demand for cobalt, and the latest drill results from its lithium project – Catamarca :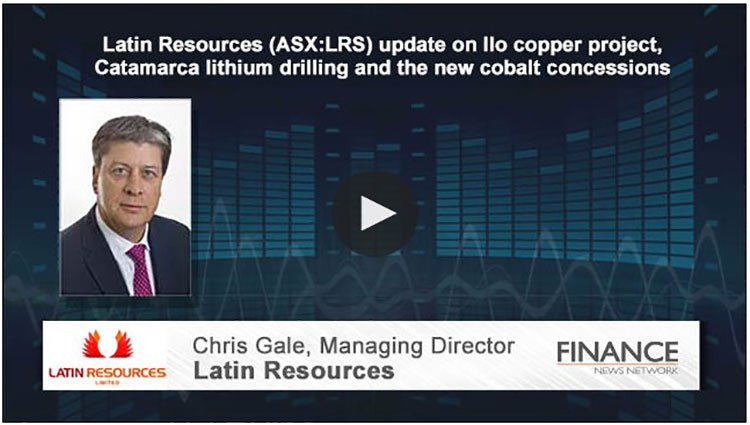 Why cobalt?
The cobalt price has now shot through the US$55,000 tonne price.
However, while its price has more than doubled in the past year, cobalt still has plenty of room to rise before we get back up to the heady prices of 2008, which were more than double the current level.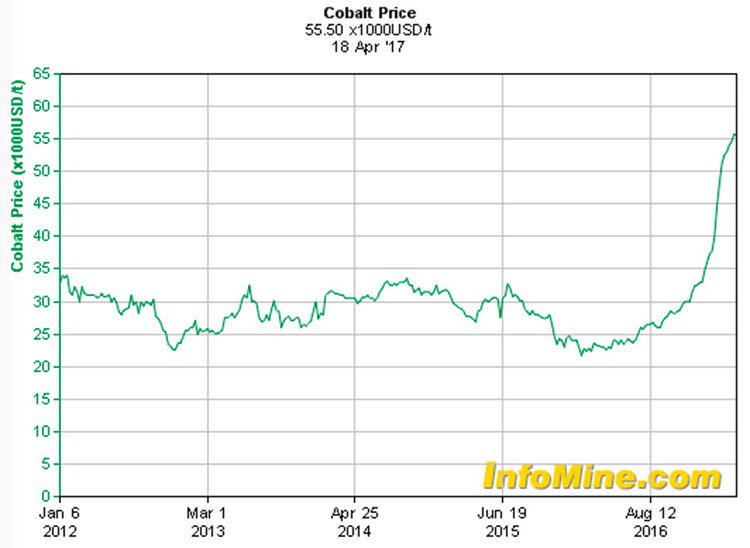 It should be noted, that commodity prices do fluctuate and caution should be applied to any investment decision here and not be based on spot prices alone. Seek professional financial advice before choosing to invest.
Headlines such as this, indicate just how well cobalt is tracking and why companies such as LRS have entered the fray:

Of course, the rise of cobalt, like lithium, is primarily down to the growing interest in these metals to fuel the electric power revolution the world is currently experiencing.
Battery storage and demand, including growing demand for electric vehicles is set to drive the lithium and cobalt markets for years to come.
LRS' cobalt play has another factor playing in its favour and again it comes down to location.
Not only, could LRS supply cobalt to the US market should it meet its cobalt ambitions, but it also offers a less politically risky option for those seeking to move away from more volatile regions.
The market has kept a close eye on DRC supply lately, with the likes of Apple now looking for alternative sources .
This plays right into the hands of a prospective supplier such as LRS that can over a risk averse solution to demand concerns.
Given these scenarios, cobalt could play a major role in LRS' future growth, however its current main focus is lithium.
Free-carried Peru Joint Venture brings additional opportunities outside Argentinian focus area
On top of its main focus area in Argentina, LRS also has a portfolio of copper projects in the Iron Oxide Copper Gold (IOCG) & Porphyry district of southern Peru — near some major known copper deposits.
The company has a track record of identifying and developing projects with quality joint venture partners...and this is no exception.
Along with its joint venture partner, the $10 billion capped British Columbia based and Toronto-listed, First Quantum Minerals (TSX: FM), LRS is progressing its Iron Oxide-Copper-Gold and Copper Porphyry projects in Peru's Ilo region.
First Quantum are undertaking geophysical surveys during 2017 as part of an exclusivity period.
LRS will be free carried right through to a decision to mine...
In other words, LRS won't have to fund any exploration until the JV are confident that mining will proceed.
This offer LRS a chance to get in on the upside potential in Peru, but frees it up to keep its focus on its Argentinian lithium projects.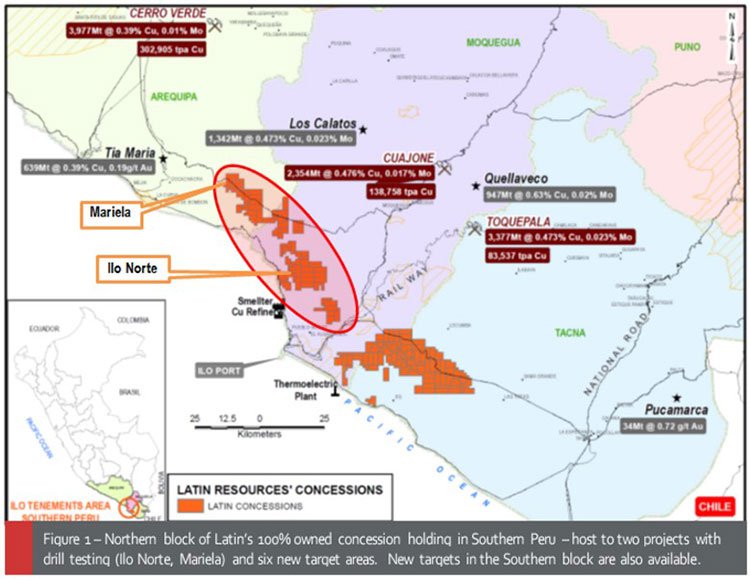 The final word
Backed by increasing demand for lithium-ion battery materials, with a number of projects on the go, and plenty of newsflow coming through, LRS is definitely one lithium/cobalt explorer to have on your radar.
If the good news continues there's no reason why the stock won't be revalued above its current $9 million market cap.
We eagerly await further drilling results from the company's Argentinian lithium projects, its Peru JV, as well as its expansion into other battery materials – beginning with cobalt.
---