88E spudding early March - six stacked targets to hit
Disclosure: S3 Consortium Pty Ltd (the Company) and Associated Entities own 32,835,000 88E shares at the time of publishing this article. The Company has been engaged by 88E to share our commentary on the progress of our Investment in 88E over time.
The ice pad is almost finished, and the drill rig is about to travel to site.
Our US oil and gas exploration Investment 88 Energy (ASX:88E) is now weeks away from drilling its 2023 well - Hickory-1. In early March - that's very soon - 88E will drill through six stacked targets, which combine to form a 647 million barrel prospective mean unrisked resource (net to 88E).
Next door directly to the north of 88E is UK listed Pantheon Resources.
Pantheon has been actively exploring in the region for a few years, and currently has a market cap of $775M, having risen from just $60M and reached a peak of just under $2BN.
The plan for Hickory-1 is relatively simple - 88E will be looking to confirm an oil discovery and re-rate in similar fashion to its neighbour to the north Pantheon.
88E is capped at $221M, and we are hoping that a drill result on par (or better) than Pantheon's will be enough to re-rate the company post-drilling.
88E recently raised $17.5M at 0.95 cents per share, which means it should have a cash balance of ~ $32.4M. 88E is fully funded for drilling.
88E is using the same drill rig that just drilled Pantheon's Alkaid-2 well. On the 16th of February, Pantheon announced that the rig had moved off site and 88E expects to start mobilisation soon.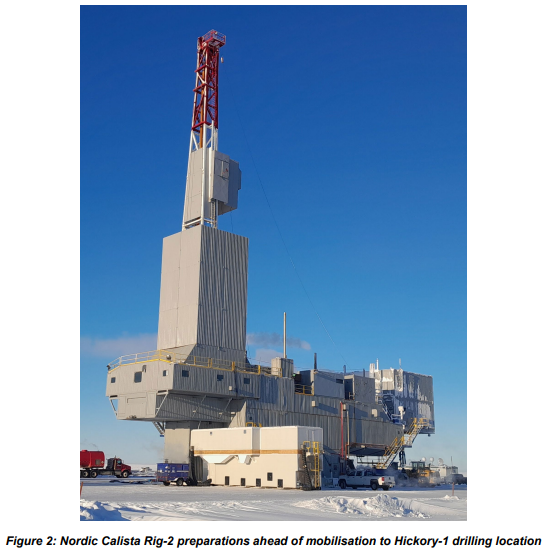 88E is going into this drill program with a geological chance of success across the six targets ranging from 50-81%. Note that this is not an investment chance of success or operational chance of success - things can go wrong on drill operations despite the prospects of the pre drill geology.
The high chance of geological success is a result of the large amount of data 88E had when designing the Hickory-1 well location and trajectory:
Existing wells in the acreage hit oil shows ✅ 88E has already drilled two wells on this acreage, and it hit oil shows in this upcoming well's primary targets.
Existing 2D & 3D seismic data helps determine drill location ✅ Leading up to the well 88E had both 2D and 3D seismic data. In the past 88E didn't have all of this data available to it.
$775M capped Pantheon successfully drilling next door ✅ Pantheon has been drilling immediately to the north of 88E. 88E has access to all publicly available data from these wells.
During our time as 88E shareholders, this is 88E's lowest risk well we have seen and Invested in (based on the chance of geological success and the data going into drilling).
It still does not mean it's the lowest risk on an investment basis. Geological chance of success doesn't guarantee investment success, does not factor in any operational issues 88E might encounter, and it doesn't mean 88E will be able to produce oil from the well.
Even if 88E makes a discovery, it will still need to prove it is commercially viable.
What we will be looking out for during drilling
We will be watching for the following data during and after 88E's drill program:
Fluorescence - this is an indicator of oil presence;
Oil odour in samples;
Mud gas readings - hopefully elevated;
Net pay/gross pay numbers - an indicator of the size of the reservoirs; and
Most importantly, we want to see a commitment from 88E to case and suspend the well so it can return to it for flow testing at a later date.
The commercial viability of the well will ultimately be determined by the flow test that 88E plans to run later this year/early 2024. This may impact the response of markets to 88E's drilling this year.
For 88E's drill program, we are aiming to follow our standard Investment Plan for large oil and gas drilling events.
We Invested well ahead of the drill program and now hold a position that we are comfortable with going into the drill program.
Typically share prices of oil and gas explorers going into large scale drill programs tend to re-rate as the drilling program nears and drilling starts.
This hasn't happened yet for this well - and there's not much time until spudding. We may see this re-rate pre-spud, or perhaps if anticipation builds post spud during drilling while awaiting results.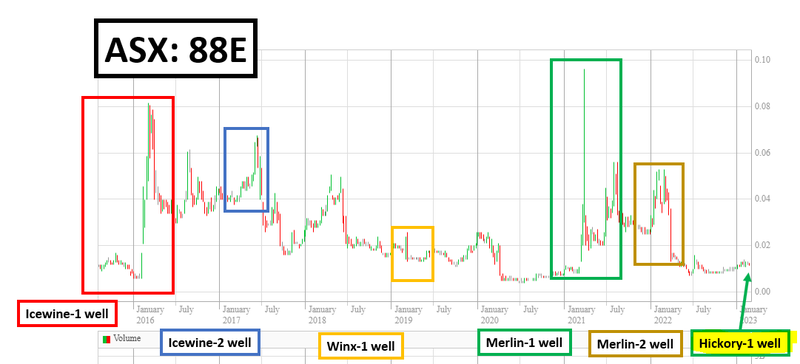 With the drill rig expected to be mobilised on site in the coming days, we are hoping to see the share price enter the "pre-drilling speculative rally" stage soon (assuming market conditions remain positive).
As we noted above, the well is fully funded after 88E's recent $17.5M capital raise, so the only way investors can increase their exposure to this year's drilling event will be to buy shares on market.
Our theory is a simple case of excess demand and limited supply of 88E shares:
Excess demand: As investors increasingly look to speculate on the potential success of the approaching drill program and seek exposure to the outcome, buying shares on market starts to increase.
Limited supply: Investors look to hold onto some portion of their position to have exposure to the upside should 88E make a new discovery.
We are conscious of 88E's recent capital raise where 1.8 billion new shares were issued at 0.95 cents per share, BUT since the shares were issued, 88E has consistently traded above the capital raise price.
Typically, post capital raise we see a sharp sell off back down to the capital raise price as the market churns through traders looking to make a quick profit.
The fact that the share price has held up well and is currently trading at 1.1 cents per share, suggests that investors have either already de-risked their positions leading up to the drill program OR are comfortable with their holdings going into the drill results.
We Increased our Holdings in the capital raise and haven't sold any of our position since.
Our plan is to hold the majority of our position into the drilling program.
The only time we will consider selling some of our position is if the share price re-rates between now and the drill results, in this case we will look to free carry our investment before drill results come in.
This is our investment strategy, however it's not right for everyone, and may not suit your risk profile or circumstances. Seek professional investment advice when investing in high risk small cap exploration stocks.
Our 88E Big Bet:
The drill program forms the basis for our 88E Big Bet which is that:
"88E makes a large oil discovery that is acquired by a major for over A$1BN."
NOTE: our "Big Bet" is what we HOPE the ultimate success scenario looks like for this particular Investment over the long term (3+ years). There is a lot of work to be done, many risks involved - just some of which we list in our 88E Investment Memo. Success will require a significant amount of luck. There is no guarantee that our Big Bet will ever come true.
To monitor 88E's progress since we first Invested and how the company is performing relative to our "Big Bet", we maintain the following 88E Progress Tracker:
See our 88E Progress Tracker here: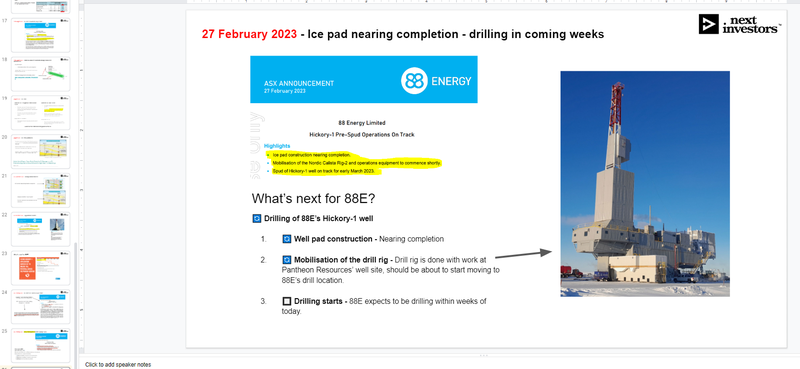 Project Phoenix video presentation
88E recently released a (pretty epic) cinematic trailer for its Project Phoenix, detailing the activities for the planned Hickory-1 well.
The video is a great overview of all of the work that has led to the drilling of Hickory-1 and provides context to the area that 88E is drilling.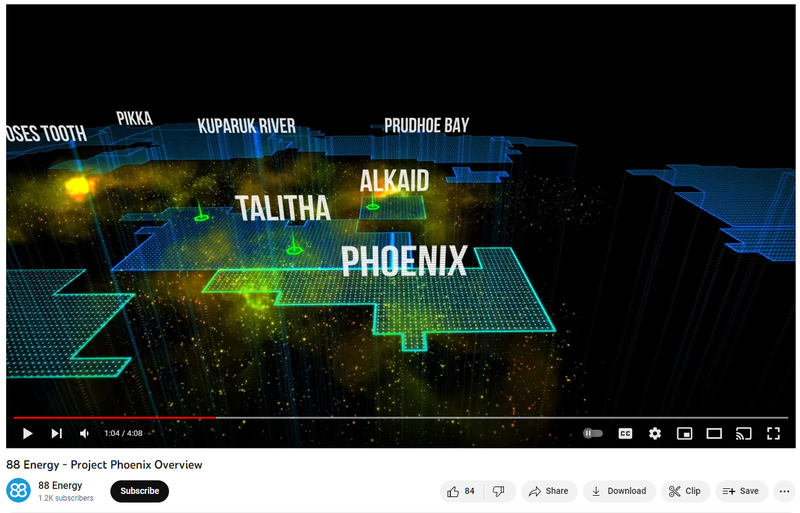 88E also released a second video, which is a deep dive into the well itself with some comments from 88E's Managing Director Ashley Gilbert and members of its exploration team.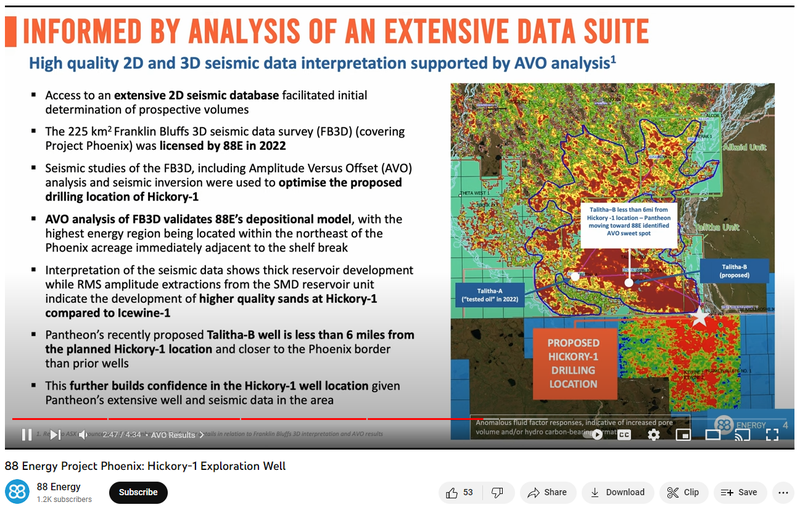 What is currently happening with 88E's neighbour, $775M Pantheon Resources?
Pantheon is currently running a production test at its latest well - Alkaid #2.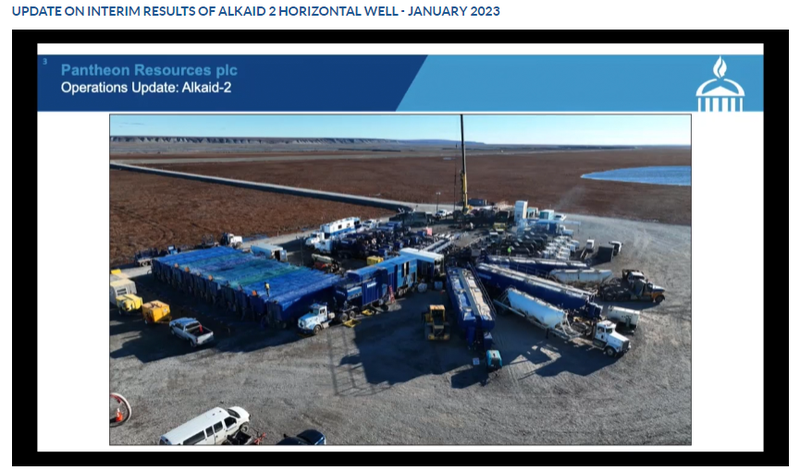 As of 16 February, Pantheon had cleaned out the sand blockage in the well and was more than 40% of the way through the well clean up stage.
Pantheon is now connecting the well to its production facilities and expects to restart its long term production tests in the coming weeks.
Once the cleanout of its well is 100% complete we expect to see it release more indicative flow test results. This could be a major catalyst for Pantheon.
We also saw this video from the Pantheon team which gives some great context on how drill programs are run: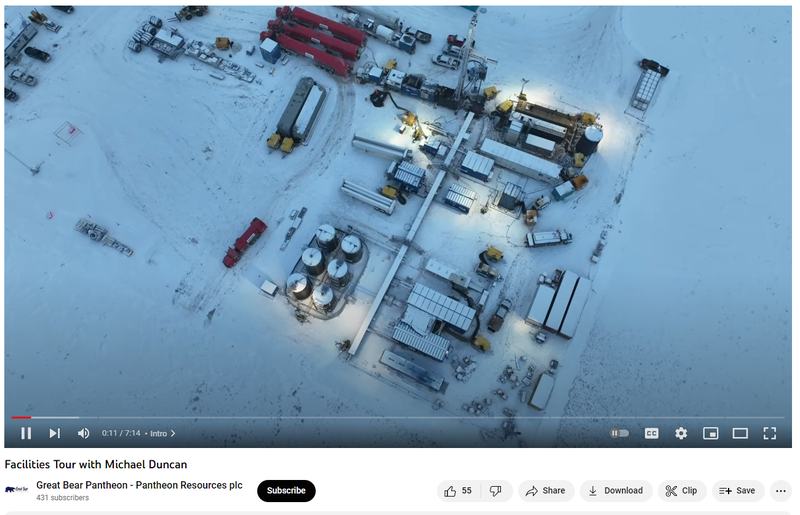 Our view is if there's positive news from Pantheon's Alkaid #2 and 88E is drilling its well at about the same time, market interest may be drawn to 88E's drill program.
We will be watching Pantheon's work closely and will cover — as Quick Takes — any material news relating to 88E.
To keep up to date with our 88E coverage bookmark our 88E company page here (or follow us on Twitter)

What's next for 88E?
🔄 Drilling of 88E's Hickory-1 well
Drilling is scheduled to begin in early March 2023, which means 88E is just weeks away from drilling. Before then, 88E will need to complete the following key milestones:
🔄 Well pad construction - Now nearing completion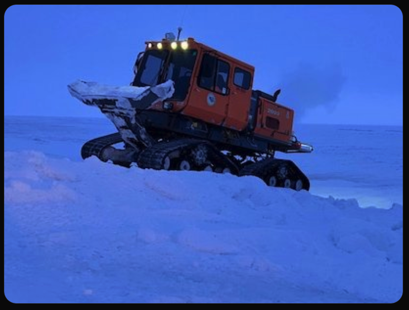 Here's the ice pad work happening
🔄 Mobilisation of the drill rig - Drill rig has moved from Pantheon Resources' well site & should be on its way to 88E's drill location.
🔲 Spudding of the Hickory-1 well - Spudding to happen in "early March"
Considering 88E has decided to flow test this years well later this year/early 2024 our bull/bear case expectations for this well are relatively simple:
Bull case = Drill results are positive enough for 88E to commit to a flow test.
Bear case = 88E decides not to flow test the well.
What could go wrong?
With permitting and financing completed for the Hickory-1 well, the major risk at play now is "Exploration risk".
Oil and gas exploration can be extremely rewarding for shareholders in the event of a discovery, but the reality is that a lot of drill programs fail to deliver anything of significant value.
There is a lot of risk around the geology and drilling operations - any number of unforeseen issues could present themselves once drilling begins.
Over the decades we have been Investing we have seen it all - drill rigs getting stuck in wells, equipment failures and suspended drill programs due to rig failures.
88E's well is an appraisal well meaning the company is drilling a prospect where oil has been found in the past.
Despite the well being an appraisal well we still think the drill program could have a binary outcome - either 88E hit large oil bearing columns or it returns results similar to its existing data.
In the event of a binary positive/negative result, we would expect a large share price move in either direction (depending on the result).
To see other risks we face see our Investment Memo here or by clicking on the image below: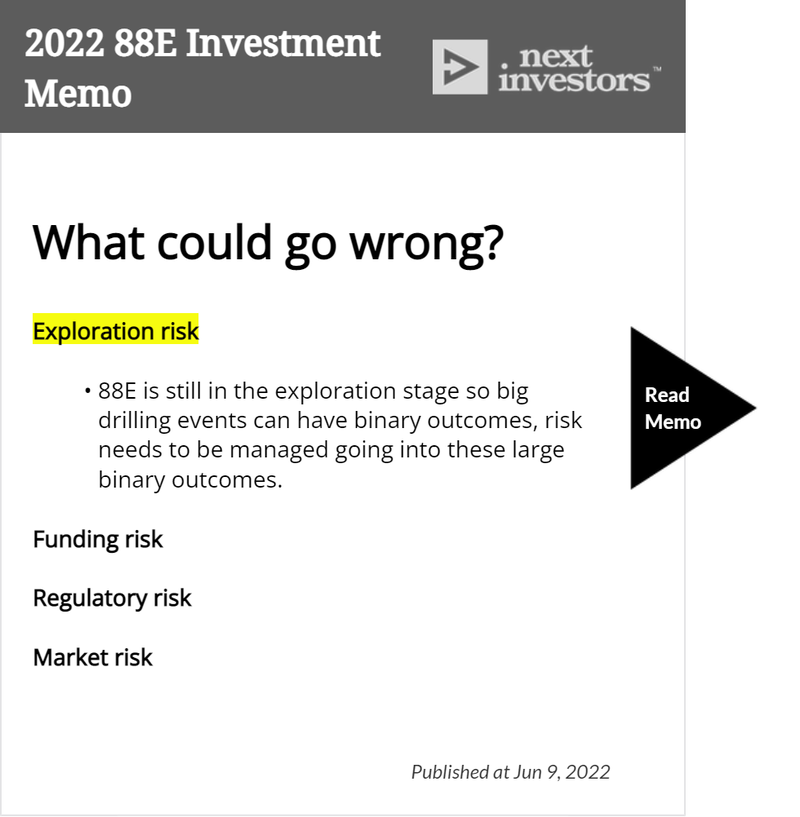 Our 88E Investment Memo
The ultimate purpose of our Investment Memo is to record our current thinking as a benchmark to assess the company's performance against our expectations 12 months from now.
In our 88E Investment Memo, you'll find:
Key objectives we want to see 88E achieve
Why we Invested in 88E
What the key risks to our Investment thesis are
Our Investment plan
Disclosure: S3 Consortium Pty Ltd (the Company) and Associated Entities own 32,835,000 88E shares at the time of publishing this article. The Company has been engaged by 88E to share our commentary on the progress of our Investment in 88E over time.
---