Key condition to TYX's $31M funding agreement met
Shares Held: 35,850,000
Options Held: 10,000,000
---
Our 2022 Catalyst Hunter Pick Of The Year Tyranna Resources (ASX: TYX) just got ministerial approvals for the transfer of its project licenses.
Why is the news important?
Put simply, because it was one of the key conditions to the $31M funding deal TYX secured with $8.7Bn capped Sinomine only a few weeks ago.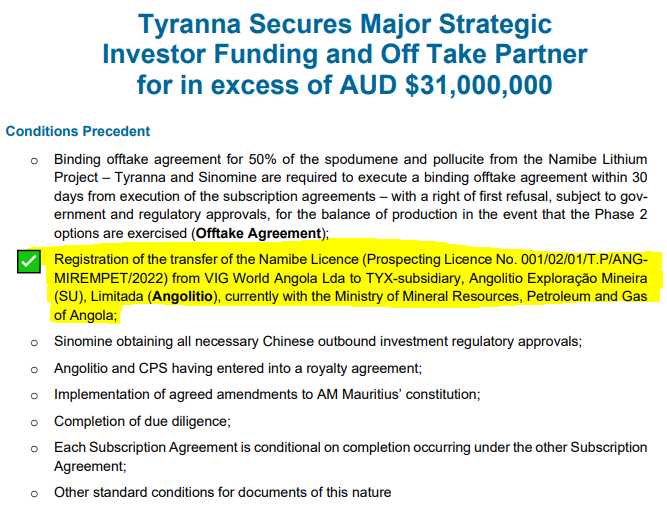 Our view is that this condition was the most at risk given it is completely outside of the control of the company and more in the hands of the Angolan government/regulators.
The remaining conditions to the deal are mostly points that the company can work on with Sinomine.
TYX expects the first phase of the deal to be completed by the 2nd of June, as with any deal of this size we expect delays to this.
Below is the indicative timetable: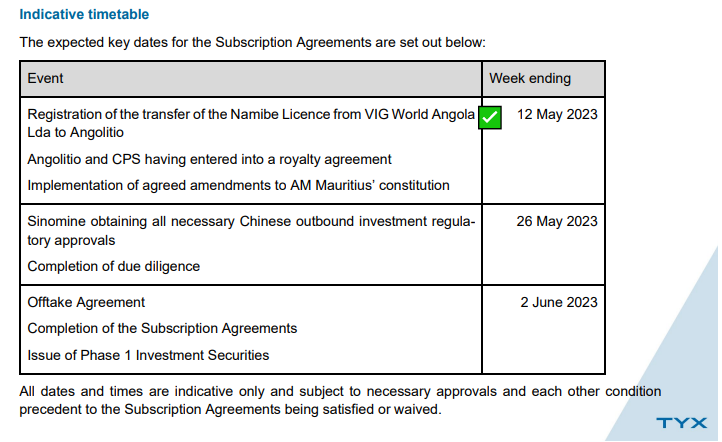 What's next for TYX?
🔄 Rock chip sampling and field work
TYX plans to be back on site running another round of field work in the lead up to drilling.
In the meantime we can expect to see some of the assays come through from the samples taken when the company was last on site - the assays are expected in June.
We covered the latest on the companies fieldwork in a previous Quick Take here: TYX discovers 10 additional lithium targets - drill program star
🔄 2nd drill program
TYX expects this program to start ~August.