Drilling mid-2023 next door to $1.4BN Capricorn Metals
Shares Held: 1,670,000
Options Held: 850,000
---
Our exploration Investment BPM Minerals (ASX: BPM) is planning a drill program at its Claw gold project in WA mid-2023.
BPM's Claw project sits immediately to the south of Capricorn Metals' (capped at $1.4BN) 2.7m ounce Mount Gibson gold mine.
BPM is now waiting on the results from a soil sampling program that was recently completed before a drill plan is put together - the assays from the soil sampling are due later this month.
Drilling (pending approvals) is expected to start mid-2023.
BPM will drill two high priority drill ready targets right near the southern border shared with Capricorn Metals.
The Lewie anomaly - Covers an area of 1,200m x 400m
The Chickie anomaly - Covers an area of ~1,000m x 500m.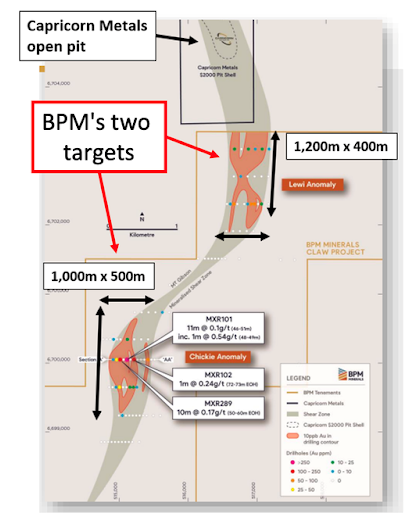 To see our most recent deep-dive on BPM's portfolio of projects and what we want to see BPM do next check out the following: Assays in - What does $6.5M capped BPM do next?