Aqua Phase acquisition extended 3 months
Shares Held: 3,535,112
Options Held: 0
---
Earlier today our innovative cannabis Investment Bod Science (ASX:BOD) provided a progress update on its acquisition of Aqua Phase, a technology with the potential to significantly improve the impact of cannabidiol (CBD) products.
As we initially covered when the deal was announced last September (our commentary here), Aqua Phase works by making CBD compounds water soluble (CBD has been insoluble to date).
This can drastically improve the bioavailability (i.e. how much is biologically absorbed by the human body) of CBD products, as compared to current oil based methods that tend to be quite poor (6-8% absorption).
Aqua Phase offers a CBD product that is not only soluble, but tasteless, colourless, and odourless - traits that we suspect will be of interest to several market makers including beverage brands and over-the-counter consumer CBD products.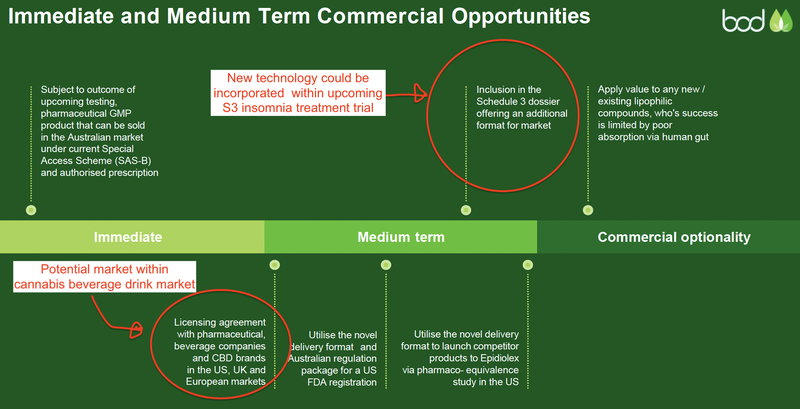 Today's update indicated that only one condition remains prior to triggering the initial acquisition consideration of £1M (~A$1.8M), namely completing the Pharmacokinetic (PK) Study.
This study tests how the body handles CBD products administered via Aqua Phase compounds - essentially answering the question of whether the technology significantly improves the bioavailability of CBD products.
Due to third party delays involved in the PK study, the close date has been extended from end of this month to the end of June 2023 to finalise the acquisition.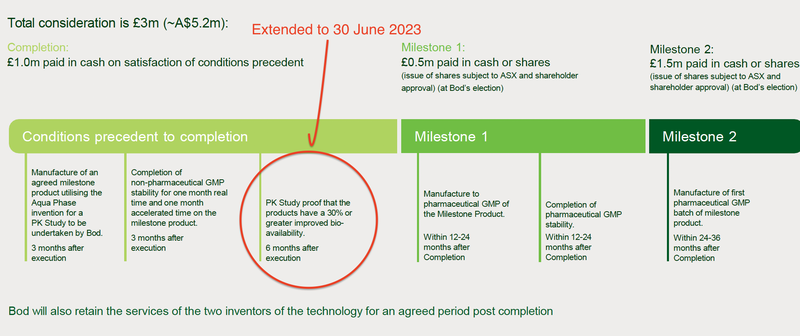 What's up next?
BOD is in the closing stretches of its 200 patient recruitment for its S3 insomnia relief product, which could occur within the next month or so.
This will then kick-start a 12-week trial, following which we anticipate a dossier submission to the Therapeutic Goods Administration (TGA) before 30 June 2023.
This could lead to product launch towards the end of the year/ early next year, marking the first CBD product available at local pharmacies (rather than via prescription), and first mover advantage within a substantial, untapped market in Australia.
We also await the results of the PK Study, with a favourable outcome leading to the first payment for the acquisition of Aqua Phase, likely in the next quarter.