Greater financial flexibility following final MNF repayment
ASX:VN8 Aug 04, 2022 Announcement
Investment Memo: VN8 IM-2022

---
This morning, our small cap telco investment Vonex (ASX:VN8) reported that it has made the final monthly cash payment to Symbio Holdings Ltd (ASX: SYM) for its transformative $31M acquisition of the MyNetFone Direct Business (refer ASX announcement 7 June 2021).
As a result, VN8's net cash flow will now improve to the tune of $833k per month, or about $10M annually.
VN8 is now completely unencumbered by deferred acquisition payments, providing greater financial flexibility moving forward. This will be useful for further acquisitions and growth opportunities, or accelerating repayment of the $16M debt facility (of which $14.5M has been drawn).
VN8 delivered a strong financial result in its latest quarterly report, posting record revenues, sales and customer growth. The results come on the back of the telco's aggressive growth by acquisition strategy, which has also led to record Annual Recurring Revenues (a useful indicator for future ongoing revenue) topping $36M.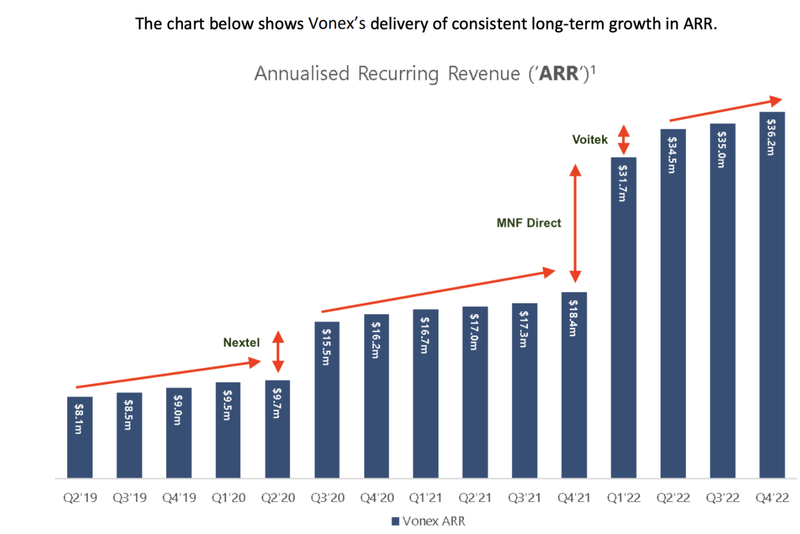 We have provided a deep dive into these financial results as well as what is in store for the company in our latest article VN8 following the telco playbook for growth.