Is May/June bottom of the market for small caps?
Published 10-JUN-2023 11:00 A.M.
June tax-loss selling is here.
You can probably see it in a lot of small cap stocks that just keep ticking down each day for no reason.
For the last few weeks we have been saying that in May and June we plan to add a couple of new Investments to our Portfolio, while the small cap market is in the toilet.
After the bull market we had in late 2020 and 2021, market sentiment has been pretty dire for the last 12 to 18 months.
We think the current June "tax-loss selling" season could be the final purge needed from the 2020/21 bull market hangover, shaking out the remaining "short termers" from many small cap stocks.
The RBA deciding to hike interest rates has just piled on the pain this month, and fuelled Australia's national hobby of predicting a recession that never seems to arrive, but further spooking investors.
Hopefully the small cap market starts recovering in the second half of this year (imagine if there is a surprise rate cut...).
Yes, it feels emotionally counterintuitive to increase the pace of new Investments when the market is so bad, and stocks only seem to go down...
But after the success of the particular Investments we made during the brutal months after the March 2020 Covid crash, we think the market is currently throwing up some attractive (to us) entry points into high quality, but beaten up stocks we have been following for a while.
After a relatively quiet 12 months on the new Investments front, in the last two weeks we have welcomed two new Portfolio additions: SLM and REZ.
We also named SLM our 2023 Small Cap Pick of the Year.
We think the small cap market is pretty bad right now, but have a theory it might start to recover after June, or at least in the medium term.
So the plan has been to add a couple more new Investments while things seem at their worst.
We are planning a couple more new Portfolio additions in the next few weeks.
Further to this, there are likely some great companies out there that have been caught up in the small cap market turmoil that are not on our radar.
Reply to this email if you know of any high quality small cap companies that have taken a significant share price hit over the last 12 months (especially over the last 5 weeks), despite making great progress on their projects.
Preferably trading at near all time lows... with:
Excellent, trustworthy management team (with track record of success)
High potential project (resources, energy, biotech or tech)
Good, tight cap structure (stable top 20, low number of shares on issue)
Cash in bank ($2.5M plus)
If it ticks all our boxes we will take a look at adding it this month.
So will our May and June Portfolio additions actually turn out to perform well over time?
We have created this sample portfolio here called our "May/June 2023 is it the bottom of the market?" Portfolio where we will track how this new cohort of companies performs over the next couple of years...
If a bull market (or even just a good market) comes back over the next 12 months (or few years), we think they could perform well.
(Obviously they actually need to deliver material progress on their projects too).
We have also recently been participating in some capital raises for our existing portfolio companies - hoping that they are at a low point.
Fingers crossed the market lifts in the second half of this year - however we are mentally prepared for it to take a lot longer.
Our small cap strategy is long term holds (3 to 5 years), so we expect there to be at least one bull market during that time.
Often in the small cap markets, just when you think it can't possibly get any worse... it does.
And then it gets worse AGAIN.
Then when everyone has given up (and many have sold out)... that's when it comes roaring back.
And the bull-bear cycle goes again.
Keep an eye out for our new Portfolio additions coming soon...
Our 2023 Next Investors Small Cap Pick of the Year
This week, we increased our Investment in Brazilian hard rock lithium explorer Solis Minerals (ASX:SLM).
Now with funds in the bank to execute, we called SLM our 2023 Next Investors Small Cap Pick of the Year.
We participated in the capital raise at 55c increasing our Investment by $200k (we bid for more but were scaled back).
Latin Resources (ASX:LRS) also took a $3M swing at the raise and increased its SLM shareholding to 17.79% - a big endorsement of SLM's strategy.
LRS delivered us a 10x rise off the back of its first lithium discovery in Brazil.
SLM is the same team behind LRS, and is weeks away from also drilling for lithium in Brazil.
LRS's Managing Director (and SLM's Chairman) Chris Gale said the following in an LRS announcement released on the day:

According to Gale, SLM's project could potentially open a new lithium province in Brazil.
Ultimately we are Invested in SLM to try and repeat the success that LRS has had in the Brazilian lithium space.
LRS built their projects in the state of Minas Gerais in Brazil, next door to $6BN Sigma, who in April became Brazil's first ever lithium producer.
SLM, backed by LRS, is looking to open up and become the number one player in the underexplored northeastern part of Brazil.
Hopefully in a few years time SLM will have established itself as the major lithium player in northeastern Brazil, be it through drilling its existing projects or through acquisitions.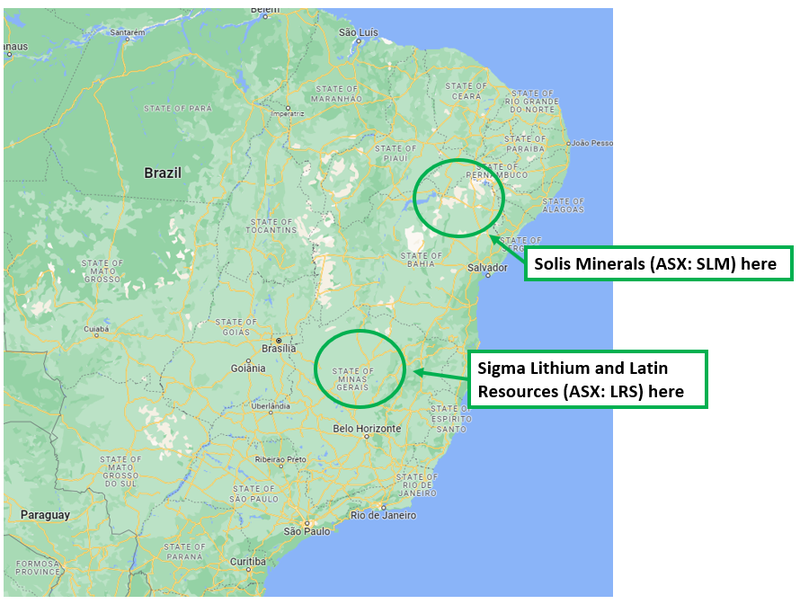 We don't have to wait very long for the SLM's first major catalyst either...
SLM will be drilling its lithium project within 14 days and hopefully we will get a discovery hole, and some photos of long, shiny spodumene filled drill cores.
We are also mindful of drilling bringing up disappointing results - and as we are long term are prepared to hold over multiple drilling campaigns.
SLM is capped at $48M - almost identical to the market cap LRS had before it made its discovery in Brazil in March 2022.
For context - Latin Resources ran from a market cap of ~$45M to a market cap of $337M less than a month after its discovery hole.
We are hoping SLM can repeat that with its drill program: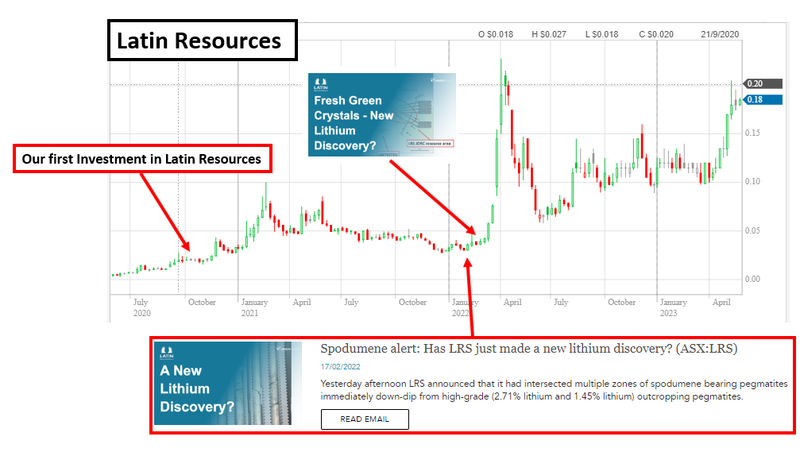 The above is what we HOPE might happen, but the past performance of LRS is NOT an indicator that SLM will perform the same way.
When making Investments like SLM, we Invest for the potential that the company will deliver on its plan and be blessed with some "exploration luck", but we go in understanding the potential risks.
This is risky small cap exploration, it's an initial drill campaign, and SLM's first drill result might not meet market expectations, which would likely mean the share price would fall.
There are many risks that can materialise that could negatively impact the share price, we have listed the key risks we have identified in our SLM Investment Memo that you can read here.
We also Invested in WA nickel/gold explorer ASX:REZ
On Monday we launched our latest Investment in the Catalyst Hunter portfolio - Resource and Energy Group (ASX:REZ).
REZ is a junior explorer chasing nickel and gold discoveries AND has run several small scale gold mining production runs in the past - yes it has actually made money from mining in the past.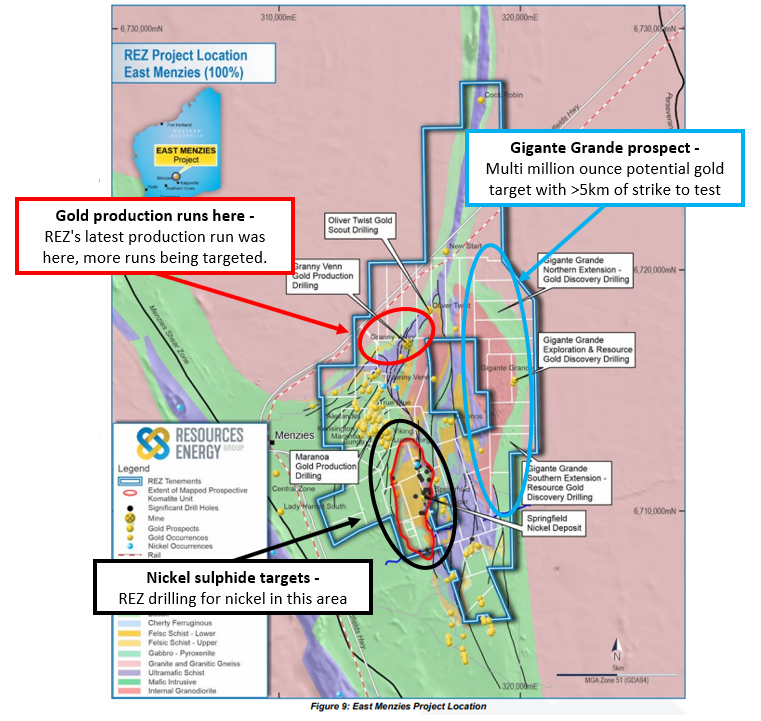 We've been following REZ for over a year, having participated in the 4c raise back in November 2021.
We weren't ready to launch the stock in our Catalyst Hunter Portfolio at that time, as we wanted to watch the company for a while and get comfortable with management before officially adding it to our Portfolio.
We think that time is now and we added more to our Investment at ~1.73c.
Our average entry price for REZ is now ~2.2c.
Our view is that a combination of factors took the company's share price from its long term trading band of between 3c and 5c, to a low of ~1c per share only a few weeks ago.
A combination of general market weakness, anticipated tax loss selling of June and an overseas fund that invested ~$2M in REZ's November 2021 capital raise at 4c having some unrelated financial troubles.
That fund is now in liquidation, so it's possible they were forced to liquidate their REZ position. This could be a reason for the decline in REZ's share price from 4c to ~1c per share in the last 12 months, on top of a tough broader market for small cap stocks.
REZ spent the two prior years comfortably bouncing around the 4.5c mark, so May and June seemed to provide an attractive entry point (time will tell...).
On Monday, REZ released drill results from its nickel target in WA confirming "economic nickel grades" from shallow depths.
While REZ is yet to deliver a result that the market could declare a "discovery hole", we think REZ is drilling in the right spots and may be getting closer to a discovery.
Nickel discoveries are hard to make, but once discovered, they become highly valuable.
We are backing Gavin Rezos (REZ's chairman) again and hope he can deliver a greenfields battery metal discovery with REZ.
Gavin is the chairman of our best ever Investment Vulcan Energy Resources, which went from 20c to a high of over $16 and is now trading at around ~$3.60 (another victim of broad market weakness and June tax loss selling).
Gavin is also the chairman of Kuniko, another battery metals explorer. Kuniko went from 20c to touching as high as $3.60 in a couple of weeks after IPO, and is now trading at around 40c.
We also note that early Vulcan investor John Hancock is the 14th largest REZ shareholder according to the 2022 REZ annual report.
We will soon be releasing a deeper dive on REZ's nickel project and what we want to see from a drilling and geological perspective.
You can read our REZ launch article here.
More Investments coming
We aren't done yet.
Our plan is to add at least two Investments to our Portfolio before the end of June (and maybe into July).
We are still monitoring a few companies and waiting for what we think will be good entry points in the long run.
The rate hikes by global central banks have increased fears of a recession in the second half of the year and just like always, the stock market is first to react.
Typically stock markets sell off way ahead of any bad news actually playing out.
We anticipate this to happen over the coming weeks/months in under researched/unloved companies.
Hopefully some of the companies we are watching throw up good entry points.
Reply to this email if you know of any high quality small cap companies that have taken a significant share price hit over the last 12 months (especially over the last 5 weeks), despite making great progress on their projects.
Our Investment Strategy
We have discussed the type of market we are Investing in right now at length.
Some companies are being sold down on low volumes, for no apparent reason other than the macroeconomic outlook is uncertain and interest rates are making capital more expensive (and hard to get a hold of).
We are using this period in markets to deploy capital and add new Investments to our portfolio.
We are less focussed on what will happen in the next 6 or 9 months but more concerned about what happens over the next 4-5 year period.
We Invest with a long term view and go into most of our Investments expecting to hold most of our Investment for years and not months.
This works for us, but may not work for everyone.
The market is full of short term speculators and traders who try not to hold anything for longer than a week and sometimes even less (days).
For investors with short term time horizons the markets may be challenging AND we have found that timing markets when looking for companies with 1,000%+ return potential can be almost impossible.
Ultimately, we will use market conditions like the current one to increase the rate at which we add new companies to our Portfolio.
Companies we think have the potential to deliver outsized returns.
Then it is all on the companies to kick goals fundamentally and deliver shareholder value.
Hopefully in 4-5 years time we will be reflecting on more winners and less losers.
As we saw with VUL, We only need one Investment to deliver a materially outsized return for the strategy to work.
What we wrote about this week 🧬 🦉 🏹
🟢 NEW Pick Of The Year 🟢
Solis Minerals (ASX:SLM)
This week we crowned our Brazilian hard rock lithium explorer Solis Minerals (ASX:SLM) our 2023 Next Investors Small Cap Pick Of The Year.
We increased our Investment in the 55c capital raise alongside major holder Latin Resources who took $3M of the $8.1M raise. LRS now holds 17.79% of the company.
📰 See our full Note: Our 2023 Small Cap Pick of the Year - ASX:SLM
🟢 NEW INVESTMENT 🟢
Resources and Energy (ASX:REZ)
We welcomed Resources & Energy Group (ASX:REZ) to the Catalyst Hunter Portfolio on Monday.
REZ is exploring for nickel in Western Australia near Kalgoorlie. REZ also has a high potential gold exploration project in the same area AND a small gold mining operation that is generating actual cash.
We like nickel for EV batteries and we're bullish on gold.
As we noted above, Gavin Rezos is the chairman of REZ, he is also the chairman of our best ever Investment Vulcan Energy Resources, which went from 20c to a high of over $16 and is now trading at around $3.60.
We are currently looking to back teams that have delivered success for us in the past.
📰 See our full Note: Introducing our new Investment - ASX: REZ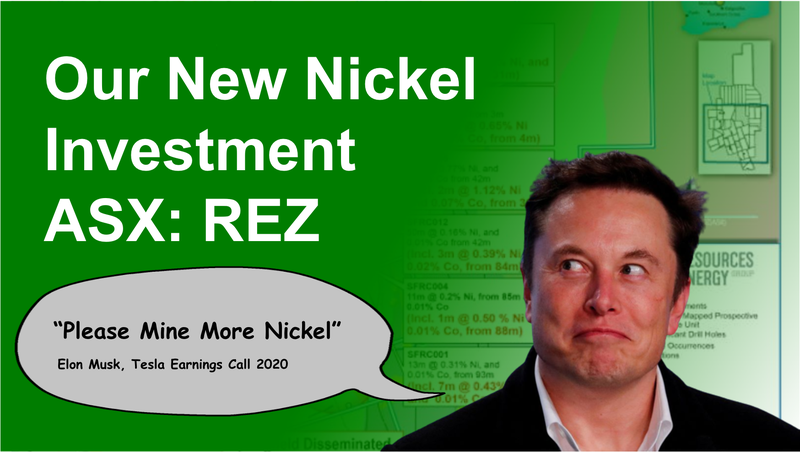 Galileo Mining (ASX: GAL)
GAL's share price has come off from a high of ~$1.95 hit after the company made its Callisto nickel/PGE discovery.
We think the share price falls are less to do with the company's fundamentals and more a function of market dynamics.
GAL is also going back and drilling its Jimberlana and Mission Sill prospects where last year the company clipped the edge of a massive sulphide structure.
📰 See our full Note: A deeper look at Galileo Mining (ASX: GAL)
Sarytogan Graphite (ASX:SGA)
SGA announced a clear timeline to achieving 99.95% carbon purity - all they need to do is remove traces of titanium.
We will know by the end of this year.
This level of 99.95% pure graphite is the type that goes into battery anodes and commands a high price from buyers.
SGA is currently able to produce graphite with purity levels of 99.87%, across different testing laboratories.
But the next big step is graphite with 99.95% carbon purity so it can be sold to high value battery anode markets - and SGA now has a simple and inexpensive plan to get there.
📰 See our full Note: SGA on the Road to 99.95% Graphite Purity
Pursuit Minerals (ASX:PUR)
PUR is just months away from its first drill campaign.
PUR is following Argosy Minerals lead. Argosy took its Argentinian lithium brine project from maiden resource to production in Argentina in ~5 years.
Argosy is currently capped at $639M, and at its previous peak was capped at over $1BN.
PUR holds ground inside a salt lake that already has a 2.1Mt foreign resource estimate, which was generated by drilling down to depths of only 100m, and it's got a pilot plant ready to go.
The key will be drilling deeper.
📰 See our full Note: PUR's first lithium brine drilling in Argentina starting next quarter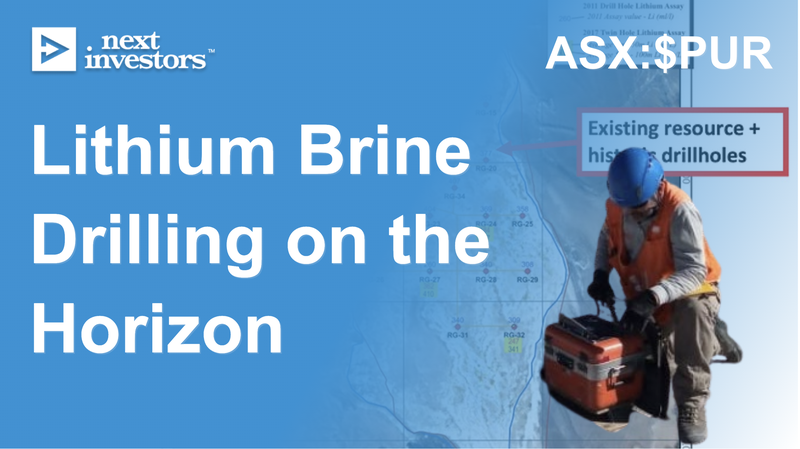 🗣️ Quick Takes
ALA raises $4M and launches $1M Share Purchase Plan
DXB raises $8.7M to progress Phase 3 clinical trial
EMH secures land for its lithium plant in the Czech Republic
IVZ capital raise complete in preparation for Mukuyu-2 Drill
LYN defines copper-nickel gravity anomaly
MAN appoints specialist contractor - Drilling in Q3-2023
NHE raises $13.5M to fund drilling, directors buy ~$1M
RAS hits pegmatites at its NT lithium project - Assays pending
TG1 raises $900k to fund gold drilling in NSW.
TMR outlines its plans for 2023 - Resource in June, drilling in
📰 Macro News - What we are reading
Commodities
Push for more Aussie commodities to get 'critical' minerals status (AFR)
Lithium
Lithium Shortages Could Hand Salt a Starring Role in EV Shift (Bloomberg)
Biotech
Athenex files for bankruptcy, seeks buyer for natural killer T-cell therapy unit (Fierce Biotech)
The Future of Cancer Treatment has Just Been Approved (The Australian)
Cannabis
Calls for more medicinal cannabis brands to be added to Pharmaceutical Benefits Scheme as costs surge (ABC)
Oil & Gas
Oil rises after Saudis pledge at OPEC+ meeting (AFR)
Uranium
China And Russia Lock Horns Over Kazakhstan's Uranium (Oilprice)
Renewable Energy
Power prices to rise if poles and wires build-out falters (AFR)
US-Based Minerals
VW Is on a Hunt for Resources to Remove China From Its EV Batteries (WSJ)
⏲️ Upcoming potential share price catalysts
Updates this week:
IVZ: Drilling oil & gas target in Zimbabwe, Myuku-2 (Q3, 2023).

IVZ completed its second placement for the year raising 12.75M at 12c per share. See our Quick Take here.

GAL: Drilling at its Callisto PGE discovery in WA.

GAL is moving into the resource definition stage at its Callisto discovery & looking to drill its two other regional targets (Jimberlana and Mission Sill). See our note on the news here.

NHE: Scheduled to drill two targets at its helium project in Tanzania (Q3 2023).

NHE raised $13.5M at 18c per share with the directors taking ~$1.05M of the capital raise. See our Quick Take on that news here.

DXB: Interim Analysis of Phase III Clinical Trial on FSGS (Q4 2023).

DXB raised ~$8.7M from its rights issue and convertible note agreement. See our Quick Take on the news here.

TMR: Maiden JORC resource estimate for its Canadian gold project.

TMR detailed its 2023 exploration plan this week. We covered the news in a Quick Take here.

TG1: Drilling at its NSW gold project in May.

TG1 raised $900k at 7c per share as it drills its NSW gold project. See our Quick Take on that news here.
No material news this week:
MNB: Offtake agreement for its phosphate fertiliser project.
KNI: Drilling 3/3 of its Norwegian battery metals projects in Europe.
GTR: Maiden resource estimates across two of its uranium projects in Wyoming, USA.
LCL: Maiden drilling underway at primary PNG copper-gold target.
LNR: >10,000m drill program at rare earth's project in WA.
BOD: Phase III clinical trial for CBD insomnia treatment.
Have a great weekend,
Next Investors
---