With Gold Surging, Could 2020 be CLZ's Breakout Year?
PUBLISHED: 15-01-2020 11:05 a.m.
Classic Minerals (ASX:CLZ) enters 2020 with multiple opportunities for exploration upside, including further resource expansion and the delivery of an important scoping study.
With results to flow and progress set continue, the share price momentum experienced in 2019 should be sustained.
The WA-focused gold exploration and development company) recommenced RC drilling at its 100% owned Kat Gap Gold Project last week, having been told to down tools due to Australia's devastating bushfire crisis.
Kat Gap is part of Classic's Forrestania Gold Project in Western Australia's Forrestania Greenstone Belt, which contains a Mineral Resource of 4.8 million tonnes at 1.40 g/t for 216,650 ounces of gold — a figure that could soon be significantly expanded with continued strong drilling results from the Kat Gap tenements.
Classic has undertaken a 1500 metre RC drilling program at hole depths ranging from 110 metres to 170 metres and follows previous drilling which delivered outstanding high-grade gold intercepts from shallow depths.
Classic has completed six separate drilling campaigns at Kat Gap prior to this most recent RC drilling program. A total of 106 holes for 7.811 metres was completed between May 2018 and August 2019 all returning significant high-grade gold intercepts.
Assay results for the latest campaign are expected before the end of January, just a few weeks from now.
Classic is expected to continue its momentum and will be a company to keep a close eye on as 2020 unfolds.
Catching up with ...

Classic Minerals
ASX:CLZ
Share price: 0.003 cents
Market capitalisation: $14.03 million
Here's why I like Classic Minerals: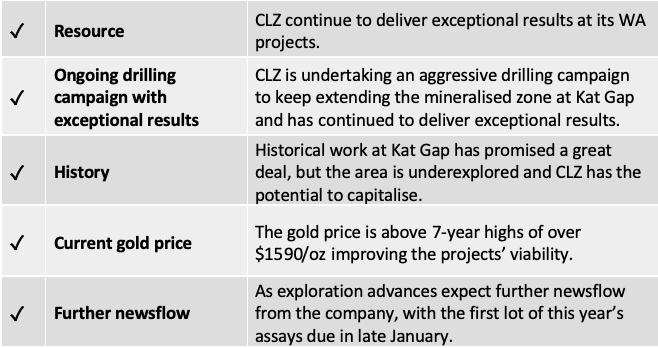 A quick recap
Classic Minerals' (ASX:CLZ) Forrestania Gold Project (FGP) contains Kat Gap, the Lady Magdalene, Lady Ada, and Lady Lila gold resources.
CLZ holds an 80% interest in the gold rights of the Forrestania Project (excluding Lady Lila and Kat Gap, of which it holds 100%). It also owns a 100% interest in the non-gold rights on the Kat Gap and Lady Lila tenements, including nickel, lithium and other metals.
Here is CEO Dean Goodwin speaking with German media about the Forrestania project:
The focus in recent times has been on the Kat Gap Project, (exploration licences E74/422 and E74/467) which covers 37.5 square kilometres, over a 10 kilometres section of the western granite/greenstone contact at the southern end of the Forrestania Greenstone Belt.
Kat Gap is strategically located approximately 70 kilometres south-south east of the Forrestania Gold project which contains the Lady Magdalene and Lady Ada gold resources.
Kat Gap adjoins the Forrestania Nickel Project currently operated by Western Areas (ASX:WSA). Its overall project is highlighted in red below: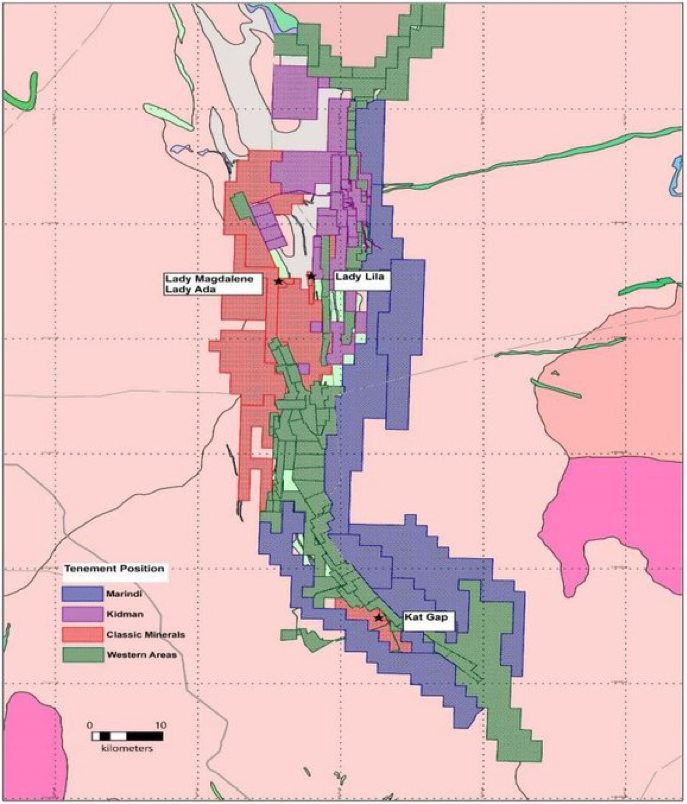 Also of interest is the involvement of mining legend Klaus Eckhof.
Eckhof joined the CLZ team in September 2019, which we covered in our previous Next Investor article: Mining Legend Klaus Eckhof Joins CLZ to Help Fast Track Kat Gap Gold Project
Here he is speaking about why he became involved with the company and his expectations.
Eckhof's expectations are currently being met as evidenced by recent results.
Kat Gap continues to impress
Following a cease work due to the devastating bushfires ripping through the heart of Australia, CLZ is now back at Kat Gap and aiming for a repeat of exceptional results.
Previous drilling has returned exceptional high-grade gold intercepts from shallow depth including: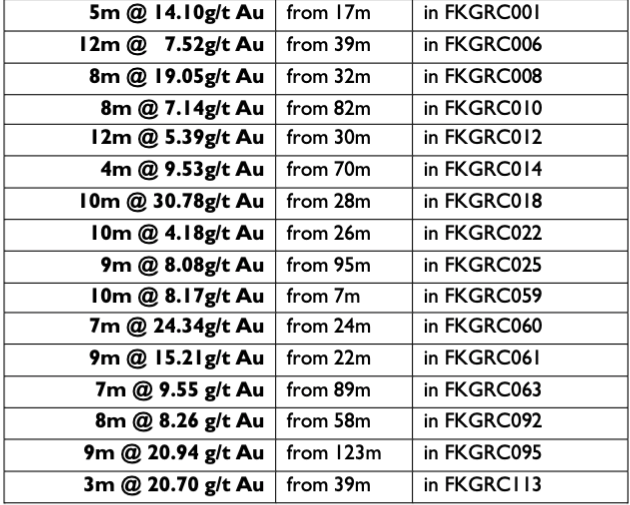 The RC drilling program was designed to ascertain deeper down-plunge orientation of shallower high-grade mineralisation on the granite-greenstone contact over a 100m of strike adjacent to the crosscutting Proterozoic dyke already tested by Classic.
Gaining an understanding the down-plunge orientation of high-grade gold mineralisation will aid significantly in the planning of future RC drilling programs on the south side of the Proterozoic dyke.
With drilling now resumed, assay results are expected at the end of the month.
Classic CEO Dean Goodwin said: "Following on from the great results of our last two drilling programs, including multiple high-grade gold hits close to the surface, extensions at depth down dip and along strike to the north, we are excited to be back at Kat Gap so soon to undertake more follow up drilling.
"This round will be focused solely on Kat Gap which has delivered outstanding results from the previous six drill campaigns. Drilling will again focus on the main granite–greenstone contact of which only 500m of a total 3.5km of potential strike has been tested by the Company.
"We are planning to drill below recent high-grade gold intercepts along a 100m section north of the cross-cutting Proterozoic dyke in an attempt to gain a far better understanding of the plunge orientation. This will aid us greatly in planning future RC drilling programs further north along strike and more importantly on the south side of the dyke which to date has received very little attention. The program is designed to probe between 110m and 150m below surface.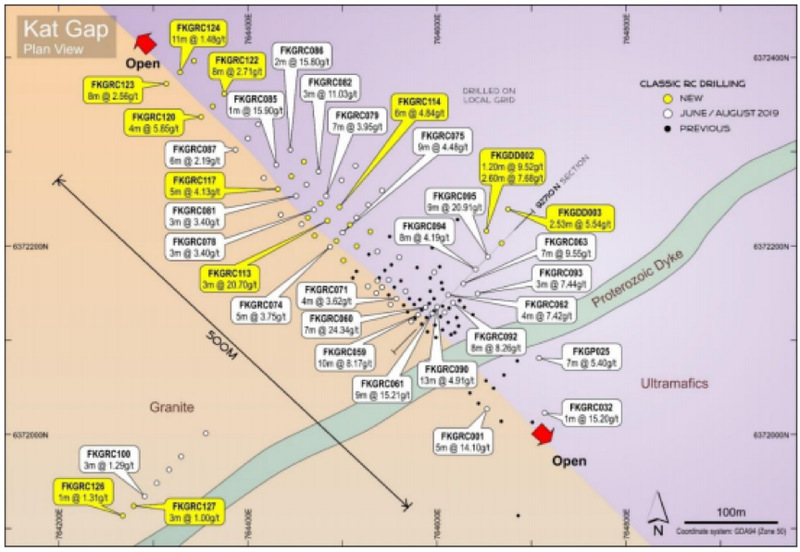 Kat Gap plan view showing recent and previous Classic RC drilling plus significant gold intersections.
While there has been a great deal of action at Kat Gap, 2019 was a landmark year for CLZ for its overall project with its Lady Ada and Lady Magdalene gold resources also vindicating the work being done at Forrestania.
All the Classic ladies
Late last year, Classic Minerals updated its Lady Magdalene mineral resource estimate at Forrestania resulting in a 38% increase in the contained gold ounces for the deposit to 5.92 million tonnes grading 1.32g/t gold for 251,350 ounces.
Classic holds 80% of the gold rights for the Forrestania project, which also includes a remnant resource of 543,500 tonnes deposit, centred about 1 kilometre south of Lady Magdalene and located in the same geological rock sequences.
With the recent update to the Lady Magdalene mineral resource, Forrestania now comprises existing resources of nearly 6.2 million tonnes at 1.36g/t for 270,100 ounces of gold.

Resources are located beneath an existing open pit shell at Lady Ada and the unmined, near-surface deposits at Lady Magdalene.
The project presents an opportunity for near term mining operations and production. CLZ's strategy here is to target resource expansion, with an accelerated start to mining the once productive region.
That's history! 8.8 g/t gold
The FGP currently consists of two major deposits, located approximately 120 kilometres south of Southern Cross, and 17 kilometres south-west of the historic Bounty Mine site (mined/current resources of +2.0 million ounces of gold).
The area is accessible via historic haul roads which branch off the well maintained unsealed Forrestania-Southern Cross Road.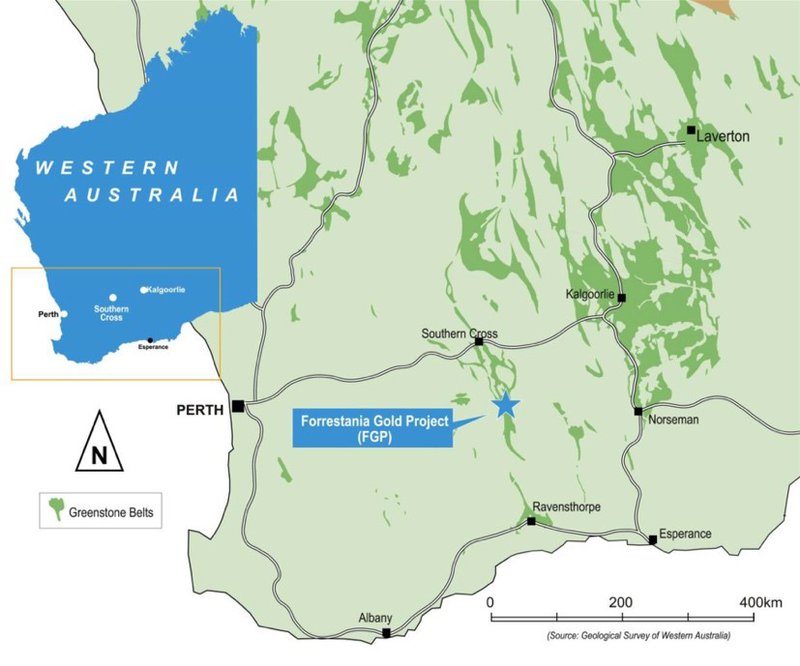 The FGP deposits (formerly known as Blue Haze and Red Haze) were discovered due to grass roots exploration of prospective ground undertaken by Aztec Mining.
Mining at the Lady Ada (formerly Blue Haze) pit commenced in December 2002 and concluded in May 2003.
A total of 95,865 tonnes at an average grade of 8.8 g/t gold was mined for 27,146 ounces of gold.
The benefits of higher grade cut-off
The current resources are reported in compliance with the JORC Code (2012) and are estimated with a lower cut-off grade of 0.5g/t gold.
When a higher cut-off is applied (1g/t gold), it is possible to delineate higher-grade pockets of the mineral resources, particularly at Lady Ada, which as mentioned was previously mined at an average grade of 8.8 g/t gold.
Here is a look at the correlation between cut-off grades and tonnage at Lady Magdalene.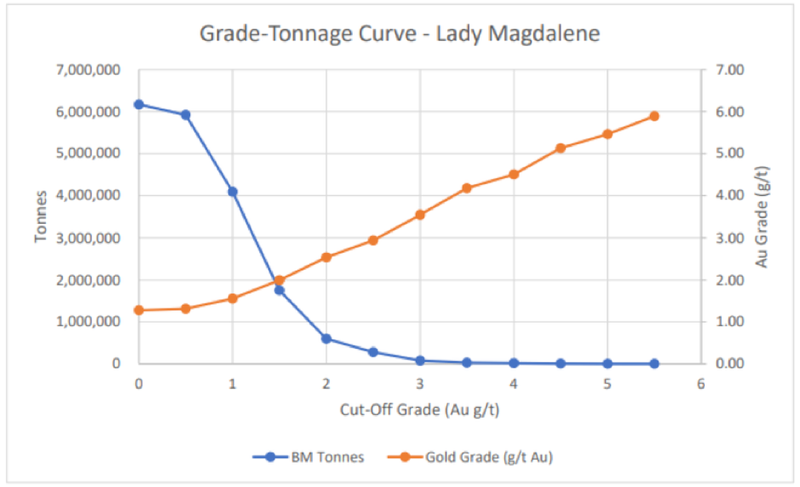 Classic continues to focus on delineating higher-grade zones at both deposits, to potentially generate early cash-flow and support the costs associated with mining, haulage and toll treatment.
The company is ramping up development efforts and will engage reputable third party consultants as required. It will also continue to bolster its team with personnel experienced in gold to ensure the company delivers value from the FGP to its shareholders.
Klaus Eckhof was the first appointee. Who will be next?
As part of its due diligence process, Classic will engage consultants to undertake a review of the updated mineral resource and related technical data, to complete an update Scoping Study at Forrestania
Classic is hopeful that plans for a JV to mine and process ore will be finalised in the first half of 2020.
Shifting focus
Once Kat Gap has achieved its aims, Classic will focus heavily on Lady Ada and Lady Magdalene.
An examination of the dominantly west-dipping orientated drill lines at Lady Ada, shows a south-easterly plunge to higher-grade shoots, a system which currently remains open at depth.
The mineralisation at Lady Ada is hosted within the so-called Sapphire shear zone, which presents as at least two zones of stacked shallow dipping faults.
The grades within the shear are variable and present commonly as intervals of 2 to 3 metres in width, with average grades frequently ranging up from 5 to 15 g/t gold.
Limited drilling by Classic at Lady Ada late last year will be incorporated into an updated mineral resource estimate for that deposit.
Gold mineralisation at Lady Magdalene is approximately 1 kilometre long and is drilled to a down-dip length of up to 400 metres, generally over thicknesses of between 3 metres and 5 metres, with grades ranging between 1 to 5 g/t gold, peaking at 31.1g/t gold over 1 metre.
The area was the subject of historical RAB, RC and diamond drilling, heap- and dump-leaching metallurgical column test work completed by Forrestania Gold NL (LionOre subsidiary) in 1999.
Increasing the mineral resource
The gold mineralisation at Lady Magdalene strikes north-south and is hosted within the same Wattle Rocks Dolerite unit as Lady Ada, but differs in having multiple, wide, sub-parallel lower-grade shear zones.
Resource estimation work for Lady Magdalene appears to indicate that higher-grade zones may well cross-cut the deposit, but that the current drill spacing (approximately 50 metres north x 25 metres east) has probably been too wide to allow delineation of these shoots in any continuous detail.
Diamond drill hole FWRD011 contained an intersection of 7.0m @ 9.1 g/t gold, with visible gold less than 25 metres, alluding to higher-grade, cross-cutting, sheared intersections being present in the ore system at Lady Magdalene.
Lady Magdalene presents occasional, discontinuous high-grade gold zones and hence, is considered a high-tonnage, low-grade gold system.
There is scope for significantly increasing the mineral resource further, mostly by drilling down-dip extensions, but there is also poor definition of the known, narrow, higher-grade intersections, closer to the surface.
This could, to some degree, be addressed by a large program of infill reverse circulation resource definition drilling, with selected diamond drilling to better understand the orientation of gold mineralisation in these interpreted higher grade zones.
It's a good time to be in gold
The work being done at Forrestania is occurring in conjunction with a rise in the gold price.
Gold hit a near seven-year high of about US$1590 per ounce last week as the precious metal reasserted its position as the go-to safe haven commodity when there is a flight from risky assets.
The increase was the ninth consecutive rise which has spanned late 2019 and 2020, a period in which the precious metal has increased by about 7% from approximately US$1480.
Foreign exchange rates are also working in favour of Australian gold producers with the Australian dollar fetching around US$0.69, translating into an Australian dollar gold price of approximately $2300 per ounce.
Average costs of production are in the vicinity of $1300 per ounce, implying a healthy margin of about $1000 per ounce.
Gold is predicted to remain stable this year, with Bloomberg predicting it could go higher.
Maria Smirnova, senior portfolio manager at Sprott Asset Management said, "The three main contributors to gold's longer-term strength have been declining interest rates, slowing economic growth...and political instability," particularly from concerns surrounding the trade wars and Iran.
"Thesis for gold rests on the global macroeconomic picture and the expansionary monetary policies of central banks around the world," she said.
With that in mind and with macro conditions unlikely to change significantly, this points to relative stability in the gold price in 2020.
The final word
With drilling at Kat Gap in full swing, Classic intends to do all it can to hit its 2020 milestones.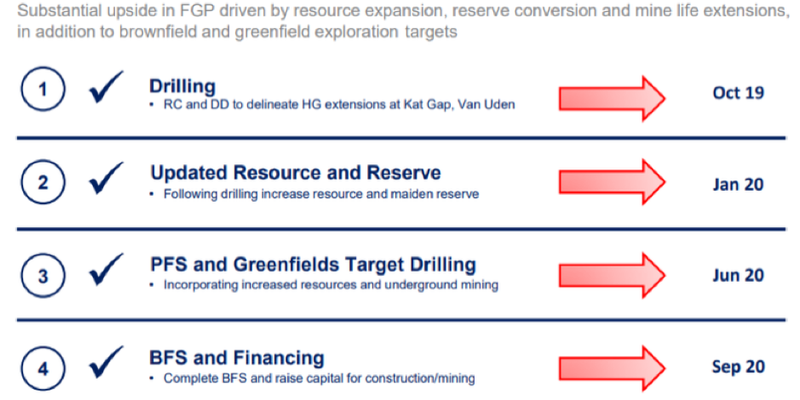 As you can see by the table above, there is an updated resource, a PFS and BFS to come in the first half of this year. That's on top of the assays from Kat Gap due in the coming weeks.
This year could herald a solid year of growth for Classic as it looks to capitalise on positive share price momentum.
---