WHK Secures A$2.1M US Government Contract Extension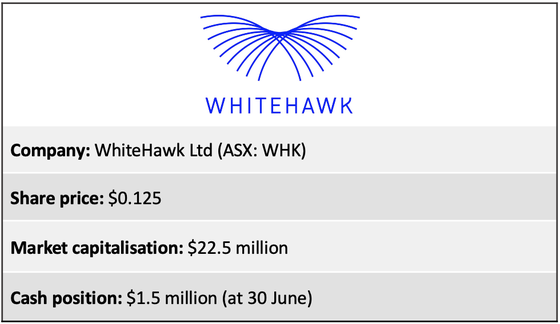 WhiteHawk Ltd (ASX:WHK) has been awarded a US$1.5 million (A$2.1M) contract extension with a US federal government department, validating its cybersecurity technology and value to the US government in combatting cyber threats.
The US$1.5 million (A$2.1M) extension, under an existing 7 year cybersecurity contract, represents a 375% increase on the US$400K awarded to WHK under the contract in 2020. It's also worth more than WHK's entire revenue for the last full financial year.
The award of this second year sub-contract is a huge validation of WHK's cybersecurity tech and capabilities, and the fact that the contract value has increased substantially only reinforces that view.
The A$22 million capped company is one of our highest conviction picks and holds the third largest position in our long term investment portfolio.
Since adding WHK to our long term portfolio in May 2019, when we named it our tech Pick of the Year, the company has been steadily accumulating cybersecurity contracts with multiple US federal government departments, major US corporations, as well as providing much needed cybersecurity solutions to businesses of all sizes.
We first brought WHK to readers attention January 2018 and we have since developed enormous confidence in the company and its management team, led by Terry Roberts — a former deputy director of US Naval Intelligence.
Roberts is a 35-year veteran of the US national security and cyber intelligence community, was also a Department of Defence Senior Executive and an Executive at the Carnegie Mellon Software Engineering Institute.
With a background like that, it's no surprise that Ms Roberts is able to secure contracts at the highest levels of the US government.
While the stock is up around 50% this year, it is yet to make a sustained run as many of our other Next Investors portfolio stocks have done.
Health tech junior, MyFiziq (ASX: MYQ), for example, has risen from 11.5¢ when we first brought it to readers' attention in April 2020, to $1.32 today — a massive 1,050% and a great result for our readers.
But back to WHK.
Over recent months, we have taken the opportunity to increase our position in WHK on two separate occasions, confident in the WhiteHawk management team and its ability to continue evolving its technology and to secure further contracts and contract extensions.
This is not the first and it won't be the last of these contracts for the $22 million ASX junior.
Based in Alexandria, Virginia, central to the US government and Defense forces, WHK's experience, and in particular that of its founder and CEO, is seeing the company continue to win prized federal cybersecurity contracts.
The company operates the first online Cybersecurity Exchange based on an AI-driven platform architecture, with a focus on identifying, prioritising, and mitigating cyber risks for businesses.
US federal government contract option renewal
As announced to the ASX this morning, WHK has been awarded a US$1.5 million (A$2.1M) option extension under an existing seven year contract (one year contract with six option years).
The contract was won by the prime contractor with a US federal government department and work commenced on 1 October.
The option for FY2021, worth US$1,500,000 to WHK over the next financial year, has now been exercised.
This is a nearly 400% increase on the prior year, with the sub-contract having brought in US$400K for WHK in FY2020.
The increase in revenue comes as the focus of the contract evolved from WHK initially providing cyber risk technical and management services, to WHK being lead developer of a comprehensive online Cyber Security Marketplace. This includes an automated cyber risk review and solution option mapping, for a breadth of US federal government entities.
In addition to the direct benefit of the revenue, this award underlines WhiteHawk's product capability and service level execution to perform on all current contracts, its ability to achieve further government option year contract extensions and to engage with future customers in the current global pandemic.
Terry Roberts explained, "We are discovering that our unique end to end automated approach, to identifying, prioritising and mitigating cyber risks via an easily assessable online platform is increasingly attractive to both government and industry alike, by providing near real time servicing of their stakeholder organisations or clients."
This latest contract extension adds US$1.5M to the company's bottom line, adding to revenues from other existing contracts including WHK's US federal government CISO (Chief information Security Officer) contract win in July that will generate revenues of up to US$1.18 million (A$1.65M) in the first year, plus four additional option years at the same level.
WHK had a market cap of just $22.5 million prior to news of the contract award yesterday.
The company has also recently incorporated requirements of the US Department of Defense (DoD) new Cybersecurity Maturity Model Certification (CMMC) that all Defense Industrial Base (DIB) contractors and suppliers must satisfy.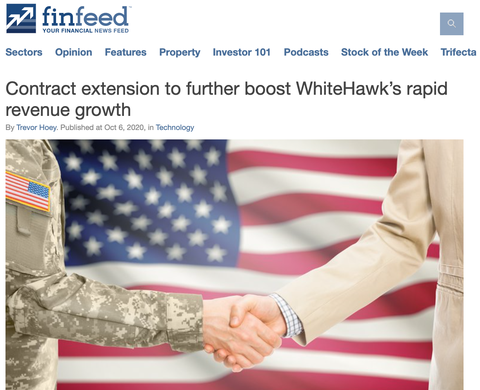 What does WHK do?
First and foremost, WhiteHawk enables companies to identify and mitigate their priority cyber risks on an ongoing basis with demonstrated cost and time savings.
The company operates the first online Cybersecurity Exchange based on a platform architecture that is AI-driven, with a focus on identifying, prioritising, and mitigating cyber risks for its clients.
WhiteHawk has architected and implemented Cyber Risk Radars and Cyber Risk Programs at US federal departments and Fortune 500 enterprises.
Cyber Risk Radars address supply chain risks via Software as a Service (SaaS) platforms.
Cyber Risk Programs allow a comprehensive outside-in approach to assess an enterprise's ongoing cyber risks.
The company determines key cyber risks through a Cyber Threat Readiness questionnaire and a cyber risk assessment, as appropriate. This information matches companies and organisations to tailored risk mitigation solution options, while WHK's cyber consultants help in building a tailored cyber maturity plan.
Leveraging global open data sets integrated with deep cyber and digital age business risk tradecraft, WHK brings risk trends to light, providing automated, customised reporting on individual suppliers, companies, and across an entire enterprise portfolio.
US Defence Cybersecurity certification solutions
During the pandemic, WHK doubled down on the US Federal Government and Defense Industrial Base (DIB) supply chains.
This included responding to the US Department of Defense (DoD) newly updated regulatory framework of the Cybersecurity Maturity Model Certification (CMMC).
The DoD has established CMMC as the cyber resilience benchmark for all DIB contractors and suppliers. It is a critical element of the DoD's overall strategy, designed to improve information protection and cybersecurity.
WhiteHawk has recently incorporated requirements of the CMMC that all DIB contractors and suppliers must satisfy.
The company will provide an automated path to a CMMC baseline for any federal contractor or supplier, having recently incorporated and automated the new US DoD CMMC mapping into its online client services and Cyber Risk Scorecard.
This makes WHK one of the first Cyber Risk platforms to automate the "Path to CMMC" for subcontractors and suppliers with a documented baseline, online maturity model and virtual consult across the Defense Industrial Base (DIB).
There are roughly 330,000 subcontractors of the DoD industrial complex for which CMMC will apply to varying degrees — a very large potential market for WHK.
WHK will provide an automated path to all DIB companies to determine their respective CMMC baselines, identify gaps to meet their required CMMC Level (1-5), and start to address those gaps immediately via the WhiteHawk Online Cybersecurity Exchange.
This builds upon WHK's existing Cyber Risk Maturity Model, mapping current cyber controls to the CMMC framework and into all Cyber Risk Scorecards in order to support its current and future DIB clients. Cyber Risk Scorecards are foundational to all WhiteHawk enterprise and SME product lines, platforms, SaaS subscriptions.
WhiteHawk's existing top 12 DIB client, has kicked off this Path to CMMC program across over 700 of its current DIB suppliers and vendors.
Within just 1-10 days, WhiteHawk can now deliver literally hundreds to thousands of Cyber Risk Scorecards (1 day for current clients and no more than 7-10 days for new clients), with increased profit margins.
Terry Roberts said, "CMMC is a game changer for the US Department of Defense today, the entire US Federal sector tomorrow and potentially state, local and commercial in the future.
"The achievable elegance of a maturity model approach, like CMMC, is that a majority of companies need to reach levels 1-3, which is very achievable, affordable and impactful to everyone's cyber resilience. Our pragmatic approach allows any company (no matter their cyber sophistication) to know how to get started smartly today!
"And now that our Cyber Risk Scorecards both include CMMC mapping and are automated, no one has to wait nor spend thousands to develop their CMMC initial plan of action. WhiteHawk is now 'The Place' for all companies to get started."
In addition to the above contracts, WHK is currently:
Implementing its new US federal government CIO Cyber Risk Radar contract across 150 suppliers (with options for additional 150 suppliers per year), for a base year and 4 option years. Will generate WHK base revenues of up to US$1.18M (A$1.64M) over the first year.
Continues to execute Cyber Risk Program contract with major US manufacturer via global consulting partner.
Continues to execute on Cyber Risk Radar annual SaaS subscription contract with Top 12 US DIB company for 200 suppliers and vendors.
Executing on 2nd contract with US federal government department CIO (5 years: 1 year with 4 option years).
Proof of Value offerings to US and Australian government healthcare and energy entities, demonstrating the ease, impact, scalability and affordability of WHK's Cyber Risk identification, prioritisation and mitigation product lines.
In addition to its work with WHK conducting outreach demonstrations and Proofs of Value (POV) across US federal government departments and agencies and Fortune 1000 companies, WHK is also looking to Australian organisations to expand its global presence.
In the following video, WhiteHawk CEO, Terry Roberts speaks to Barclay Pearce's Sally A Illingworth, discussing the cybersecurity space and WhiteHawk's approach:
WHK: A Next Investors portfolio stock
Having first brought WhiteHawk to readers' attention back in January 2018, the stock was added to our long term investment portfolio in May 2019 when it was named our tech Pick of the Year when trading at 6.4¢. Since then it has risen to as high as 21¢ and is now at 12.5¢ — up 100% from our initial entry.
However, with the company continuing to develop its technology, services and industry connections, we anticipate further upside ahead. This is a fast growing sector for WHK, with awareness growing around cyber threats and the importance of cybersecurity protections.
While its market cap is now just over $22 million, WHK has already secured contracts (and contract extensions) with key US federal government departments, Fortune 500 companies, top US financial institutions, major insurers, manufacturers, utilities providers and a top Defence Industrial Base (DIB) company.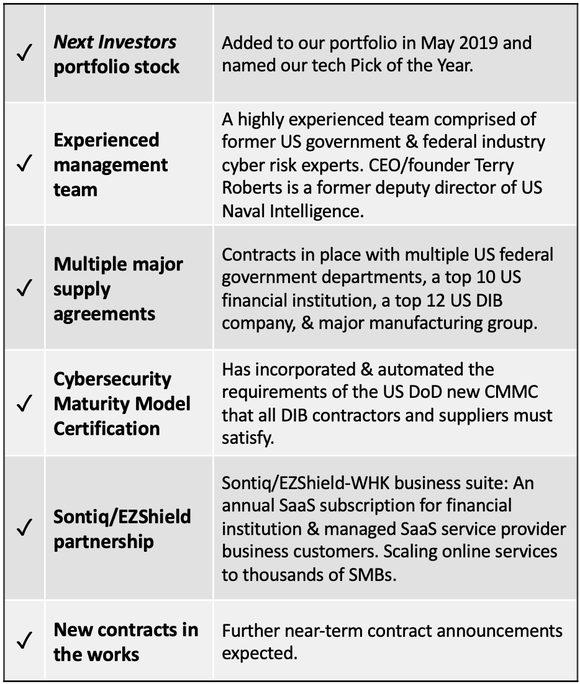 ---