Weeks away: NHE drill rig is heading to Tanzania to drill large helium target
Disclosure: S3 Consortium Pty Ltd (the Company) and Associated Entities own 3,980,926 NHE shares and 2,437,037 options, and the Company's staff own 54,339 NHE shares and 2,000 NHE options at the time of publishing this article. The Company has been engaged by NHE to share our commentary on the progress of our Investment in NHE over time.
High impact, basing opening oil & gas drilling events don't come around often.
And they take many years of preparation.
Our helium Investment Noble Helium (ASX:NHE) is now roughly six weeks away from spudding its first well in Tanzania.
This morning NHE announced that its drill rig has commenced mobilisation towards the drilling site.
NHE will be targeting an estimated unrisked mean helium prospective resource of 15.7 bcf.
This is only 10% of its independently certified mean of 176 bcf.
A successful discovery would be a company making event for NHE, and in an ultimate upside scenario, could represent billions of dollars of in-ground value.
But the main game is testing these resource numbers with a drill bit, and success is not a guarantee when it comes to frontier exploration.
Drilling this project has been 7 years in the making and NHE's first well is one of the biggest, potential basin opening drilling events on the ASX this year.
The drill rig is currently moving from a drilling yard to the UK port of Hull - from there it will be loaded onto the good ship MV Bohwa Tsingtao to travel to Tanzania.
The rig is expected to arrive in the port of Dar es Salaam, Tanzania in late August/early September.
We'll be following the ship's journey closely online here:
TRACK THE SHIP CARRYING NHE'S DRILL RIG HERE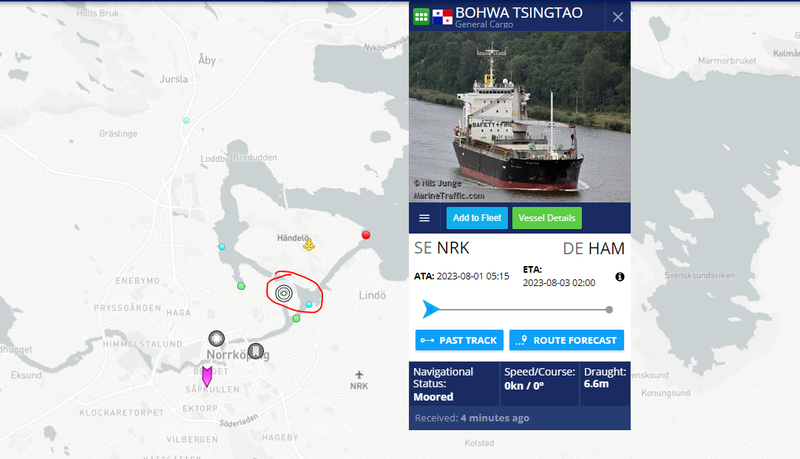 Once in Tanzania, the rig will travel inland to Lake Rukwa - home to NHE's Mbelele Prospect.
The inland journey is around 800kms.
At the end of the journey, we want to see NHE drill the Mbelele Prospect which last week had internal estimates of its resource upgraded.
According to last week's updated estimates, the Mbelele Prospect now has an unrisked 15.7 billion cubic feet prospective helium resource.
Previously the number sat at ~8.7 bcf.
In the world of helium exploration, that is an exceptionally large number - a number that would be more than twice the global annual helium demand of 5.9Bcf in 2022.
Of course, much depends on drilling success and there are no guarantees that NHE will find a commercially viable amount of helium when it drills.
But it does give a sense of how big this project could be, and the type of target NHE is chasing.
We have always loved a big drilling event, chasing a huge prize.
We Invest early, well before the drilling event and patiently wait a few years for the drill event to approach.
As the drilling event approaches, we have observed a company's share price will usually run as excitement and speculation on a positive result enters the market.
Here is where NHE is currently sitting: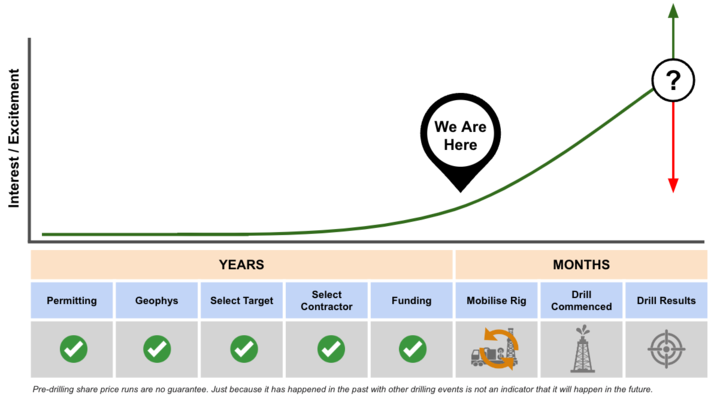 NHE still hasn't started any significant price run in the lead up to drilling yet, with it currently trading at around 26c after its 20c IPO 18 months ago.
Note - Pre-drilling share price runs are no guarantee. Just because it has happened in the past with other drilling events is not an indicator that it will happen in the future.
In the last few weeks we have seen several global developments that are positive for helium demand.
Helium is a key ingredient in the production of microchips and semiconductors.
A few weeks ago we wrote about the surge in demand for Artificial Intelligence chips increasing helium demand.
Yesterday, Europe and the US expressed alarm at China's rush into building multiple new chip plants.

(Source)
Higher end chips generally require helium, and to us this indicates more fabs for these advanced chips and a subsequent increase in helium demand.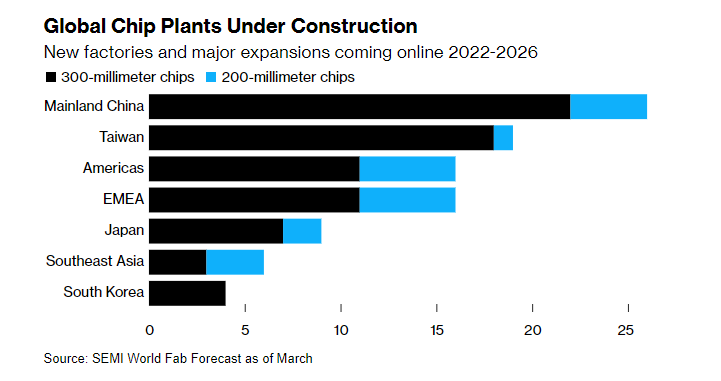 All these new chip plants are going to need more helium.
We will be following NHE closely over the next few months as they drill their giant helium target, and hopefully the positive macro news that drives helium demand will continue.
Our 'Big Bet'
"NHE discovers the world's largest helium reserve held by a single company and is strategically acquired by a major company OR a state owned enterprise to secure supply (USA, China, Qatar)."
NOTE: our "Big Bet" is what we HOPE the ultimate success scenario looks like for this particular Investment over the long term (3+ years). There is a lot of work to be done and many risks involved - some of which we list in our NHE Investment Memo. Success will require a significant amount of luck. There is no guarantee that our Big Bet will ever come true.
To monitor NHE's progress since we first Invested and to track how the company is doing relative to our "Big Bet", we maintain the following NHE "Progress Tracker":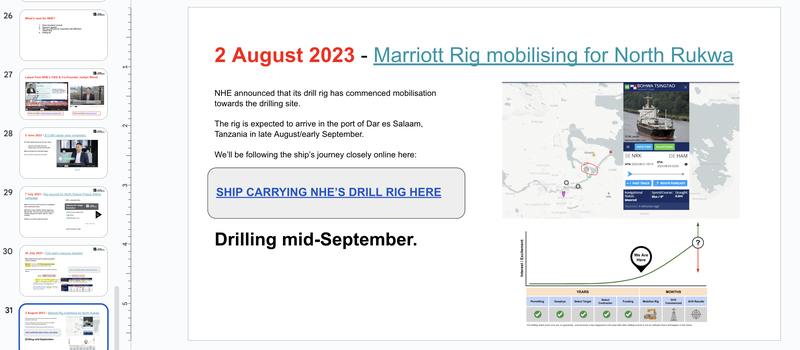 NHE's upgraded internal resource estimate and targets
Last week NHE doubled its internal resource estimate for its first well.
NHE's first well (Mbelele-1) is now targeting an unrisked 15.7 billion cubic feet prospective helium resource.
Previously the number sat at ~8.7 bcf.
NHE also confirmed that a discovery at Mbelele-1 would immediately be followed up by an appraisal well on the same target (Mbelele-2).
Below is the planned well locations: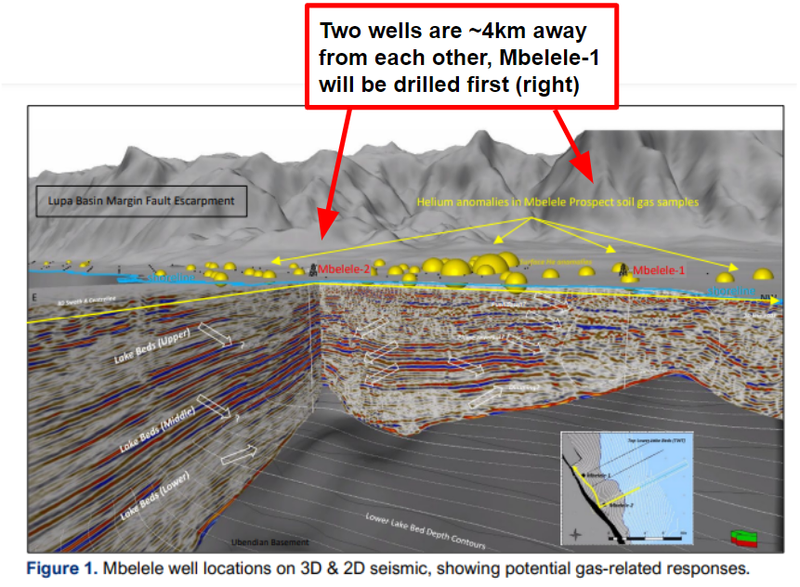 Why the updated resource matters:
Initially NHE was planning two wells - Mbelele-1 and Pegere-1 - which together were targeting ~16.5 bcf of helium.
Now NHE gets to drill test a 15.7 Bcf target with just one well, instead of two.
IF successful this first well could deliver a similar size discovery for a much lower cost (relative to drilling two wells).
Here is the side by side of the targets before and after last weeks resource upgrade:

NHE has previously flagged that a 6Bcf discovery would be a "company maker" so we are looking forward to Mbelele-1 being drilled in the coming weeks.
Funding for the well
NHE recently raised $13.5M at 18c, with NHE directors investing over $1M of their own cash.
We like it when company management and board put their money where their mouths are, and be major holders of company shares, as they are aligned with all other shareholders.
This is the case with NHE MD Justyn Wood being a top shareholder of NHE - Justyn holds 23.42% of the company's shares.

Here's NHE chairman Shaun Scott's latest purchase of NHE shares: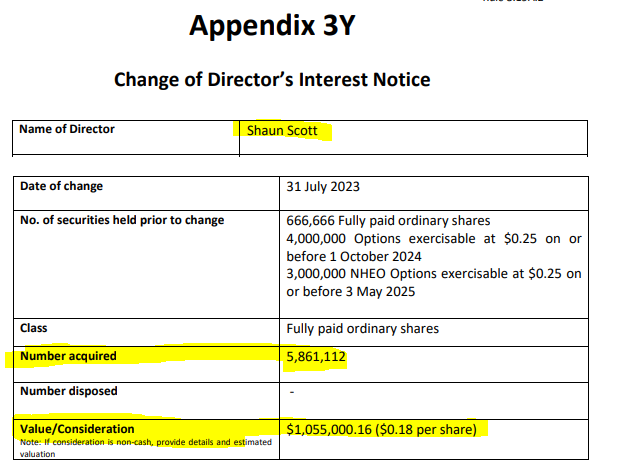 After completing the recent capital raise and securing a rig through respected drilling company Marriott in July, NHE is now approaching a pivotal moment in its 7 year history.
It's also no surprise to us that NHE's share price has traded above the 18c raise price as investors look to get exposure to the drill program by buying on market.
As with most high impact oil and gas wells we expect NHE may move into the "pre-drill speculation" stage where a company's share price starts moving higher as investors start to build in expectations of what success would look like for the company.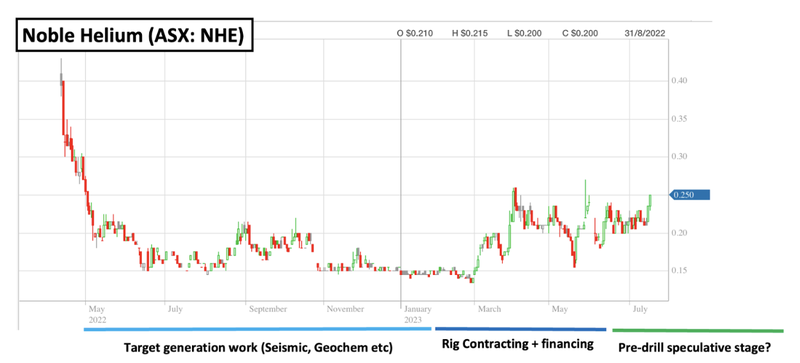 We also see NHE's price action to date as a reflection of not only the diligent work done by NHE to de-risk the project pre-drill, but also of the sheer scale of the prospective resource.
Today's rig announcement also flagged that a low CAPEX commercialisation pathway is on the cards - with potential production within 12 to 18 months of drilling.
The low CAPEX commercialisation pathway could also factor into investors "pre-drill speculation" expectation setting.
Of course, a key risk that remains is exploration risk - things can go wrong during drilling operations, whether that be delays, malfunctions of equipment or a failure to find an economic resource (see Risks section).
What's next for NHE?
Rig mobilisation 🔄
The rig needs to make its way to the site in Tanzania from the UK and will make its way over shortly.
We'll be watching timelines here closely:
TRACK THE SHIP CARRYING NHE'S DRILL RIG HERE
⚠️The Big One: Drilling ⚠️ 🔄
Drilling is expected to start this quarter, with a planned mid-September spud date.
Mbelele-1 represents <10% of NHE's overall resource which sits at an independently certified Mean Unrisked Prospective helium resource of 175.5Bcf.
Closer to the drilling event, we intend to outline our bull/bear/base cases for NHE's drilling.
What could go wrong?
Once drilling starts, the key risk will be exploration risk.
As is the case with all junior explorers, there is always a chance that NHE's drill program fails to find any commercial quantities of helium.
Operational risk is also important - while the Tanzanian wet season usually starts around November, weather could still be a factor particularly if there are delays in rig mobilisation.
When drilling, a number of things can also go wrong. For example, NHE may not be able to flow helium to the surface due to a problem with the rig.
Funding risk - NHE is a small cap exploration stock that needs to drill to make a discovery that will increase its valuation.
Drilling costs money, and NHE is a pre-revenue explorer.
NHE held $4M in the bank at June 30th 2023, after having raised $13.5M which covered the cost of its first well and long lead items for the second well.
NHE will either need to raise additional capital or bring on a farm in partner in order to fully fund its second well.
Check out our NHE Investment Memo to see all of the key risks we have listed: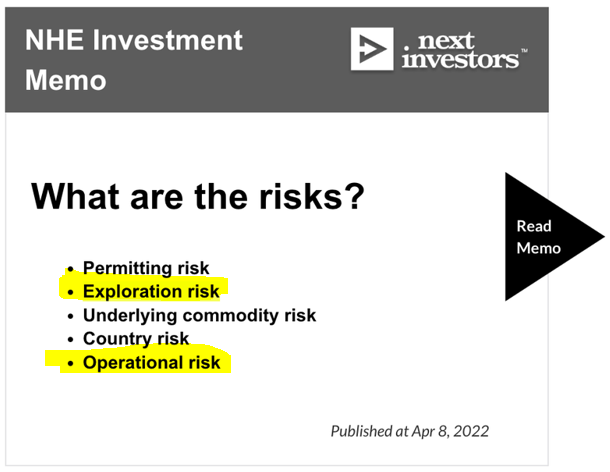 Our NHE Investment Memo
Click here for our Investment Memo for NHE, where you can find a short, high level summary of our reasons for Investing.
In our NHE Investment Memo, you'll find:
Key objectives for NHE
Why we are Invested in NHE
What the key risks to our investment thesis are
Our investment plan
---