Visible gold to kick off the new drilling season
Disclosure: The authors of this article and owners of Next Investors, S3 Consortium Pty Ltd, and Associated Entities, own 3,432,000 TMR at the time of publication. S3 Consortium Pty Ltd has been engaged by TMR to share our commentary and opinion on the progress of our Investment in TMR over time.
Canadian drilling season is officially back on and our junior gold exploration investment Tempus Resources (ASX:TMR) has already delivered visible gold hits.
We have been holding TMR for over two years now, hoping that it can discover enough new high grade gold veins at its Canadian project to restart the existing and permitted gold mill.
Our big bet with TMR is that it can become a medium term gold producer.
Markets are in a rough patch for now, gold stocks are still out of favour.
But recent bitcoin volatility may make gold hot again in the near term.
For centuries gold has been the ultimate safe haven asset as it performs extremely well in times of broader market stresses.
TMR becomes interesting from a share price perspective every year between June and December during Canadian summer when gold exploration drilling is possible.
This will be our third drilling season as TMR Investors, and we hope it will deliver some outstanding results, and find enough gold to justify restarting its gold mill.
TMR's drilling season has officially now begun.
With the macro tailwinds blowing in its favour, TMR has kicked off its 2022 drilling program at its Canadian gold project.
A large portion of this year's program will be focused on the "Blue Vein" discovery, which TMR made during last year's drilling program. Here the company hit "Bonanza" grade gold measuring as high as 71.3g/t gold over 0.5m.
Drilling started three weeks ago and after three diamond drill holes at the high grade blue vein discovery, TMR has already delivered visible gold intercepts in its drill cores.
Visible gold is always a good sign that a company is drilling in the right location and is usually a precursor for high grade gold assays.
The two visible gold intercepts in the photo below were made first at a depth of ~97 metres and then again at ~124m.
Most importantly, these visible gold intercepts are from just the first three holes from TMR's 2022 exploration program where ~30 drill holes are planned over 8,500m.
This means that we are less than 10% of the way through TMR's 2022 drilling program and have already hit some interesting intercepts.
This year's drilling program has a mixture of extensional drill holes, as TMR looks to increase the size of the new Blue Vein discovery whilst also chasing new discoveries. All of this with a view of getting its project back into production.
The drilling program is as follows:
Blue Vein discovery: 15 drill holes targeting extensions to the previous high grade gold intercepts.
Main and West Veins: 10 drill holes targeting extensions to both of these discoveries.
Ella Zone: 3 drill holes following up a 2m intercept made last year.
Exploration holes: up to 5 drill holes focused on making new discoveries.
TMR is going into this drilling program having held $1.5M in cash in the bank at the end of the march quarter and having had CAD$1M raised recently via a placement at CAD$0.07 per share.
With a tiny market cap of $8.7M and ~$2.5M in cash after the company's recent capital raise, TMR is currently trading with a tiny enterprise value (EV) of just ~AU$6.2M.
We have been holding onto our TMR Investment in its entirety for over 2 years now with an average entry price of ~18c per share - TMR is currently trading at ~6.5c.
We have not sold a share of TMR since our Initial Investment.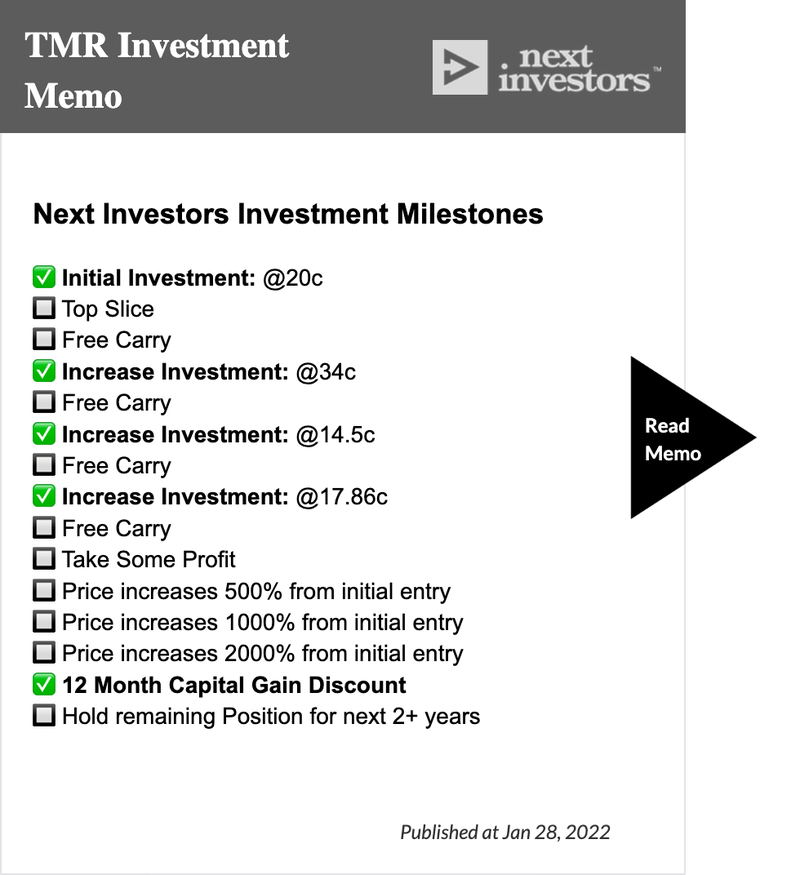 Along with general market volatility, we think the share price fall can be attributed to the Canadian winter months and TMR's lack of exploration activity in the first half of the year. It is likely investors sold off high-risk high-reward exploration stocks that have no near term catalysts first.
We like to take long term views with our Investments and haven't sold any of our shareholdings since first Investing in TMR.
With the 2022 exploration program now up and running, we look forward to TMR making new discoveries and all of the news flow from the upcoming drilling program.
TMR's project already has a fully permitted gold mill and associated infrastructure in place so that in the event of any new discoveries, TMR can quickly get them into production and produce cash flows.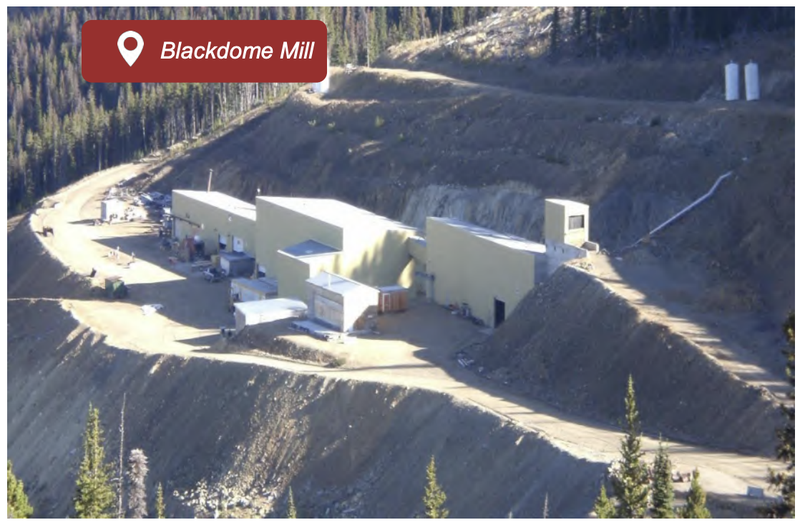 The "SW-vein" was responsible for ~230,000oz of gold production in the past and TMR's project already has a historic resource of ~298,000 ounces of gold in place.
We want to see new discoveries at its Canadian gold project whilst progressing a JORC resource upgrade, having based two of our objectives for TMR around this.
Below are the key objectives we set in our 2022 TMR Investment Memo, to view our Memo click on the image below.
TMR's 2022 exploration plan
TMR updated the market with details of its 2022 exploration program only three weeks ago.
A large part of the program was designed so that TMR can follow up over ~39-holes (9,826m) of drilling that's been completed over its Canadian gold project since November 2020.
A large portion of this year's program will be focused on the "Blue Vein" discovery, which TMR made during last year's drilling program. Here the company hit "Bonanza" grade gold measuring as high as 71.3g/t gold over 0.5m.
Whilst the focus will be on trying to extend the newly discovered vein, TMR has also planned for some higher risk exploration drill holes aimed at making entirely NEW discoveries.
In its announcement in late March, TMR confirmed that the drilling program would be for up to 30 drill holes (for a total of ~8,500m), focused mostly on the following key targets.
First, TMR is drilling in and around the new Blue Vein discovery.
TMR expects to drill ~15 drill holes targeting extensions to last year's high grade intercepts.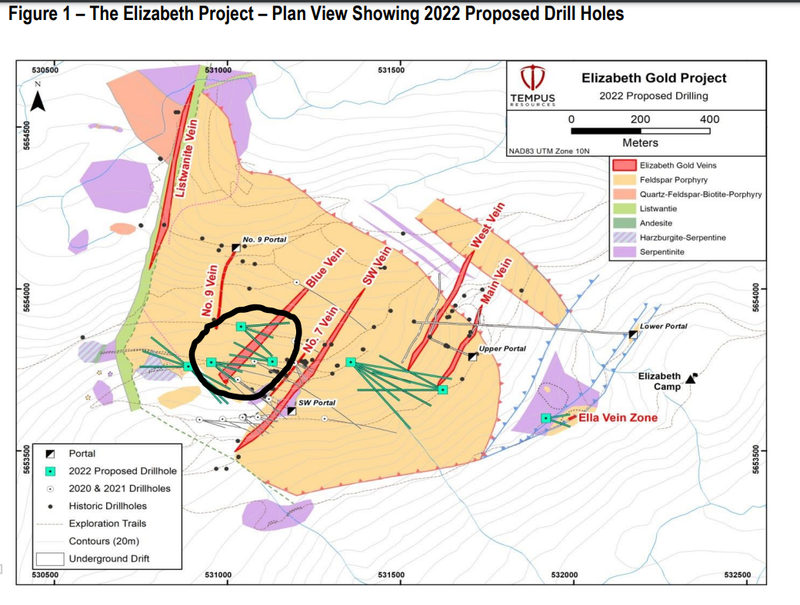 With the drilling program currently underway, the first three holes in this area have now been drilled and are delivering visible gold intercepts.
Noting that these visible gold intercepts have come from drill holes targeted at extending the blue vein discovery down-dip, we expected drilling to hit gold. But the fact that we can see it in the drill cores is always an added bonus.
The drilling results we are more focused on will be the ones targeting EXTENSIONS to the Blue Vein discovery.
We have previously written about the potential we think the new "Blue Vein" discovery has and how the early indications are looking analogous to the SW vein (where ~144,000 ounces of TMR's current historic resource sits).
To see what we think TMR are looking for here, check out our previous note: Could the Blue Vein be a replica of the SW Vein?
Second, TMR is targeting extensions to both the "Main" and "West" veins.
Here, TMR is planning a total of 10 different drill holes all focused on extending out both of these veins.
This area has seen very little historic drilling so any new bits of information could unlock a whole new target area for TMR to focus on in the future.
Finally, the remainder of the drilling will target the "Ella Vein Zone" and more greenfield exploration drilling.
TMR is planning three drill holes to follow up a 2m intercept made at the "Ella Vein Zone" last year, and up to five drill holes southwest of the "Blue Vein" chasing new discoveries.
This is where TMR could deliver a surprise result and unlock an entirely new discovery.
We like that TMR hasn't focused all of its drilling around a single target area. This 2022 drilling program has the right balance of high risk drilling in areas previously untested, plus lower risk drilling where the company is looking to extend a known discovery.
TMR's ultimate goal for this year's program is to increase the historic resource to support the development of a high-grade mine.
According to TMR's most recent investor presentation, the company plans to put out an updated resource estimate on completion of the 2022 program, so the results of this year's drilling program could be really important.
What's happened since the last drilling season ended
Capital raise completed ✅
TMR did a small capital raise via a private placement raising CAD$1M at CAD$0.07 per share.
The placement was completed after 31 March, so the cash didn't show up in TMR's last quarterly report.
TMR showed that it had $1.5M in cash in the bank at the end of the March quarter. Combining that with the CAD$1M from a recent placement, TMR should have enough funding to at least kick off and drill some portion of its 2022 exploration program.
As with all of our exploration Investments, we don't mind seeing them do a capital raise if the market starts to show some interest in the projects they have on hand, as exploration can be a long process and take several rounds of work before anything commercially significant is found.
We would not mind seeing TMR get some of its drilling program done, get some assays out to the market and if the share price re-rates, raise some proceeds off the back of this to finance the next round of exploration.
TMR put out an updated Investor Presentation ✅
Late in the March quarter, TMR released an updated Investor Presentation, summarising the work done in 2021 and setting the scene for this year's exploration program.
We like to see our exploration Investments update their presentations ahead of major drilling programs like this - it helps put into context what the companies are chasing. To view TMR's latest presentation click here.
Phase 2 exploration results from its Ecuador gold project ✅
Just a few weeks back, TMR also provided an update on fieldwork completed at its Ecuadorian gold project.
We covered that fieldwork on the day of the announcement with a Quick Take, which you can read here: Geochemical sampling highlights two gold/copper anomalous zones
With this, TMR effectively ticked off key objective #3 from our 2022 TMR Investment Memo - to see the company restart exploration at the gold project in Ecuador.
We will wait and see what else comes of this, but our core focus remains very much on the company's Canadian gold project.
What's next for TMR?
30 hole (8,500m) drilling program at TMR's Canadian gold project 🔄
As of Tuesday, TMR is three holes into its 30-hole 2022 drilling program.
We've seen the first batch of visible gold intercepts from the program and hope to see more from the remaining ~27 drill holes in this year's drilling program.
We would classify TMR's 2022 drilling program as a success if the company shows that the Blue Vein discovery extends both down-dip and along strike, and if it can show any newly discovered gold structures across its project area.
Below are the milestones we will be tracking for the drilling program:
✅ Drilling program commencement
🔄 Drilling results
Assay results 🔲
Ultimately the determinant of success will be whether TMR intercepts high grade gold structures.
Given TMR is targeting thin gold veins, our focus will predominantly be on the grades of mineralisation.
We think that anything that comes back above ~4-5g/t of gold will mean TMR could be onto something commercially mineable.
This news is likely to come much later in the year given that the drilling program has just started but we expect to start seeing this in Q3-4 of this year.
Our TMR Investment Memo for 2022
Below is our 2022 Investment Memo for TMR where you can find a short, high level summary of our reasons for investing.
The ultimate purpose of the memo is to record our current thinking in order to benchmark the company's performance against 12 months from now.
In our TMR Investment Memo you'll find:
Key objectives we want to see TMR achieve in 2022
Why we invested in TMR
What the key risks to our investment thesis are
Our investment plan
---