US braces for Russian Cyber Attacks in Response to Sanctions
Disclosure: The authors of this article and owners of Next Investors, S3 Consortium Pty Ltd, and associated entities, own 4,385,547 WHK shares at the time of writing. S3 Consortium Pty Ltd has been engaged by WHK to share our commentary on the progress of our investment in WHK over time.
Media has been reporting that sanctions placed on Russia by the US in the last 48 hours have sparked the real threat of imminent Russian cyber attacks on the US.
Our cybersecurity investment Whitehawk (ASX:WHK), is a US based cybersecurity technology provider servicing US federal government agencies, defence and large corporations.
US president Joe Biden at 5am this morning announced that "For months, we have been working closely with... the private sector to harden their cyber defences, sharpen our ability to respond to Russian cyberattacks as well"
We have been invested in WHK's cyber security tech since 2019, calling it our 2019 Tech Pick of the Year.
WHK's share price had a decent run during 2020 and into 2021, but a couple of key contract delays, which WHK said was due to the pandemic, has seen the share price come back from hovering in the 20c to 30c range to around 11c recently.
We think this new and imminent cyber attack threat on the US could accelerate new contract signings in WHK's contract pipeline, which we would expect to translate into improved share price performance for WHK.
We purchased an additional 1.3 million WHK shares on market at 16.77c back in November in the anticipation that some of the contracts in the pipeline would finally start coming in...
Prior to this new cyber threat, WHK foreshadowed a contract with a "global social media company" and confirmed it was a US$1.5M per year contract via its website and response to an ASX query a few days ago - hopefully this is the first of a couple of big contracts we will see from WHK in 2022.
In December WHK provided a revenue projection of 180% increase, which hasn't fully materialised in the time before the annual reporting deadline today.
However, we think these key contracts will start coming faster now that the situation between Russia and the Ukraine has escalated in the last 48 hours and urgency to secure US cyber defence is heightened.
Today we are releasing our 2022 Investment Memo for WHK, which will cover what we want to see WHK to deliver during 2022 in order to re-rate the share price back to its past highs.
Again, we think WHK is uniquely placed to secure contracts in the rapidly evolving cyber security landscape - a landscape that we think will inevitably get more dangerous and complex in the coming months.
Russian state-sanctioned cyber aggressors have shown a clear penchant for launching cyber attacks against western governments and companies in the past, and this is only likely to ramp up in the coming weeks and months.
We believe an increasing threat of Russian cyber attacks on the US will quickly feed into WHK's revenue growth over the coming quarters, and fast track contract signing that had previously been delayed or stalled.
We recorded this 20 second snippet from President Joe Biden's address to the nation, stressing that the US is beefing up its cyber defence in anticipation of Russian cyber attacks:
A quick Google News search for "cyber attacks on USA" yields many mainstream new articles in the last 24 hours forshadowing Russian cyber attacks, which we think will stoke the demand for WHKs cybersecurity solution in the near term:
WHK has spent years cultivating relationships and contracts with US federal government departments.
Due to the sensitivity of cybersecurity, WHK generally cannot share the names of the US federal departments, companies and organisations it contracts with - and this opaqueness can be frustrating for investors.
As long term holders of WHK however, we're used to not seeing the names of the entities WHK contacts with - but we do have clearly defined expectations about what we want to see WHK achieve in 2022.
With this macro theme of cyber attacks against the US unfolding, we think 2022 could finally be the year that WHK experiences the accelerated growth we have been waiting to see.
Here is the reasons why we continue to hold WHK in 2022:

Today, we'll take the opportunity to share what we expect from WHK in 2022 by launching the rest of our WHK Investment Memo:

WHK's progress on key objectives for 2022
The number one key objective that we wanted to see WHK deliver in 2022 is more contracts, partnerships and proof of concepts.
In our opinion, WHK needs to deliver these objectives to see its share price re-rate to previous highs and beyond: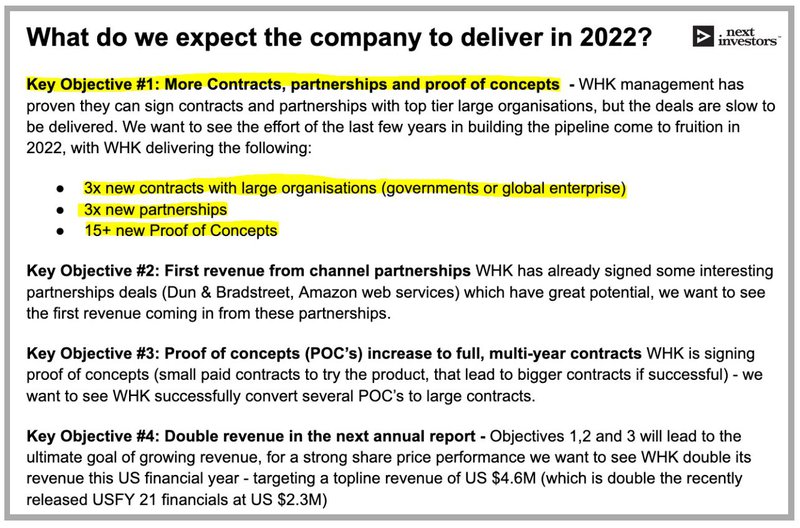 Prior to today's annual results, WHK announced via its website, and a response to an ASX query, a $1.5M deal with a global social media company - securing the first of three contracts with large organisations that we want to see this year.
As for partnerships, the annual results noted that WHK engaged Mastercard (~US$361B market cap) and are being vetted to become a "capability partner of the global Mastercard Trust Center."
So that is one of the contracts secured and one of the three partnerships in the pipeline.
The next thing we're looking for is 15+ new Proof of Concepts - these Proof of Concepts allow clients to experience WHK's risk identification, ability to scale, and prioritisation and mitigation automation.
While taking longer than WHK's old process, it has already resulted in larger contracts.
Proof of Concepts are demonstrations of what WHK can do for a company and part of the qualification process for signing large new contracts.
While today's annual results don't mention a specific number of in-progress Proof of Concepts, it does note that WHK's Proof of Concepts are "continuing to penetrate new markets and sectors."
These engagements now make up the majority of WHK's Cyber Risk Radar contracts - in other words WHK starts with the 'taste test', progressing to the full meal once it can show the value behind its product.
We expect additional newsflow around new Proof of Concept engagements in the coming months.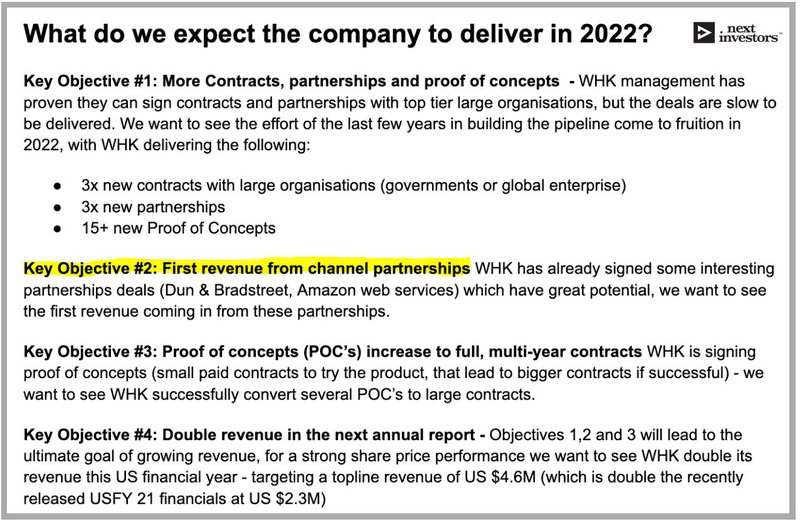 Today's annual results also indicate progression towards WHK's second key objective - specifically, integration with Amazon Web Services and an initial contract with Dun & Bradstreet for a one year, and four optional years, "Cyber Compliance '' reports and 2,500 annual licences.
WHK expects sales and marketing efforts from the Dun & Bradstreet partnership to commence in February/March - so this is happening right now and we want to see revenue derived from these efforts.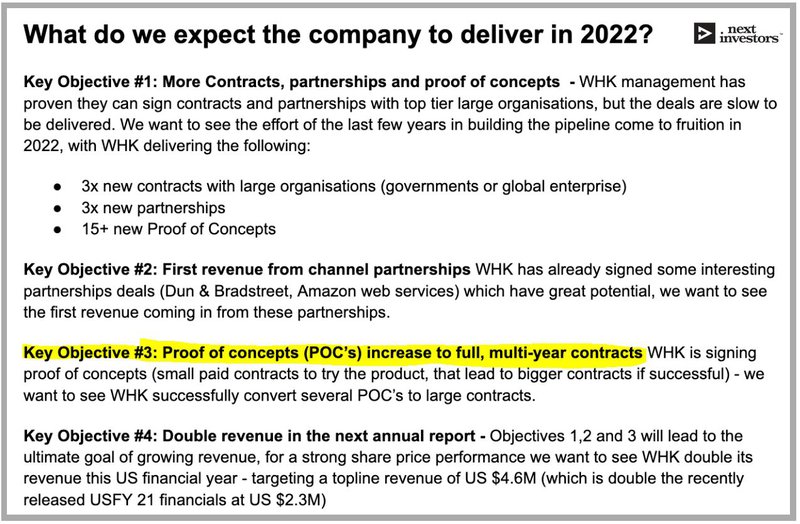 While the annual results excluded any discussion of the deal signed with a global social media company, we believe this deal is evidence that WHK is getting traction with its Proof of Concepts. Here's more on how WHK's latest major deal advances the third key objective...
Our memo also includes the risks

WHK's deal with a global social media company
A few readers have emailed us regarding a post on WHK's website about a new US$1.5M contract with a global social media company.
In that post from February 10th, WHK announced a US$1.5M deal with a global social media company.
The announcement led to a trading halt and some back and forth between the ASX and WHK, which we won't speculate on or wade into.
The key thing from the announcement however, is that it shows WHK's business model in action.
WHK engages a company in a Proof of Concept and then progresses to a much larger contract.
Given the lack of announcements over the past year and corresponding erosion of the share price, we believe that the stock could be finally ready to move as it's largely just rusted-on long term holders like us that are still onboard.
As a result, we believe new contract signings (such as the global social media company deal) or notable Proofs of Concept signings could inject some life back into the stock.
WHK has a highly experienced management team, and enviable contracts with multiple US federal government departments and leading US institutions — including Fortune 500 companies. And while having covered the story since January 2018, it remains one of our favourite investments.
Since we named WHK our 2019 Pick of the Year, we've topped up on WHK shares no fewer than four times. Despite the share price's slide in 2021, we maintain confidence in WHK's management and their ability to network and deliver significant deals, particularly with highly sensitive US government departments and major institutions.
Here are some of WHK's other major deals it's announced in the last two years:
7 year contract with the US Federal Department of Homeland Security - (DHS) CISA QSMO Cybersecurity Marketplace, as sub-contractor to Guidehouse for US$1.5M to US$1.8M fiscal year 2021.
Prime Contractor on a U. federal government department contract - Chief Information Security Officer (CISO) Cyber Risk Radar contract for base year and 4 option years, worth up to US$1.18M annually.
2nd contract with US federal government department CIO - WhiteHawk's Cyber Risk Policy subcontract length is 5 years (1 year with 4 option years). Second full year (12 month) revenue to WhiteHawk is expected to be between US$300K to US$500K and is subject to refinement by the prime contractor and government customer.
Defence Industrial Base (DIB) company : a total of over US$700K - comprehensive annual subscription contract put in place with a top 12 U.S. DIB company for 150 suppliers and vendors.
Cybersecurity macro theme media review
For now, we think WHK investors are primarily focussed on revenue growth.
Simmering below the surface however, are powerful macro forces in the world of cybersecurity.
You've likely seen the headlines - major data breaches, malware, ransomware - the world of cybersecurity is one of the most relevant investment themes of today's data-driven world.
In a world where security and peace of mind attracts a high premium, we expect defence stocks like WHK to garner more investor attention, deal flow to improve and revenues to increase.
We think WHK is uniquely placed to secure contracts in the rapidly evolving cyber security landscape - a landscape that we think will get more dangerous and complex in the coming months.
Russian state-sanctioned cyber aggressors have shown a clear intention towards launching cyber attacks against western governments and global companies.
With the recent invasion into Ukraine, and subsequent US-led sanctions on Russia, we believe that this will likely to ramp up in the coming weeks and months.
This type of "hybrid war", where there is both a real life battlefield and a digital battlefield, may well be the new normal.
With this in mind, we've compiled a quick media review of the current state of cybersecurity below:

Key takeaways:
Russia has a long history of retaliatory cyber attacks
Financial institutions and infrastructure could be main targets
Any shared military intelligence gathering capacities between Ukraine and US could be subject to attack

Key Takeaways:
Good quote: "We all recognize that early warnings of a cyberattack effecting U.S. organizations are frankly going to be identified by very likely a private company first rather than the government."
Planning for "worst case scenarios" are underway

Key takeaways:
US cyber security "counter attack" is possible
Risk of escalation in a back and forth cyber war
Biden to choose from a "menu" of options
Bearing in mind that this is only a small sample of a large volume of media surrounding the cybersecurity macro theme at the moment, we're keenly anticipating what the coming quarters hold for WHK.
If you are new to WHK or want to get a quick high-level summary of why we hold WHK in 2022, what we expect them to achieve this year, key risks and our investment plan simply click the button below:

---