TMR Observes Visible Gold over a 2 metre Interval - Assay Results to Follow
PUBLISHED: 16-12-2020 10:46 a.m.
Tempus Resources (ASX:TMR) has sighted visible gold in its latest round of drilling, at its 100% owned Blackdome-Elizabeth Gold Project, located in British Columbia, Canada.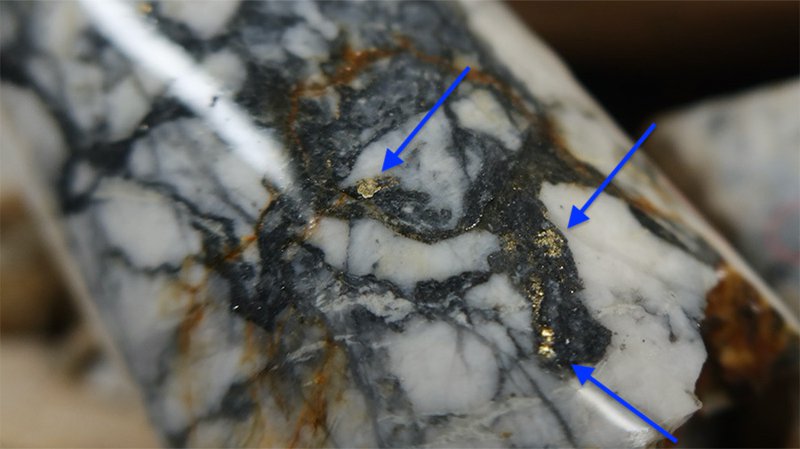 The above image shows visible gold observed in drill hole EZ-20-06. Visible gold was sighted over a 2 metre interval.
TMR has significant momentum running into 2021 - the company still has 4,000m of diamond drilling planned for early next year.
The company is also awaiting assay results from the first four drill holes comprising 2,000m of diamond drilling.
Given the sight of visible gold, we are looking forward to seeing what the assay results can deliver.
TMR Executive Director Brendan Borg spoke exclusively with Next Investors about the visible gold:
TMR recently raised C$1.25MN at C$0.265 per share (approx A$0.28 share) - this is at a premium to its current share price, ensuring the company remains well funded as drilling continues.
The funds came from institutional investors, including a number of North American investors and certain funds managed by Sprott Asset Management.
Prior to today's open, TMR was trading well below that price, which means retail investors have the opportunity to take a position at a cheaper price than those institutions.
As part of that capital raise, Tempus Resources is now listed on the TSX Venture Exchange - under the ticker TSX-V: TMRR.
Given the location of TMR's Canadian project, it made sense to dual list in Canada. A Candian listing opens up strategic funding and capital from local investors. Canadian investors are world renowned for their appetite from small cap gold and silver stocks - much like the ASX.
Today's news of visible gold is excellent for the company and those long term investors who have closely followed our coverage.
We first alerted readers to our investment in TMR in February 2020.
In September when it was trading at around $0.35, we increased our position. That followed an August capital raise of $2.5M at $0.31 per share.
TMR is currently trading at around our original entry point of 20c and below our average entry price - but as you can see by the milestones above, the company has made significant progress since that time.
Today's news is a big deal for the company, and demonstrates that TMR is on the right track.
Today's news sets up a big 2021
TMR owns 100% of the Blackdome-Elizabeth project, located in a prolific gold producing region of British Colombia in Canada, and is where the company is actively drilling.
The project had historical production of over 230,000 ounces, and comes with a permitted, and previously producing mine, a mill, and a tailings storage facility.
In its last round of drilling, TMR identified broad, near surface gold and silver mineralised zones, and intersected high grade veins.
Drilling continues to provide evidence of the size of the mineralised system, and will feed into the pending Mineral Resource update - an important catalyst to come.
Today's drilling update focuses on an interesting part of the resource as the South-west Vein, which hosts the majority of the historical NI43-101 Mineral Resource, comprising 522,843 tonnes grading 12.26 g/t gold for 206,139 ounces of contained gold.
TMR's goal was to focus on verifying and expanding the historical high-grade Mineral Resource at the project by drilling extensions to existing mineralisation and other high priority targets within the 350 square kilometre licence area that remains relatively unexplored.
Given the presence of gold and silver mineralisation identified during previous exploration, this was shaping up as a highly anticipated drilling program.
Note, further credence is given to today's news with gold and silver both trading well above long-term averages.
Gold in particular is up 1.3% or US$24 per ounce overnight at US$1856 per ounce.
Companies such as TMR which are exposed to this precious metal could finish the year on a high note.
Visible gold
Diamond drilling at the high-grade Elizabeth sector of the project has now been completed for the 2020 field season.
A total of 12 diamond drill holes as shown below were completed totalling 2,006 metres.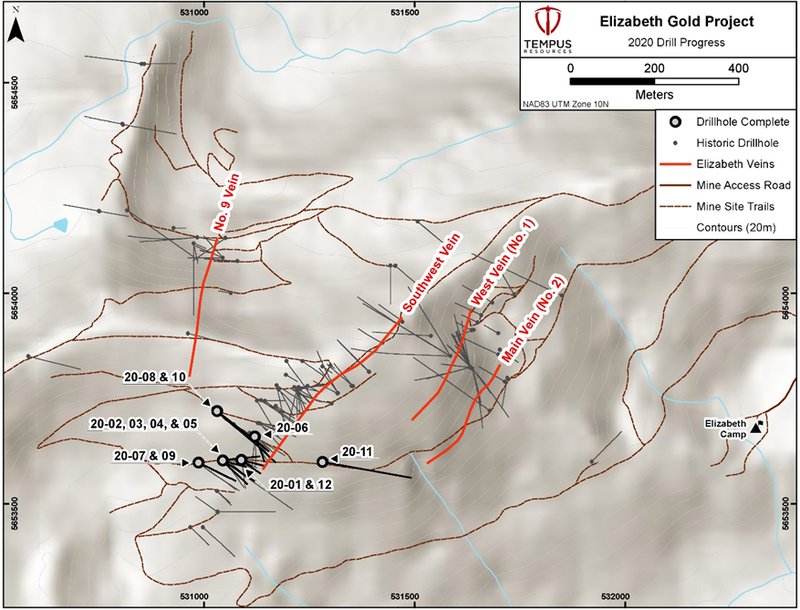 The remainder of the planned 6,000 metres of drilling will commence in the Canadian spring of 2021, however the first four drill holes are now undergoing analysis, and assay results are expected early in 2021, which could provide TMR with its first catalyst for the new year.
TMR has provided the following data leading into 2021.
Visually, the drilling has been very encouraging with management noting that infill hole EZ-20-06 intersected the SW Vein from 116.00 metres to 121.5 metres downhole with visible gold observed over approximately two metres of core length within the quartz vein interval.
Here's that gold picture again: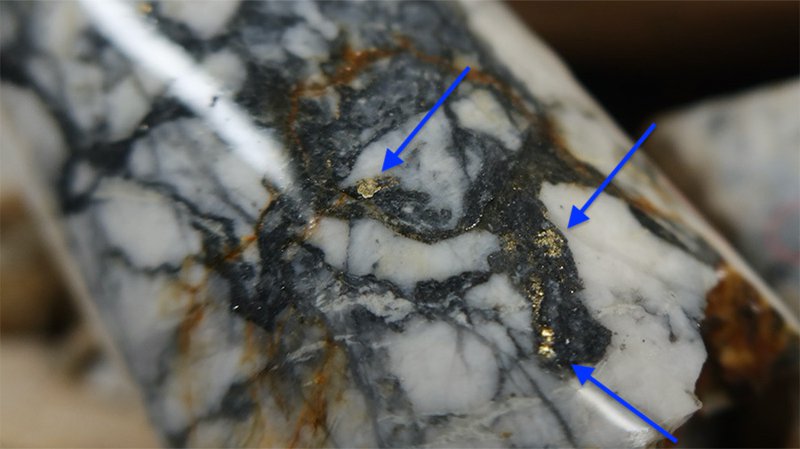 Tempus has made significant ground since starting the drilling campaign in the second half of 2020 and is now looking toward a resource upgrade.
Resource update in 2021
Tempus remains leveraged to a metal that is still very much in favour - gold.
That is on top of a number of catalysts on the horizon for 2021, including a resource update.
Given its current market cap of just $17M and share price of 21 cents, TMR could well be at a compelling entry point for investors ahead of newsflow.
Assay results should be a big share price driver for TMR in 2021, and if it is able to release an updated resource estimate, which is expected in March, this could really continue to enthuse the market.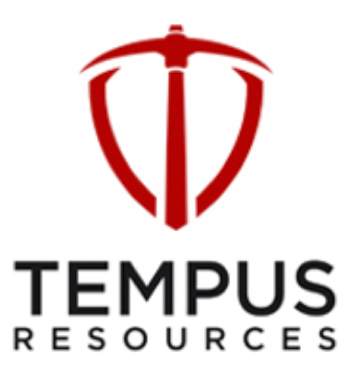 Tempus Resources
ASX:TMR
---