Revenue-Generating Tech Play with Government Contracts on Critical Mission to Tap Global US$100B Drone Opportunity
PUBLISHED: 29-10-2018 10:08 a.m.
The nimble ASX small-cap on our radar today is an Israel-born tech junior that designs, develops and markets solutions for mission-critical applications without the need for any existing infrastructure — no satellites or phone towers required. All it needs is broadband data and an IP network.
Its diverse product portfolio and cutting-edge technology under its two business divisions – Mobilicom and SkyHopper – are based on an innovative approach that merges 4G communication with mobile mesh private networking technologies into a unified, seamless solution.
This technology approach, in turn, has attracted high-impact partnerships with government and major global players, including the likes of ExxonMobil, Honeywell, Israel Aerospace Industries, Rafael Advanced Defense Systems, NTT Group, Eca Robotics and Elbit Systems.
It's been used in government, military and enterprise applications, offshore oil and gas, homeland security and public safety sectors.
Also providing a big tick of confidence are the company's healthy financial specs, with $6 million in the bank and a net cash burn rate of only $0.6 million.
In its last quarterly, the company reported cash receipts 73% higher than a year ago as it worked across several global projects.
With a market cap of just $18.25 million and an enterprise value (EV) of $10.53 million, this ASX tech stock could well be undervalued, making for a strategic entry point into the rapidly expanding frontier tech space.
Its technology, which is backed by the company's patent holding and know-how, has won ten innovation grants from Israel, the EU and international consortiums. This focus on the government and enterprise sector forms the basis of this company's first business entity, the revenue-generating Mobilicom.
The solution has already been successfully field-tested and deployed in Israeli federal government and homeland security operations and has been validated by the Israeli Ministry of Defence, with whom the company scored a substantial government contract in September after making an initial purchase order of $200,000.
On top of its Mobilicom entity, the company's fully owned technology also comes into play in its earlier stage, rapidly growing SkyHopper business, which provides end-to-end hardware and software solutions for the commercial and industrial drones and robotics sector. SkyHopper is used as a communication solution for control, telemetry and video or payload sharing to and from the drone platform to the ground control systems and users.
SkyHopper's holistic approach enables drone manufacturers and service providers to focus on their own business objectives by reducing time-to-market, minimising resource expenditures and increasing their chances for success.
The SkyHopper division has gone from concept to business success in just one year, already exceeding its aggressive first year goals, and is expected to be soon generating revenue.
Fuelled by mounting demand in the commercial and government sectors, the global drone opportunity is expected to hit US$100 billion by 2020, according to Goldman Sachs.
Earlier this month, the company revealed that aerospace giant Airbus (EPA:AIR) has chosen the SkyHopper solution to be integrated into its drone innovation platform — making for crystal-clear endorsement of the company's high-calibre tech.
The €75 billion capped Airbus is using the SkyHopper Pro Datalink — which provides a two-way data link for commercial and industrial drones — with its mission-specific software and accessories.
Further to that, today's company's tech has been tested and accepted by 50 customers and corporate partners in more than 15 countries, including Japan, China, France, USA, Germany and Israel.
Tech validation has also come by way of successful field trials in Sri Lanka and the Czech Republic earlier this year — critical milestones for this fast-moving company.
There's clearly a lot to take in here, so let's unveil:

Fast-moving small-cap Mobilicom (ASX:MOB) has actually been on our radar before here at The Next Tech Stock, albeit briefly. The company first caught our eye in August, when we looked at frontier tech-focused funds manager, Auctus Alternative Investments (ASX:AVC).
MOB is one such frontier tech investment that passes AVC's rigorous screening process. For another piece of crossover, AVC managing director, Campbell McComb, is also a director of MOB.
With that seal of approval, MOB is a hi-tech telecommunications innovator that hails from the globally recognised Israeli tech ecosystem. MOB only made its ASX debut last year, but it's no tentative start-up.
MOB comprises two separate business entities.
The first is its heritage Mobilicom business, with solutions that cater to mission-critical communication in the government and enterprise sector, with applications in offshore oil, gas and energy, homeland security, defence public safety and unmanned vehicles.
This first business division is already profitable and generating revenues.
The second business is MOB's SkyHopper entity, which provides end-to-end hardware and software solutions targeting the commercial and industrial drones and robotics sector. This earlier stage business line is expected to be soon generating revenue, and is growing rapidly.
This is what the underlying structure looks like:

The business as a whole reported sales of $2.5 million over the last nine months — 73% higher than a year ago.
MOB is growing quickly
With a strong cash balance of $6 million, MOB is in a sturdy position to ramp things up across its business lines, and has already made impressive progress in a relatively short space of time. It's built its next level of growth across both divisions, with several successful proofs-of-concept with key accounts in the US and Europe.
Something else worth mentioning is MOB's rock-solid leadership. The company is captained by a sharply focused management team with an extensive track-record in tech expansion.
Co-founders, Oren Elkayam and Yossi Segal, each have a long history working in the tech space. The duo worked together at Segal's former telecommunications business, Runcom, which won heavyweight clients like Mitsubishi, Motorola and Alcatel-Lucent, and grew to some $24 million in revenue under their leadership.
A brief glance at MOB's newsfeed also suggests that this company has been sparking quite a bit of attention...
For instance, the Australian Financial Review covered MOB's highly coveted ASX debut last year: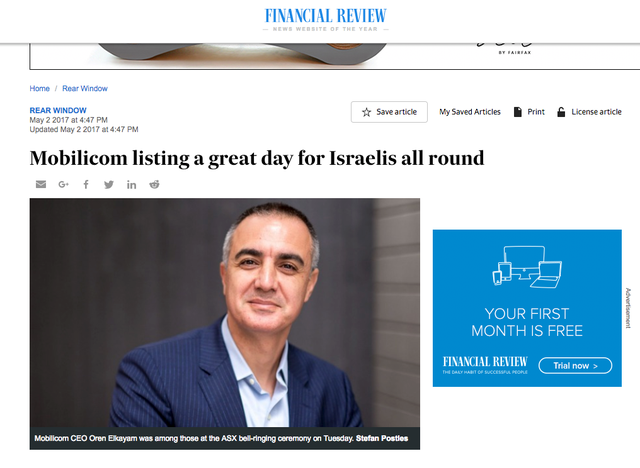 In August this year, Technology Magazine reported on MOB's collaboration with three new drone ecosystem partners:

Then, in September, CEO Elkayam was interviewed by Robotics Business Review...

Israel's Globes also showed interest in MOB's aforementioned Airbus deal earlier this month: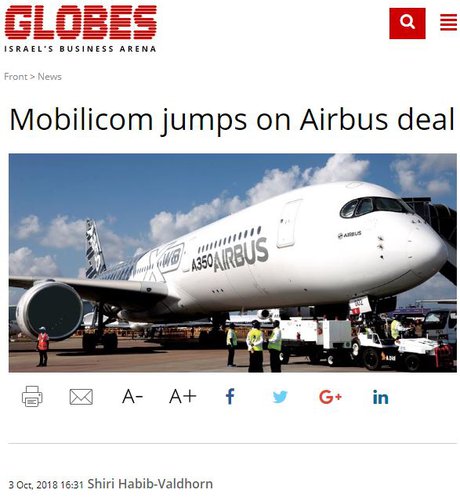 ...As did Geospatial World: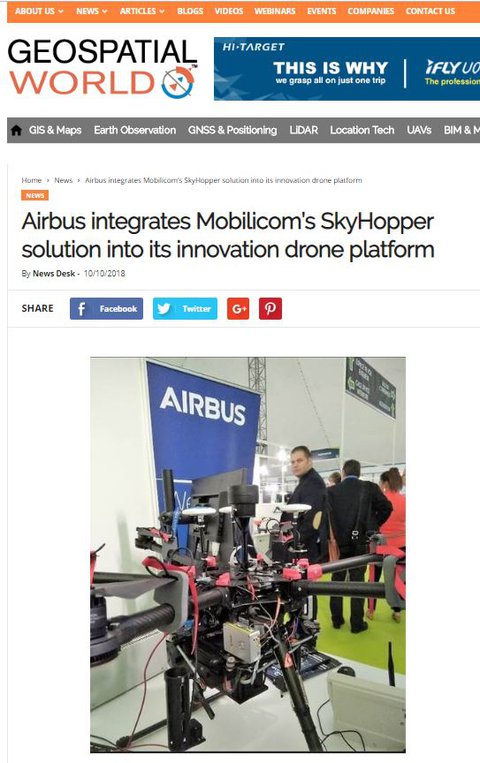 And that's really only a taste of the coverage that the MOB tech story has been drawing.
So what is it about the tech that is garnering such wide attention?
On a critical tech mission
MOB's technology, used in both business divisions and across its product portfolio, is based on five key pillars:
No infrastructure — delivers 4G / mobile mesh wireless communication without the need for any infrastructure, thereby enabling greater flexibility and the ability to deliver its technology in ad-hoc and mission-critical situations.
No single point of failure — all units are connected to each other, ensuring connectivity in even the harshest conditions.
Triple layer security:

Advanced security standards AES128 & AES256.
Allocated space within the CPU for any security software of the customer's choosing.
MOB's proprietary encryption technology.

Flexible and scalable — Every component is designed and developed in-house, enabling the utmost flexibility and scalability.
Ultra-high mobility speed — MOB offers solutions that are designed to operate in ultra-high mobility speed environments of up to 800Km/H.
Also worth mentioning is MOB's well-defined triple-layer revenue model, which includes gross margins on hardware sales, recurring software licence fees both NMA and EMA), and annual recurring support and software upgrade fees. Simple, but effective.
A broad idea of MOB's offerings, bearing in mind the scope for versatility we mentioned earlier:

MOB currently has 10 different products on the market and its tech has been tested and accepted by more than 50 customers and large corporate partners in more than 15 countries, including ExxonMobil, CETC, NTT, Israel Aerospace Industries, ECA Robotics, Elbit Systems, Rafael, and Honeywell. It also has strong collaborations in place with universities and research institutes.
This year, MOB has hit some major milestones in validating its tech. Successful field trials have been conducted in Sri Lanka and the Czech Republic, and it's also adapting the solution to other countries with similar needs.
MOB has also been hard at work expanding its business offering, moving towards software solutions and releasing its Network Management Application (NMA), as well as its new mobile mesh network solution for underground operations.
The government & enterprise piece of the puzzle
When it comes to MOB's government and enterprise work, typical customers include maritime and off-shore, disaster relief and public safety providers, unmanned platforms, security and surveillance, and transportation systems (especially rail).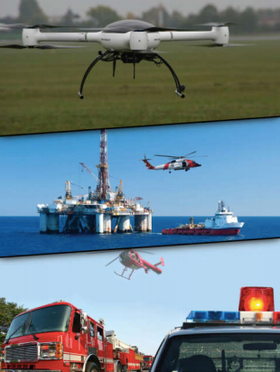 Notably, all of these applications involve situations that call for MOB's 'making impossible mission-critical communications possible' approach.
An example of MOB's wireless mobile network is seen in this kind of context: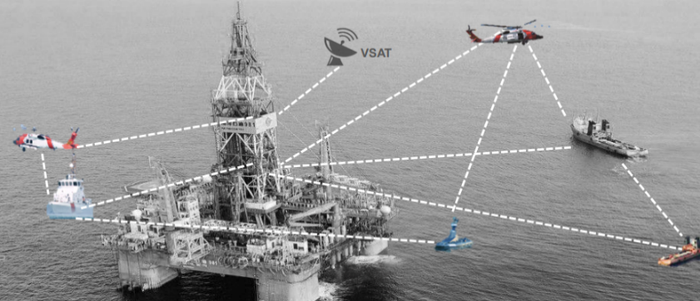 This focus is a strategic one. According to MOB, the industrial services and security market sits at around $100 billion and is rapidly expanding.
MOB's unique solution comprises its MCU and Mini Controller products, which address a series of unmet needs in the government, enterprise and homeland security sectors, and has specifically been designed to be deployed in these operations. Consequently, MOB's solution delivers the high levels of security, encryption and protection that's required in this space.
As we mentioned earlier, the solution has already been successfully field-tested and deployed in Israeli federal government and homeland security operations, and has been validated by the Israeli Ministry of Defence.
Speaking of which, MOB recently secured a sizeable contract with the Israeli Ministry of Defence, with an initial purchase order exceeding $200,000 — making for a big endorsement for MOB's razor-sharp tech and bringing with it an immediate revenue stream.
The contract pertains to a complete avionic kit and controlling system developed by MOB using its MCU and Mini Controller products.
Given MOB's position as sole provider on this contract and discussions to date, it expects to receive additional purchase orders in the near future. There's also excellent potential here for other significant international opportunities.
Flying high — the US$100B drone opportunity
Before we get into the nitty-gritty of MOB's SkyHopper business, it's worth taking a moment to set the scene by looking at the rapidly growing drone market.
Put simply, a flying drone is an aircraft without a human pilot aboard — which explains their alternate name as unmanned aerial vehicles (UAV).
Drones have been used by the military for years as a safer, cheaper alternative to manned aircraft. They're still used for military purposes today, but are now also consumer mainstays and purveyors of commercial operational efficiency. We're seeing a significant increase in flying drones for commercial use and in our own personal environments.
The usage of drones in business operations has broadened in different industries in the last few years, driven by their ability to drive efficiency and data analytics.
Canny companies like UberEats are quickly honing in on these kinds of benefits...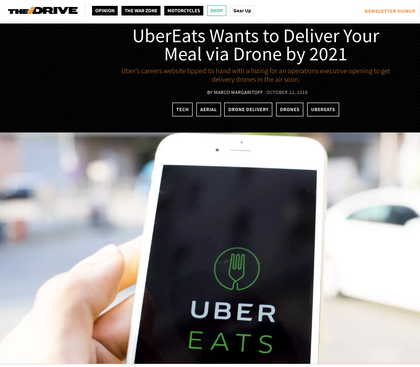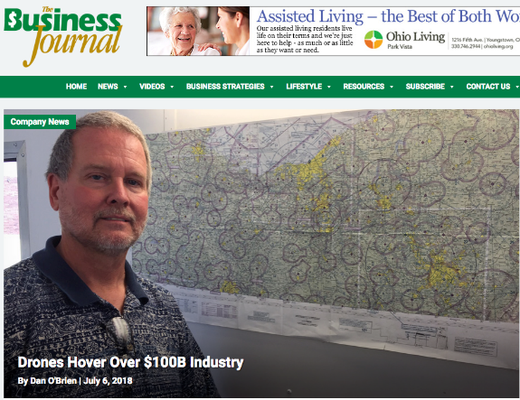 Venture capitalists (VCs) have invested a total of US$1.5 billion since 2012 in drone commercial start-ups that are shaping the industry.
As we touched on earlier — and as the Business Journal headline above alludes to — Goldman Sachs predicts that a US$100 billion market opportunity for drones will emerge between now and 2020, helped by growing demand from the commercial and civil government sectors.
It's also worth noting that the commercial drone industry is still young, but shows distinct promise as sales are set to ramp up in the not-so-distant future.
McKinsey estimates that by 2026, in the US alone, commercial drones – both corporate and consumer applications – will have an annual impact of US$31 billion to US$46 billion on the country's Gross Domestic Product.
This Forbes article puts the size and impact of the commercial drone market into further perspective: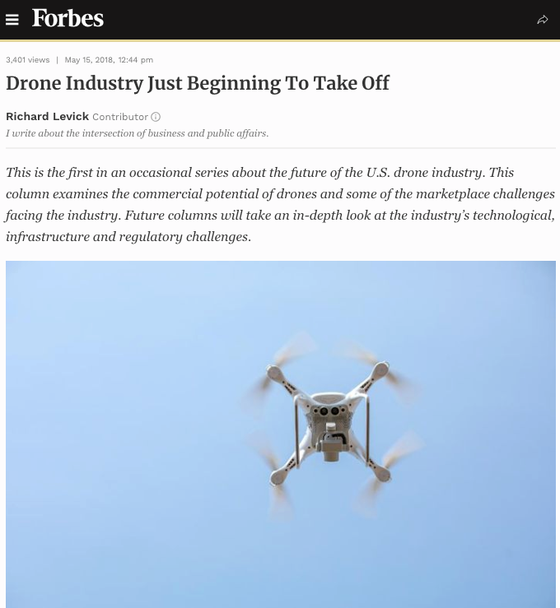 Here's MOB's Oren Elkayam again, talking to CNBC about the drone industry's potential, especially as it relates to SkyHopper: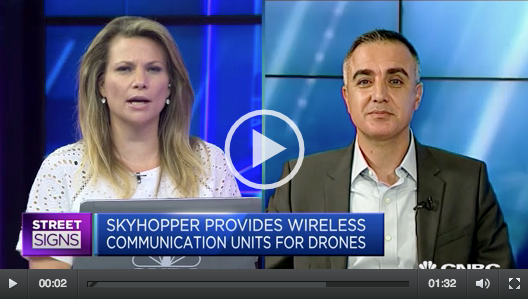 With all of that in mind, MOB has dedicated its newest business to this thriving drone industry with seemingly impeccable timing.
Mobilicom sends in the drones with SkyHopper
MOB's SkyHopper business provides end-to-end hardware, software and integration services for commercial and industrial drone manufacturers. It leverages MOB's core technology as well as Mobilicom's success in the government and enterprise market.
With field-proven, cutting-edge tech, SkyHopper has a wide-reaching product portfolio and proven compatibility with many ecosystem components such as flight controllers, payloads, and mission planner software.
Here are some SkyHopper commercial drone and robotics applications: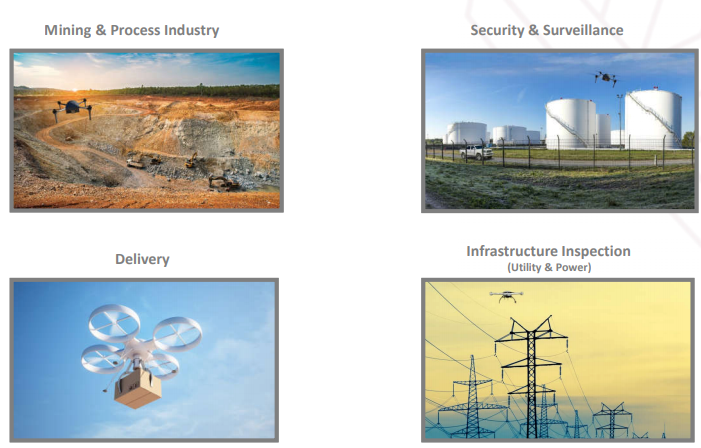 As we've noted, SkyHopper is the newest leg of the MOB machine at only 18 months old, but it's growing rapidly, having moved from concept to business success in just one year, exceeding its aggressive first-year goals, and securing design wins in strategic markets.
MOB has released five drone related products to date, which are certified in Europe, the US and Japan. It has engaged with over 100 drone manufacturers — over 60 of those are in proof-of-concept testing, and 50 have bought and made prototypes.
The SkyHopper system includes communication data links (SkyHopper PRO, SkyHopper One), video processing and analytics (SkyHopper PRO V), content consumption systems (SkyHopper VU), and controlling systems (SkyHopper ControlAir).
Since SkyHopper's inception, the company has also been making good on its global expansion strategy and forging multiple strategic partnerships that reinforce its high-quality tech capabilities — too many, in fact, to detail comprehensively here.
Here's an outline of the positive SkyHopper developments MOB has unveiled since the beginning of the year: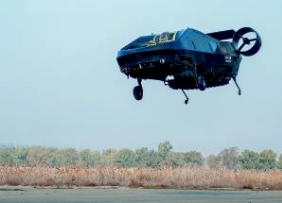 With that kind of growth already behind it and plenty more in the pipeline for the months ahead, MOB expects to be generating revenue in the not-so-distant future with its fast-moving SkyHopper business.
Blue skies ahead for one high-flier
MOB is clearly is a company that likes to keep itself busy — and there's plenty more to look forward to in the months ahead as it continues to grow its two businesses and clinches more in the way of pivotal deals.
Targeting two multi-billion-dollar markets — the government and enterprise sector with its first Mobilicom business, and the drones and robotics market with SkyHopper — the sky is really the limit for this agile ASX tech stock.
As you can see, MOB is making excellent progress in a relatively short space of time, and if it keeps up this kind of strategic work, it shouldn't be long before forward-focused investors cotton on to the full impact of this tiny $18.25 million-capped tech stock — one that is arguably undervalued, given its sharply honed tech assets and high-level partnerships.
---