One ASX Listed Gold Explorer Wants to Create its Own South American Dynasty
PUBLISHED: 26-02-2019 10:17 a.m.
Peru is the biggest producer of gold throughout Latin America.
It is ranked sixth globally and that's not taking into account that Peru is believed to have the largest potential for unexploited gold deposits yet be fully explored.
The country produces 150 metric tonnes of gold per year and is host to the $19.4 billion capped Newmont Mining Corporation's (NYSE:NEM) Yonacoda Gold mine located in the north.
Though it has its challenges, namely the devastation caused by illegal gold mining, miners with an ethical mindset can do very well.
Certainly one ethical ASX small cap has its eye on a lucrative Peruvian prize and may now have major assets in Ecuador too.
This company's ambition in the region was on full display yesterday, following the announcement that it will enter into a merger with a Canadian listed company, creating a diversified Latin America-focused ASX-listed gold company with a robust portfolio of exploration and production assets.
These assets will be spread through the emerging mining jurisdiction of Ecuador and the well-established mining jurisdiction of Peru.
Some of the highlights investors will see from this merged entity include:
Access to a robust portfolio of high-grade gold exploration projects in Ecuador and Peru, including a high grade foreign (non-JORC) mineral resource estimation comprised of an estimated 1.0 million oz gold @ 4.6g/t gold (Measured & Indicated) and 1.1 million oz gold @ 4.4g/t gold (Inferred) in the Dynasty Goldfield project
Diversified asset base
Stronger Board and management team
Enhanced capital markets presence
Increased trading liquidity in a larger pro-forma company, with enlarged shareholder base
Strong re-rating potential in-line with ASX-listed precious metal peers.
Importantly, A$20 million of additional capital is to be financed prior to closing the merger, which will enable this company to undertake a robust drilling program to unlock the value of the exploration assets it will have at hand.
There are further benefits which we will cover in-depth shortly, suffice to say that this new merged entity should be able to deliver a strong pipeline of future growth opportunities as the company looks to be a top tier producer in the region.
So who is this $66.6 million capped junior that is ready to take the next step? Introducing...
Titan Minerals Limited
ASX:TTM
Titan Minerals (ASX:TTM) will combine with Core Gold Inc. (TSX-V: CGLD, OTCQX: CGLDF) to create an emerging Latin American gold explorer that already looks comparable to some of its larger peers: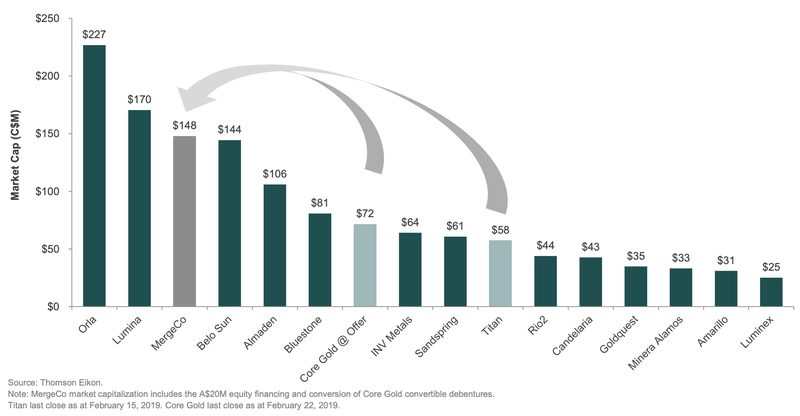 Core Gold's offer at $72 million is already edging close to the top of the pack, but the merger could see it surge higher as TTM works to realise all of the merged company's potential.
Here's Core Gold CEO Keith Piggott singing the praises of the company, how it become a partner with Ecuador, Ecuador itself, which he describes "as the place to be", and Dynasty Goldfields ...
With TTM remaining the parent company of the merged entity, it is in the box seat to not only capitalise on Core's work, as described in the video above, but also a strong pipeline of future growth opportunities.
TTM can effectively take advantage of some of Core's existing highly prospective assets including Dynasty Goldfields (the flagship project), the early stage Copper Duke Project, the Linderos Gold Project, the Zaruma Project and the Portovelo Mill.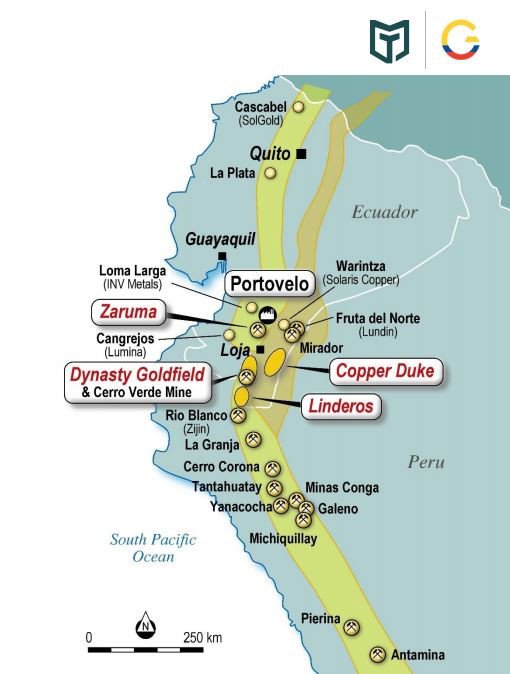 These are in addition to TTM's existing assets, the Vista Gold Plant, Torrecillas Gold Project and the Las Antes Gold Project.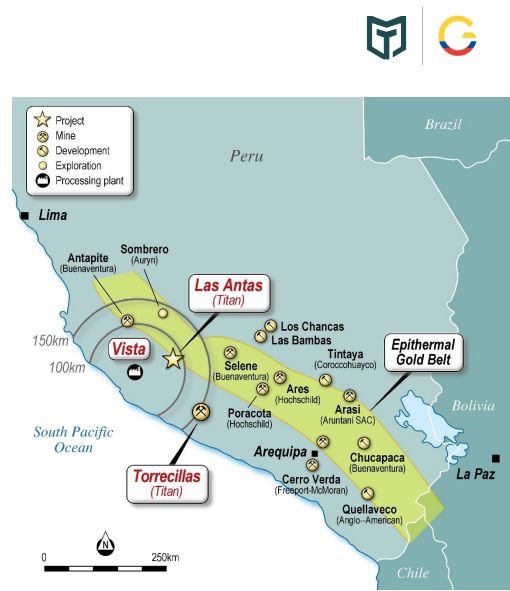 Core has already drilled 200 holes down to around 100m of depth and have a 43-110 of 2.1Moz. That sits in the oxide dirt and open pit. Of that, 1Moz is Measured and Indicated and 1Moz Inferred. TTM saw an opportunity to expand its portfolio through the merger with Core, after the Canadian company found themselves in financial trouble with the Zaruma underground mine.
Zaruma had a historical resource of 2.5Moz at 12 grams per tonne, but had developed a mine plan with incomplete drilling and information.
Core sunk US$40m into the mine and spent US$30m on the Portovello plant, but ran into trouble with a poorly planned mine design. This led to a decline in the gold grade, water issues with flooding that sunk the company and put the subsidiaries into liquidation.
TTM saw this as the perfect opportunity to create strong investor opportunities for both companies.
Considering Core was a C$480m market capped company, there is a lot of upside for TTM.
So that's the story, now let's have a look at the assets.
Creating a dynasty
This is the Dynasty Gold District: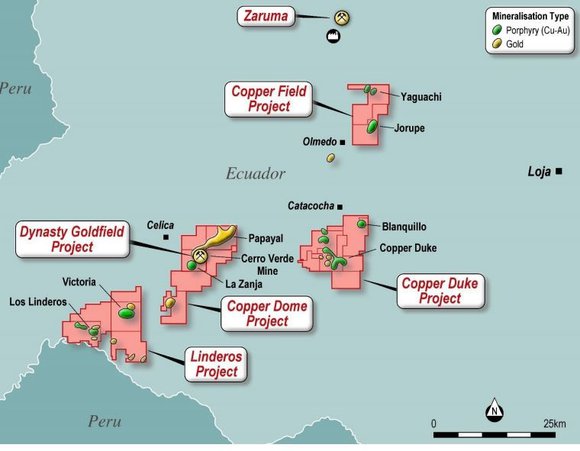 Located just 15km from the Pan American Highway, the Dynasty Gold district is currently operating as a small-scale open pit mining operation and was the first open pit gold mine permitted for production in Ecuador.
This is an advanced gold project with a CIM compliant Measured and Indicated Mineral Resource Estimate of 1,022,000 ounces gold averaging 4.6 g/t gold and 8.5 million ounces silver averaging 38.5 g/t silver.
The Inferred Mineral Resource estimate is 1,118,000 ounces gold averaging 4.4 g/t gold and 9.9 million ounces silver averaging 39.4 g/t silver.
Dynasty consists of three mining concessions at altitudes ranging from 1,100 metres to 1,800 metres above sea level and covers an area of approximately 6,700 hectares.
What is important here is that more than 120 major veins have been identified across a six kilometre strike at Dynasty. Most of these have been drilled to less than 100 metres vertical extent.
There's a JORC estimate coming for Dynasty
An updated NI 43-101 compliant technical report with re-stated (JORC 2012) Mineral Resource estimation is imminent.
Here's a look at the last Mineral Resource Estimate from October 2014:

When the update lands, it should no doubt provide a major catalyst for TTM, which through this merger now has a highly competitive project in relation to its peers.
As you can see by the graph below, Dynasty Goldfield holds up extremely well against all high grade open pit projects globally: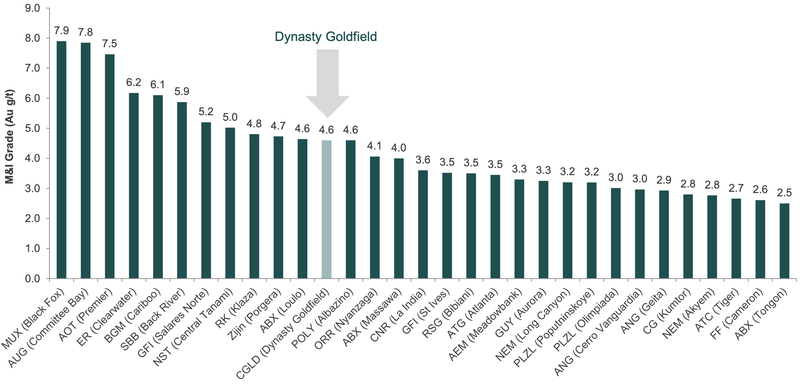 Core Gold is currently operating the Dynasty Goldfield project and processing all material at the Portovelo mill and processing plant.
The increased liquidity, access to capital and strengthening of the board, which includes the appointment of the highly experienced Laurence Marsland as chief executive are developments that add to the group's corporate appeal, suggesting that there is the prospect of the revitalised company receiving shareholder support.
This article by Finfeed.com indicates that investors have been interested since December with steady share price momentum.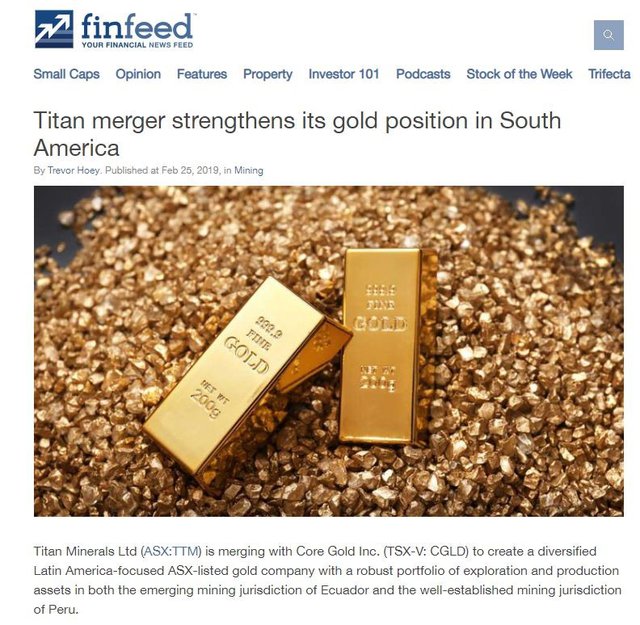 Dynasty isn't the only pick up
Whilst Dynasty is the flagship project, Linderos is another of Core's assets which could prove fruitful.
Linderos, which sounds like a jurisdiction in Game of Thrones, is located in the Province of Loja near the Peru border, boasts high grade gold at-surface mineralisation and includes a block of four contiguous concessions totalling 14,317 hectares.
It's big and looks like this: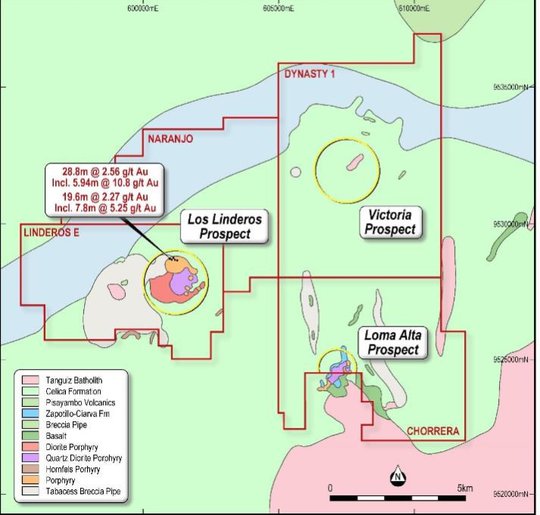 Drill results have been good so far with the stand-outs being:
5.94m @ 10.78 g/t gold (included in 28.8 m @ 2.56 g/t Au)
7.80m @ 5.25 g/t gold (included in 19.6 m @ 2.27 g/t Au)
Further results can be found in TTM's latest presentation.
The Copper Duke project lays claim to 13 contiguous concessions totalling ~13,000 hectares. This is an early stage major copper-gold porphyry complex, with large gold copper anomalies spanning more than 50km2.
Interestingly, although in a different climate, Ian Telfer was quoted as valuing Copper Duke at US$50m on its own. Remember, no drilling has been done there yet.
Finally, there is the legacy Zaruma project, which as stated has been problematic and is currently under review.
Core also brings to the table a major production asset in Ecuador, which TTM can add to its existing production asset in Peru.
The Portovelo Mill and Plant in Ecuador is the largest fully permitted Carbon-in-Pulp plant current operating in the country. It has a nameplate capacity of 2000tpd. It processes all material from Dynasty Goldfields and this year plant optimisation work could see it increase its throughput and recoveries.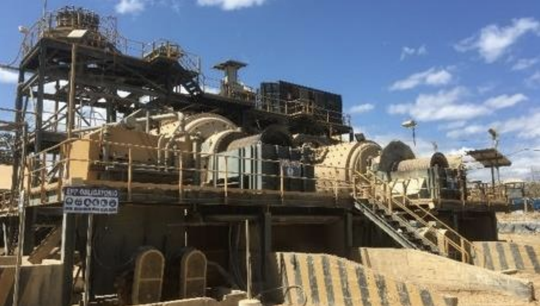 This nicely complements TTM's Peru-based Vista Gold Plant.
Meanwhile, back in Peru
Whilst we are looking at production plants, TTM has completed construction on a new CIP facility in Peru.
TTM has operated gold toll treatment plants in Peru for over eight years, including the Vista Gold Plant: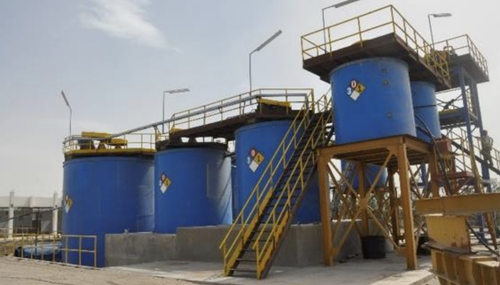 Commissioning for commercial production at Vista is now in progress with the plant slated for permitting capacity of 350tpd and a nameplate capacity of 150tpd once commercial production begins.
This is located in close proximity to other gold producers in the region, which could be a major factor in the company's growth in future.
TTM has two exploration projects in the region as well. One is an advanced gold project known as the Torrecillas Gold Project, located 150km southeast of Vista. Follow up exploration is imminent, following recent in-fill surface sampling. Results returned up to: 42.7 g/t, 41.2 g/t, and 23 g/t gold in chip sampling.
You can see the four prioritised target areas below: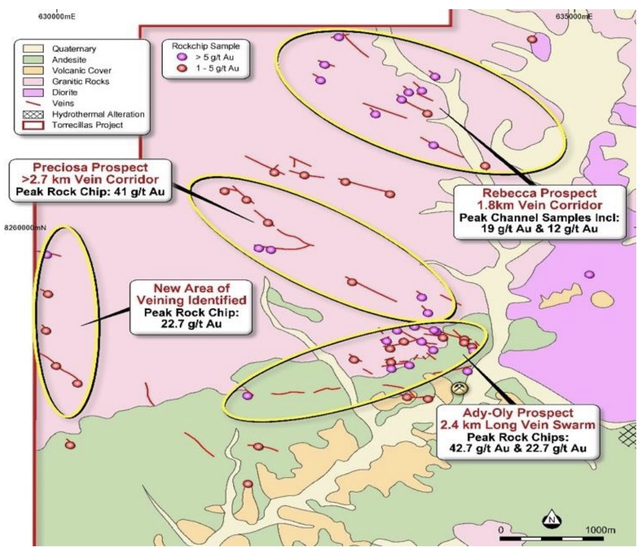 The Las Antas Project is an early stage gold exploration project located just 80km east of Vista. There is potential here for bulk tonnage, disseminated style gold mineralisation.
Notably, San Antes is hosted in the same volcanic sequence that hosts the Ares Mine and the Antapite Mine. Ares is operated by the billion dollar capped Hochschild Mining, whilst the $4.6 billion capped Buenaventura is in charge of Antipte.
Suffice to say there are some major players in the region and TTM is looking to one day join them.
Las Antes is an under-drilled, well developed, ready for assessment target and could be a further flag in the ground for the company. It is not a major priority at this stage, but does add another level of project diversification.
It is clear to see that through the Core merger, TTM now has Peru and Ecuador well covered with regard to its projects, but there is another reason Ecuador is attractive.
Why Ecuador?
We have mentioned that despite its troubles, Peru remains a leading gold producer, but Ecuador is fast gaining as a mining destination of choice.
The $1.1 billion Lundin Gold operates the Fruta del Norte gold project in Ecuador and is about to boost its exploration program following a $30.8 million cash injection.
Back in December, the $19 billion capped Newcrest Mining (ASX:NCM) upped its ante on SolGold, which Next Investor readers will be familiar with following our coverage of Chile-based Hot Chili.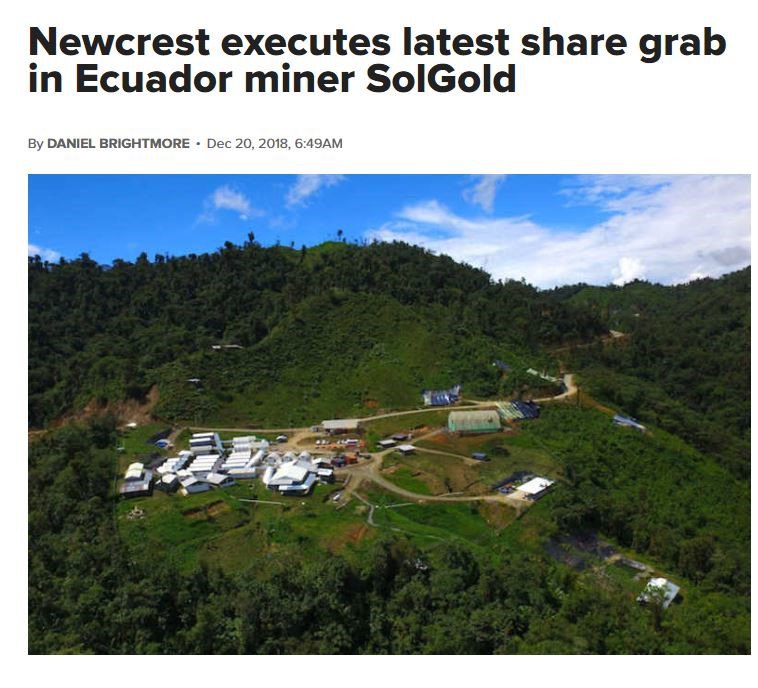 Ecuador has been gaining traction as a mining destination of choice for a couple of years now as the government has, as Wood Mackenzie rightly point out, focused on attracting investment into the sector.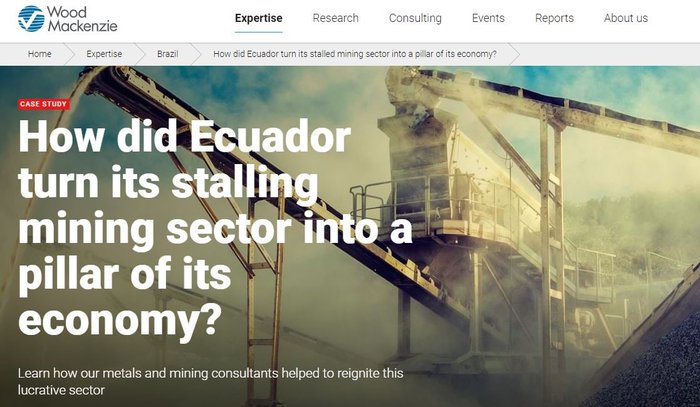 Here are Ecuador's mining projects: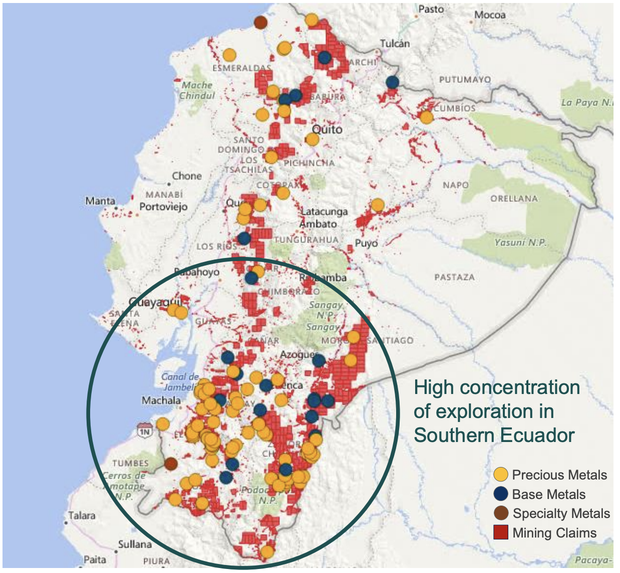 Note, the country has no gold export restrictions, is mining friendly, has stable mining laws, a favourable tax environment and is underexplored compared to Peru and Colombia.
In fact Ecuador was named 'Best Country of the Year' at the Mines and Money Show in Canada in 2017.
Ecuador is becoming a major player in mining and TTM now has one of the biggest and best projects available.
The gold climate
TTM has also made its biggest move to date in what is currently a favourable gold climate.
Back in December this prediction was made:

Then just a few days ago, Seeking Alpha penned a piece titled: Gold's rally is more than just safe-haven demand.
Its main points were that gold could benefit from the end of the trade war, as it has from the trade war itself; that copper prices reflect a sanguine global manufacturing outlook; and that what bodes well for copper also supports a higher gold price.
Suffice to say that TTM can not only capitalise on its location, but also on current macro conditions.
Looking forward
TTM now has a lot on its plate following the recent merger.
Here's a look at what to expect this year: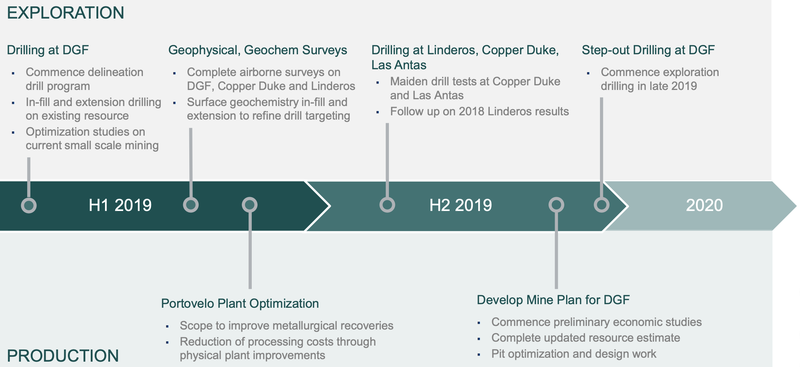 All of this activity points to plenty of catalysts to come as it looks to be a top tier, ASX-listed advanced explorer and producer in Latin America.
Following the merger, TTM now has a real resource and blue sky potential.
---