MNB Signs MoU with technical partner for 300kmtpa Green Ammonia Plant
Disclosure: S3 Consortium Pty Ltd (The Company) and Associated Entities own 4,895,000 MNB shares and 1,562,500 MNB options at the time of publication. The Company has been engaged by MNB to share our commentary on the progress of our Investment in MNB over time.
Mining needs it, there's a looming global food shortage, and prices are skyrocketing due to the energy crisis.
90% of it is made using fossil fuels and it gives off more carbon emissions than the entire nation of Brazil - in terms of carbon footprint it's nearly twice as bad as steel and four times worse than cement.
We're talking about ammonia.
And one company in our Portfolio is now rapidly going after a 100% renewable powered Green Hydrogen-Ammonia project.
That company is Minbos Resources (ASX:MNB).
Yesterday, MNB announced it signed an Memorandum of Understanding (MOU) with Stamicarbon to be its technical partner for a 6-month Technical Study on MNB's Capanda Green Ammonia Plant.
MNB's Ammonia project is not only green - the green energy MNB intends to use is among the cheapest in the world.
We see this as the ultimate "win-win" scenario.
Other companies agree too - in our last note on MNB we highlighted the fact that MNB had received "a number of unsolicited enquiries" for technical, offtake and investment partnerships.
It makes sense.
When you have access to a huge amount of renewable power at a sizable discount to prevailing average global prices, companies will start to queue up to work with you.
We want to focus on ammonia today, because we see this as the nearer term source of revenue for the company, and until there's a global market for hydrogen, the most likely reason for investment funds to flow to MNB.
Ammonia production and hydrogen production are synergistic - hydrogen is created via the electrolysis process, and after separation, the end result is ammonia.
At this stage MNB isn't planning to create hydrogen as a stand alone product as it makes more sense to make ammonia-based products — fertilisers and explosives (essential to many mining operations).
That's the story we're covering in this note.
We like that MNB's technical partner, Stamicarbon, cranks out fertiliser projects.
With more than 250 fertiliser projects under its belt, Stamicarbon is quickly moving into the Green Ammonia space with its technological expertise.
Stamicarbon is the innovation and license company of Milan-listed Maire Tecnimont Group (market cap ~$1.4B).
It helps that Stamicarbon is a pioneer in the field of Green Ammonia - the company built the world's first industrial-scale renewable energy Ammonia project in Kenya.
In fact, Stamicarbon likes MNB's project so much their Director of Technology Licensing said it was:
"not only one of the best Green Energy-Powered-Projects globally, but potentially the first Green Ammonia project that is truly competitive with traditional fossil-fuel alternatives."
That's a pretty glowing endorsement of MNB's potential in the ammonia market.
So today, we'll share some of the key numbers from yesterday's MNB announcement, the macro picture and what we think is next on the agenda for the company.
This announcement marks significant early progress towards Objective #4 in our MNB Investment Memo - which is emerging as an integral part of their overall business strategy:
More on this week's MNB announcement:
The 6-month Technical Study with Stamicarbon is designed to progress "a mixed production profile" of 300kmtpa of Green Ammonium Nitrate Products.
For context, that's about a third of the size of the largest ammonia plant in construction right now - the Perdaman plant in WA.
That plant is scheduled to come online in 2025 (Stamicarbon is also involved) and is expected to cost around $4.5B.
So MNB is going after a pretty big plant here - but we expect it to have a lower pound for ammonia pound capex, a drastically lower carbon footprint - and the opex costs to be less than those of the Perdaman plant.
We base our lower opex assumption on the reaffirmed numbers of the energy pricing involved in yesterday's MNB announcement:
Initial 100MW at $US0.004 (0.4c) per kilowatt hour for 5 years then $US0.008 (0.8c) per kilowatt hour for 20 years
Subsequent 100MW at $US0.015 (1.5c) per kilowatt hour for 25 years
That's around 90% cheaper than Australian grid prices and is part of why we're so enthused about MNB's progress here.
There's more to the MNB Green Ammonia story too (strap in for some more numbers).
First, there's the fact that natural gas makes up 80- 90% of the variable costs in fertiliser production and 72% of ammonia is produced from natural gas.
This is the price chart of natural gas over the last 5 years: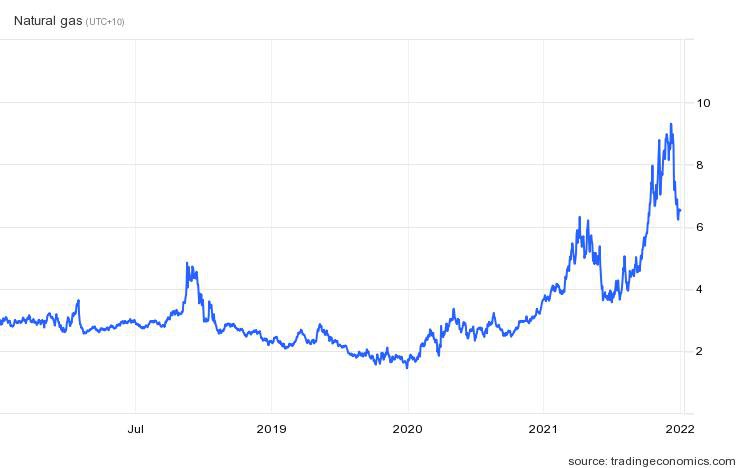 While ammonia prices are not entirely transparent, between 2000 - 2020, the market price for ammonia was between US$100 - $600/t and in 2021, driven by natural gas shortages, ammonia prices were more than US$1,000/t globally.
We think that price is likely higher now given the current energy crisis driven by the conflict in Ukraine.
Finally, we base our lower relative capex assumption, and this is specific to MNB, on the fact that MNB's Green Ammonia project is just 10kms away from the Capunda Hydroelectric Dam in Angola - so we think infrastructure to get electricity to the plant will cost less.
It all adds up to what should be genuinely compelling project economics for potential partners.
What's next for MNB?
As we laid out in our last MNB note the company needs to pull together partners in three areas:
Today marks an important first step in establishing the parameters for the project, with Stamicarbon engaged to help MNB make use of its vast amount of green, cheap energy.
Next up on the partnership front could be an investment partner - a company that wants to help fund the proposed Green Hydrogen-Ammonia project.
Not to be forgotten either, is Objective #1 from our our MNB Investment Memo:
That's for their existing phosphate project, also in Angola.
We initially Invested in MNB for this project and you can read all about why we think it is so crucial to food security in Africa in our initiation note.
We don't see the new shiny object (Green Hydrogen-Ammonia Project) as pushing out the existing phosphate project - we think the two projects are highly compatible as MNB pushes to become a fertiliser powerhouse.
I.e the same type of investors that want to put money behind the Green Hydrogen-Ammonia project would also be very attracted to the existing phosphate project .
More attention = a better chance of both projects becoming a reality.
Risks
We've highlighted funding risk in our risk section of our MNB Investment Memo:
While that risk was specifically targeted at the existing phosphate project, before the new Green Hydrogen-Ammonia project came along, it is still generally applicable.
As of the 1st of June MNB had a cash balance of $4.6M, following the sale of the company's Madagascan rare eaths project for $2.46M and cash burn of ~$400k in their most recent quarter.
Small cap companies with big ambitions are reliant on capital markets to fund their future growth stages, and MNB is no different. This is a similar risk to most investments in small cap, pre revenue, companies.
It's our view that MNB's access to cheap green power underlines strong economics for their potential future fertiliser production and could one day help attract a big name cornerstone investor - but it's simply too early to tell if that will happen or who that might be.
What we are definitely looking for however, is more strong progress across both the phosphate project and the Green Hydrogen-Ammonia project.
After yesterday's announcement, we think that is certainly achievable.
MNB 2022 Investment Memo
Our "Investment Memo" is a short, high-level summary of why we continue to hold a position in MNB and what we expect the company to deliver in 2022.
We'll be using these Investment Memos as a way to assess the company's progress over 2022 and also examine how our investment thesis plays out throughout the year.
In our MNB Investment Memo you'll find:
Key objectives for MNB in 2022
Why do we continue to hold MNB
The key risks our investment thesis
Our investment plan.
---