Microsoft Partners with Connected Car Player CXZ in Revenue Boosting Move
PUBLISHED: 21-02-2017 10:25 a.m.
We've got smartphones, smart watches, smart TVs. Most of us know what a 'smart' or 'connected' device is and how it can make our lives so much easier. Essentially making a product smart involves access to the internet and a certain dynamic quality where a single device has the potential to serve many diverse needs.
One industry that has really adopted 'smart' sensibilities' lately is the car industry – in a few short years, it is widely assumed that every new car will be connected to the internet – and Connexion Media (ASX:CXZ) is front and centre to profit from these sweeping changes to our cars.
In response to grave environmental predictions around the use of fossil fuels, we are transitioning to electric-powered and likely driverless cars in the next 5-10 years. Tesla already has models in production.
It is safe to say automobiles will never be the same, and more change is coming.
According to new forecasts from research firm SBD and the GSMA, the global connected car market will be worth €39 billion (A$54 billion) in 2018 – up from €13 billion (A$18 billion) in 2012.
The future will present a supportive environment for companies like CXZ, who have the jump on software development for this new breed of connected vehicles.
Cars can be connected in two ways – embedded or tethered. Embedded cars have a built-in chipset and antenna, so they're made to be connected directly, while tethered connections use hardware that allows the owner to connect via a smartphone.
CXZ is interested in the first type – embedded.
It started out offering 'infotainment' options for consumers with a product called 'miRoamer'. Now, however, it has found its feet in the field of telematics (technology that can track location, fuel use, tyre pressure and driver behaviour) for businesses managing vehicle fleets. Meaning those business can manage staff and costs far better than they used to.
So, if you're looking to take the telematics market by storm, a partnership with the one of the world's largest automakers – General Motors – might rank as a long-term 'blue sky' goal...
Today's small-cap ticked that off the list early, starting a relationship with GM back in 2012, which developed into one of the largest automotive deals in Australian history.
Now, this company is a key piece of GM's 'connected car' puzzle through auto-maker's tailor-made 'Commercial Link'.
Furthermore, CXZ is likely to soon announce new automaker contracts that will expand its telematics offerings into new global territories.
However, it should be noted that this is a speculative stock and investors considering CXZ for their portfolio, should seek professional financial advice before making an investment decision.
So we've now looked briefly at the four-wheeled side of the equation... what about a tech company to partner with?
Take IT behemoth Microsoft, as an example... what if we said this company has become a Gold Status Partner of Microsoft's Go-To-Market Services?
Well, the latest announcement to come from this curiously cunning connected car play has given it gold status.
Microsoft extended an invitation to the company to become a partner less than 24 hours ago, and the 'gold status' recognises the company's leading position in connected car SaaS sales globally.
In doing so, CXZ joins an impressive list in the category including Citrix, Docusign and HP.
Here's a more extensive list of CXZ's other, mainly multi-national, partners:

By now you're probably wondering just what the potential of this small ASX-listed stock might be. Well, you may want to cancel your appointments for the rest of the day – your new agenda is to learn more about this company: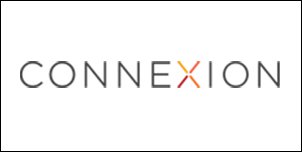 Connexion Media
ASX:CXZ
Connexion Media Limited (ASX:CXZ) is an IoT, or Internet of Things, tech company with a goal of revolutionising smart car technology for the automotive industry. While its headquarters are in Melbourne, it's also strategically located in the car-making capital of Detroit, as well as Cambridge (UK).
While things appear good from the outside, it also seems that CXZ has the internal knowledge and high-grade expertise to really take this opportunity and run with it.
The door is wide open; now all that is needed is for the company's valuation to coincide with the wins it is stacking up.
CXZ got into the connected car world through its first product, 'miRoamer' — a comprehensive audio entertainment SaaS for smart devices.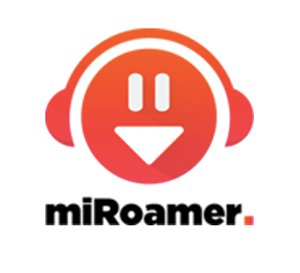 With one device and one "push of a button" the user accesses more than 55,000 radio stations, podcasts, and news and entertainment shows from around the world, wirelessly.
It makes use of what's called REST API, or application program interface representational state transfer. Music can be played on-demand via Deezer, Shoutcast, as well as podcasts and audiobooks.
Rather than coordinate all of these each at a time, the one subscription to miRoamer offers it in a neat package.
But while it may have started there, CXZ has outgrown its dignified yet small-fry beginnings, and branched into two potentially lucrative new markets in the smart car realm: telematics and data analytics.
This is a snapshot of the company's story so far: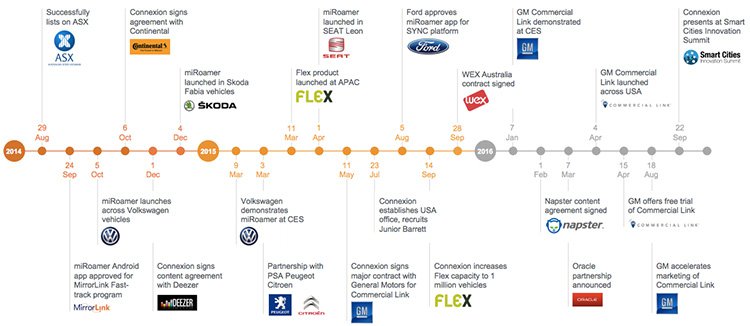 So now you've had a taste of CXZ's humble beginnings, let's look in a bit more detail at the recent news about its new partnership with Microsoft.
CXZ's Midas touch: Microsoft
It's a beautiful thing when innovators connect with other innovators. That's exactly how some of the most amazing things in the world happen.
Microsoft has announced its latest Gold Status Partner in CXZ, with plans to work with the company through its Go-To-Market Services.
In its announcement, Microsoft has stated the value of the opportunity to jointly explore possibilities in connected car software services.
Here's a look at Microsoft's connected vehicle platform, just to give you an indication of how powerful this connected car service is.
Becoming a Gold Status partner is sure to open doors to a mind-boggling throng of key industry players and potential customers, and will involve joint launches, global expansion, channel development and leads sharing.
Co-selling will make up a key part of CXZ's Gold Status partnership
In simple terms, this partnership will mean CXZ gains exposure to tens of thousands of Microsoft sellers and channel partners. And will tie in perfectly with Microsoft's newly announced Connected Vehicle Platform.
A development like this could really amplify CXZ's presence among global automakers and vehicle fleet managers, and lead to accelerated revenue growth – which are its top priorities right now.
CXZ is already a customer of Microsoft's cloud services platform Azure, which it uses to power its telematics solutions including General Motors' Commercial Link service.
This partnership further strengthens its relationship with Microsoft, pushing new sales and revenue opportunities including with the likes of GM and other major car manufacturers, whilst really giving global credence to its telematics offering.
It is important to note here, that CXZ's products are not exclusive to one company and you could reasonably expect CXZ to be doing a range of deals with other car manufacturers in the near future.
CXZ's other star relationship
Every Australian should be familiar with General Motors. After all, they are the manufacturers of Australia's most iconic car brand: Holden.
Last year, CXZ made the first of its company-making deals with GM and clearly the company hasn't looked back.
The deal gave CXZ license to develop and support GM's Commercial Link service, which is now offered to all new car buyers.
As its name implies, Commercial Link targets the commercial SME fleet and owner-driver market; an addressable market of 250 million cars in the US alone.
Through the deal CXZ gained access to an extensive customer network for the rollout of this flagship technology.
A soft roll out of the technology began in April 2016, with a wider roll-out occurring in conjunction with the release of new car models throughout last year. It gave CXZ a subscription based income, with GM customers billed by CXZ monthly and revenues shared between the companies.
If you haven't quite got the significance of this deal yet, here are some stats that may get you thinking a little deeper:
GM has 23% market share of the USA fleet market
Every vehicle manufactured in the US after 2015 has built in connectivity
GM manufacture around 10 million vehicles globally
GM sells cars in 37 countries around the world
International brands include Opel, Vauxhall, Holden, Cadillac, Buick and Chevrolet
If CXZ continues to grow its partnership with GM, that's a whole lot of automobiles in a whole lot of countries that need to be connected and could be via CXZ's telematics solution.
GM is right on board with CXZ and has been driving the technology further, after accelerating its sales and marketing campaign for Commercial Link in August last year.
Here's how Commercial Link works. Essentially it puts vehicle information at your fingertips:
The sales and marketing initiatives included upgrading the Commercial Link product website and the direct download links for the iOS and Android Apps for the service.
The upgrade delivered immediate results.
Why?
Because telematics is the way of the future for business savvy fleet owners.
Telematics...the early bird catches the loyal customer...
Let's forget Microsoft and GM for a minute and talk about Apple versus Android. This modern day battle of tech giants demonstrates one thing quite clearly – once you've chosen either Apple or Android, you're effectively hooked into one platform. You become familiar with its systems and quirks, and you identify yourself with its qualities.
Basically, these decisions are 'sticky'; most people won't make a switch until the benefits of switching, or the drawbacks of staying, become excessive.
Essentially the users become tied into an ecosystem.
That's why getting a loyal customer base early is so important for tech companies. And CXZ know this.
The average contract duration for fleet telematics is about 6 years. To learn a new model, and re-train the necessary employees, can be intensive. So unless your product is poor, you'll capture a loyal base.
Telematics is a branch of IT which deals with long-distance transmission of computerised information, and incorporates telecommunications, computer science, vehicular technologies, road transportation/safety and electrical engineering.
In a nutshell it covers these areas:

Now you might see why CXZ's deal with General Motors is so key. And why the success of its tailor-made 'Commercial Link' SaaS product is such a big deal.
The telematics product itself – which can track location, fuel use, tyre pressure, changes, music preferences, driver behaviour – can be excellent in helping a company like GM retain business too.
Multi-billion dollar takeovers happen in telematics
If you're wondering what the market values tech companies in this space, it's worth taking a look at the price put on some of CXZ's competitors.
The below shows that 'Fleetmatics' (fleet telematics) was acquired by Verizon for US$2.4 billion (A$3.1 billion) last year.
Verizon also purchased another fleet telematics company, Telogis for an undisclosed amount; meanwhile, Pelagicore (a SmartCar infotainment development business) was acquired by Luxsoft for US$25 million (A$32.6 million):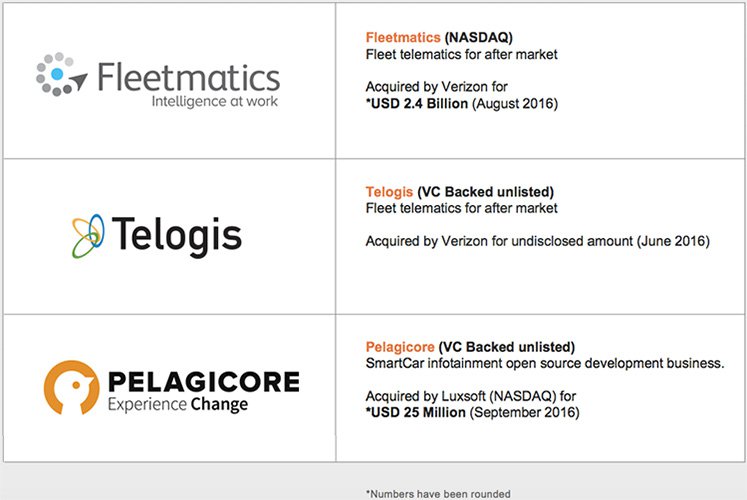 Those are no paltry figures – and it's not hard to see potential for upside in the very near-term for the $9.8M capped CXZ, a company that is already partnered with Microsoft and General Motors as we have seen.
CXZ's current share price doesn't appear to reflect the level of success the company is enjoying... take a quick look at its sales growth over the last two years: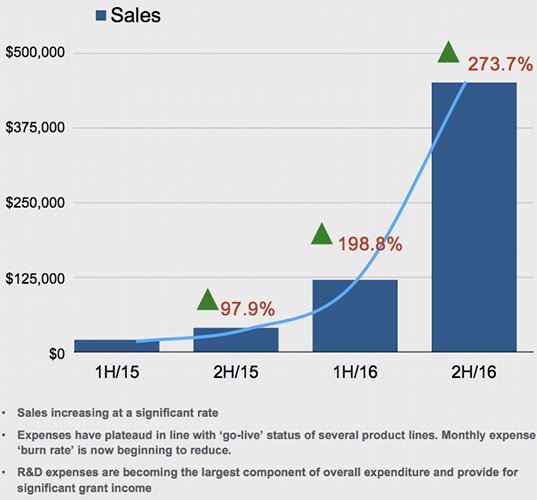 We are hoping that the upward sales trend starts converting into an upward share price trend soon...
Although, any share price movement is speculative on our part and therefore investors should base their investment decision on all publicly available information before making their investment decision.
More on CXZ's specific telematics product
CXZ has developed a comprehensive telematics product to rival that of competitors – and clearly it stacks up, if GM's and Microsoft's endorsements are anything to go by.
Earlier this month , CXZ rebranded the product from 'Flex' to 'CXZ Telematics' .
CXZ's telematics product is designed to improve awareness of driver behaviour and observation of speed limits and efficiency on open roads; improve driver productivity through minimising unscheduled deviations; increase safety by decreasing vehicle wear and tear and monitoring factors leading to potential breakdowns; and lower fuel consumption by improving operator efficiencies.
In the quarter to December 31, 2016, the uptake of Commercial Link by GM customers grew in line with the 'model year change-over' period in the US market.
GM initiated a range of marketing initiatives to drive sales and uptake of the product across digital media, retail, trade shows and internal divisions. It also launched a "Business Choice" promotion, giving new vehicle customers a free trial of Commercial Link, as well as creating free-trial coupon cards to be distributed by General Motors at automotive trade shows.
In addition, CXZ has done everything it can to make the product highly secure and protect against vehicle hacking – through its own audits as well as GM's rigorous requirements.
Lastly, all this data and monitoring can be a huge help to SMEs, or any size business, when it comes to tax time and reports.
With all those reasons for businesses and investors to say 'yes' rather than 'no' to this package, it's not a stretch to say that CXZ are at a tipping point here...
With set up costs completed, plenty of room to scale remains
That tipping point for a young tech play comes when the development costs are done and dusted, and future sales growth is not tied to growing overheads.
That's a sweet spot to be in and is where CXZ finds itself now.
CXZ now has a fully functioning operations framework, which is scalable for future product and revenue growth, and accordingly the company expects to be cash flow positive by the end of the 2017 calendar year.
With four separate and promising revenue streams, it could very well get there. Below shows the four areas of specialisation, and the partners CXZ has secured to access the market and generate revenues: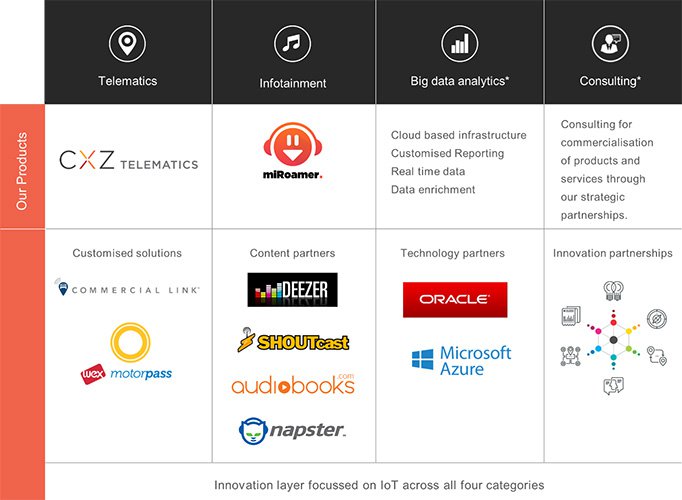 The consulting arm of the model is only just in its infancy, but considering consultancy work is based on knowledge and experience, both of which CXZ already has, it's likely to involve little upfront investment for considerable scalability and profit margins.
In October last year, CXZ received and R&D refund of $2.40 million from the government – and cash receipts for the December quarter were $2.6 million compared with $784,177 cash for the previous quarter.
CXZ delivered an average subscription growth rate of approximately 50% month-on-month. Its average revenue per user was $13.97 per calendar month per vehicle, with a subscription conversation rate of 95.7%.
Here's an overview of key figures over the last two years: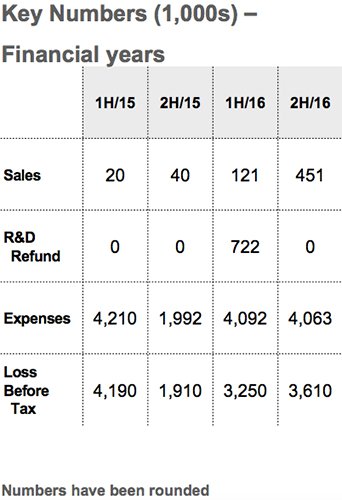 In addition to this, CXZ's Victorian white-label partner, Wex Australia, has seen a steady uptake of the CXZ Telematics solution under the six month pilot program. It's very unlikely that CXZ will stop there with the white label partnerships both domestically and abroad...
In its latest report, CXZ said it will soon announce new automaker contracts that will expand its telematics offerings into new territories. This follows multiple RFQs (request for quotations) from global automakers in the last few months.
Blue sky alert – data analytics
The area of data analytics is in line to be another key money-maker for CXZ .
With its smart car technology, it can track things like commute times, travel routes, vehicle temperature, use of windscreen wipers, and consumer behaviour such as radio station preferences ... on an opt-in basis, of course.
This real-time data can provide valuable insights to government, road authorities, insurance companies, research companies and more.
CXZ is able to offer this through a strategic partnership with the US$168 billion-capped Oracle Corporation (NASDAQ:ORCL), which specialise in cloud applications and platform services. As part of the deal, Oracle will help on-sell CXZ Telematics, as well as next generation internet radio product miRoamer to its large global customer base.
What's to come
Microsoft's invitation this week for CXZ to become a 'gold status' partner was just the latest in a string of very promising developments for the young company, and goes a fair way to solidifying its position as a global leader in connected car software.
This will not only help drive sales and broaden CXZ's horizons, but will also be a good learning opportunity, as it works with Microsoft's Seattle team to investigate the seemingly unlimited potential for a future of internet connected vehicles.
What this future brings for CXZ remains to be seen, so if considering this stock for your portfolio seek professional financial advice for further information.
CXZ is planning to disrupt the traditional automaker industry – a space with plenty of disruption already, thanks to a global shift towards better connectivity.
Everybody's experience of driving is set to change in multiple ways – the nimble play that can ride that wave as it evolves will be set up nicely to profit in the years to come.
It's not just smart phones or smart watches; now we're entering a world of smart vehicles.
Whichever company has dominion over the software that makes these tick (so to speak – there's no room for analogue in this future!) is set to win not just in the short term but over a long game, too.
---