CXZ's Fleet Management Tech Launch Imminent whilst Volkswagen Puts on a CXZ Show
PUBLISHED: 13-02-2015 01:06 a.m.
To set the tone for 2015, CXZ hit Las Vegas and pumped out some tunes from its miRoamer in car entertainment system from a brand new Volkswagen Golf.
And no, they weren't re-enacting that movie The Hangover...
This was serious business at one of the world's largest technology events – The Consumer Electronics Show.
Volkswagen AG is a major backer of CXZ's connected car technology and the touch screen MirrorLink system will installed as standard in its new range of vehicles – this system integrates directly with CXZ's miRoamer Android app.
You can already use CXZ's miRoamer app in the Beetle and the Passat and the Polo.
So when it came time for VW to show the world what its very latest in-car entertainment systems could do, it fired up CXZ's miRoamer and let the bass drop.
CXZ plans to lead the world in developing connected car technology and making money from it.
This demonstration by VW shows that CXZ's miRoamer not only works but that it's also catching on – it's hooked up a deal with Czech carmaker Skoda and is about to launch another connected car product onto the market...
Flex, its fleet management system, is in the final stages of BETA testing and when that's finished in the coming weeks CXZ will launch it within Q1 of 2015 – not long!
So 2015 is shaping up to be the year when CXZ accelerates two connected car products into commercial markets and potentially tunes into some serious business.

We first invested in Connexion Media (ASX:CXZ) back in October 2014 when we published this article – Tiny ASX Company to Supply Tech to GM and Volkswagen: Potential $50BN Market by 2018?
It's a great place to start your research into CXZ and goes into lots of detail about all of its plans and products for the connected car sector – its main commercial target.
Since we first alerted you to CXZ, its share price has risen as high as 90%: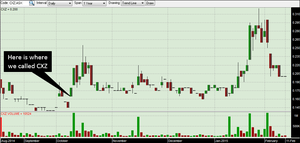 The past performance of this product is not and should not be taken as an indication of future performance. Caution should be exercised in assessing past performance. This product, like all other financial products, is subject to market forces and unpredictable events that may adversely affect future performance.
CXZ also scored some press in the Herald Sun as its ramps up its service offerings: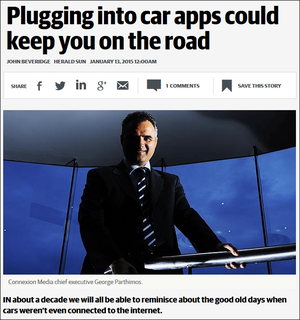 CXZ is currently offering eligible shareholders the opportunity to participate in a non-renounceable pro-rata offer to acquire New Options on the basis of 2 new options for every 3 shares held on the Record date of 6 th February 2015. The issue price is $0.015 per new option. Option holders who exercise New Options before 1 st January 2016 will also receive 1 free Piggy Back Option per New Option exercised, with an exercise price of $0.25 and expiring on 1 st January 2018.
This offer is expected to raise $800,000 for CXZ (less costs), and the funds will be used to push the Flex product through to commercialisation in the coming weeks and months.
The offer closes February 27 th – full details are in CXZ's Prospectus .
Connected cars are the way of the future, happening right now.
Most modern cars have touch screen infotainment systems in the centre console, and more and more have an internet connection, hence the term connected car.
The connected car industry could be worth $35BN by 2018 as an entire ecosystem of products and services is developed to service their growing needs around the world.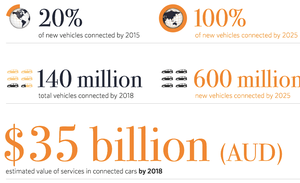 So to tap into this opportunity, CXZ has developed miRoamer , connected car infotainment technology that links cars to over 35,000 internet radio stations as well as collecting real time information on the vehicles it's linked to.
CXZ can make money from miRoamer through advertising and subscription services linked to its entertainment features and sell the big data points it collects to third parties like governments and advertisers who we believe would love this real time data to improve their own service offerings.

So that's the first service, but CXZ moves fast, and in December we published this update – Partnership with Global Music Streaming Service and New Product with Imminent Revenue Launched by CXZ.
That music service is Deezer, the world's second largest music streaming service with over 16 million users – and now it's linked to CXZ's miRoamer, which continues to expand its partnerships with big automotive and tech players: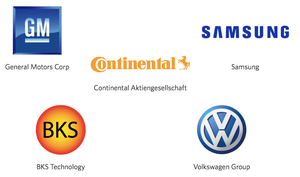 And CXZ's new service?
That's Flex – a cloud based connected car management system for fleet cars. Both products allow CXZ to pursue multiple revenue streams at the same time and as CXZ adds more products to its connected car services, the opportunities for revenue only increase: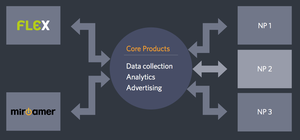 Both miRoamer and Flex have had some big news drop since we last updated you on CXZ's rapid progress, and in this article we're going to run you through all the latest.
Flex on target for Q1 launch
Fleet cars are big business in Australia and around the world – and CXZ is set to unleash a product that may tuned directly to the industry's needs.
In fact, the fleet car management market is predicted to be worth $35.35BN – yes, billion – by 2019:

This market is predicted to grow from $12.06BN in 2014 to $35.35BN in 2019 – this growth mainly stemming from intelligent fleet management solutions – like CXZ's Flex.
CXZ is positioning itself to scoop up some of that management money as soon as possible with Flex – it's a cloud-based, integrated management system that gives car managers the ability to control an entire fleet from a keyboard: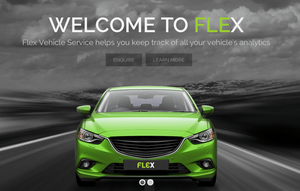 Flex is being BETA tested right now and CXZ say the trial's progress has been " overwhelmingly positive. "
BETA testing of Flex is expected to conclude in the coming weeks and then CXZ will focus its powers on a product launch slated for Q1 of 2015. We understand this will be supported by a full spectrum strategic marketing and advertising campaign.
So we could see CXZ's Flex launched into the commercial fleet car management sector in the next few months, if not the coming weeks...
And when Flex launches, CXZ should be primed to get cash flow from sales quickly.

As you can see in the image above, CXZ's Flex allows fleet car managers to track and monitor just about every aspect of a car's performance, from where it's going to how much fuel it's using to whether or not the driver is obeying the law and if the engine oil is leaking.
All of this is achieved through a small device hooked up to the OBD-II port, which collects real time information from the car and sends it to the cloud for monitoring and analysis: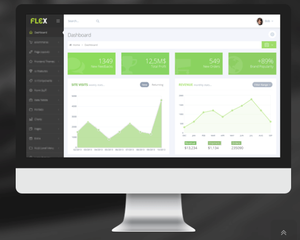 The potential benefits of this are significant: problems with the car can be anticipated, saving money by avoiding breakdowns, servicing the vehicles can be done at the optimum time and drivers can be safer and more efficient.
This is fleet vehicle management done like never before – in real time with the full array of technology at managers' fingertips – and at these prices, we believe companies will be prepared to pay CXZ for it:

When Flex is launched onto the commercial market in Q1 of 2015, the prices you see up above are what CXZ will be charging for its services.
And when you consider that a fleet of cars can be hundreds strong, the dollars could add up quickly for CXZ. And because it's a monthly charge set to a time frame contract, cash flow could be steady and locked in for solid periods of time.
In the coming weeks CXZ's Flex system will be ready for launch after a successful BETA testing phase – then it's game time. We are looking out for big contracts signed and cash on the way for this innovative service.
But Flex isn't the only connected car service CXZ is pushing ahead...
Viva Las Vegas! CXZ's miRoamer plays a headline act
They say what happens in Vegas, stays in Vegas...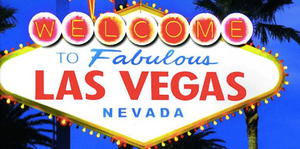 But for CXZ, what just happened in Vegas is worth breaking that rule for...
Volkswagen has just shown off CXZ's miRoamer connected car radio and music service app at the Las Vegas Consumer Electronics Show, also known as CES: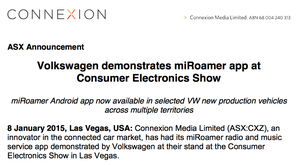 The CES is one of the biggest electronics industry events in the world with up to 160,000 people expected to have attended – and CXZ's miRoamer was on display for all to see.
Volkswagen is integrating CXZ's miRoamer entertainment system into its new models and a new model of its famous Golf was used to demonstrate the technology.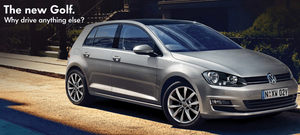 Now, we don't have a video of the CES demonstration, but CXZ's miRoamer is catching on fast around the world so here's a YouTube video from Germany of a VW driver showing off his miRoamer system in a brand new VW Polo:
This live demonstration of miRoamer in Las Vegas is just another way Volkswagen is getting behind CXZ's miRoamer technology.
All new VW vehicles will be fitted with the MirrorLink touch screen system and CXZ's miRoamer is the first application in the world to achieve MirrorLink's Global Drive certification.
CXZ's miRoamer Android app integrates directly with the MirrorLink system.
Lots of VW models are already rocking miRoamer – Polo, Passat and the Beetle – and MirrorLink and miRoamer feature on the VW website .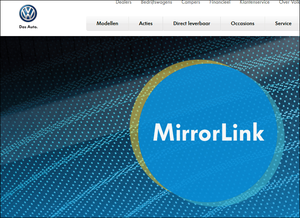 This is a significant commercial partnership for CXZ – having the backing of VW, one of the world's largest automotive groups, could allow miRoamer to develop a large consumer base and attract more clients and contracts for CXZ.
In fact, CXZ's tight relationship with VW is already bearing more fruit...
Czech mate – Skoda tunes in to CXZ's miRoamer
This is the very latest model of Czech Republic car maker Skoda's Fabia: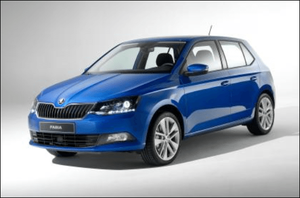 It's going to come with the MirrorLink head unit as standard issue for the in-car system. CXZ's miRoamer app will be available on all new MirrorLink-enabled Skoda vehicles – starting with the Fabia:

Volkswagen AG owns Skoda, so this development is another example of how CXZ is benefitting from its partnership with the big German car group.
The launch of miRoamer in the new Skoda Fabia is the first production release of the technology for the Czech Republic carmaker and will see the data analytics features of the product integrated as well.
Adding Skoda to the list of car brands using miRoamer strengthens CXZ's position as a leading connected car innovator and widens the scope of its business.
Don't touch that dial!
CXZ has begun 2015 with a night to remember in Vegas, having its innovative miRoamer connected car technology demonstrated by none other than Volkswagen at one of the world largest consumer electronics shows, CES.
This exposure came hot on the heels of CXZ's miRoamer being rolled out in Czech carmaker Skoda's latest model of Fabia car, a move that shows miRoamer's accelerating pace of uptake in the auto sector.
That's one piece of connected car technology that CXZ is driving hard – and now it's got another that's just about to launch into the multi-billion dollar fleet car management market – Flex.
In the next couple of weeks we should see Flex's BETA testing period get done and dusted and the big spool up to the global product launch begin. It's set for a Q1 launch, so at The Next Tech Stock we'll be keeping a sharp ear and eye out for any news.
2015 could be CXZ's year as it drives two connected car products – miRoamer and Flex – into profitability in the lucrative infotainment and fleet management sectors.
What else does CXZ have on the horizon – another product? Another deal? Don't turn that dial... stay tuned to CXZ.
---