Is Norway Home to a Monster Voisey's Bay Style Nickel Deposit? PUR Aims to Find Out
PUBLISHED: 20-02-2020 10:27 a.m.
Small cap resources investors would be wise to know that nickel may be set for a strong run over the coming years.
According to Fastmarkets, demand for nickel will remain bright over coming years and by 2025, 500,000 tonnes of refined nickel will be used annually in lithium-ion batteries for electric vehicles — that's a five-fold increase in the amount of nickel used in 2018 for EVs.
However, there are but a few opportunities on the ASX to invest in companies with high quality nickel projects — particularly those with existing nickel JORC resources.
In a deal signed just this week, the under the radar micro-cap Pursuit Minerals (ASX:PUR) has thrown its hat in the nickel ring, by entering into a 12-month agreement that gives it the option to acquire a portfolio of three advanced and highly prospective nickel sulphide projects, the Espedalen, Sigdal and Hosanger Projects, in the tier-1 mining jurisdiction of Norway.
High-grade nickel mineralisation has been confirmed by previous drilling on all three projects — and Inferred Mineral Resources already occur at the two prospects on the Espedalen Project.
The deal involves limited upfront cost — an initial commitment of $250,000 spend in year 1, and is relatively non-dilutive for existing shareholders.
Norway has a long history of nickel mining.
It led the world in nickel production during the 1870's and was producing 75% of the worlds nickel by the turn of the century with over 40 nickel mines in production. More recently, the Bruvann Ni-Cu-Co mine, with 6.8Mt ore, operated between 1989-2002.
These mines were generally smaller to medium scale, however there is certainly potential here for much larger scale operations supported by modern mining knowledge and techniques.
Interestingly, the southern Norway location of PUR's projects is geologically analogous to one of the world's largest nickel mines — the giant Voisey's Bay nickel deposit in Labrador, Canada that contains 141Mt nickel at 1.6%.
This is because the nickel formation processes that Voisey's Bay went through also occurred in southern Norway at the same time.
The southern part of Norway and Ladrador, Canada were in relatively close proximity during the formation of the nickel mineralisation, each with similar geological histories.
Given this shared geological history, it's not too much of a stretch to imagine that Norway could have a larger deposit lurking beneath the surface — possibly even of the scale of Voisey's Bay.
In any case, there's significant opportunity to progress Norway's smaller to medium sized deposits towards commercial production.
Its geology makes Norway an appealing mining destination, but that's only part of the story.
This wealthy tier-1 jurisdiction offers access to quality infrastructure including roads, rail, and cheap and green hydro power.
PUR is now looking to rapidly define and test nickel drill targets and is fully funded to complete its intended exploration projects this year.
With these new nickel projects confirmed, a tiny market cap, could this be the beginning of a strong growth phase for PUR?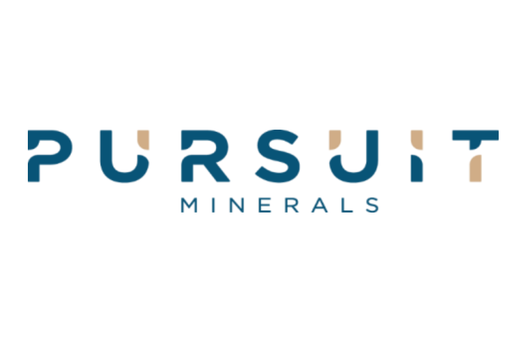 Pursuit Minerals
ASX:PUR
Share price: $0.6 cents
Market Capitalisation: $2 million
Here's what I like about Pursuit Minerals: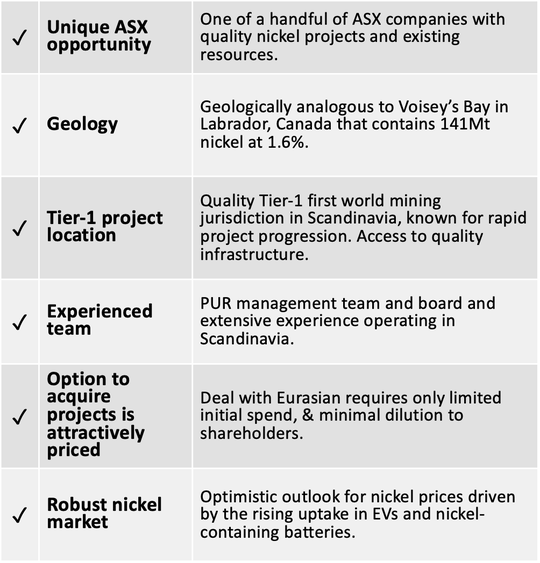 Seeking to capitalise on Europe's rapidly expanding battery production capacity for both energy storage and use in electric vehicles, Pursuit Minerals (ASX:PUR) is taking steps to supply European battery manufacturers with the critical metals to expand the region's battery production capacity and battery deployment.
An important component of the nickel industry in Norway is Glencore's Nikkelverk nickel refinery located at Kristiansand in southern Norway. From 1910 until 1946, Nikkelverk refined nickel concentrates produced from local nickel mines in southern Norway. Since 1929, stable supplies of nickel concentrates from Canada's Sudbury nickel mines have been processed at Nikkelverk, allowing expansion of the nickel refinery to its current production capacity of 92,000 tonnes.
With its demand for electric vehicles outstripping supply, Norway leads the world in EV usage so is well aware of how important it is to have adequate battery metal supply.
And despite its green reputation, Scandinavia is surprisingly mining friendly.
Having previously progressed a number of projects in neighbouring Sweden, Pursuit's management team are well aware of how to get things done in the region.
The company's Airijoki Vanadium Project (vanadium being another battery metal, coincidently) in northern Sweden was advanced very rapidly. Pursuit picked up ground here and commenced ground work in August, undertook its drill program in November, and by March had a mineral resource, with a scoping study completed by next April.
Option and Purchase Agreement on advanced nickel sulphide projects
Securing the option over the Espedalen, Sigdal and Hosanger projects expands Pursuit's exposure to nickel — a key material in EV batteries.
High-grade nickel mineralisation has been confirmed by previous drilling on all three projects — Espedalen, Sigdal and Hosanger projects — and Inferred Mineral Resources already occur at the Stormyra and Dalen prospects on the Espedalen Project.
The three advanced nickel sulphide projects in question, located in southern and west-central Norway are currently owned by Eurasian Minerals Sweden AB, a wholly owned subsidiary of EMX Royalty Corporation.
Comprising 20,000 hectares of exploration licenses the projects are located in three separate historic mining districts that were identified through EMX's regional generative programs and acquired in 2018.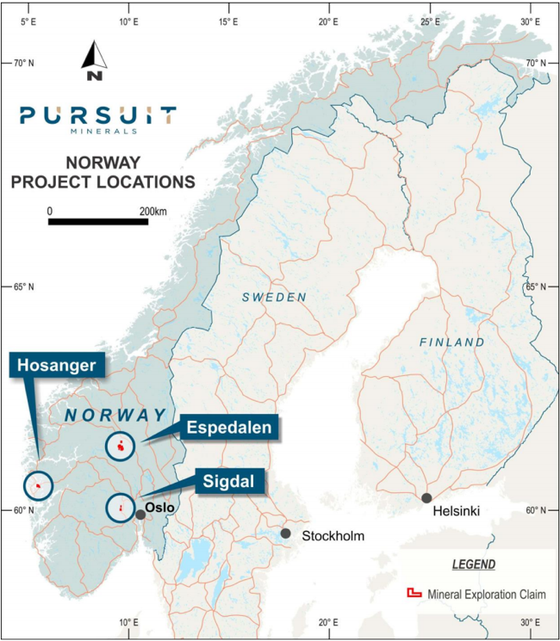 The agreement with EMX provides Pursuit with the option to acquire 100% project interests in the Espedalen, Hosanger, and Sigdal Projects which are geologically analogous to the giant Voisey's Bay nickel deposit in Canada.
Pursuit is required to pay US$25,000 cash, issue 20 million shares and incur exploration expenditure of US$250,000 in 12 months to become entitled to exercise the option to acquire 100% of the projects.
Pursuit chairman, Peter Wall explained that "The transaction structure that has been negotiated is relatively non-dilutive to existing shareholders, with only a very modest number of shares being issued upfront. This was an important factor in proceeding with the transaction in order to preserve and maximise shareholder value."
The deal with reported by MarketWatch: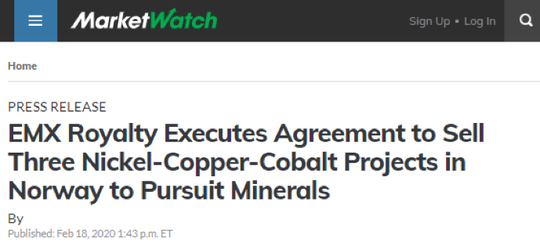 Espedalen Project
The Espedalen Project is located approximately 50 kilometres north-west of Lillehammer in southern central Norway, a three hour drive north of Oslo.
The project is well served with transport infrastructure being accessible by tarmac roads and is close to rail links to ports in southern Norway and to Glencore's Nikkelverk nickel refinery is located 350km to the south.
The known nickel mineralisation on the Espedalen Project is hosted within differentiated mafic and ultramafic bodies, ranging in age from 1698 – 1250 Ma. This is similar to the age of the rocks hosting the giant Voisey's Bay nickel deposit in Labrador, Canada.
Further evidence supporting the analogy between Espedalen and Voisey's Bay are tectonic plate reconstructions place southern Norway and Labrador in relatively close proximity during the time of formation of Voisey's Bay and with the two regions undergoing similar tectonic developments.
In 2003, Falconbridge Limited was granted tenements in the Espedalen valley and undertook ground and airborne electromagnetic surveys, generating numerous drill targets. In a JV together with Blackstone Ventures, 134 drill holes were drilling across the Espedalen project area between from 2004 and 2008.
This defined significant accumulations of nickel sulphides at the Stormyra and Dalen prospects and detailed the mineral resources at those prospects, along with generating numerous other quality prospects.
Drake Resources then acquired the Espedalen Project in 2012 and undertook a detailed assessment of all previous work, including re-estimating the mineral resources at Stormyra and Dalen prospects in accordance with JORC (2012).
The Stormyra deposit comprising 1.16Mt @ 1% Ni, 0.42% Cu and 0.04% Co and classified as inferred resource which is open at depth.
The Dalen deposit comprising 7.8Mt @ 0.3% Ni, 0.12% Cu and 0.02% Co inferred resource.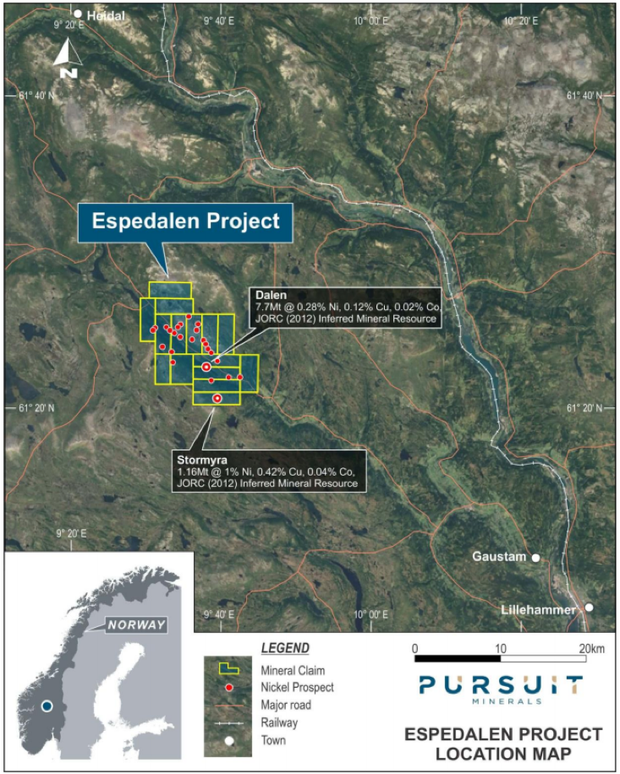 Espedalen Project Location
Pursuit's initial focus is on the Stormyra deposit where it plans to undertake drilling to determine if the mineral resource can be expanded and to further investigate encouraging drill intersections. These intersections include:
21.1m @ 1.75% Ni, 0.66% Cu and 0.06% Co from 64m (hole ES2005-20)
7.1m @ 2.68% Ni, 1.26% Cu and 0.08% Co from 29.3m (hole ES2005-22)
14.6m @ 1.74% Ni, 0.79% Cu and 0.06% Co from 80.4m (hole ES2004-09)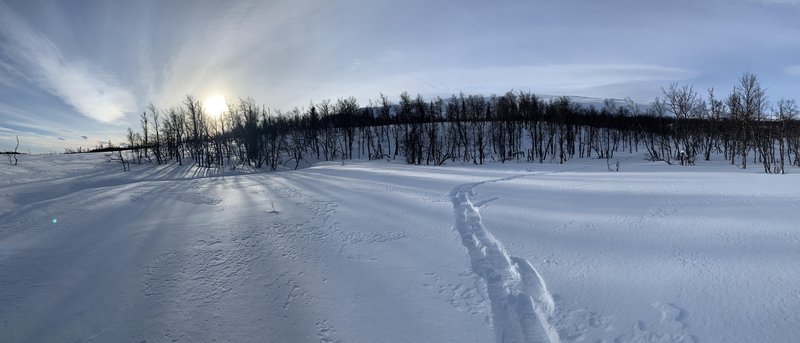 Location of Stormyra Nickel Deposit on Espedalen Project
The Stormyra Mineral Resource contains a high-grade core, with drill intersections of up to 2.9% nickel. The high-grade core is not fully defined by drilling and further investigation is warranted along with drill testing a ground geophysical conductor that's directly associated with the nickel mineralisation. This extends 500m to the south-east of the currently defined limits of the Stormyra Mineral Resource.
In addition to the Stormyra and Dalen nickel deposits, the Espedalen Project contains another 10 prospects containing nickel intersections of at least five metres at greater than 1% nickel, that warrant follow up drilling.
Total production to date from the Espedalen region is estimated at 100,000 tonnes of nickel ore, grading 1.0% Ni, 0.4% Cu and 0.6% Co. To the south west of the Espedalen Project area is the Veslegruva mine, from which approximately 3,500t of nickel ore has been extracted.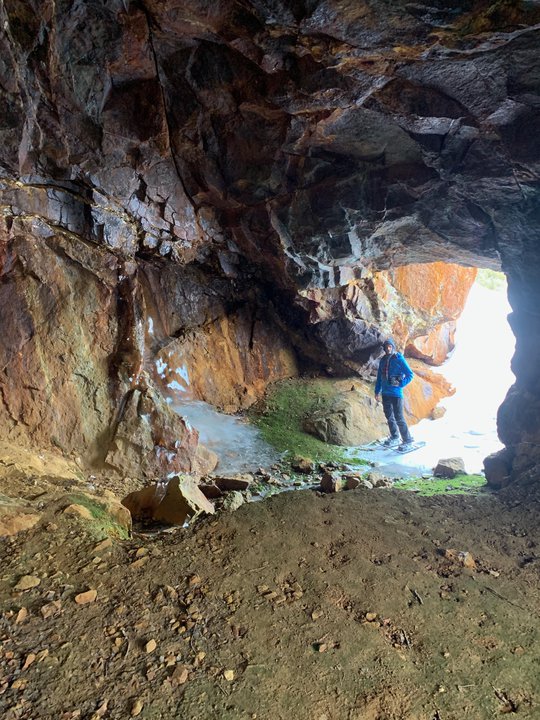 Veslegruva Historical Mine
Megrund prospect
While no metallurgical work has been undertaken to date on the Stormyra and Dalen mineral resources, limited metallurgical test work has been completed on two samples from the nearby Megrund prospect by Lakefield in the 1970's.
The best results obtained from this work produced a concentrate assaying 15% Ni and 5.3% Cu, with recoveries in the range 75-79%.
Nine holes were previously drilled at the Megrund prospect, a number of which justify follow up drilling, including:
117m @ 0.31% Ni & 0.12% Cu (Hole ES 07 101)
56m @ 0.72% Ni & 0.22% Cu (Hole 17)
54m @ 0.36% Ni & 0.14% Cu (Hole 25)
36m @ 0.57% Ni & 0.24% Cu (Hole 6)
While no resource was defined here, it exhibits very thick mineralisation. Pursuit will investigate whether it can pick out the high grade areas to define a resource using the existing drilling results — a low cost positive result.
Nickel Copper Mineralisation from Veslegruva Historical Mine
Sigdal Project
Following on from initial work at Espedalan, Pursuit will move onto the Sigdal Project where it plans to drill a number of holes with a focus on nickel and copper, plus gold.
The Sigdal Project comprises two exploration licences granted in April 2018, covering the historical nickel occurrences of Grågalten and Ramstad.
The Ramstad Ni-Cu deposit consists of minor historical mine workings over a strike length of around 1 kilometre in a north-south direction. The historical mine was operated in the years 1874-1877, and approximately 1200-1300t of nickel ore with a total amount of 7t nickel were produced.
In 2006, Blackstone Ventures completed a ground EM survey which located a prospective conductor associated with the known sites of historical nickel production at Grågalten and Ramstad. Blackstone tested the ground EM conductor with two relatively short drill holes completed in 2006, confirming the presence of nickel mineralisation at the two historical prospects.
One drill hole, drilled on the north side of the historical prospects returned highly anomalous assay values for Ni, Cu and Au grades up to 10g/t at drill depths of 22 metres and 36 metres as follows:
The project contains a geophysical conductor associated with historical mine workings, which has only been tested with two short drill holes, returning gold grades over 10g/t with encouraging nickel and copper mineralisation including:
22.62m-24.10m (1.48m) @ 0.36% Ni, 0.43% Cu, 10.1g/t Au, & 2.9g/t Ag
35.55m-36.00m (0.45m) @ 0.94% Ni, 0.88% Cu, 0.05g/t Au & 4.0g/t Ag
The gold grading 10g/t was 1.48m thick, yet has never been followed up could prove to be considerably thicker.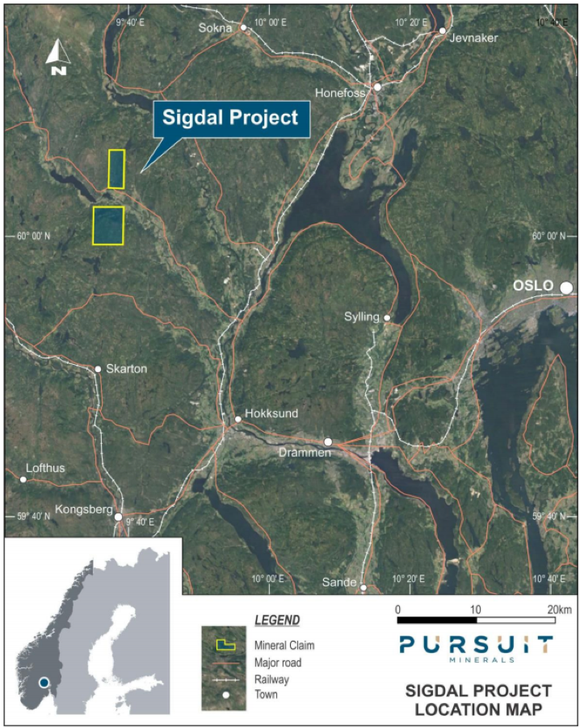 Sigdal Project Location
Hosanger Project
The third of the projects in the option agreement is the Hosanger project that's located 22 kilometres north-east of Bergen on Norway's west coast, in an area of excellent infrastructure.
The first nickel deposit was discovered here in 1875 and the project area contains several historical nickel-copper deposits.
At the historical Litland nickel mine, within the project area, nickel mineralisation was discovered in 1899 and continued intermittently through 1945. Past production from Litland totalled 462,000t grading 1.05% nickel — including grades of up to 3% nickel, 0.35% Cu and 0.05% Co.
In addition to the Litland mine, a total of 50 exploration drill holes have been completed within the Hosanger project area, testing targets that were generated from airborne electromagnetic and magnetic data.
While Pursuit has no plans to drill here immediately, with its near-term focus on the Espedalen Project, it will undertake a full evaluation of this previous drilling and the Litland mine, which contains nickel mineralisation open at depth, and select targets for follow up drilling.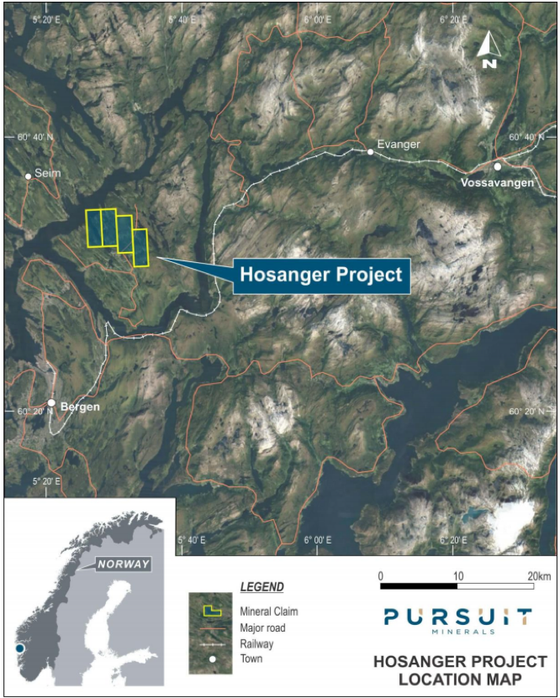 Hosanger Project Location
The Final Word
Securing the option over the Espedalen, Sigdal and Hosanger projects expands Pursuit's exposure to battery metals, which are increasingly important in Europe as the region rapidly transitions to clean energy sources and electric vehicles.
This transition required a massive increase in battery production and deployment and subsequent increased consumption of battery metals, including nickel.
Pursuit's immediate focus is on the Espedalen Project, where it will:
Assess the potential to expand the high-grade core of the Stormyra Inferred Mineral Resource.
Test a number of the targets of >5m @ >1% Ni.
Assess the potential to define a maiden inferred mineral resource from the existing drill holes at the Megrund prospect.
Over the coming 12 months, Pursuit will rapidly move to define and test nickel drill targets with the goal of expanding the known nickel deposits and discover new nickel systems.
With a limited number of quality nickel sulphide projects available worldwide, Pursuit is now just one of a handful of ASX listed companies with interests in an advanced nickel portfolio.
Backed by an experienced management team, having demonstrated its ability to progress projects fast in Scandinavia, there's a lot of potential to explore here — particularly for the ASX junior currently priced at just 0.6 cent per share price and with a sub-$2 million market capitalisation.
Additionally, protecting Pursuit on the downside here is that the company has the option to acquire these projects at a really attractive price and with minimal dilution to existing shareholders. The company is fully funded to complete these exploration programs this year.
---