Instant Early Cancer Detection Via Your Mobile
PUBLISHED: 03-12-2020 10:50 a.m.
Heathtech company MyFiziq Limited (ASX: MYQ) has developed a proprietary body dimensioning technology that enables its users to check, track and assess their dimensions using a smartphone, from the comfort of their home.
MYQ sells this technology by partnering with health and fitness consumer facing apps with existing user bases.
MYQ's app already empowers people to create a representation of their body structure in the form of a 3D avatar, with accurate circumference measurements and total body fat assessment.
MYQ is now strengthening its position in the healthcare space by taking a strategic equity stake in Triage.
With the support of world-renowned institutions, Triage has developed breakthrough technology which can detect skin disease using a smartphone.
Triage has developed the world's most advanced dermatological AI system which can accurately identify skin conditions from a photo in only seconds.
MYQ will implement Triage's AI "health assistant" technology within its CompleteScan SaaS offering.
Now, not only can MYQ track and monitor body dimensions, it can assess skin problems - potentially saving lives by faster diagnosis.
Triage was formed by an international group of doctors and scientists on a mission to deliver universal care using artificial intelligence.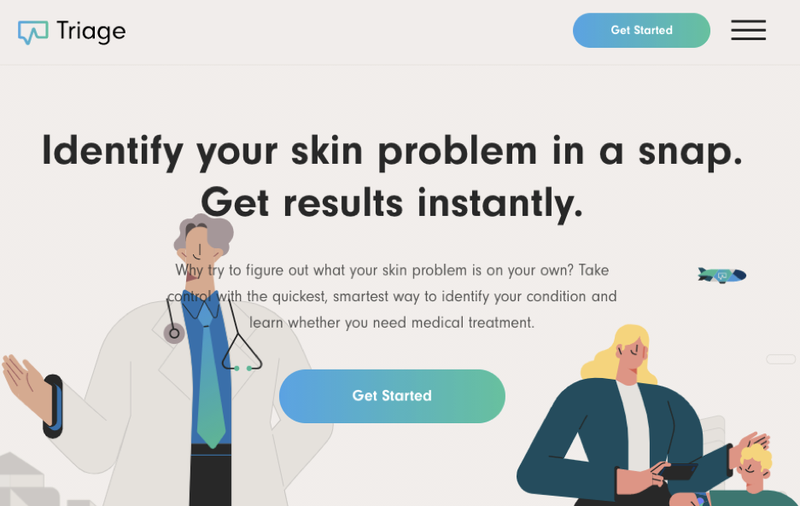 This technology was created using a proprietary database that is not only the largest of its kind in the world, but it is also larger than those of IBM and Google combined.'
Summary of the Material Terms
MYQ is taking a strategic equity stake in Triage, agreeing to invest a total of up to US$6M into Triage, being US$3M in cash and US$3M in MYQ ordinary shares over a series of tranches.
MYQ will ultimately end up with a 15.19% equity stake in Triage (on a fully diluted basis, based on the current shares on issue), this deal values Triage at US$39.4M.
MYQ will first invest US$500,000 on signing the binding term sheet, then a further US$500,000 paid 6 months later
Four separate US$500,000 tranches are at a 60 day call notice after the initial 6 month second tranche.
If all tranches were called each 60 day period, the full US$3M would be received by Triage over the 14 month duration.
MYQ has a first right of refusal on future capital requirements of Triage.
We think this strategic investment is a positive move, given MYQ is gearing up for a NASDAQ listing.
Triage is changing healthcare practices
The Triage AI technology platform can currently identify 588 skin conditions in 133 major categories via smartphone and is available in 200 countries around the world. It has also been used over 500,000 times in 2020.
It is meeting an important need - improving healthcare outcomes and costs:
85 Million Americans (i.e., 1 in 4 individuals of all ages) were seen by a physician for at least 1 skin disease in 2013.
In 2013, skin disease resulted in direct healthcare costs of $75 billion and indirect lost opportunity costs of $11 billion.
The costs and prevalence of skin disease are comparable with, or exceed, other diseases with significant public health concerns, such as cardiovascular disease and diabetes.
Triage alleviates much of this burden.
We expect this news to have a positive impact on MYQ's growth ambitions, a company whose story we have been telling since we first took a position in it in April of 2020.
In fact, we are long term holders in the company and suspect MYQ will have as big a year in 2021 as it did this year.
The Triage news is the icing on the cake for 2020, a year in which the company's share price increased approximately seven-fold from January levels to trade as high as $1.50 in October.
While there appeared to be a bout of profit-taking following that high, news that MYQ had received the final instalment of a funding agreement totalling nearly $1 million for its 51.45% owned joint venture company Body Composition Technologies Pte Ltd from I-CGF under the funding agreement announced 23 September 2020, combined with the signing of a binding term sheet with the Original Fit Factory in mid-November has seen MYQ consolidate its share price just shy of $1.00 per share.
There are multiple catalysts on the horizon for MYQ including a potential listing on the NASDAQ, there it would join numerous other highly valued health tech stocks.
You can catch up on MYQ's 2020 highlights here, but in this note we'll take you through more details on the Triage deal and what it means for MYQ.
MYQ advances its capabilities
Over the past six months, MYQ founder Vlado Bosanac has been developing a multiplatform strategy that expands the capabilities of the MyFiziq app into different industries, making it a robust app for businesses and consumers.
This strategy was evident when MYQ signed a memorandum of understanding (MOU) with Canadian based NuraLogix Corporation.

NuraLogix is a pioneer of Affective Artificial Intelligence (AI) which is the combination of affective computing and artificial intelligence. It has developed the world's first cloud-based Affective AI Engine, DeepAffexTM, which utilises the company's proprietary facial imaging technology, Transdermal Optical Imaging (TOITM).
Using this patented technology, NuraLogix developed the world's first smartphone app, AnuraTM, which can inform you about your general health and wellness in 30 seconds.
Triage fits well with these capabilities.
"I have identified Triage as a natural fit for the platform and for the expanded interest which MYQ has developed from the medical and remote care communities for triaging users not only in the current COVID situation but also in normal times," Bosanac said.
Under the terms of the agreement Triage will license MyFiziq to use the Triage AI engine, and the companies will work together to integrate Triage's technology into the MyFiziq-owned CompleteScan platform.
The MyFiziq team, with its 'on-device' expertise, will advance the AI engine of Triage to be an on-device ready to use application for consumers.
MyFiziq and Triage intend to integrate the patented solutions to expand the capabilities of their image capture suites for the global market.
MyFiziq has agreed to invest a total of up to US$6 million into Triage, being US$3 million in cash and US$3 million in MyFiziq ordinary shares.
AI system can identify skin cancers
Triage's AI engine identifies 588 skin conditions in the major 133 categories, including the identification of all categories of skin cancers as part of the company's dedication to improving healthcare outcomes:

Those 133 categories of skin conditions cover 99% of the global derma conditions market.
The Triage web application was released at the end of 2019 and has had over 160,000 people use the application over 500,000 times with 12% of the initial user base being clinicians utilising this new tool to provide an improved standard of care.
Triage is being used by individuals and clinicians in over 200 countries worldwide, allowing skin conditions of all skin types and tones across all ethnicities to be detected and identified.
The following is a list of skin conditions triage can detect:

The accuracy of the AI engine has been tested against dermatologists and has proven to be more accurate more often than a dermatologist.
In a recent study in Canada conducted with 157 dermatologists, the Triage application beat 154 dermatologists and tied with 3 dermatologists in identifying various skin conditions including both benign and malignant skin lesions.
Benchmarking data for this study was originally published in the European Journal of Cancer.
The need for an accessible and easy-to-use application such as Triage is well understood in the current global environment, especially with 1 in 5 Americans and 2 in 3 Australians expected to develop a skin cancer by the age of 70.
Accessibility to dermatological care is limited due to a shortage of dermatologists, causing long wait times and leaving patients to seek dermatology care from general practitioners.
The burden of initial triage and subsequent diagnosis commonly falls on non-specialists such as primary care physicians (PCPs), nurse practitioners (NPs), and physician assistants.
Thus technology such as Triage AI, being used in conjunction with MYQ's CompleteScan SaaS offering may solve a major healthcare issue.
MYQ looking to leverage industry incentives
With key drivers in place for governments to incentivise industry service providers and consumers alike to be proactive in addressing skin disease issues (they accounted for US$75 billion in direct healthcare costs and US$11 billion in lost opportunity costs in 2013), MYQ's integration with Triage means it is well placed to assist everyone from physicians to insurance providers.
The integration enables MYQ expands MYQ's ability to monetise its aggregate capabilities amongst the vast amount of people that are gaining access to its platform through the many contracts which MYQ has executed.
"By bringing in platforms like personal health/wellness and medical checking applications, this expansion process not only broadens user/market interest in MYQ capability but also generates better service by combining all these functionalities directly on the smartphone/mobile device. Consequently, these technologies and wider utilisation should significantly improve the value of MYQ," Bosanac said.
Essentially, the agreement between Triage and MYQ and the combination of technologies, produces a unique solution to help improve the health and wellness of people everywhere, which is especially important during the current pandemic.
Here's why we like MYQ: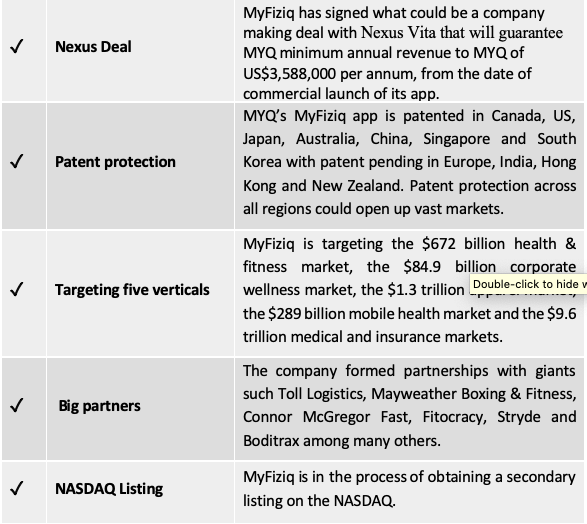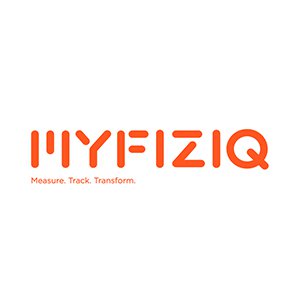 Advanced Human Imaging LTD
ASX:AHI
---