IMU Picks up the Pace in Cancer Drug Treatment Development
PUBLISHED: 09-08-2017 09:32 a.m.
It is difficult to understate the possible impact of the immuno-oncology therapies that the $33 million-capped Imugene (ASX:IMU) is currently developing.
These therapies, if proven safe and successful, could have an undeniable real world positive effect for cancer patients.
IMU is pooling all its efforts into two particular areas of cancer treatment research: immunotherapy drugs based on antibodies (B Cell peptide mimotopes) and small molecule arginine modulators (a drug that can boost levels of the amino acid, arginine, to help the body's immune system fight off cancer).
Its frontrunner mimotope program, the drug candidate HER-Vaxx, is already in Phase 1b and Phase 2 trials. In its latest announcement, IMU revealed it had received notice that the Canadian Patent Office had issued a Grant Notice for this next generation cancer therapy .
The patent will protect specific cancer vaccination formulations for commercial interest.
HER-Vaxx targets the same receptor as the two leading antibody drugs on the market, Herceptin and Perjeta, with annual sales of US$8.2 billion. Overall, current immunotherapies are predicted to generate sales of US$36 billion by 2025, however uptake is impeded by prohibitive costs.
IMU is looking to redress the cost balance with a treatment that has improved efficacy over existing treatments and is more cost efficient.
Before we go to far, we should note that this company is an early stage biotech play and a speculative stock. Investors should seek professional financial advice if considering this stock for their portfolio.
Her-Vaxx isn't the only treatment IMU is developing.
IMU is also evolving 3-4 additional mimotope candidates, while conducting pre-clinical development in the field of arginine modulators. Arginine is a critical amino acid for the health of cancer fighting T-cells and depletion of it limits the effectiveness of T-cells to fight tumours.
Suffice to say there is a lot on IMU's plate.
Here's its work pipeline for the next few years: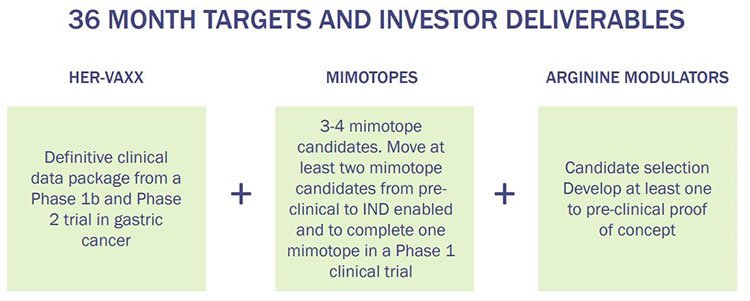 There is expected to be a great deal of news flow from the company in this time as it looks to quickly attract the attention of a big pharma partner looking for a commercialisation opportunity and bring effective cancer treatments to market.
When we last covered IMU in March this year, we focused heavily on IMU's flagship HER-Vaxx clinical asset. This time around it's time to take a more in depth look at what IMU is doing in the arginine modulator space including its agreement with world-renowned Baker IDI Heart & Diabetes Institute in Melbourne, which will see it develop and commercialise a portfolio of small molecule arginine modulators for the treatment of cancer.
Following the news of that agreement with Baker IDI, there has been a number of developments to keep up with at the bio-scientific and business ends of the spectrum for IMU.
Updating you on: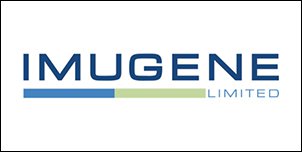 Imugene Limited (ASX:IMU)'s technology and ability to develop its therapies is reflected in the level of investor interest seen over the past year, as reflected in its 88% share price rise in that time. As you can see below, IMU (blue line) has strongly outperformed the S&P/ASX 200 Health Care index (XHJ) over the year: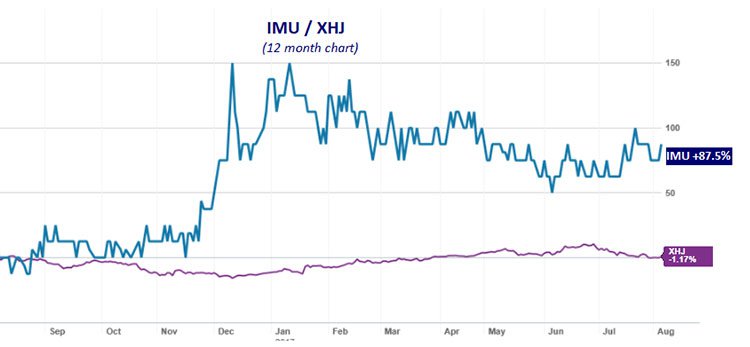 The past performance of this product is not and should not be taken as an indication of future performance. Caution should be exercised in assessing past performance. This product, like all other financial products, is subject to market forces and unpredictable events that may adversely affect future performance.
This rise was spurred on by news of IMU's acquisition of immune-oncology technology from Melbourne's Baker IDI Heart and Diabetes Institute in mid-December.
IMU is doing all it can to continue this trend.
Since December, IMU has been at full throttle in its research and development of immunotherapy cancer treatments. We first covered IMU back in March in the article Could this ASX Cancer Therapy Junior Attract a Billion Dollar Big Pharma Deal? In that article we looked at the necessity for immunotherapy treatments and gave an overview of how IMU is attempting to develop and commercialise its cancer treatment drug. We also looked at some of the deals being done in the space including Sanofi's purchase of Regeneron's cancer therapies (both at earlier stages of development – Phase 1) than IMU for $1.6 billion, and Roche's acquisition of Gentech.
Whilst we will touch on the development of its potentially first-in-class HER-Vaxx treatment shortly and how IMU is working towards attracting the eye if big pharma, let's start by delving into the world of arginine.
A key moment kicked off IMU's foray into the arginine modulator space.
The company's CTO, Dr Nick Ede, came across a review in Nature Reviews Drug Discovery called 'Big Opportunities for Small Molecules in Immuno-Oncology', co-authored by IMU director, Dr Axel Hoos who is the current VP Oncology R&D at the $83 billion capped GlaxoSmithKilne.
The paper highlighted a key mechanism of 'cancer escape' (the cancer's evasion of the body's immune system) that results from depleted levels of the amino acid arginine in the tumour microenvironment.
Specifically, depletion of intracellular/extracellular arginine results in impaired T-cell performance, leading to the body's impaired immune response to a growing cancer.
Someone reading that may wonder if it were possible to boost the levels of arginine to help a cancer patient. Well, Dr Ede didn't have to wonder. In his previous role at Mimotopes Pty Ltd in Melbourne, he had designed and tested (with Professor David Kaye of the Baker Institute) a set of compounds that did exactly that.
The initial testing at Baker IDI was focused on cardiovascular research as opposed to cancer treatments. But excited at the idea of using the research to develop a modulator for stunting cancer growth, Dr Ede set wheels in motion straight away.
What is an arginine modulator?
Arginine is a naturally occurring amino acid which plays a key role in the activation, growth and survival of the body's own cancer-fighting cells. A deficiency in arginine has been observed in renal cell carcinoma and acute myeloid leukaemia patients.
IMU is adding to a growing body of research into the theory that more arginine available in the patient's body (specifically in the tumour location) could help restore the cancer fighting ability of the body's own immune cells. This is a pretty ground-breaking proposition.
That's why IMU is putting all the steps into sequence to develop an arginine modulator asset, with the hopes of expanding pre-clinical development with the very real potential of securing a major deal.
Like the one that Incyte struck with Calithera Biosciences earlier this year...

Incyte pays Calithera $53 million upfront in small molecule arginase inhibitor
IMU's positioning, in terms of commercialising any future arginine modulator asset, was validated earlier in the year by a deal struck between $25 billion-capped Incyte and Calithera Biosciences for its immune-oncology arginase inhibitor CB-1158, in just Phase 1 of trials.
If you're wondering about the word 'inhibitor' when we just discussed boosting arginine, let us explain. The mechanism of action is slightly different than what IMU is hoping to do, but it's essentially based on the same core principle of addressing arginine deficiency that results in a patient's compromised ability to fend off cancer. Calithera's CB-1158 is designed to inhibit arginase, an enzyme linked to the depletion of arginine (to put it another way, arginase is the enzyme that processes our arginine).
So it's working off the exact same premise: to encourage higher levels of arginine to assist the immune system as IMU's own pre-clinical A12 arginine modulator molecule.
The princely sum of $53 million was paid up front by Incyte; $8 million being an equity investment. The deal stipulates a $420 million co-fund development of CB-1158.
This is the kind of deal that could be in IMU's future and this is the timeframe it is looking at:

Of course there is no guarantee at this stage that IMU can attract a big pharma deal, so investors should seek professional financial advice and take all publicly available information into account if considering this stock for their portfolio.
IMU's A12 molecule increases the availability of arginine in the cellular environment and IMU plans to reach Proof of Concept on this very soon. It has already filed a patent for A12 in the field of immuno-oncology , including combination use with checkpoint inhibitors.
A number of articles, including this one in the prestigious journal Cell , supports IMU's hypothesis with regards to the function of arginine in the immune system's response to cancer. Specifically, Swiss researchers found that T-cells with increased arginine levels display improved anti-tumour activity.
In the current quarter to 30 September, IMU has commenced in vivo testing of its A12 arginine modulator in animal models of cancer. Here's a broad overview of the areas it plans to cover in preclinical development of the arginine modulator asset between 2017 and 2018: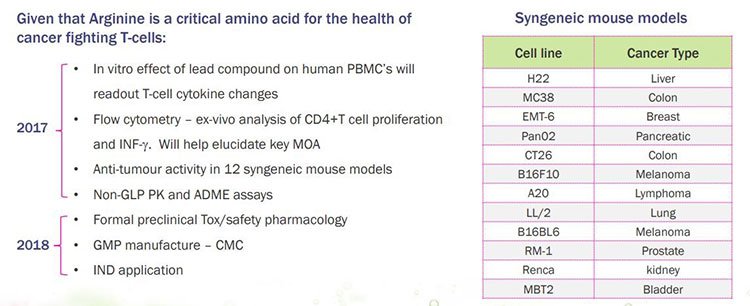 On the right is a table that relates to the testing IMU is completing on a panel of 12 different cancer syngeneic mouse models derived from 12 cancer cell lines.
The company is particularly excited about its work in this area and its agreement with Baker IDI. The highly experienced management team believe it has the means to rapidly advance its selective small-molecule arginine modulators into clinical testing, in order to develop a first-in-class therapy.
HER-Vaxx development humming along
A strong IP portfolio should always be adequately protected, particularly for a small cap in the rapidly changing field of immuno-oncology. Which makes last month's news from IMU particularly relevant; it announced it had been granted a Canadian patent providing protection for its proprietary HER-Vaxx cancer vaccine in regards to commercial interests through to 2027. Of course this patent covering an earlier formulation of HER-Vaxx will be boosted by the potential protection of the latest HER-Vaxx formulation (IMU-131) out to 2036. This newer patent has already been granted in Australia and its examination is being accelerated in all major countries world-wide.
It's good timing, seeing as IMU's HER-Vaxx Phase 1b/2 study for gastric cancer has commenced, with patients across Hong Kong, Thailand and Taiwan.
The company has received full and final country regulatory approvals to initiate the clinical trial, another critically important step.
At the same time, IMU is continuing its partnership with the Medical University of Vienna to discover and develop mimotope-based immunotherapies against validated and new oncology targets. This includes game-changing B Cell peptide vaccines that could replace or augment conventional therapies.
Taking this ambitious path as a budding biotech small cap requires a mix of knowhow, and, you guessed it, considerable capital to get going. Perhaps that's where some players fall over. But not IMU...
$3 million raised to continue development of HER-Vaxx
To help it along, IMU raised $3 million through an option plan which expired on 31 March 2017. The price for shares exercised under the option plan was 1.5 cents per share, with a total number of 200,070,235 options exercised by new and existing shareholders.
This $3 million injection of funds puts IMU in a solid position to continue the development of Her-2 focused clinical candidate, HER-Vaxx, as well as additional mimotope platforms and the all-important arginine modulator program.
The plan received support from existing major shareholders, Private Portfolio Managers, Platinum Asset Management and Celtic Capital who underwrote the sum. This is a clear vote of confidence from some leading institutional investors.
A look at the top shareholders as at May this year: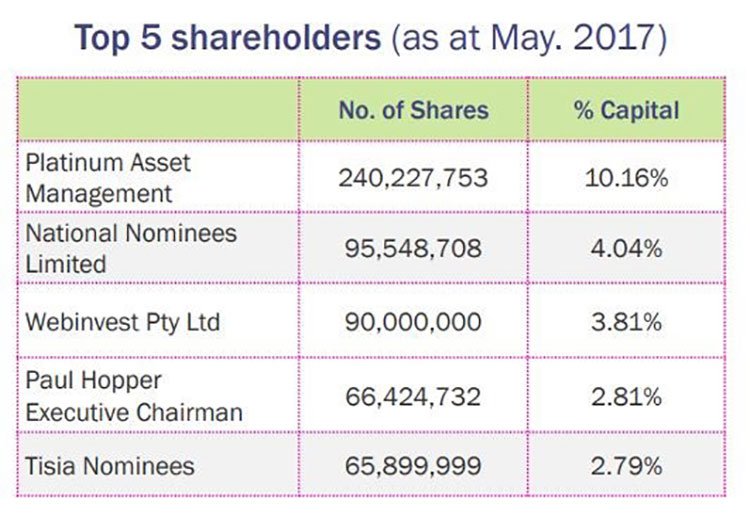 The company held a cool $4.8 million in cash at 30 June 2017.
Considering that a deal with a big pharma is a realistic aim, it's reassuring to know that they are well funded for the short term.
Forging a future direction in the field of immuno-oncology?
Of the top ten big pharma deals in 2015, 20% were in the antibody space. That fact validates the direction IMU has decided to take in revolutionising existing cancer treatments.
Of particular note for small molecule immune modulators is that immuno-oncology giant BMS only last week paid $2.3 billion in biobucks with $300 million upfront in cash for some preclinical small molecule assets being developed by IFM Therapeutics.
It's a fairytale for IFM to be swept up in a blockbuster deal just a year after a $27 million series A and with such early-stage candidates.
Could IMU's arginine modulators do the same?
That will be answered in time, however this remains a speculative investment – and like all speculative investments. Investors should thus take a cautious approach to any investment decision made with regard to this stock.
Australia is still to catch up to other countries like the US and reach a tipping point for acquisition and licensing deals in this booming area of biotech.
Once the momentum really gets going, we could see mindboggling numbers thrown around... with significant potential for these to land in the lap of IMU.
---