Could this ASX Cancer Therapy Junior Attract a Billion Dollar Big Pharma Deal?
PUBLISHED: 16-03-2017 10:17 a.m.
Last year David Bowie sadly joined the ranks of the likes of Steve Jobs, Yul Brynner and Dr Seuss – standouts in their various fields, who succumbed to cancer.
It's always shocking when celebrities die, but when it comes to cancer, the figures among everyday people are every bit as concerning as the big names whose battles make it into the spotlight.
Current predictions are that one in every two Australians will be diagnosed with cancer by age 85... that will account for about 3 out of every 10 people who will pass away in this country alone. And beyond Australia? WHO reported 14.1 million new cases of cancer worldwide in 2012.
Cancer is clearly a terrible group of diseases that kills too many lives.
Luckily there are many aspiring biotech companies out there who are working hard to find solutions.
Owing to the size of the prize, these companies are operating in multiple, vast, multi-billion dollar markets, with Big Pharma companies constantly shopping around in an effort to scoop up effective solutions and commercialise them.
There is one particular field of cancer treatment that is one the most promising going around – it's called immunotherapy.
Immunotherapy is the treatment of cancer with substances or drugs that stimulate the patient's own immune response. This type of treatment helps patients' immune systems recognise cancer cells and create antibodies to attack them.
This field has seen substantial, multi-billion dollar deals being made, as Big Pharma companies jockey for position in an effort to bring to market an effective cancer treatment – that could be profitable for years to come.
It has been touted as 'a breakthrough' treatment set to 'revolutionise' the oncological industry... no wonder Big Pharma is piling in.
One $30M capped ASX stock is at the forefront of the field, and is developing cancer immunotherapy drugs based on antibodies.
Before we go to far, we should note that this company is an early stage biotech play and a speculative stock. Investors should seek professional financial advice if considering this stock for their portfolio.
Today's company is attempting to develop and commercialise a cancer treatment drug, HER-Vaxx that could be first in class, cost effective and has a unique difference.
The company is soon set to recruit patients for its Phase 1b/2 trial over the coming months. These patients suffer from one of the most prevalent cancers facing the world today, gastric cancer.
Gastric cancer is the second leading cause of cancer death in the world and little evolution has been made in its treatment thus far.
Immunotherapy and in particular the work this ASX stock is doing, could change this substantially.
Through immunotherapy treatments, world leaders in cancer research are asking whether we are, at last, on the brink of turning the cancer story around.
20% of the top 10 Big Pharma deals in 2015 were in the antibody space. This is exactly the same space this $30 million capped ASX stock is working in.
Given it's at a similar stage to where there have been multi-billion dollar deals such as BMS paying $1.7 billion for the then small cap Five Prime, and Sanofi paying over $1.6 billion for Regeneron's cancer therapies (both at earlier stages of development (Phase 1) than where this ASX stock is positioned); there is every chance this stock could be the next to receive some big offers, at many multiples of this company's current market cap.
This ASX stock has a tight share register, and features an impressive management team with a successful track record in drug development and all the right credentials.
CEO, Leslie Chong, was the previous clinical program lead at Genentech Inc. – the company which sells Herceptin ® – a similar and complementary drug their lead product to what this company is developing...
On the board as non-executive director is Dr Axel Hoos, the current VP Oncology R&D at the $83 billion capped pharmaceutical giant GlaxoSmithKline.
He was also the previous clinical lead at Bristol-Myers Squibb, for Yervoy, the first immuno-therapy checkpoint inhibitor to receive FDA approval. This is another example of a large pharmaceutical company developing and signing major deals to acquire the license for other immuno-oncology therapies.
Even with that pedigree, Dr Hoos only board position worldwide is with this $30 million capped ASX stock... we can only imagine that he must be very interested in what this company is working on.
With its highly credentialed team assembled, this ASX stock is attempting to attract the eye of Big Pharma, playing in a field where the average total deal size is $514.6 million.
That's many times over this stock's current market cap, and demonstrates the potential value uplift if successful.
In the meantime though, 2017 promises to be very busy for this stock, with plenty of newsflow related to its Phase 1b/2 clinical trials – starting with patient enrolments, followed by early patient data... all of which will be keeping investors on their toes.
So, let's cut to the chase because time could be of the essence with this one – introducing: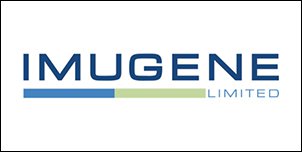 Imugene Limited (ASX:IMU) is developing cancer immunotherapy drugs based on antibodies... one of the key defences of the human immune system.
For a quick explanation of what IMU does, straight from the company itself, here's CEO Leslie Chong and Chief Scientific Officer Ursula Wiedermann talking to Canary Networks:
The Next Biotech Track Record
The Next Biotech is all about bringing small cap biotech stocks out into the spotlight, and alerting our readers to high potential growth stories, such as IMU.
By way of example, we first covered Noxopharm (ASX: NOX) back in August 2016 , and last wrote about it in October 2016 – the share price has never looked back, with the stock up as high as 390% since out first article: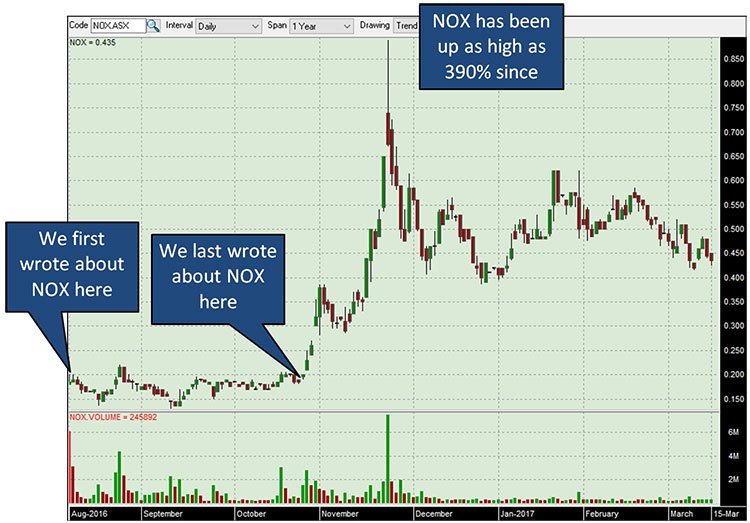 The past performance of this product is not and should not be taken as an indication of future performance. Caution should be exercised in assessing past performance. This product, like all other financial products, is subject to market forces and unpredictable events that may adversely affect future performance.
Can IMU do something similar over the coming months as it heads toward its Clinical 1b/2 trials? We are certainly hoping so...
IMU has two compelling antibody programs, which could open up a raft of commercial opportunities, especially given the size and nature of recent deals in the space.
Those antibody programs are as follows:

These two technologies build on the multiple levels of a person's immune system, through the identification of cancer targets for a variety of cancer indications.
B-cell antibodies have a number of advantages including safety, efficacy, durability, usability and cost.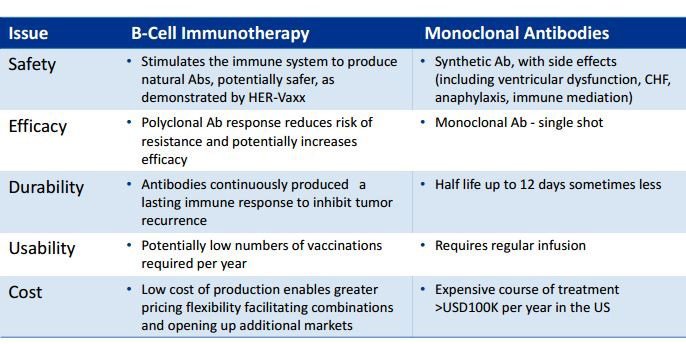 So should a small cap company such as IMU be able to demonstrate the potential to commercialise a drug that is cost-effective, has high efficacy, is safe and usable, it would be well on its way to attracting the attention of Big Pharma.
Before any Big Pharma deal comes to light, it's worth nothing that IMU has a few heavy hitters in the space backing it already. One of its key backers is Kerr Neilson's Platinum Asset Management, an Australian fund manager that usually looks abroad for its investment opportunities. Not on this occasion for IMU...

Platinum Asset Management has taken a stake nearing 10% (as of Dec 2016), having been impressed with IMU's board and management – a promising sign for the company at this stage of its life.
Here's a look at some recent valuation and licensing deals to give you an indication of how lucrative this space can be for companies like IMU: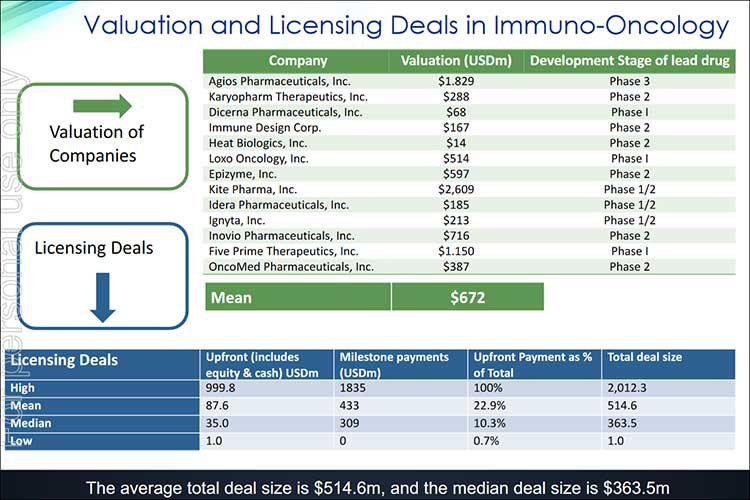 Given IMU is currently on the cusp of a Phase 1b trial, it could certainly be in a licensing window if it can generate enough newsflow and interest.
The field of study is certainly already newsworthy.
Immunotherapy is said to be the most promising area of immune oncology today.
As you can see below, this area of cancer treatment has even made it to the cover of Time magazine.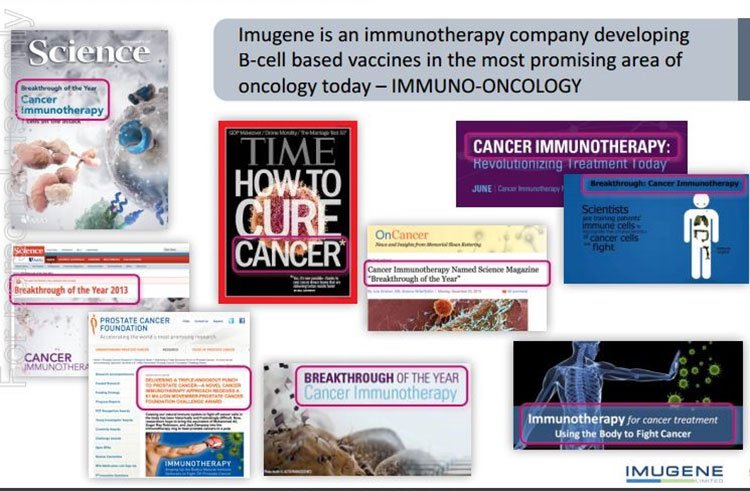 So a promising-looking play in this field could go from promising to profitable very quickly, particularly if it has the right treatments in trial to attract the attention of Big Pharma.
Here's a graph comparing IMU and its peers in terms of market cap right now: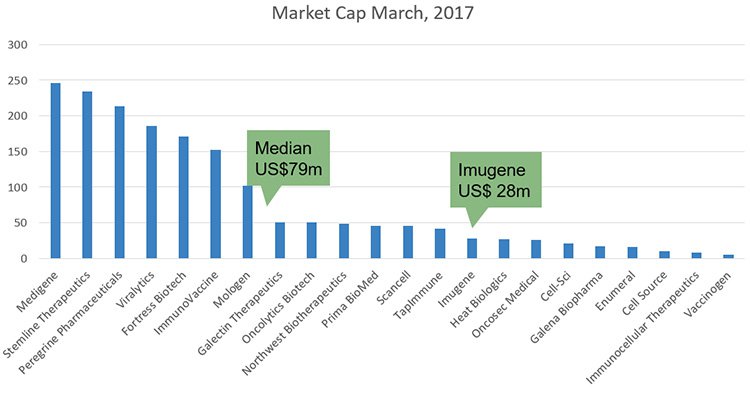 As you can see, compared to its peers this appears undervalued. However its valuation has been steadily climbing since November last year.
Once its range of immunotherapy solutions catch the right attention, it could quickly ascend the valuation ladder.
However, at the same time, this is a speculative investment – and like all speculative investments, there is no guarantee that IMU will increase in value. Investors should thus take a cautious approach to any investment decision made with regard to this stock.
IMU's goal would be to attract Big Pharma in the way that Five Prime and Regeneron did.
Those companies' molecules were in-licensed or partnered by BMS and Sanofi for $1.7 billion and $1.6 billion respectively.
In fact, as we mentioned above, 20% of the top Big Pharma deals in 2015 were in the antibody space, which augurs well for IMU given the assets it is attempting to commercialise.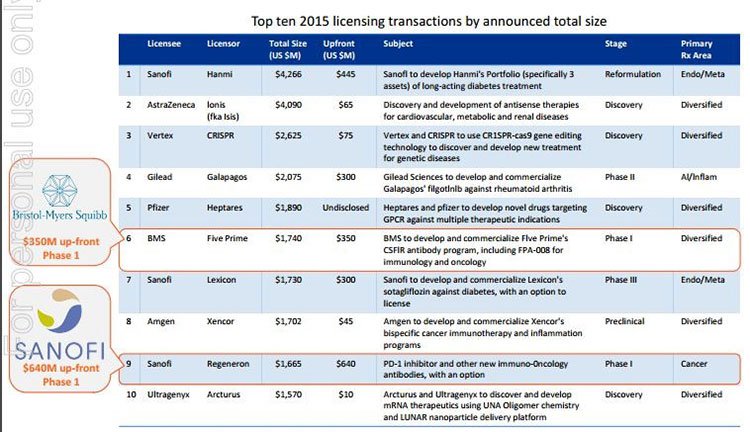 So if IMU were to make a deal, it could look something like this: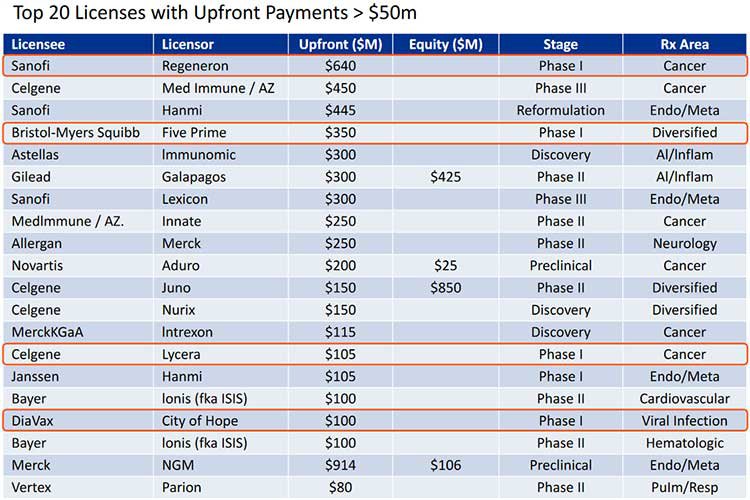 Note, how Sanofi made an upfront payment to Regeneron for $640 million. These are the kinds of numbers we are talking about, and what IMU is hoping for.
Before we make any grand evaluations of this company however, it might be best to delve into the science and take a closer look at its key treatment – HER-Vaxx.
HER-Vaxx – B cell based antibodies the natural way
IMU's flagship immunotherapy involves vaccinating the patient with HER-Vaxx.
HER-Vaxx stimulates the B-cells of the patient's own immune system to produce antibodies against the HER-2 receptor. These antibodies then attach to HER-2+ cancer cells and block the cancer cell growth signals.
Let's try explaining with a bit less scientific jargon.
HER-2 is a receptor that relays messages from outside of cells, to the cells themselves. One of its significant functions is to give orders to the genes that control cell multiplication and proliferation.
In some cancerous cells there is way too much HER-2 (referred to as "over-expressed"), which is what causes cancer cells to reproduce uncontrollably. When this is the case the cells are called "HER-2-positive", or HER-2+.
IMU's HER-Vaxx is a vaccine that stimulates a patient's own B-cells (which are basically little personal antibody factories) to go into immune response and create antibodies against HER-2.
As an aside, the diagram below shows the two ways there are to make antibodies: in a factory, and the IMU way, by using B cells in your own body: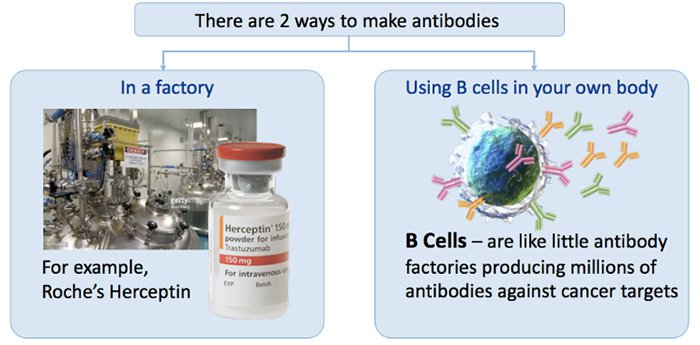 HER-Vaxx includes not one, but three different B-cell peptides, which help ensure the immune system will be able to come at the cancerous cells from a few different directions at once – so that tumours won't be able to hide from the good guys (as they are wont to do).
It might help if you see that in picture form: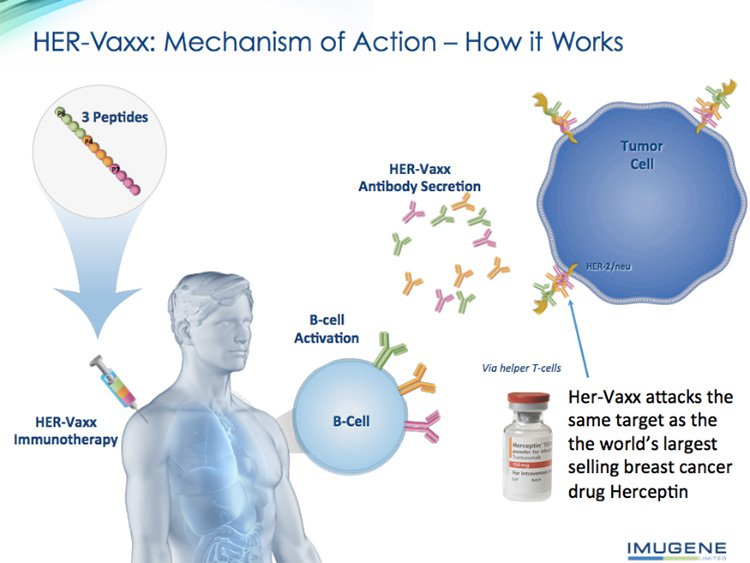 On the topic of making memories, one of the most exciting aspects of B-Cell immunotherapy is the unique opportunity it offers practitioners to intervene at multiple points in the immune system, and create immune memory to enhance durability of response.
What IMU is attempting here is to significantly advance a new but known strategy, aiming to create a treatment drug that's first in class – and with a unique difference.
HER-Vaxx therapy attacks exactly the same target as the world's leading breast cancer drug Herceptin attacks: they both use antibodies to target HER-2 in cancer cells.
The key difference is that IMU's HER-Vaxx therapy uses natural, polyclonal antibodies produced by the patient's own immune system, whereas Herceptin injects synthetic monoclonal antibodies into the patient.
This means HER-Vaxx B-cell immunotherapy can offer a whole range of advantages:
safety, as it stimulates the production of natural antibodies, which have fewer potential side-effects (whereas synthetic antibodies can produce quite serious side-effects including ventricular dysfunction, CHF, anaphylaxis, immune mediation);
efficacy, as polyclonal antibodies reduce the risk of resistance, by comparison with monoclonal antibodies (single shot).
Then there's durability: antibodies are continuously produced by the patient's own immune system, providing a lasting immune response to inhibit tumour recurrence (whereas the synthetic monoclonal antibodies can have a half-life of 12 days or less).
That's still not all of the advantages posed by HER-Vaxx... usability and cost are both huge components.
Relatively few vaccinations are required over the course of a year – compare this to monoclonal antibody therapy which requires regular infusion.
Which leads us to the aspect that affects anyone who receives a serious health diagnosis: cost.
The low cost of production enables greater pricing flexibility; whereas courses of monoclonal antibody treatment can be extremely expensive – > USD100k per year expensive.
A vital step: clinical trials
IMU has previously completed a Phase I clinical trial for HER-Vaxx with ten HER-2+ patients with metastatic breast cancer.
The results showed that HER-Vaxx was safe, well tolerated, and effective in overcoming immunological tolerance to HER-2... all very positive for Phase 1.
A Phase 1b/2 trial, involving HER-2+ patients with advanced cancer of the stomach, has commenced and IMU will soon recruit patients for that trial.
Here is Ms Chong explaining how these trials work.
That's a good overview of what IMU is all about. Let's look at what they've been up to recently.
Getting ready to raise the stakes
Now that we have a basic understanding of the science behind IMU's potential treatments, and a fair idea of the potential deal sizes that can occur in the space; we can now take a look at how the company is tackling the market.
In February, IMU announced it had received a Notice of Acceptance from the Australian Patent Office for Patent (application: 2016250289) which protects its HER-Vaxx cancer immunotherapy.
So while HER-Vaxx is being tested for the treatment of gastric cancer, with some promising initial results; the business side is also being taken care of – after all, everyone wants to find new and better treatments for cancer, but a company like IMU needs to make money doing it.
This new patent protects innovative new vaccine formulations designed to enhance the immune response obtained on administration of HER-Vaxx – IMU's proprietary HER-2 positive cancer immunotherapy that stimulates a polyclonal antibody response in patients with HER-2 positive cancers.
Which brings us to another piece of news... the latest positive finding of IMU's research into HER-Vaxx as a treatment for gastric cancer has been published in the prestigious BMC Cancer Journal . This was announced just a few weeks before IMU's patent news.
The Journal published results showing that the enhanced formulation of HER-Vaxx uses
an existing, clinically and commercially validated vaccine carrier protein called CRM197, together with an adjuvant called Montanide, invoked greater and faster antibody titres in pre-clinical models. In addition, it also showed good synergy when combined with Herceptin®.
Okay, that's a bit too far down the rabbit hole for most of us without PhDs in medical science.
So to put all of that another way: these kinds of results, which are good enough to warrant publishing in the BMC Journal , all represent stepping stones... to advanced clinical trials.
Advanced clinical trials attract the big bucks of Big Pharma – who then move in to take an innovative treatment to a whole new level.
IMU's latest version of the HER-Vaxx vaccine is superior in its ability to help fight cancer than previous versions.
It also shows 'strong growth inhibitory activity' of HER-Vaxx antibodies alone and in combination with an existing and popular drug called Herceptin®.
Importantly, research shows that the ability for the treatment to inhibit tumour growth is higher than using Herceptin® alone.
So there's some very handy evidence that IMU's latest version of the vaccine is potentially a superior drug, but also could be used as an effective complementary treatment option.
Making inroads with mimotope
Mimotope technology is another area IMU has its foot in the door.
Mimotopes are peptides that mimic the effects of specific B-cell epitopes in stimulating an immune response.
IMU believes mimotopes have significant utility as potential immunotherapeutic approaches for various cancers, in a similar way to HER-Vaxx. That's why IMU has acquired an option to continue this research and development of Mimotope Vaccines with the company's team in Austria.
IMU has filed patents, identification of the first mimotope drug candidate is heavily in the works, and the company hopes to begin some pre-clinical tests as early as the second half of this year.
Furthermore, in December last year it took another in its march towards immuno-oncology treatments...
Baker IDI agreement – arginine modulators
IMU signed an exclusive agreement with the world-renowned Baker IDI Heart & Diabetes Institute in Melbourne to develop and commercialise a portfolio of small molecule arginine modulators for the treatment of cancers.
We thought you could use a brief explanation of what 'arginine modulator' means – but does 'brief explanation' really exist in the bio tech world?
We'll try, anyway.
Arginine is a naturally occurring amino acid which plays a key role in the activation, growth and survival of the body's own cancer-fighting cells. Low or deficient arginine has been observed in renal cell carcinoma and acute myeloid leukaemia patients.
There's a growing body of evidence that points to the idea that more arginine available in the patient's body could help restore the tumour-fighting ability of the body's own cells.
Those in the field have known about this potential for arginine modulators for some time, and have been developing treatments. However IMU aim to develop therapies in this area and advance the research through pre-clinical development. An agreement with Baker IDI is a great start.
Money on the mind
The story so far sounds good, but funds are needed to progress IMU from small cap play to a smash hit in the oncology world.
In October last year, IMU successfully raised $3.2 million through a private placement at 0.75 cents a share.
By the end of the quarter to December 2016, IMU held a very comfortable $3.8 million in cash.
IMU also currently has Options set to expire at the end of this month... and if all options are exercised, the company will receive around $5.5 million, having already accepted approximately $400,000 from the exercise of its traded options (IMUO).
All that cash will bolster the company's ability to get its HER-Vaxx immuno-oncology solution through clinical trials as well as support its mimotope program to pre-clinical stages.
A company like IMU has a pretty clear goal in mind: develop a great biotech idea, find proof that the idea is a good one, and then sell it to a large pharmaceutical company who can see it through to market. IMU's broad steps over the coming years look a little like this:

Assuming the trials continue to go well, IMU could find itself in a similar position to its much higher valued immunotherapy brethren, and it could be sooner rather than later.
Of course there is no guarantee that will happen, so investors should seek professional financial advice and take all publicly available information into account if considering this stock for their portfolio.
On track to break into the oncology market
News is expected to flow thick in and fast in the near-term out of the IMU lab.
In the coming months patients will be dosed with HER-Vaxx in the Phase 1b/2 trial in gastric cancer, with some interim data made available to the public over the course of 2017:

IMU has already filed patent applications for its mimotope technology, identified a specific drug candidate and released preclinical vivo/vitro results.
The arginine modulators will continue to be developed with an identification of a candidate, which will then move into pre-clinical testing for proof of concept.
There's a lot of upside to what IMU are doing in the world of cancer treatment and if this little speed boat is steered properly and continues its smooth course, the Big Pharma ships could start to take notice...
---