EU Climate Policy - Battery Materials Supply Regulations Leaked?
Published 11-DEC-2020 10:00 A.M.
European Union leaders gathered last night to announce sweeping new climate action policies for the next decade.
Climate Strategy was presented and specific policy changes are expected to be announced over the coming days.
Last night we were watching for news about new EU regulations that could have huge implications for our two ethical and sustainability focused investments in the European battery metals space:
and
Here is what we learned last night.
We also learned that a press conference to announce the changes specific to the Battery Metals supply sector is scheduled for 2:30PM in Brussels (12:30AM AEDT / 9:30PM AWST) - about 14 hours from now.
This is where we hope to hear new policies that could have a significant impact on our investments in VUL and EMN.
Here is what we are looking out for in new EU policies:
Any new regulations around responsible sourcing of battery metals;
New rules to force EV battery supply chains to be carbon neutral;
New initiatives to accelerate and localise the EV industry in the EU.
The press conference is scheduled for just after midnight tonight and you can watch it here.
INFORMATION LEAKED
The European Environmental Bureau (EEB) website claims to have seen leaked documents of the new battery policy expected to be announced tonight.
We can't vouch for the accuracy of this info and are going to wait for the press conference and official statement from the EU tonight - but are very encouraged by the comments if they are true.
The following statement is from the EEB website: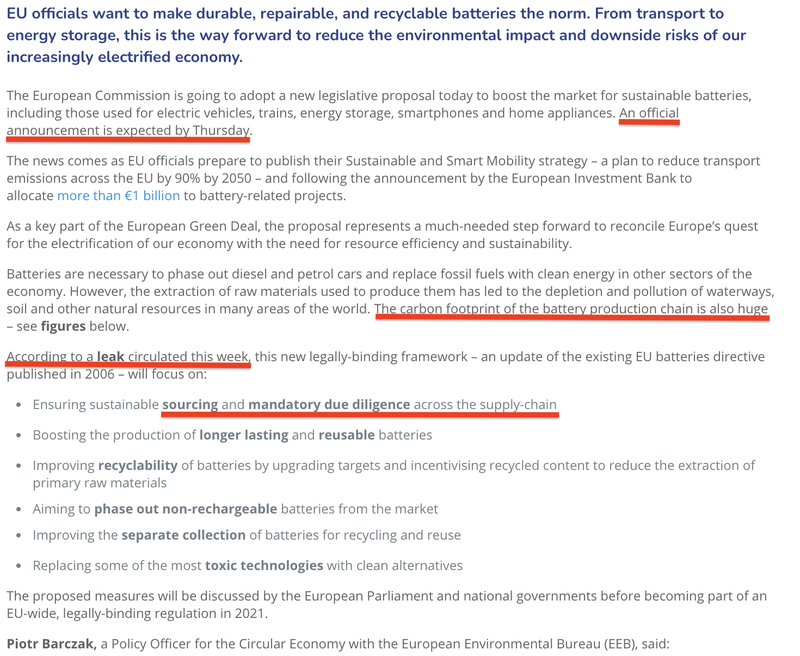 ---