Early stage. Big target. Frontier gas drilling.
Disclosure: S3 Consortium Pty Ltd (The Company) and Associated Entities own 3,925,926 NHE shares and 1,851,852 options, and the Company's staff own 40,000 NHE shares at the time of publishing this article. The Company has been engaged by NHE to share our commentary on the progress of our Investment in NHE over time.
It's just the kind of Investment we like... but it takes patience.
Major economies are rushing to create local semiconductor manufacturing plants to diversify supply away from geopolitically tense regions.
Helium is a critical ingredient in the manufacturing of semiconductors and our helium exploration Investment Noble Helium (ASX:NHE) has a giant unrisked prospective helium resource in Tanzania.
In just one project area, NHE has the potential to discover the world's third largest helium reserve behind the USA and Qatar — enough to deliver approximately 30 years of the world's current annual helium needs.
We Invested in NHE because it fits the profile of our previously successful oil & gas exploration strategy where we Invest early and wait for the key drilling event, like Elixir Energy, Invictus Energy, and historically Africa Oil Corp.
Specifically, these key attributes include:
Underexplored Basin - NHE is targeting a basin that is analogous to the East African Rift "String of Pearls plays" that have yielded oil and gas exploration success >80% of the time, leading to multiple large discoveries.
Frontier location - four East African Rift System basins in Tanzania
Large potential resource - NHE's project has a certified Mean Unrisked Prospective helium resource of 175.5 bcf - potential to become the world's third largest helium reserve.
Plenty of time left to the key drilling event - 12+ months for (hopefully) a gradual re-rate in the lead up to the big drilling event.
Founder and CEO holds a large position - Managing Director Justyn Wood controls 38.2% of NHE shares - that's a lot of skin in the game. He is directly aligned with shareholders and motivated to deliver success.
Successful, active neighbour - Helium One re-rated significantly off the back of its first drilling program with its share price going from £0.07 to a peak of ~£0.30 - an almost 4.5x increase.
This is not to say NHE will experience the same success as our other gas exploration Investments, even though all the ingredients are there.
With the key drilling event over a year away, it's still very early in the NHE journey.
There is a lot of target definition work to be done over the coming months, where we hope the NHE share price will gradually re-rate as the best drill targets are selected, and all the preparation work leading up to drilling takes place in late 2023.
NHE began trading on the ASX back in April via IPO, trading as high as 43c on day one — more than double its 20c IPO price.
Unfortunately it looked like many IPO investors decided to take a quick profit, and then combined with the May/June market correction, saw the NHE price trading around the 16c level for a few months.
We haven't sold any shares yet as our plan is to wait for the company to gradually de-risk the project in the lead up to the drilling event, which as we said above, will take at least 12 months.
We were hoping to see the NHE share price higher than the IPO price at this stage given the company has delivered some solid progress in the five months since listing, but those IPO profit takers and a broader market correction have set the re-rating process back.
Here is a summary of NHE's progress made since its IPO in April: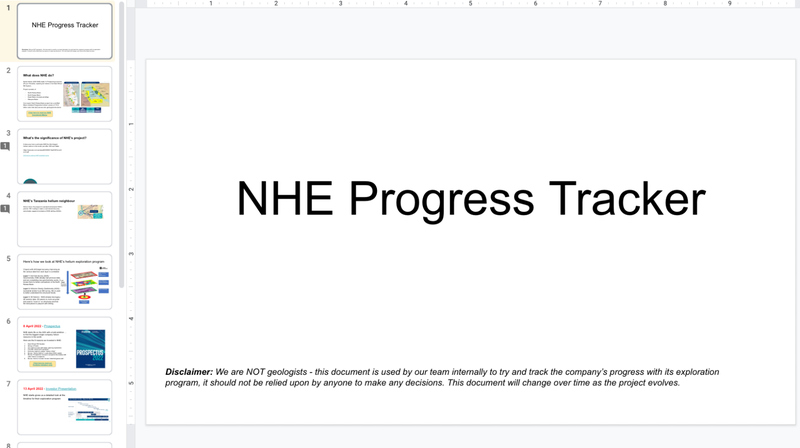 Given the good pace of progress, the NHE share price looks like it's creeping back into a slight uptrend now, appearing to have settled to around ~19 cents - close to the 20c IPO price.
So as we continue to patiently wait for the key drilling event in late 2023, let's take a look at exactly what NHE is trying to do.
NHE is aiming to discover the biggest single company helium resource in the world — we like it when our companies have big lofty ambitions.
NHE has an independently certified 176Bcf of mean unrisked Prospective Helium Resource in the Rukwa Basin — just one of its four project areas in Tanzania.
By itself, NHE's Rukwa Basin has the potential to be the world's third largest helium reserve behind the USA and Qatar. It has the potential to provide the equivalent of approximately 30 years' of (current) annual helium supply.
Of course, this is an "unrisked, prospective" resource - which means it is highly speculative and unproven at this point in time.
NHE wants to drill test the best targets across the prospective resource to see if it can convert it into a higher probability resource estimate.
A helium discovery proven by drilling should inevitably increase the value of the company.
In recent months, NHE has made further strides towards drill testing what may be the largest helium reserve held by any single company (if proved out).
NHE is targeting a maiden drilling program in late 2023 at its helium project.
Recent soil sampling has demonstrated that there is helium at the surface — it's coming out of the ground.
So we know that there is helium, the question is just how much and whether NHE can find commercial quantities of it.
We are still a long way from drilling, but we think the early signs from the exploration program are very promising, something that fits well with powerful macro tailwinds in the helium market.
In the build up to drilling next year, NHE continues to add new data to its geological model, increasing confidence in the prospectivity of its Tanzanian helium project.
NHE's key focus is addressing every structural closure for its helium prospectivity, in order to select the best two candidates for drilling.
NHE is now working with 7 geological structures — every one of them remains a potential candidate for the Q3 2023 drilling program.
This gives NHE plenty to work with ahead of what promises to be a very important drilling event for the global helium industry.
The current share price of ~19c gives NHE a market cap of $33M and with $8.5M in cash (as of June 30), NHE is trading on an EV of ~ $24.5M.
When it comes to our Investment in NHE, we have followed our standard Investment strategy as we've done for our previous exploration stage oil & gas investments:
We Invest early — well before the main drilling event
Wait for the project to be de-risked through permitting, target identification data analysis, resource upgrades and rig procurement - takes months or even years
Hope that the share price re-rates as the project de-risks and drilling gets closer
Aim to Free Carry and Take Profit before the drill results
Hold a material position into the drill result, expected in late 2023
We have seen the best results from this plan in the cases where the founder owns a big chunk of shares, and the company is drilling a basin opening well in a frontier location - like Invictus Energy, Elixir Energy and historically, Africa Oil Corp.
Oil & gas explorers can take a long time to move - but when they do, the moves are often proportional to the size of the resource they are chasing.
Our natural gas Investment Invictus Energy, which is due to drill a giant prospective resource in Zimbabwe next month, has all the above hallmarks... but took a long time to really get going.
It's been 707 days since we first Invested in Invictus and this is what's playing out on the charts as it closes in on its drilling event: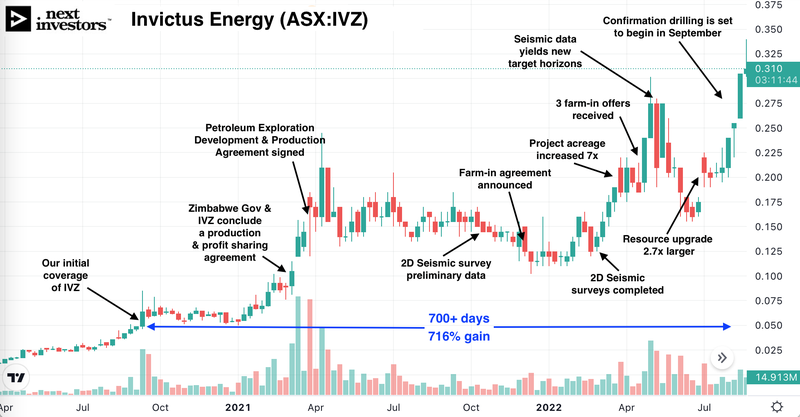 While there are no guarantees, we hope a similar set of circumstances plays out for NHE as the company de-risks its drilling campaign.
To date, NHE has done an excellent job of sticking to the timelines it told the market. Again, we've compiled its progress in a brand new NHE Progress Tracker: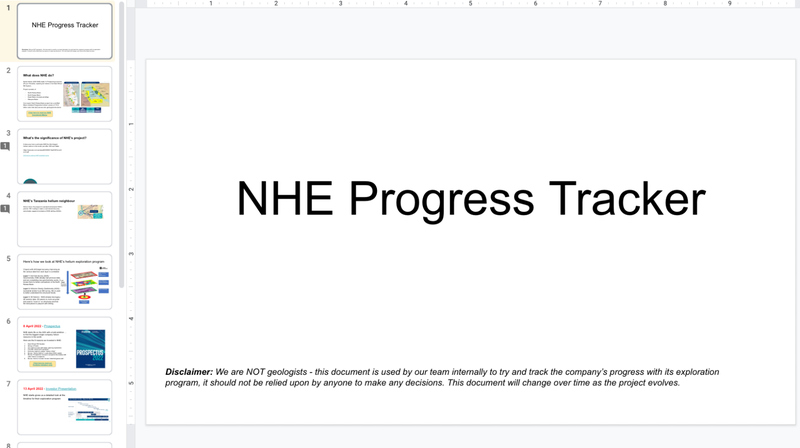 NHE moving quickly on giant prospective helium resource
Since kicking off the leg work for its exploration program shortly after listing in April 2022, NHE has steadily knocked down milestones on time. We've updated our NHE milestones from our Investment Memo accordingly: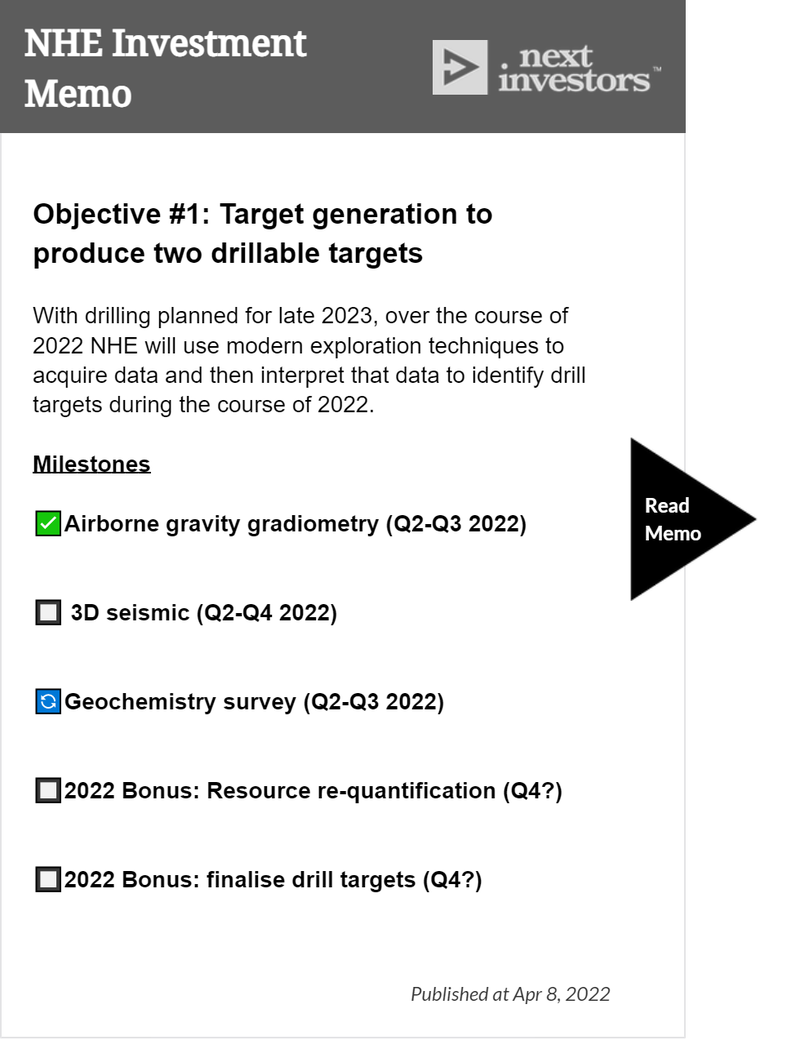 NHE's mammoth prospective helium resource in Tanzania sits in what NHE believes may be the best untested helium geology on earth.
This is the same geology that has given rise to billions of barrels of oil discoveries in recent years in the East African Rift System.
NHE just needs to drill test it, and it's planning to drill the two best targets in Q3 2023.
Collecting and analysing data to identify the best drill targets is a key re-rating event.
To identify the best targets, NHE will be using three different exploration techniques or layers of data, which it will then correlate:
Layer 1: Soil Gas Survey (SGS) (Geochemistry) - NHE already had previous geochemistry data, and are completing new geochemistry works. It knows there is helium somewhere in the North Rukwa Basin.
Layer 2: Airborne Gravity Gradiometry (AGG) - somewhat similar to an EM survey, this is used to better understand the structural trends.
Layer 3: 3D Seismic - NHE already has legacy 2D seismic data, 3D seismic is more accurate and used to "zoom in" on structures and find the best places to pinpoint with drilling.
We've visualised this approach to exploration as follows (drawn from our NHE Progress Tracker):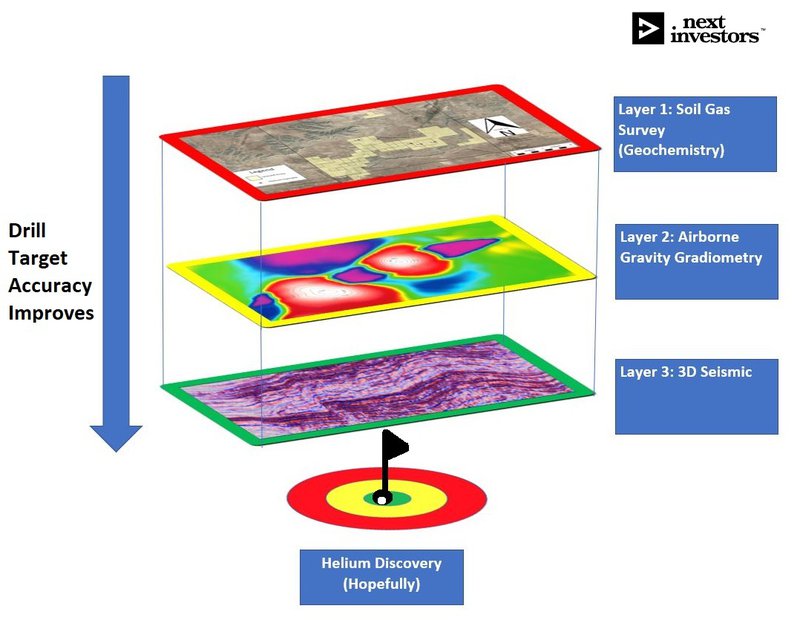 As NHE further refines its targets, improving its drill target accuracy and increasing its chances of making a commercial scale helium discovery, we would expect this progress to be reflected in the company's share price over time.
Airborne Gravity Gradiometry (AGG) survey
This week NHE provided an update on its current exploration activities as it looks ahead to its maiden drill program next year.
NHE announced that it has now completed an Airborne Gravity Gradiometry (AGG) survey and magnetic program across the full North Rukwa Project area.
The AGG survey is a relatively low-cost, high-valuetool for mapping subsurface structural configuration. It has proven to be extremely effective in East African Rift Basins of Uganda and Kenya ahead of oil and gas exploration drilling.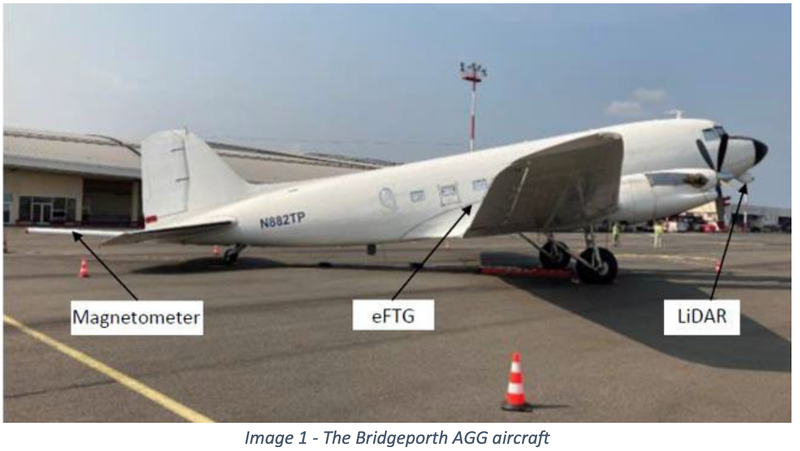 NHE is looking for nice "colourful blobs" here that correlate with what they are getting from the soil.
Based on his past experience as Exploration Geophysicist for Hardman Resources (which moved from $0.02 to $2.50), we think NHE Managing Director Justyn Wood will know how to get the best out of the AGG survey.
AGG surveys helped open up the East African Rift Basins of Uganda and Justyn was part of the breakthrough exploration success in 2006 with Hardman Resources.
We will go into more depth on the East African Rift Basins and Justyn's involvement in a later note.
NHE's AGG results display strong correlation between each of the previously mapped North Rukwa Basin Margin Fault Closure structures (BMFCs) and the helium anomalies identified in soil gas surveys to date — providing even further confidence around the potential of these structures.
Importantly, in the East African Rift System these kinds of subsurface structures have a demonstrated 100% success rate for oil and gas exploration - something Justyn is well aware of.
While that doesn't guarantee NHE success in Tanzania, it reflects the "String of Pearls" thesis that we advanced in our Portfolio Initiation note on NHE.
If NHE successfully delivers a result on the first "pearl"/drillhole, there is a higher likelihood the other geologically similar pearls will deliver too. This is why the first drill is so important.
Another East African Rift System company, Africa Oil Corp, hit a "String of Pearls" back in 2012 and it surged 1,200% on a successful result from its first lead in a string of leads on the East African Rift System.
We've done up a visualisation of this thesis comparing Africa Oil Corp's "string of pearls" leads to NHE's.
On the left is Africa Oil Corp, which successfully hit on the first "pearl" and subsequently went on to successfully drill the other structurally similar "pearls".
On the right are NHE's drill leads with the same "string of pearls" (at this stage still a string of leads) concept overlaid on its prospects: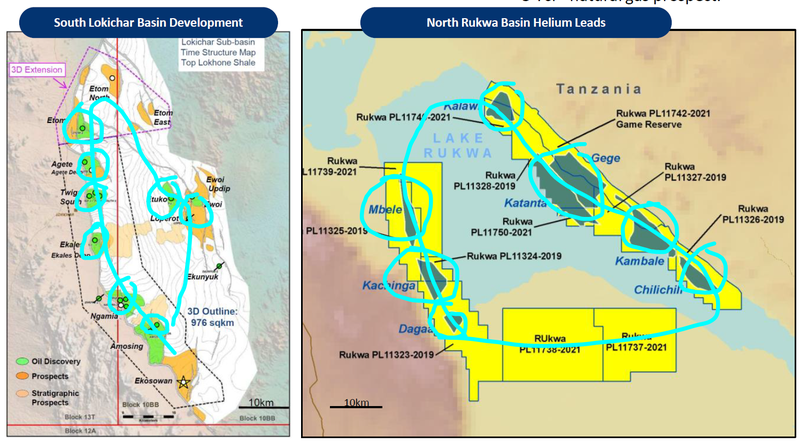 NHE's high quality AGG results, while preliminary, have provided crucial insights into the North Rukwa basin structural trends. This will help NHE in setting the location of its upcoming 3D seismic program — which is due to start next month — with maximum precision and confidence.
Soil Gas Surveying
So far, NHE has completed a Soil Gas Survey over all of the project's western area, plus 30% of its eastern area, with the rest to be surveyed in September.
Soil gas surveying involves sampling the soil on a regular grid, one metre below ground, for helium and other gases such as nitrogen and methane.
It provides an indirect indicator of gases trapped much deeper underground.
The results from the western side of the North Rukwa Basin demonstrated widespread elevated helium concentrations at up to 7.3 parts per million (ppm), or 35% above background.
NHE described this result as "highly encouraging" — helium's properties mean that the only possible source of this helium at surface is from underground.
A survey of one of the anomalies was repeated from 12 months ago, replicating the results and demonstrating the effectiveness and reliability of this technique.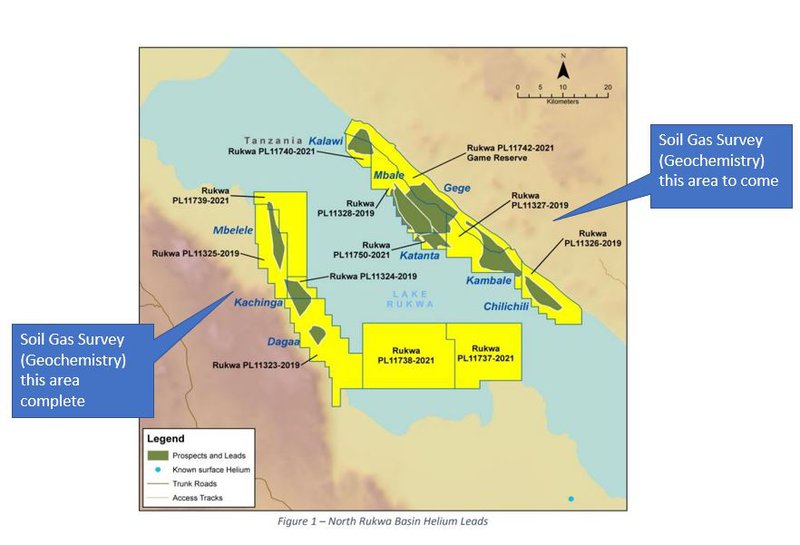 NHE has observed helium "micro-seepage", measured during the soil gas survey.
This can only be coming from underground and helium anomalies co-located with Basin Margin Fault Closure structures (BMFCs) — the structures/targets NHE is working with.
We now know that there is definitely helium below the surface — it can't have come from anywhere else as helium does not exist in the atmosphere in such concentrations.
This supports the presence of "helium charged reservoirs" within the BMFCs, which we like the sound of.
Of course, we'll know more once the AGG is fully processed for final structural interpretation, which is expected to be completed mid-late September.
What's next?
In what's shaping up as a busy month, the 3D seismic survey is on track to commence acquisition late September, and the remaining portion of the eastern area will see soil gas surveying during the month.
NHE is working across seven structures which may firm up and become dril targets:

The company also expects that the full processing of the AGG for final structural interpretation will be completed by mid-to-late September.
3D seismic survey
NHE is progressively adding data from the Soil Gas Survey, Airborne Gravity Gradiometry, and the soon to be acquired 3D seismic programs progressively to its geological model
All of this data works to increase confidence around the quality of the seven Basin Margin Fault Closure structures (BMFCs) identified to date — each of these seven structures remain candidates for the 2023 drilling program.
Construction of 3D seismic survey camp at North Rukwa:
NHE has begun looking into funding options for next year's maiden drilling program, and it is looking to secure a drill rig.
Helium macro theme should only get stronger by 2023
Maybe best known for making party balloons float, helium is actually a scarce, tech-critical and high-value industrial gas. It is used in MRI machines and scientific equipment, and perhaps most importantly, it is non-substitutable in the manufacture of semiconductors.
It is this corner of the market — semiconductor manufacturing — that is set to create demand growth for helium.
Only in the last ten years has helium been widely used in electronics manufacturing and semiconductor factories. That's because as transistor dimensions have become smaller — below 100 nanometers — semiconductor production requires the unique properties of helium.
Electronics usage had represented less than 1% of total global demand for helium, but that has grown exponentially to more than 15% of the market demand today.
Reports suggest that by 2026, demand for helium for semiconductors will be equal to the entire current global helium supply.
NHE is focused on proving up a global-scale, green alternative to relying on Russia, Qatar and Algeria for >60% of the world's helium.
The gas faces a intense supply shortage amid increasing demand projections — all heightened by tensions between China and Taiwan, the world's largest largest semiconductor manufacturer and market for semiconductors, respectively.
The world's largest semiconductor maker, Taiwan's Taiwan Semiconductor Manufacturing Corp (TSMC), is taking steps to mitigate a worst-case scenario where China invades or blockades Taiwan, and cuts off a supply of chips that are crucial to the global economy.
To do this, TSMC is moving some of its production outside of Taiwan to the US and Japan.
Meanwhile, after passing the CHIPS and Science Act, the US government is working towards implementing a US$54BN subsidy to attract major chip manufacturers such as TSMC and Samsung to set up their semiconductor fabrication plants in the US rather than in China.
These new plants will make both current and next-gen chips, which will only serve to lift helium demand.

What's NHE's Tanzanian helium neighbour up to?
NHE has a helium neighbour in Tanzania called Helium One (currently capped at ~£48M/$81M).
Helium One's Tai prospect is sandwiched between NHE's permits.
Helium One is looking to make a commercial discovery with drilling sometime in Q3/Q4 (quite soon):

Helium One re-rated in the lead up to completion of drilling in August 2021: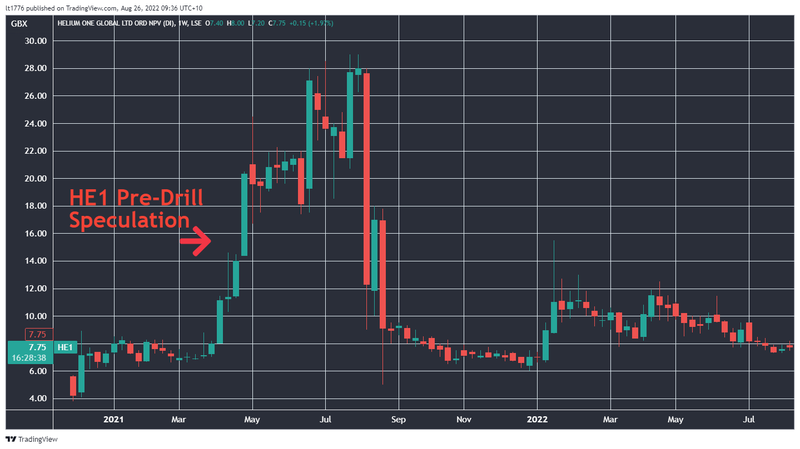 While that drill program wasn't successful (this often happens in gas exploration), Helium One is going back to retest the Tai prospect using a Phase II 2D seismic survey, which is actually less precise than NHE's 3D seismic survey.
We think if Helium One is successful, this would be beneficial for NHE as it would bring more attention to Tanzania's prospectivity for helium.
BUT, even if HE1's Tai prospect doesn't deliver commercial flows, we think NHE still has a great shot at a discovery.
Our 2022 NHE Investment Memo
Below is our 2022 Investment Memo for NHE including:
Key objectives for NHE in 2022 (shown above)
Why we invested in NHE
What the key risks to our investment thesis are
Our investment plan
Disclosure: S3 Consortium Pty Ltd (The Company) and Associated Entities own 3,925,926 NHE shares and 1,851,852 options, and the Company's staff own 40,000 NHE shares at the time of publishing this article. The Company has been engaged by NHE to share our commentary on the progress of our Investment in NHE over time.
---