Drilling results are in as Uranium prices keep edging upwards
Disclosure: The authors of this article and owners of Next Investors, S3 Consortium Pty Ltd, and associated entities, own 16,662,000 GTR shares and 746,615 GTR options at the time of publication. S3 Consortium Pty Ltd has been engaged by GTR to share our commentary on the progress of our investment in GTR over time.
Our exploration investment GTI Resources (ASX:GTR) has confirmed a maiden uranium discovery at its ISR Uranium project in Wyoming, USA.
Wyoming is the capital for uranium production in the US, accounting for 80% of all domestic production.
This discovery is timed with the Uranium spot price hitting the highest it has been in 10 years.
GTR intercepted 5,376m of mineralised ground across only ~20% of its project area during its 14,795m maiden drilling program.
This means that ~80% of its project area remains to be drill tested.
The drilling program was designed to discover a similar resource to the Lost Creek ISR Uranium Project's ~12Mlbs resource grading 0.044% uranium (owned by TSX-listed UR-Energy capped at CAD$451M).
GTR set the following as the economically viable cut-off for its drilling program:
ISR uranium grade of 0.02% and a 0.2 GT (grade X thickness of the intercepts).
We set our own expectations for the drilling program in our 2022 GTR Investment Memo, including a targeted nominal GT of 0.4, as follows:
Earlier in the week, GTR announced that of the 100 holes drilled:
23 holes met both the grade and GT cutoff with an average of 0.57 GT.
35 holes met or exceeded the cutoff grade of 0.02%
12 met grade cutoff but did not meet the GT.
With 23 of the holes averaging a GT of 0.57 (well above both our expectations and the company's), the news was a positive first sign for what we hope will be the building blocks of a large uranium discovery.
GTR has confirmed that the drilling program warrants follow-up drilling — that's promising news in our opinion.
With junior exploration companies, very rarely are large scale discoveries made off the back of a maiden drilling program. First pass drilling programs are generally conducted to improve the explorer's understanding of the project, so they can then come back with more targeted drilling.
We think GTR has managed to do just that and view the news as progress towards deepening its understanding of the project ahead of GTR working to determine where the mineralisation starts and where it ends.
But the market seemed to have viewed the news differently with the share price down ~11% at market close. We suspect this is because the market didn't quite understand the purpose of the drilling program. Many short term investors were hoping for a quick win, rather than appreciating the progress being made towards a larger discovery over the longer term.
With any exploration investment, we think an investor should always have three different possible scenarios in mind — a bullish case, base case and a bearish case.
The trouble with early stage exploration investments is that short-term focussed investors generally invest with only the bullish scenario in mind.
We hold a long term position and oftentimes are happy seeing our portfolio companies produce anything in between base and bullish cases, knowing that each small win often translates into larger longer term wins.
Of course as shareholders we would have loved to see GTR announce the biggest uranium discovery in modern American history, but we are invested for the long term and think small wins like earlier in the week are just as important in the long run.
To see the reasons why we continue to hold GTR in our portfolio, the progress that we expect the company to achieve in 2022, and the key risks to our investment thesis check out our 2022 GTR Investment Memo by clicking the image below: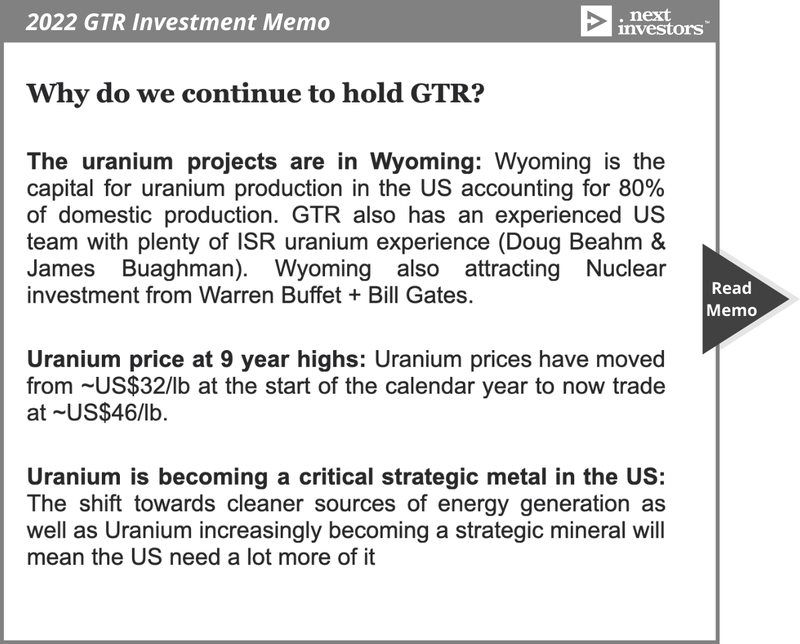 More on the drilling results:
When viewing the drilling results it's important to put some context around GTR's project and what our expectations were coming into the drilling program.
This round of drilling was centred around a part of GTR's projects where uranium was previously discovered in the 1970-80's by then owner Kerr McGee.
The project sits immediately to the east of UR-Energy's already operational Lost Creek ISR Project which has a ~12Mlbs resource grading 0.044% uranium.
In terms of overall ambition, GTR's goal was always to delineate something that is comparable, if not better, than its neighbour's project. So the grades of that deposit are an important variable to consider.
The focus in this part of Wyoming is on in-situ recovery amenable uranium projects. These are generally lower grade projects, mined without having to dig a large hole in the ground (making them the cheapest source of uranium in the world).
To see what in-situ recovery mining is and why it is considered a favourable type of uranium deposit check out our previous note here.
Having established the target as an ISR amenable deposit, similar to that of its neighbour GTR, the following are considered to be the typical economically viable parameters for the drilling results:
ISR uranium grade of 0.02% and a GT (grade X thickness of the intercepts) of 0.2 GT (i.e., 10 ft (3m) @ 0.02% uranium.
Taking this onboard and taking into consideration the size and grade of the resource its neighbour holds, we set the following as our expectations for the drilling program:
First the emphasis is on the "GT Measure" (grade x thickness).
This is basically the grade of an intercept multiplied by its thickness, with ISR deposits less sensitive to grades versus say a hard rock mine where there are things like strip ratios that need to be considered, ISR deposits can be commercial even if grades are low.
The only caveat being that the deposit is large enough to make it economical (this is where the thickness comes into play).
Taking the figures from the Lost Creek project and then coupling it with GTR's guidance before the drilling program commenced we set the target nominal GT of 0.4.
In the announcement GTR announced the following results:
With 23 of the holes meeting both grade and GT cutoff at an average GT of 0.57 ~25% of the drilling has gone well above our expectation of a nominal GT of 0.4.
The significance of this is that for a resource to be successfully delineated over the project's GT needs to be high. We think this is a good initial sign that GTR can now follow up and look to delineate further.
Of the 100 holes drilled only ~36 of the holes were considered "barren" meaning no mineralisation was found, the positive here is that this should assist GTR in preparing its future drilling programs by avoiding the areas where nothing was found and focussing capital on areas that are more prospective.
As we mentioned earlier in the note, new deposit discoveries are not made with one drilling program so these results are an early positive indication of what could come when GTR drills the remainder of its project area.
Another key takeaway with respect to this future from the results is the fact that, of the 14,795m (48,540 feet) of drilling completed GTR intersected mineralised roll fronts within the Thor project area totalling ~ 5,376m (17,640 feet).
This means ~36% of the area drilled returned signs of uranium mineralisation.
More importantly though, the total area drilled only represents ~20% of the company's overall project area in Wyoming with ~80% yet to be drill tested, giving GTR a lot of exploration upside optionality.
Second, we set the overall aim for the program.
This from the outset was to (in the most bullish scenario) to announce an initial maiden ISR uranium resource and in a more neutral scenario to establish an achievable exploration target.
Given the announcement is only an update on the drilling results, GTR wouldn't have even had the time to model out its drilling results and think about a resource announcement.
Generally exploration companies will need to put into their complex software suites the results of their drilling program and then run several rounds of interpretations and analysis before they can think about putting together a resource estimate.
GTR gave no indication in the announcement of a resource being put together, so at this stage this appears to be off the table.
The more neutral scenario for us was the announcement of an achievable exploration target.
Establishing an exploration target involves much less work than putting together a resource. It is more an estimate based on high level drilling results of how big management thinks a resource could be.
Again, there was no mention of this in the announcement. But with GTR signalling that the program was successful enough to warrant follow up drilling, we think there is still a chance for a resource at some point.
To summarise:
23 drill holes met both grade and GT cutoff at an average GT of 0.57 - above our expectation of 0.4GT
The total project area drilled only represents ~20% of the company's overall project area in Wyoming - This means ~80% is yet to be drill tested, giving GTR a lot of exploration upside optionality.
5,376m of mineralised roll fronts intercepted from a total of 14,795m (48,540 feet) of drilling completed - a large footprint that sets up a base for follow up drilling.
What's next for GTR?
Planning and permitting for follow up drilling at the Wyoming uranium projects 🔄
GTR confirmed that planning and permitting is underway for a follow up drilling program at the Thor project.
This will coincide with a first pass reconnaissance drilling program at GTR'S Odin project which sits ~10km to the north of Thor.
Drilling is planned for the summer months in Wyoming — between June/September. The next bit of newsflow is likely to be permitting updates regarding this program.
Fieldwork ongoing across Uranium/Vanadium projects in Utah, USA 🔄
During the December quarter, GTR completed some field reconnaissance exploration programs across its Uranium/Vanadium projects in Utah. Most of the workings were to get a better understanding of the ground conditions and any interesting outcroppings found on site.
At the time, GTR said that the fieldwork would be used to prepare a drilling program for the Utah spring in early 2022.
The spring months in Utah begin in April but there has been no commitment to a drilling program yet. We are hoping to hear about GTR's plans with these projects soon.
Divestment of gold assets via IPO 🔄
In early February, GTR agreed to terms of sale of its WA gold projects to "Regener8" for a total of 5 million shares in Regener8, 1.5 million in performance rights, and $150k in cash (potentially valued at $1.45m) if Regener8 can complete its ASX listing.
At this stage the divestment is expected to be completed sometime during the first half of 2022. But, as we have seen with other IPOs, these are often delayed.
We like this divestment as it will mean all of GTR's efforts and funds can be focussed on uranium exploration in the USA — the primary reason we continue to hold GTR in our portfolio.
What are the risks to our investment?
As with any company in our portfolio, when making an investment decision we always like to compile a list of key risks to our investment thesis for that particular company.
Given that GTR is a junior exploration company, the key risk we see is mostly centred around exploration.
Below is a snapshot of those risks: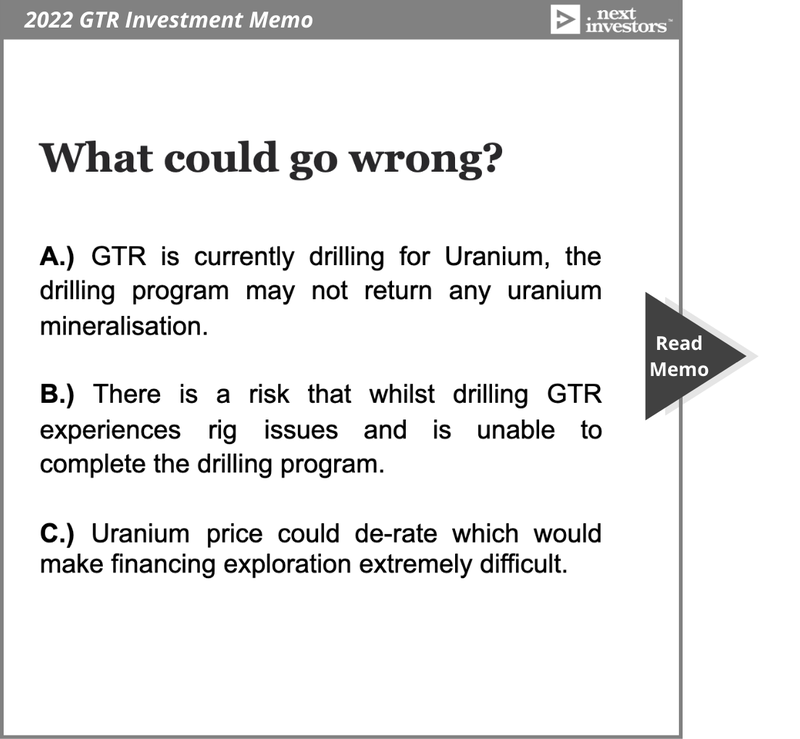 Our GTR Investment Memo for 2022
Below is our 2022 Investment Memo for GTR where you can find a short, high level summary of our reasons for investing.
The ultimate purpose of the memo is to record our current thinking as a benchmark to assess the company's performance against our expectations 12 months from now.
In our GTR Investment Memo you'll find:
Key objectives for GTR in 2022
Why we invested in GTR
What the key risks to our investment thesis are
Our investment plan
To access the GTR Investment Memo simply click on the button below:

---