"Drilling" Manager Appointed - that can only mean one thing…
Disclosure: S3 Consortium Pty Ltd (the Company) and Associated Entities own 4,100,492 NHE shares and 2,437,037 options, and the Company's staff own 64,339 NHE shares and 4,000 NHE options at the time of publishing this article. The Company has been engaged by NHE to share our commentary on the progress of our Investment in NHE over time.
Drilling is coming...
We have had success Investing in frontier, large scale, drilling events - particularly in Africa.
These are high-risk, high-reward plays that can be company making if a discovery is made.
Especially in unexplored basins bounded by a geological "rift" - where the "basin margin" provides the ideal conditions to trap gas and oil.
Our first successful frontier drilling Investment was in 2012 with Africa Oil — our tip of the decade — whose share price rose 1,200% off the back of successful drilling on the basin margin in Kenya.
More recently, our Investment in Invictus Energy hit a 1,000% share price rise off the back of identifying a working hydrocarbon system in Zimbabwe - and are now just days away from potentially declaring a discovery and then moving to drill the basin margin.
One example that we unfortunately did NOT invest in that made a successful discovery on an unexplored basin margin in Uganda, was Hardman Resources - which went from $0.02 to $2.50 and was acquired for $1.5 Billion.
Our Investment strategy with basin margin explorers is to take a position early, at least a year in advance of the drilling, and follow a company's progress as it ticks off the necessary milestones to deliver on the drill, expecting share price re-rates in lead up to the drill result.
Noble Helium (ASX:NHE) is our next shot on goal for one of these long awaited, large scale, basin margin, gas drilling events in Africa.
All the above companies were exploring the East African Rift system.
NHE is exploring for what could be the largest single company reserve of helium in Tanzania, and has been continuously delivering the preparation work in the lead up to its first drill, expected in Q3 2023.
After Initiating Coverage on NHE in April 2022 when it IPO'd, the company has delivered on multiple milestones to identify the highest priority drill targets to give it the best chance of a helium discovery.
Today, NHE provided a clear signal to the market that it has now advanced to the next phase of the project — preparing for drilling — by announcing the hiring of Dermot O'Keeffe as drilling exploration manager.
We think that O'Keeffe is a strong appointment as he reunites with NHE's Managing Director Justyn Wood.
O'Keeffe and Wood have a long history together that dates back to the early 2000s.
The pair helped to open the Albertine Rift Basin in western Uganda, making two oil discoveries for Hardman Resources which was then bought out for $1.5BN.
These were what's called Basin Margin Fault Closure plays which had a 100% success rate and are the same type that NHE is drilling.
Although we didn't have a position in Hardman - we were following it at the time and jealously watched the ensuing share price run.
Both O'Keeffe and Wood are experts in the region and with the Hardman band back together, Wood on geophysics and O'Keeffe on drilling - we think that NHE will be well placed to meet its timeline of drilling in the second half of 2023.
As we have seen with logistics challenges while drilling in unexplored, remote African basins with Invictus, having a highly experienced drilling manager who has "been there and done that" in the region is vital.
Since we first Initiated Coverage, NHE has been busy identifying drill targets through a layered approach that combines a number of geophysical and geochemical techniques to improve drill target accuracy: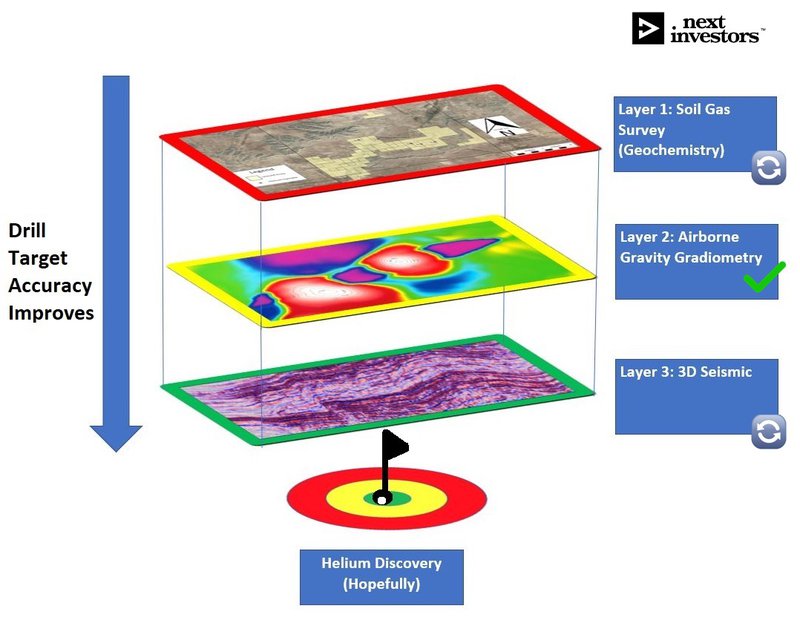 So far NHE has almost completed the 'Soil & Gas Surveys', ticked off 'Airborne Gravity Gradiometry' and is in the middle of 3D seismic surveys (which were fast tracked in September).
Once the 3D seismic is complete (estimated this side of Christmas - only 4 weeks to go), we expect NHE to take some time to analyse the data and then in Q3 utilise O'Keeffe's experience to drill the targets for success.
Ahead of this we expect O'Keeffe to be instrumental for NHE in securing the right drill rig and having all the pieces in place to drill the targets on schedule.
As the targets firm up, we expect a steady stream of newsflow ahead of drilling in the back half of 2023.
We increased our position in NHE in the most recent capital raise at 15 cents and took up our loyalty options entitlement.
In line with our general investing strategy for early stage, frontier exploration drilling, we have taken a position well over a year before drilling and recently increased this position. We will look to de-risk around 15-20% of our holdings in the lead up to the drill result IF a share-price re-rate materialises, whilst holding a large portion of our holdings into the drill.
Our 'Big Bet'
"NHE discovers the world's largest helium reserve held by a single company and is strategically acquired by a major company OR a state owned enterprise to secure supply (USA, China, Qatar)."
NOTE: our "Big Bet" is what we HOPE the ultimate success scenario looks like for this particular Investment over the long term (3+ years). There is a lot of work to be done and many risks involved - some of which we list in our NHE Investment Memo. Success will require a significant amount of luck. There is no guarantee that our Big Bet will ever come true.
To monitor NHE's progress since we first Invested and to track how the company is doing relative to our "Big Bet", we maintain the following NHE "Progress Tracker":
Click to see our NHE Progress Tracker here: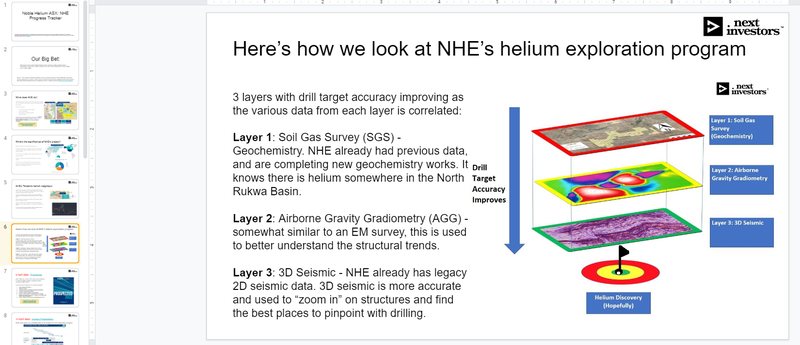 History of success: NHE appoints Dermot O'Keeffe
Dermot O'Keeffe has been appointed as NHE's in-house drilling manager, an important move ahead of NHE's Q3 2023 drilling program, in which the company will drill the two best targets.
Things can, and do, go wrong during drill programs. So the fact that NHE has a highly experienced drill manager onboard is a significant win.
Not only that, but O'Keeffe has a long history with Managing Director Justyn Wood that stretches all the way back to when the two opened up the Albertine Rift Basin in western Uganda, making the first two oil discoveries for Hardman Resources in 2006.
Hardman Resources was subsequently bought out by its Ugandan JV partner Tullow Oil in 2007 for A$1.5B.
As long-term Investors in NHE, it's good to know that the Wood and O'Keeffe team has delivered significant value before.
Perhaps more importantly, Wood and O'Keeffe are intimately familiar with the "play type" that NHE is working with - a Basin Margin Fault Closure (BMFC).
After Tullow acquired Hardman, Tullow drilled 32 more exploration wells in Uganda and Kenya, with a remarkable success rate of 80%.
That success rate was even higher (100%), when Tullow was drilling a Basin Margin Fault Closure.
This is what a Basin Margin Fault Closure looks like: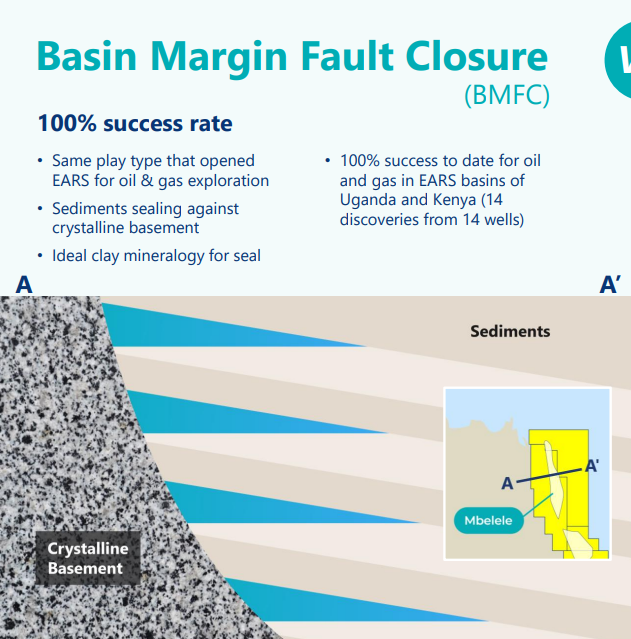 As we understand it, the reason this type of play is so successful is that the geology helps form the perfect seal for gas underneath the earth's surface.
Helium naturally wants to escape the earth's surface into the atmosphere so the better the seal, the higher the chance of success.
Now for a stroll down memory lane...
We dug up the 3D seismic image that Hardman was working with at its breakthrough Mputa-1 discovery - which clearly shows the contours of the basement: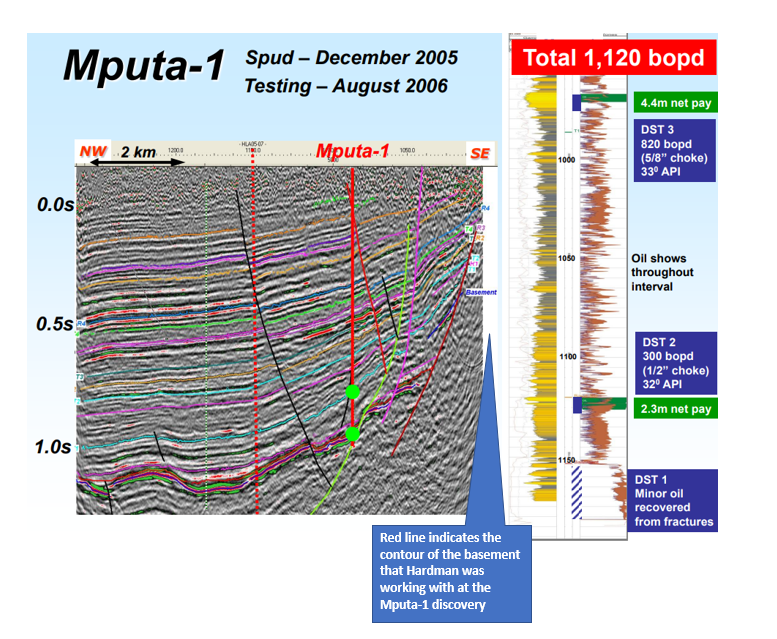 That looks almost exactly like the image from before. That's because it is exactly the same type of East African Rift System play that NHE's Dermot O'Keeffe and Justyn Wood are so familiar with.
Mputa-1 was located just on the edge of Lake Albert in Uganda as seen below: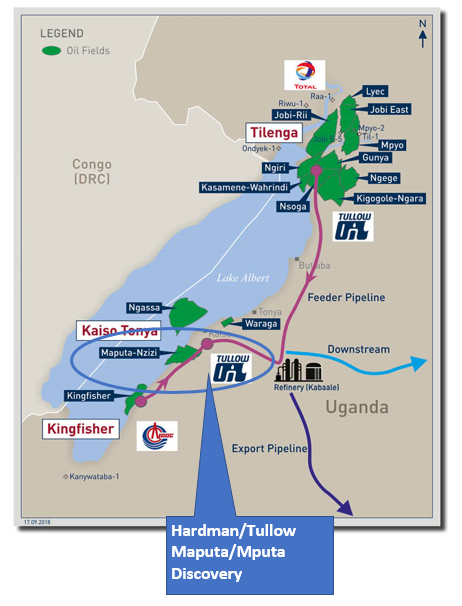 This looks remarkably similar to the targets that NHE is acquiring/has acquired seismic for on the edge of Lake Rukwa in Tanzania: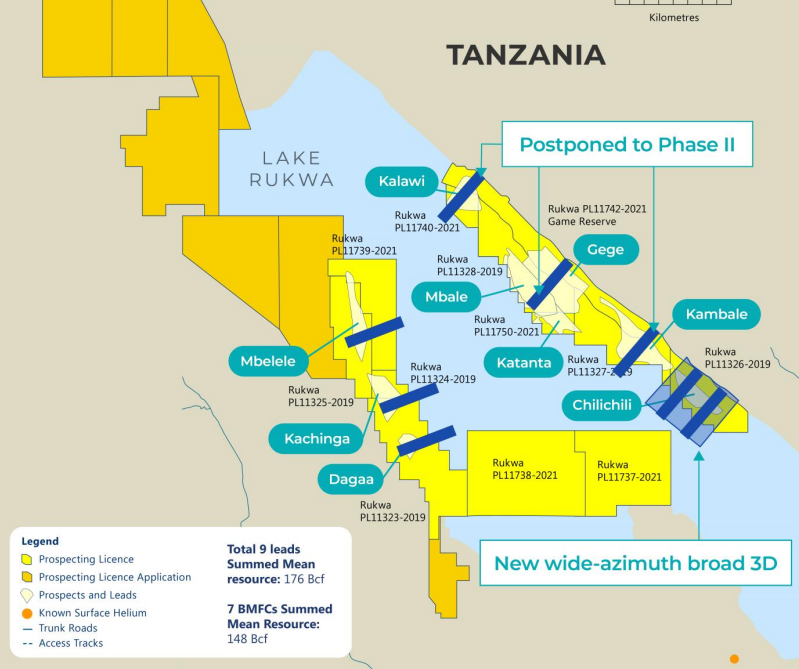 Again... the Wood and O'Keeffe team know the East African Rift System extremely well, and have extensive prior experience with Basin Margin Fault Closure plays.
But while this all sounds highly promising for NHE's drill program, it is important to note that various risks can still materialise.
You can have the right drill manager, the right exploration geophysicist as Managing Director, and the perfect location selected by the foremost helium experts in the world and still things can go wrong.
We list some of these risks in our NHE Investment Memo.
What's next for NHE
We see the following four developments as key to NHE's progress towards announcing a helium discovery in Tanzania:
Completion of the all important 3D Seismic (Q4 2022)
Farmout discussions to progress following results from 3D seismic
Drill target selection
Drilling Q3 2023
Our NHE Investment Memo
Click here for our 2022 Investment Memo for NHE, where you can find a short, high level summary of our reasons for Investing.
The ultimate purpose of the memo is to record our current thinking as a benchmark to assess the company's performance against our expectations for the 12 months following the launch of the memo.
In our NHE Investment Memo, you'll find:
Key objectives for NHE for the coming year - starting from April 2022
Why we are Invested in NHE
What the key risks to our investment thesis are
Our investment plan
---