CPH Kick Start African Launch - $300k Order Values Confirmed
PUBLISHED: 09-12-2019 11:08 a.m.
Creso Pharma (ASX:CPH | FRA:1X8) continues to drive its flagship medicinal cannabis product cannaQIX® 50 into new markets.
Today, the company has announced that through Pharma Dynamics, Creso's partner in the African region, initial orders worth approximately A$300,000 for the cannaQIX® product range have been made.
Creso anticipates the products will be available in South Africa in Q1 2020.
This comes just a few days after the company commenced sales of its flagship medicinal cannabis product cannaQIX® 50 to Burleigh Heads Cannabis, one of Australia's leading medicinal cannabis distribution companies.
CannaQIX®'s global market penetration has increased significantly this year.
Here's a look at its overall reach: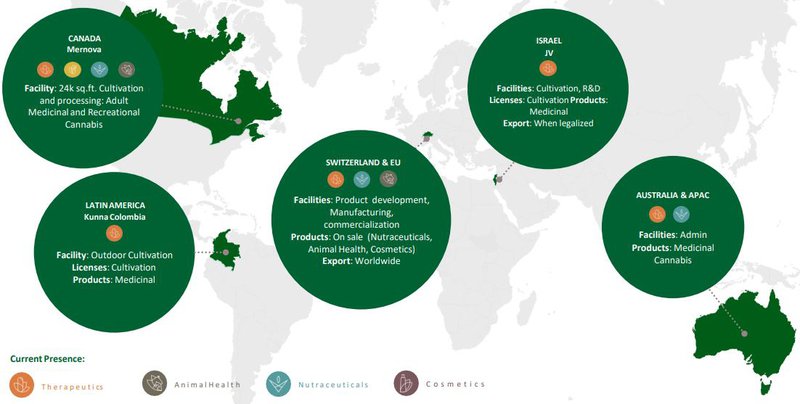 In the June quarter, cannaQIX® became available in major retailers like Holland & Barrett and Boots in the UK, and CresoPharma announced in July that it had received approval to import the product into Brazil and Australia.
In August, Creso announced that it had entered an exclusive distribution agreement with JC Logistics Ltd trading as Medleaf Therapeutics for the exclusive distribution of cannaQIX® in New Zealand.
Creso also announced the arrival of its first shipment of cannaQIX®50 in Australia, to be sold under the brand name 'LozaCan' through its exclusive Australian distributor, Burleigh Heads Cannabis
These developments along with the new sales being generated in Africa will assist Creso Pharma in delivering strong revenue growth in fiscal 2020.
So, let's catch up with Creso and look at these deals in more detail.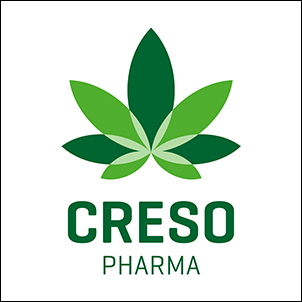 Creso Pharma
ASX:CPH, FWB:1X8
Share Price: $0.140
Market capitalisation: $24.4 million
Here's why I like Creso Pharma: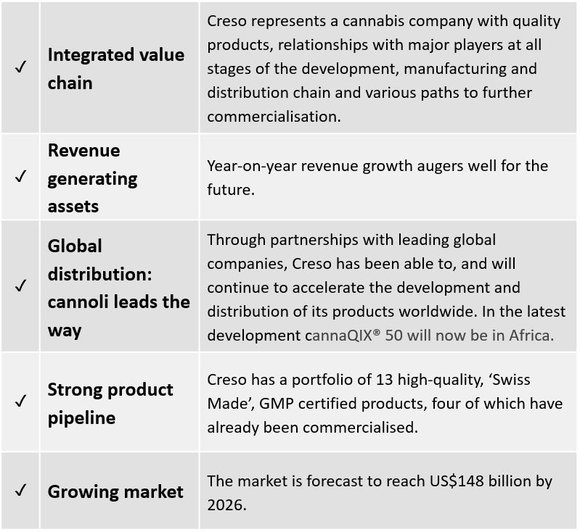 It has been only a week since we last caught up with Creso Pharma (ASX:CPH | FRA:1X8) and in that time they have made two significant announcements.
When we last caught up with Creso in the article Can New Cannabis Products Launch Creso Pharma Higher in 2020?, we analysed its significant milestones over the past two years and the near acquisition by PharmaCielo Limited (TSX-V:PCLO). PharmaCielo targeted Creso for the breadth and strength of its current portfolio and widespread cannabis operations and valued the company at A$122 million - a significant premium to CPH's current ~$24 market cap.
It has been a substantial year for the company for other reasons too: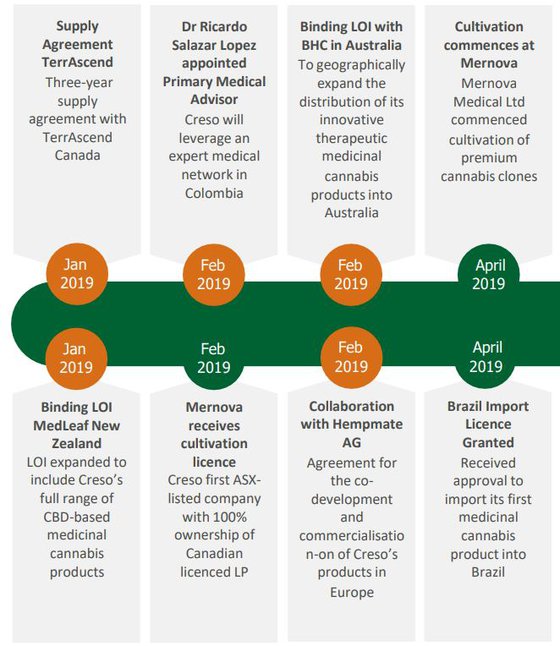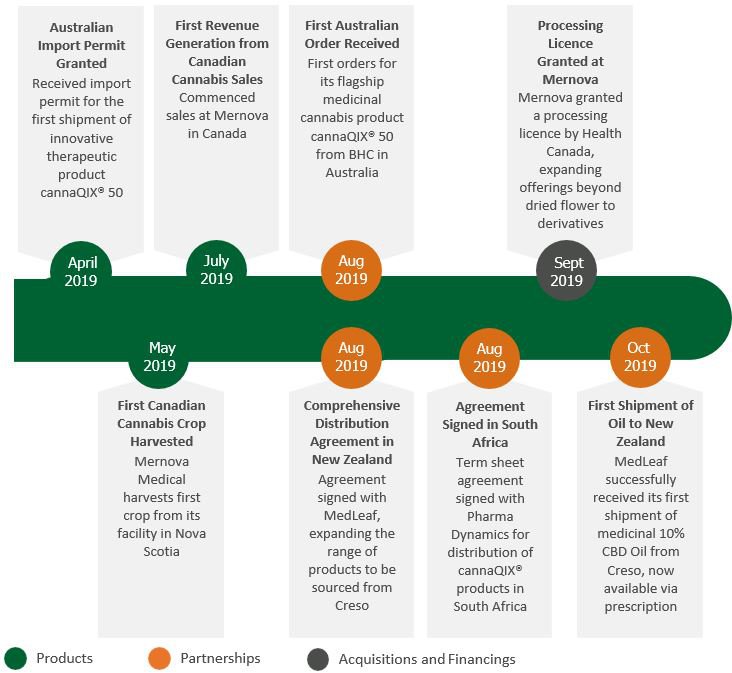 We also looked at what to expect in 2020.
However, Creso isn't waiting around for 2019 to tick into 2020 and has already added two milestones.
The first is...
Imminent launch of cannaQIX® in Africa
Creso advised that launch preparations of the cannaQIX® range with leading South African pharmaceutical company, Pharma Dynamics, a subsidiary of Lupin Limited (NSE:LUPIN) in the March quarter of 2020 are on schedule.
Pharma Dynamics has the sole distribution rights of Creso Pharma's broad-spectrum hemp oil nutraceuticals cannaQIX® product range across South Africa, Namibia, Botswana, Zimbabwe, Swaziland, Lesotho, Angola, Mozambique and Uganda.
In conjunction with execution of the Commercial Agreement, Pharma Dynamics has also made two initial orders for cannaQIX® regular with an approximate value of A$300,000.
It is expected that the product will be available at leading South African retail pharmacies in the first quarter 2020.
Commenting on the collaboration with partner Pharma Dynamics and highlighting their ability to bring an affordable product to market in Africa, Creso Pharma's chief executive and co-founder Miri Halperin Wernli said, "We are very excited to work together with our preferred partner Pharma Dynamics for the launch of the cannaQIX® product range into the first key countries in Africa.
''We are delighted to offer to the customer a top quality product with a top quality partner at an affordable price."
By way of background, the cannaQIX® range of products are cannabidiol (CBD) hemp oil-based nutraceuticals using Creso Pharma's proprietary innovative delivery technology.
They contain broad spectrum hemp oil extract with CBD aiming to reduce stress and to support mental and nervous functions.
The launch of the product in South Africa will provide access to an affordable, high-quality, broad-spectrum hemp oil based GMP lozenge nutraceutical product.
Whilst Creso focuses on international distribution, it maintains its dedication to seeing its products expand within the Australian market.
cannaQIX® in Australia
Creso Pharma and Burleigh Heads Cannabis have placed initial focus on introducing cannaQIX® 50, which is now being sold in Australia as a therapeutic product via approved channels as 'LozaCan'.
Burleigh Heads Cannabis has confirmed prescriptions are already taking place and the product is receiving very positive feedback from physicians and patients.
cannaQIX® 50/LozaCan has been developed to Good Manufacturing Practice (GMP) standards and is produced in Switzerland by Creso Pharma's partner, Switzerland-based food and pharma development company Domaco, Dr. med Aufdermaur AG to the highest Swiss quality with a 'Swiss Made' label.
Creso Pharma and Burleigh Heads Cannabis are exploring the potential to expand their collaboration to include additional therapeutic/medicinal cannabis products from Creso Pharma's pipeline.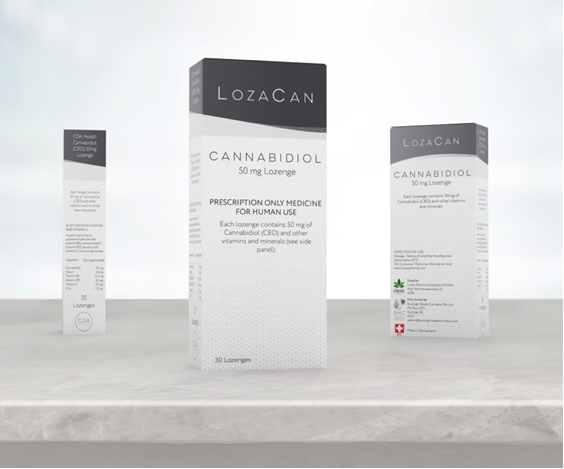 Treating chronic pain
cannaQIX 50® is Creso Pharma's proprietary buccally formulated cannabidiol (CBD) lozenge which is designed to support the management of chronic pain.
Each cannaQIX 50® lozenge contains 50mg of CBD from full spectrum hemp plant extracts along with niacin, vitamins B6, B12, C, and zinc in a standardised pharma-grade formulation produced in Switzerland.
cannaQIX 50® comes in packs of 30 lozenges in a proprietary delivery formulation designed for buccal absorption and to dissolve in the mouth.
This method works faster and more efficiently than tablets or capsules which need to be swallowed and have a high percentage of their ingredients broken down when absorbed through the intestine and passed first through the liver.
By being dissolved in the mouth, the active ingredients enter the bloodstream directly, avoiding this first pass through the liver. cannaQIX 50® lozenges taste great and are a patient-friendly way to administer precise doses of CBD when compared to oil-based alternatives.
Exclusive distribution agreement expands
The delivery follows the recent signing of an exclusive Distribution Agreement with Burleigh Heads Cannabis in April, and the securing of an import permit for Australia.
The collaboration will enable Creso Pharma to leverage Burleigh Heads Cannabis and CDA's local regulatory experience and established distribution networks to facilitate patient access to its products in Australia.
Burleigh Heads Cannabis is a subsidiary of CDA Health Pty Ltd, an established Australian business supporting patient access to medical cannabis products in Australia.
Through its affordable CDA-branded products and CDA Clinics, the group assists doctors and patients in navigating the process of applying, prescribing and sourcing medical cannabis legally, while also providing educational resources and one-to-one services from their consultant doctors through physical and telehealth clinics.
CDA has completed over 5000 successful Therapeutic Goods Administration (TGA) patient approvals since launching in October 2018.
Discussing this milestone event and pointing to its significance in terms of new product launches, Dr Miri Halperin Wernli, Creso Pharma's chief executive and co-founder said, "We are pleased to announce the first delivery of cannaQIX® 50 in Australia.
''Burleigh Heads Cannabis and CDA Clinics Australia continue to rapidly expand their patient reach with their extensive distribution network.
''This close partnership enables us to fulfil our mission of bringing life-improving products to patients in Australia.
''We're delighted to announce this progress and look forward to further new product introductions in the near future."
Making waves in a growing industry
Creso Pharma presents as one of the pick companies leveraged to the cannabis sector as the company positions itself to capitalise on a market that is forecast to reach US$148 billion by 2026.
Management has invested heavily in laying the foundations for a robust business, the fruits of which investors should start to see immediately in 2020 with the potential for exponential growth thereafter.
Creso has gone on to grow the relationships forged during the last couple of years across all areas of the supply chain, as well as paving the way for entry into new markets that should generate substantial revenues in coming years with immediate traction likely to occur as early as 2020.
The company has also launched new products and has a portfolio of 13 high quality Swiss Made GMP (Good Manufacturing Practices) certified products, four of which have already been commercialised.
Key to this are two important relationships. One with Mernova and the other with Kunna S.A.S.
In any manufacturing and distribution business effectively controlling all aspects of the supply and distribution chain will invariably result in optimum margins, efficiencies of scale and reliability of supply with the latter being essential in terms of establishing strong relationships with those who pay for the product that they take to market.
Creso Pharma offers just that with a key link in the chain being its Mernova Medical facility in Canada.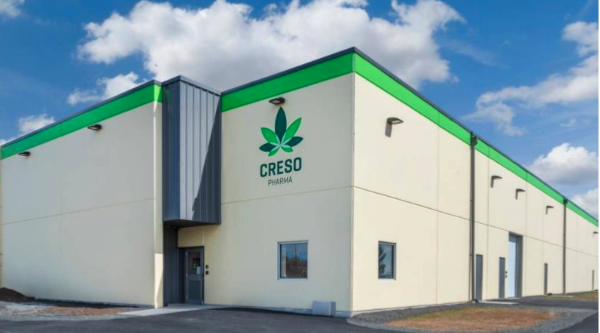 The granting of a licence in February to cultivate at Creso Pharma's "Mernova Medical" facility in Nova Scotia made Creso the only ASX listed company that has 100% ownership of a Canadian licensed producer.
As a holder of a cultivation licence, Mernova Medical is permitted to sell and distribute dried and fresh cannabis, cannabis plants and cannabis plant seeds to other companies that hold certain licences under the Cannabis Act.
In addition, Mernova Medical Inc., was granted a licence to process cannabis by Health Canada on 13 September 2019. The processing licence expands Creso Pharma's offerings beyond the cultivation and sale of dried flower from the Halifax-based cannabis facility and enables the Company to produce and wholesale distribute cannabis oils, concentrates and other derivative products in Canada and abroad.
The Company is pleased to announce that Mernova is also actively engaged and in advanced stages of securing European GMP certification.
This certification is granted by the European Medicines Agency, with the Good Manufacturing Practice (GMP) describing the minimum standard that a medicine's manufacturer must meet in their production processes.
Once Creso Pharma has secured EU GMP certification, it will be one of only very few EU GMP certified producers in Canada, allowing the Company to export and sell to Europe and especially in Germany and Switzerland.
The Colombian connection
Though Mernova will be central to Creso's success, its wholly owned Kunna S.A.S operation also opens up new markets, most notably Latin America including Argentina, Colombia, Chile, Mexico and Uruguay.
Kunna S.A.S. holds a suite of five licenses, which will be important, especially when one considers that Colombia is predicted to export more than 40.5 tons of medicinal cannabis oil by 2019.
Reuters reported in September that Colombia could export $6 billion a year in medicinal cannabis products, making marijuana its third-largest source of foreign exchange.
While investors have called for simpler regulations for marijuana producers, Colombian law already regulates the possession, production, distribution, sale and export of seeds and other marijuana products like oils and creams.
However, it is a little like gaining permits and licenses for mining in South America as the wheels of progress can move slowly and at times unpredictably.
That is where Creso Pharma has a distinct advantage in terms of being able to source product and move it through the production and distribution chain in Canada.
Creso Pharma also has a strategic partnership with Cohen Propagation Nurseries in the cultivation of medicinal cannabis in Israel and its reach is broad.
Cohen's products are famous for high quality, sterility and hygiene and are supplied with a special quality certificate from Israel's Ministry of Agriculture Plant Protection and Inspection Services.
It has 550 highly trained staff working on 15.7 hectares of green houses.
The final word
By partnering with leading global companies in product development, manufacturing and distribution, Creso Pharma has been able to, and will continue to accelerate the development and distribution of its products worldwide.
The company also boasts a strong in-house team, and it is this combination of registered quality brands, global reach and professionalism which differentiates Creso from other medicinal cannabis companies, leaving it positioned to deliver a stellar performance in 2020.
---