Can New Cannabis Products Launch Creso Pharma Higher in 2020?
PUBLISHED: 03-12-2019 10:08 a.m.
The ASX has seen a raft of medicinal cannabis stocks hit the market in recent years, and whilst it has been somewhat of a bumpy ride for investors of late, the size of the global medical cannabis market and the speed of its growth is undeniable.
The market is forecast to reach US$148.35 billion by 2026, according to a new report by Reports and Data. That's fairly impressive for a product that was largely illegal five years ago.
The best part for investors is that this is a market still very much in its infancy, and companies that can gain a solid market share in the various niche markets that have popped up within the broader industry stand to gain.
Creso Pharma (ASX:CPH) is distinguishing itself from other ASX listed medicinal cannabis companies by focusing on a much bigger play – pharmaceutical grade cannabis products that generate higher margins.
The company has a diverse product portfolio of cannabis and hemp derived products that is focused on four key areas: therapeutics, nutraceuticals, animal health and cosmetics.
Each area on its own are standalone multi-billion dollar opportunities, and with a management team stacked with "Big Pharma" experience and relationships, and nine new products that have not yet been commercialised but could be launched in 2020, CPH is a stock we will be keeping a close eye on.
We have been following CPH since its late 2016 IPO when it listed at 20 cents – since that time, the share price has been up as high as $1.65 – which was a 725% gain from the IPO.
The company has been sorting out funding lately following a takeover attempt by a TSX-listed company that valued CPH shares at 63 cents each.
CPH is now trading at 14c per share – however the fundamentals of the company have not changed.
Given that Creso has recently streamlined its operations and is focused on growing its revenues, this could be the low point for the stock given what is planned for 2020.
Yesterday the company confirmed it had received funds from a capital raise of over $5 million via a combination of convertible notes and a share placement conducted at 19.1c per share.
Securing this funding was a vital step that sets the company up well for expanding its commercial operations in 2020. Its current portfolio consists of 13 high-quality, 'Swiss Made', GMP certified products, four of which have already been commercialised with the others being prepared for commercialisation.
The company's wholly-owned subsidiary Mernova Medical Inc., located in Nova Scotia in Canada is already generating revenues and is in the advanced stages of securing European GMP certification. Once secured, Mernova will be one of very few EU GMP certified producers in Canada, allowing it to ship and sell to Europe, specifically the high growth markets of Germany and Switzerland. Germany, which legalised medicalal cannabis in March 2017, has a population exceeding 80 million and is positioned to become one of the largest medicinal cannabis markets in Europe.
Distribution agreements are expected to be signed shortly in new markets to expand Creso's international product penetration.
This undervalued company's integrated value chain, established brands, revenue generating assets, product pipeline and distribution strategy, should see it improve its market cap considerably as we enter an exciting new year in the legal cannabis space.
It has been a while since we caught up with Creso, so let's find out what has been going on.
Catching up with ...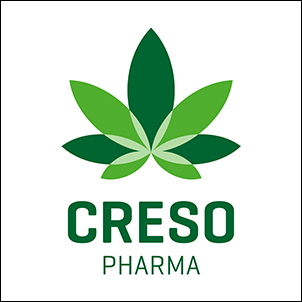 Creso Pharma
ASX:CPH, FWB:1X8
Share Price: $0.14
Market capitalisation: $22.65 million
Here's why I like Creso Pharma: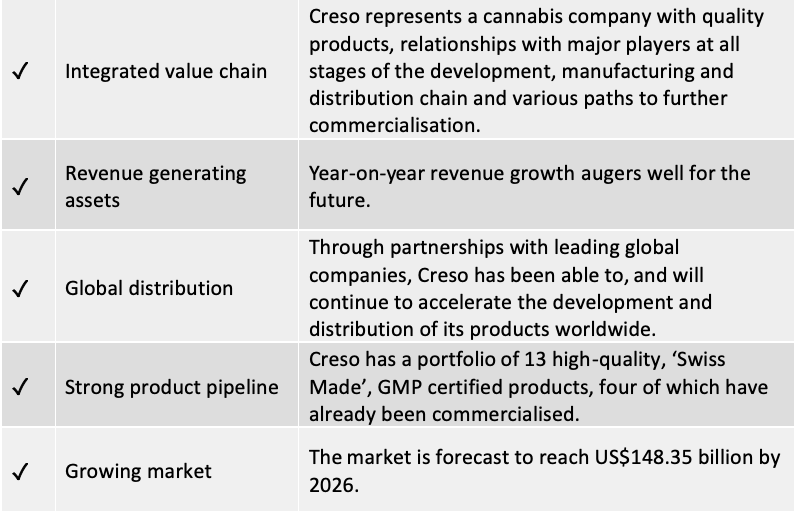 Creso resets for 2020
Creso Pharma Limited (ASX:CPH) was back on the boards yesterday, as it outlined its plans moving into 2020 and continues to bring the best of cannabis to better the lives of people and animals.
To recap, Creso develops cannabis and hemp derived therapeutic, nutraceutical, animal health and cosmetics products with wide patient and consumer reach for human and animal health. Its products are made with standardised dosing and formulations through the application of pharmaceutical rigour, Good Manufacturing Practices (GMP) standards and proprietary, innovative delivery technologies.
These products carry the well-known "Swiss Made" label that is synonymous with premium-quality products.
Further, Creso has worldwide rights for a number of unique and proprietary innovative delivery technologies which enhance the bioavailability and absorption of cannabinoids.
Essentially, Creso is a geographically diversified and vertically integrated.
Here's a look at its overall reach: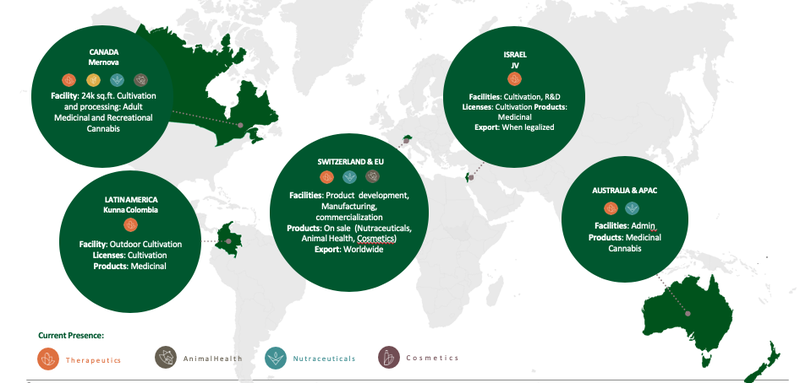 This is a highly credible cannabis play, whose list of achievements this year alone are significant: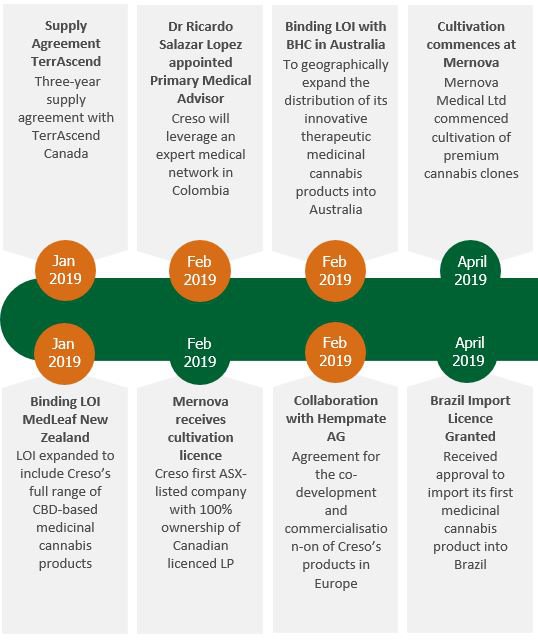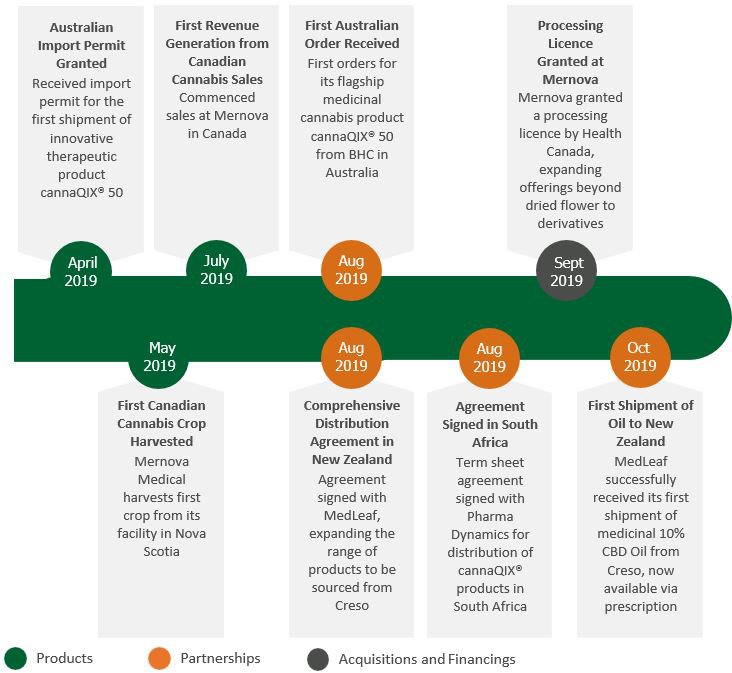 Other significant milestones include the acquisition of Mernova Medicinal Inc. in July 2017, commercial agreements with Swiss Pharma OTC company Doetch Grether, and a distribution agreement signed with Virbac to distribute Creso's veterinary products into 15 countries.
Creso was also the first company to import medicinal cannabis into Australia way back in May 2017.
It is a veritable highlights reel since the company listed. That said, it has been a somewhat tumultuous period for Creso during the last six months, encompassing a failed takeover bid and culminating in the successful completion of a capital raise for an aggregate amount of commitments for $9.7 million.
The takeover bid
The proposed takeover, which valued Creso at 63 cents per share representing a 50% premium to the company's closing price on 6 June, 2019, brought about all sorts of highs and lows for the company.
The takeover was instigated by the C$675 million market capped (at the time of the takeover announcement) PharmaCielo Limited (TSX-V:PCLO), which targeted Creso for the breadth and strength of its current portfolio and widespread cannabis operations and valued it at A$122 million.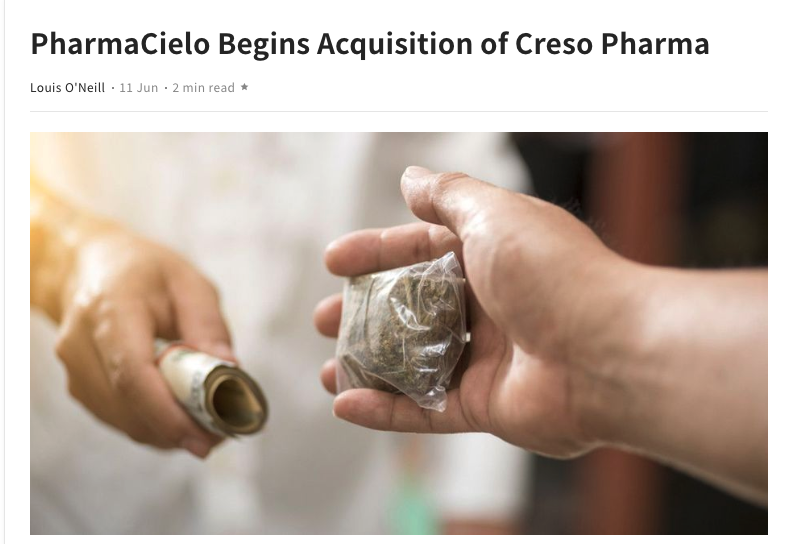 The market saw this as validation of the inherent strength of Creso's business.
While its shares received a significant boost at the time, an Independent Expert's Report deemed the deal not fair or reasonable to Creso Pharma's shareholders.
The acquisition was terminated on 12 November and the company's shares are now trading at a 50% discount to their pre-acquisition price: this could be deemed as upside for investors looking to invest in an established cannabis company operating in a market that is likely to explode.
The fundamentals that triggered the takeover bid are still intact: Creso represents a cannabis company with quality products relationships with major players at all stages of the development, manufacturing and distribution chain, and various paths to further commercialisation.
With its shares currently discounted, investors may want to consider Creso as a buying opportunity, especially as it continues to develop its products for global distribution.
Creso's diversified product offering
Creso Pharma's portfolio of cannabis and hemp-derived products focuses on the four key areas of therapeutics, nutraceuticals, animal health, and cosmetics.

Thirteen products have been developed with pharmaceutical expertise and methodological rigour by a qualified pharmaceutical team, with four products already commercialised and generating sales – two apiece target human and animal health.
A further nine products are pending commercialisation. You can find them in the most recent ASX announcement.
Human health
Creso anticipates signing with more commercial partners to expand the commercial reach of its two existing human health products cannaQIX® 10 and cannaQIX® 50 and to introduce the newly developed products in additional European countries.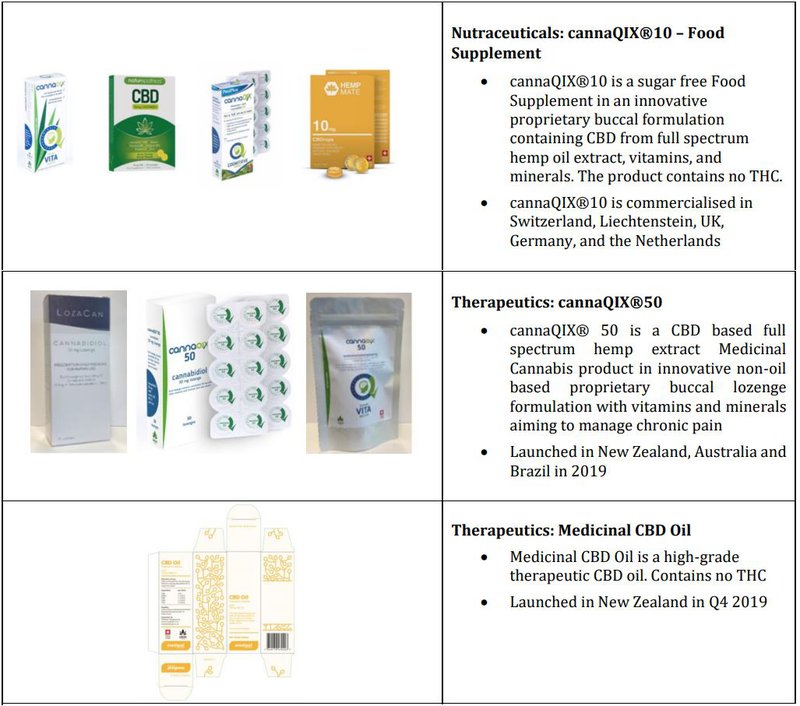 Spain, Portugal, the Scandinavian countries, Poland and Israel have been prioritised as distribution points.
Creso plans to launch cannaQIX® 10 into South Africa in the March quarter of 2020. This will be a major milestone, as it will be the first CBD based product to be commercialised as CAM (Complementary Alternative Medicine) in South Africa.
Creso will follow this with a phased entry into other African countries, as well as expanding to additional CBD based products with the same partner pharmaceutical company.
Interestingly, it was only a couple of months ago that Creso delivered its first orders of medicinal 10% CBD oil to JC Logistics Ltd t/a Medleaf Therapeutics in New Zealand.
This was the second product to launch in NZ this year.
Dr Miri Halperin Wernli, Creso Pharma's CEO and co-founder said, "The evolving local regulatory situation and our close partnership with MedLeaf is helping us deliver on our mission to bring life-improving products to patients in New Zealand.
"We're delighted to announce this further expansion of our business and look forward to further new product introductions in the near future."
Animal health
Animal health partner Virbac will introduce two initial anibidiol® products into European countries.
Creso Pharma's new animal health products will launch in the near future.

Creso is in discussions with a number of potential partners in the US to introduce all 13 products, human and animal, into selected US states.
In South America, Creso has filed its animal health products in Argentina and Uruguay together with PharmaCielo and is at the last stage of approval.
Commercial partners have been identified, terms negotiated, and a plan outlined for a long term collaboration on the existing range of products as well as on the new products that Creso has developed which are ready for launch.
Creso has worldwide rights for a number of innovative, proprietary and unique delivery technologies which enhance the bioavailability and absorption of cannabinoids and is looking to securing key regional certifications that will enable it to expand its global reach.
The Mernova connection
Mernova is located in Nova Scotia and is optimally located to the Canadian, US and European cannabis markets. It boasts world class facilities including a 24,000 square foot built top GMP standards growing facility that is scalable to 200,000 square feet. There are 10 grow rooms in the facility with a total production capacity of 3500 kilograms per annum.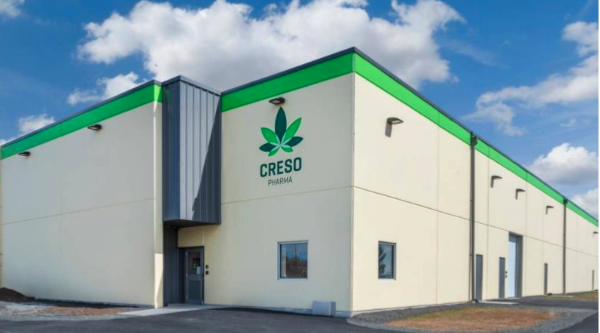 In September this year, Mernova was granted a licence to process cannabis by Health Canada, which effectively expands Creso's offerings beyond the cultivation and sale of dried flower from the Halifax-based cannabis facility and enables the company to produce and wholesale distribute cannabis oils, concentrates and other derivative products in Canada and abroad.
In what could be further company defining news, Mernova is also actively engaged and in advanced stages of securing European GMP certification.
This certification is granted by the European Medicines Agency, with the Good Manufacturing Practice (GMP) describing the minimum standard that a medicine's manufacturer must meet in their production processes.
With certification secured, Creso would become one of only very few EU GMP certified producers in Canada. It would allow the company to export and sell to Europe, with a focus on Germany and Switzerland.
The demand in Germany and Switzerland for medicinal cannabis is high and in need of a high-quality flower.
Germany legalised medicinal cannabis in March 2017 and has a population exceeding 80 million. It is positioned to become one of the largest medicinal cannabis markets in Europe.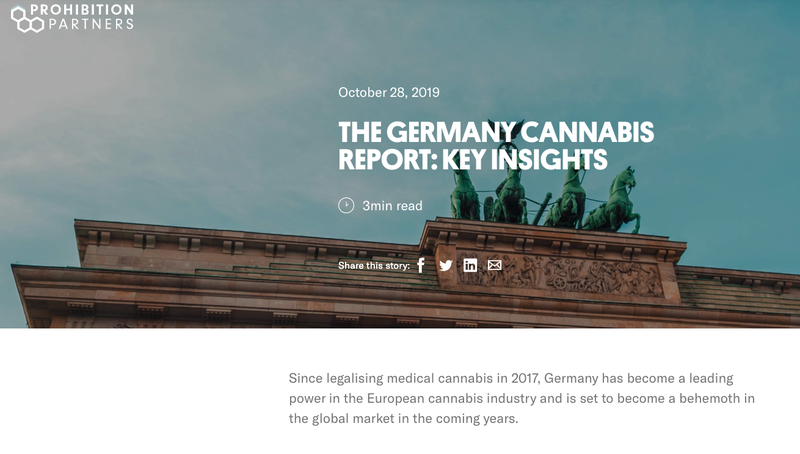 Creso Pharma has already secured commercial partners in Switzerland and Germany to purchase flower and oil from Mernova, and is also negotiating long term monthly orders of larger quantities in these regions.
New products, new markets, larger revenues
As it aggressively pursues further commercialisation of the remaining nine pharmaceutical-grade products in its current portfolio, key certifications and strategic partnerships, Creso should soon be able to accelerate revenue growth.
Mernova will be key, however its wholly owned Kunna S.A.S operation also opens up new markets, most notably Latin America including Argentina, Colombia, Chile, Mexico and Uruguay.
Kunna S.A.S. holds a suite of 5 licenses, which will be important, especially when you consider that Colombia is predicted to export more than 40.5 tons of medicinal cannabis oil by 2019.

Add in a first if its kind, strategic partnership with Cohen Propagation Nurseries in the cultivation of medicinal cannabis in Israel and its reach is broad.
Cohen's products are famous for high quality, sterility and hygiene and are supplied with a special quality certificate from Israel's Ministry of Agriculture Plant Protection and Inspection Services. It has 550 highly trained staff working on 15.7 hectares of green houses.
Creso expects its growth plans will be supported by secure funding, increasing revenue, prudent cost management and experienced leadership as it strives to unlock the full value of its operations.
Year-on-year revenue growth as outlined below augurs well for the future, providing a sound base as new products are brought to market.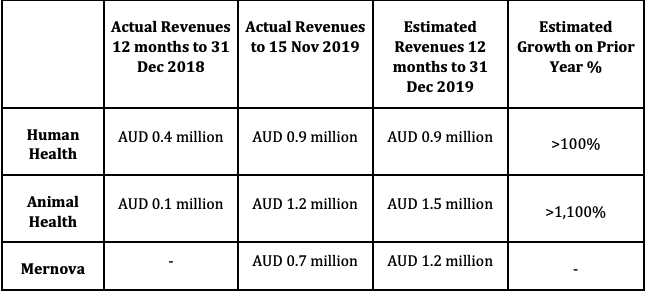 Creso believes the value of its fundamental operations continues to grow, supported by the company's portfolio of products, established operations, corporate interest and market opportunities.
Creso has an innovative portfolio of assets and a leadership team with experience in 'Big Pharma'. It is confident in its ability to successfully commercialise its products and continue its global expansion.
By partnering with leading global companies in product development, manufacturing and distribution, Creso Pharma has been able to, and will continue to accelerate the development and distribution of its products worldwide.
Funding accelerates growth
Creso has secured funding to accelerate its global operations.
The company has so far secured a total of approximately $5.03 million through an issue of Convertible Securities to raise $3.45 million and the completion of a share placement through the issue of shares at a price of $0.191 to raise approximately $1.58 million.
An additional drawdown facility for a further $2.7 million through the issue of convertible securities has also been secured, bringing the total funding currently available to the company to nearly $6 million with a further $3.85 million being potentially available.
The funding, as stated, gives Creso the needed leverage to move into a growing medicinal cannabis market.
The market
Several countries around the globe have made medicinal marijuana legal, allowing people to use marijuana for health purposes.
This boosts the market for medicinal marijuana.
Georgia, Luxembourg, The Netherlands, South Africa and South Korea have legalised marijuana to varying degrees. Even countries such as Singapore, which has a zero-tolerance policy for drugs, allows for pharmaceutical cannabinoids and Turkey is generally supporting the cannabis industry, including for medical uses.
Former NFL player Rob Gronkowski announced on 27 August that he will focus on his campaign to allow professional sports leagues, like the National Football League (NFL), to relax their restrictions on the use of cannabidiol (CBD) for pain relief.
In 2018, the World Anti-Doping Agency (WADA) removed CBD from its list of prohibited substances.
In Australia, the Office of Drug Control has so far issued 69 licences to cultivate, produce or manufacture medicinal cannabis.
This includes:
24 licences for cultivation of cannabis for medicinal use,
16 for cultivation for research, and
23 for manufacture of medicinal cannabis products.
Creso has a growing suite of products that fit directly into these markets.
From lozenges, to oils and cosmetics, Creso is ideally suited to meet the needs of pain sufferers across the globe.
As it resets for 2020, it is worth considering adding Creso Pharma to your portfolio as it may not be too long before its share price rises again.
---