Could a NASDAQ Listing Put MYQ on the US Health & Fitness Map?
PUBLISHED: 01-06-2020 11:06 a.m.
Software as a service (SaaS) solution provider MyFiziq Limited (ASX: MYQ) is set for a secondary listing on the NASDAQ Capital Market.
This ASX listed health-tech company has been making a global impact with its healthcare and weight management app.
MyFiziq has currently signed over a dozen partnership agreements with major players within its targeted verticals including in the US, with the NASDAQ listing expected to give the Australian-based company further traction in this market.
MyFiziq has executed a formal funding agreement for US$1.5M with Asia Cornerstone Asset Management (ACAM) by way of convertible note.
The capital raised will assist MyFiziq with its US expansion plans and enable the company to commence the process of seeking a dual listing of its securities on the NASDAQ Capital Market.
MyFiziq is targeting Q4/2020- Q1/2021 for the commencement of trading on the NASDAQ.
To highlight, MyFiziq's commitment to the US market, last month it signed definitive agreements with Bearn LLC in North America in relation to its transformative Bearn Application app, Bearn LLC.
Bearn and MyFiziq have now collaborated and integrated MyFiziq's body tracking application into the Bearn application, and Bearn's users will have the ability to 'earn while they Bearn' on the platform.
The launch of the application into the US is one step closer with the completion of the legal agreements and complements partnerships already in place with Mayweather Boxing & Fitness, which provides a digital coaching experience designed by founder Floyd Mayweather, who won 15 major world boxing titles, and consumer health product provider TicTrac.
Beyond the US, MyFiziq has signed agreements with WellKom, Evolt, Boditrax and WeSure, which were inked last year, illustrating the momentum the company is building and continues to build.
The NASDAQ listing is expected to increase this momentum and give MyFiziq a strong foothold in one of the largest fitness markets in the world.
So let's catch up with MyFiziq and look at how the NASDAQ listing will proceed as well as its latest news.
Catching up with ...

Advanced Human Imaging LTD
ASX:AHI
The MyFiziq investment case ...
Market Capitalisation: A$21.99 million
Share Price: A$0.18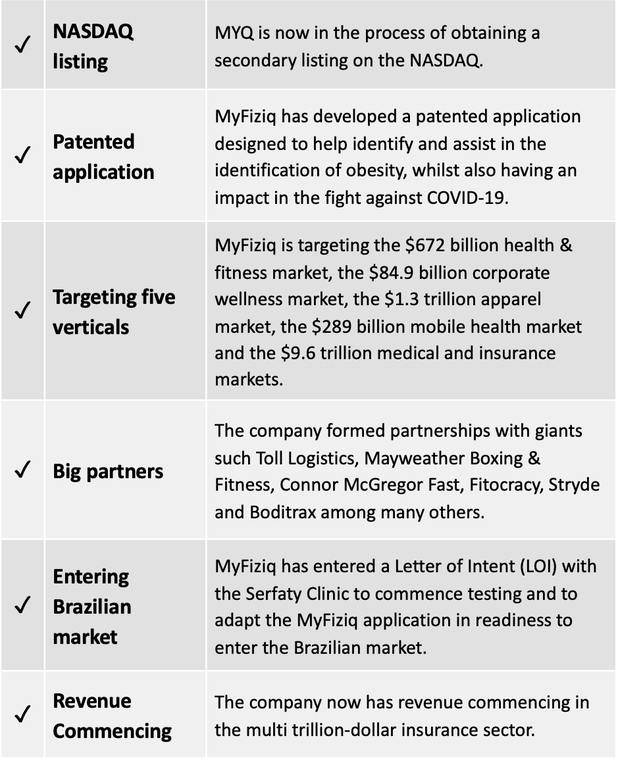 MyFiziq eyes NASDAQ listing
As stated above, MyFiziq Limited (ASX: MYQ) is set for a secondary listing on the NASDAQ Capital Market.
The listing is designed to allay US partner concerns that MyFiziq is not US-based, creating issues when these companies are looking to integrate MYQ's technology into their own ecosystem and customer engagement platforms.
"I believe opening up the Company to the US exchange will assist MyFiziq with its US domiciled partners," said MyFiziq CEO Vlado Bosanac.
"This move will also bring both fresh investors and support to the Company."
Bosanac believes MyFiziq is at a turning point, especially with the pending release of Evolt. The Evolt platform is a device/machine-based intelligent body scanning technology with global partners in fitness, wellness, gyms, clinics and work places. Evolt has over 500,000 active users paying $30-$50 per scan and currently has over 500 active locations and thousands of users per month.

The company has been in discussions with US investment banks over the last months, that have showed very strong interest in its technology and the pathway outlined to generate revenue.
"We had built momentum in the US prior to the COVID-19 shutdowns, which caused an initial stall in our ambitions. In the past weeks, this interest has re-ignited and with this we accepted the initial funding from ACAM to execute on our plans," Bosanac said
Funding agreement executed
MyFiziq has executed a formal funding agreement for US$1.5M with Asia Cornerstone Asset Management (ACAM) by way of convertible note.
The capital raised will assist MyFiziq with its US expansion plans and enable the company to commence the process of seeking a dual listing of its securities on the NASDAQ Capital Market. Monies will also be used for general working capital purposes.
MyFiziq commenced discussions with US advisors and bankers in late 2019. Discussions focused on the potential to dual list on the NASDAQ exchange.
Several meetings have since been held, with MyFiziq presented with several offers from well-established firms seeking to be engaged as the Company's exclusive underwriting advisor in relation to a NASDAQ listing.
ACAM played a significant role in the introduction to these advisors, US law firms and bankers and has extended further funding to MyFiziq with regard to the NASDAQ listing.
Dato Sri Marcus Liew, Director of ACAM, said, "In my opinion, the current market is underestimating the gravity of the technology MyFiziq has developed. We have great aspirations for MyFiziq and truly believe its technology is at the cutting edge of multiple market segments. We have invested heavily in the Company and will continue to assist with its growth aspirations across Asia and any other markets we have access to.
"The move to the US has our full support and we will further assist with the relationships we have there. US investors are very savvy when it comes to technology and investment timelines with technology. The sheer population of the US gives MyFiziq access to hundreds, if not thousands, of companies who could truly benefit from using its technology: health, gyms, insurers, apparel companies, and HMO's to name a few. The market and the technology are both well-positioned, and we are excited about the commencement of the NASDAQ dual listing process."
The material terms of the funding agreement with ACAM are as follows.
ACAM will provide US$1.5M of funding, in four separate tranches.
The funding has a mandatory conversion upon a successful NASDAQ listing.
On conversion, ACAM will be issued shares in the NASDAQ listed company at the greater of US$1.00 and a 25% discount to the price at which the Company issues shares in conjunction with the listing.
ACAM will accrue interest on the funds advanced to the Company at a rate of 10% per annum, with interest being capitalised and also converted at the time of listing on the NASDAQ.
In the event MyFiziq is not successful in attaining a listing on the NASDAQ on or prior to 30 June 2021, MyFiziq will have an additional six months to repay the capital.
The note is not secured.
Under the terms of the funding, ACAM has agreed to fund MyFiziq over four tranches:
Tranche 1: US$225,000 - 14 days after the date of execution of the Deed, which is now concluded.
Tranche 2: US$450,000 - 30 days from the date of commencement of the Public Company Accounting Oversight Board in the US (PCAOB) audit by the Company by an PCAOB approved auditor.
Tranche 3: US$450,000 - 14 days, from the date that the Company files a Registration Statement (Form F-1) with the US Securities and Exchange Commission in relation to the NASDAQ Listing.
Tranche 4: US$375,000 - 14 days from the date that the Company engages an underwriter or an investment bank to provide services in connection with the NASDAQ Listing.
The new shares will be issued on the same terms as, and will rank equally with all respects with, the existing fully paid ordinary shares of MyFiziq.
MyFiziq will be applying for quotation on the NASDAQ Capital Market tier.
Listing is subject to relevant filings with the US Securities and Exchange Commission (SEC) and meeting the requirements to list on NASDAQ (which cannot be guaranteed by the Company).
MyFiziq, along with its US advisers are who are seeking to be appointed, is targeting Q4/2020 - Q1/2021 for the commencement of trading on the NASDAQ.
A quick recap of the overall MyFiziq story
MyFiziq has developed technology that empowers consumers to create a representation of their body structure in the form of a 3D avatar with accurate circumference measurements and total body fat assessment.
The group's solutions are available worldwide as the data is in the palm of the user's hands.
MyFiziq's software as a service solution (SaaS) offering allows flexibility and pricing scale reductions for its partners.
The company partners with highly scaled or scalable new and existing applications and provides them with a deeper insight into the data they wish to retrieve from their users to empower them in their journeys.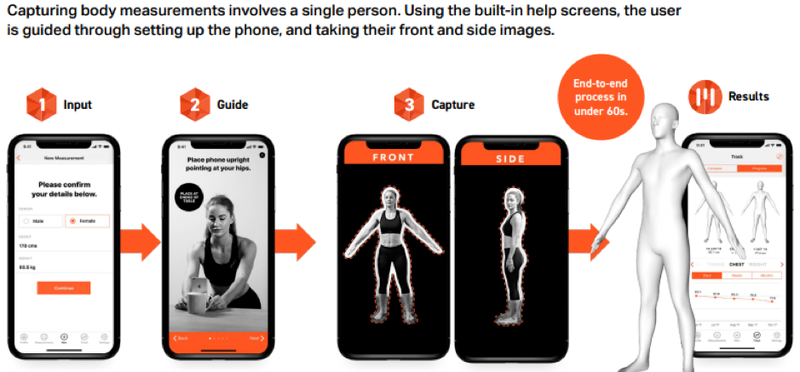 For further insight founder Vlado Bosanac explains to Finfeed in the following podcast how the tech works and why it is so important in a post pandemic world:
You can also read further about the app and the company's global ambitions in our initial article: ASX Listed Tech Stock's Health App Can Help Fight Obesity and COVID-19.
As MyFiziq looks to globalise its technology and assist individuals, communities and populations to live better healthier lives, several partners in varying industries have adopted the technology.
Activating agreements
MyFiziq has signed definitive agreements with Active8me Pte Ltd which will see the integration of the MyFiziq platform into the Active8me health and wellness platform.
Active8me simplifies healthy, active living in a unique all-in-one mobile platform that incorporates all aspects of healthy living: exercise, nutrition, mindset, and tracking. The app is available via the app store and Google Play.
Active8me is a solution for tackling chronic diseases and an engaging SaaS solution for partners, including insurers, telehealth, mHealth, healthcare providers, corporates, governments, and some of Asia's largest telecommunications companies.
Founded by two-time Olympian Jeremy Rolleston, Active8me has partners spanning the broader Asia region, which gives MyFiziq the opportunity to tap into millions of potential users of the combined application.
This is a good fit with MyFiziq as it progresses towards globalising its technology which assists individuals, communities and populations to live better healthier lives by working with governments, healthcare providers, and the best health and fitness identities.
Active8me and MyFiziq have agreed to integrate MyFiziq's body tracking application into the Active8me platform.
The companies are working towards a September quarter 2020 launch with the integrated product along with a comprehensive campaign targeting the current Active8me users and partners.
It is proposed that MyFiziq will be an integral part of the Active8me offering, being a key element for onboarding every user while increasing engagement both during the initial touchpoint of their subscription and then throughout their journey with Active8me as they track their progress.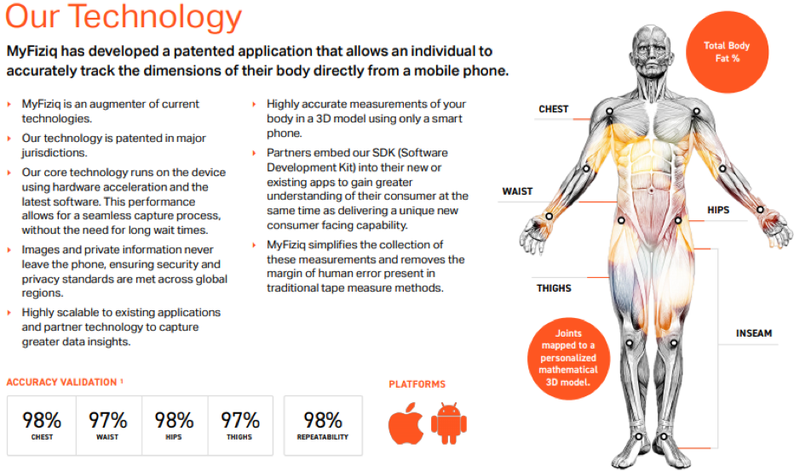 Active8me and MyFiziq combine to fight healthcare issues
Governments, insurers, healthcare providers and consumers are increasingly recognising the rising risks from chronic disease and especially type 2 diabetes disease in Asia.
Identifying those at higher risk of chronic disease and then providing those individuals with comprehensive, integrated and customised plans that they can follow across exercise, nutrition and wellness in a single application provides a convenient expert solution to a problem facing over 40% of the population in Asia.
Additionally, the demand for scalable, digital, at-home health and wellness solutions has never been as significant as now, against a backdrop of COVID-19 quarantine and self-isolation lockdowns.
Active8me and MyFiziq are well positioned to provide helpful solutions to this problem.
The combination of measurement and risk identification, together with actionable and customised programs and plans is a powerful offering.
MyFiziq and Active8me have agreed to the commercial terms of the partnership which will form part of the formal agreements to be concluded in the next 60 days. The initial agreement is for one year, with the option to extend.
The LOI is binding and has no immediate economic impact to MyFiziq.
However, following product launch and anticipated user take up, the LOI and formal agreements that will follow should generate revenue and profit for MyFiziq.
BCT also signs with Active8me
MyFiziq Limited's (ASX:MYQ) 50% owned joint-venture partner Body Composition Technologies Pty Ltd (BCT), has also now signed definitive agreements with Active8me Pty Ltd, which will see the integration of the BCT platform into the Active8me health and wellness platform.
BCT operates in the insurance, medical and government research segments.
The BCT Commercial Contract is the main commercial agreement between the parties. BCT will grant a licence to Active8me to use BCT's licensed software development kits and related intellectual property to integrate them into the Active8me platform/technology.
In return, Active8me has agreed to pay certain user fees, data storage fees, support fees and incidental support fees to BCT.
The BCT Software Development Kit, End User License Agreement, BCT Support Agreement and BCT Data Processing Agreement are support agreements related to the BCT Commercial Contract.
BCT does not expect any immediate material financial return as a result of entering into the contracts.
However, as the Active8me platform which is integrated with the BCT SDKs is rolled out in Asia, BCT expects to start generating licence and other fees from the commercial arrangement, the financial returns of which cannot be forecast at this time.
The initial term of the contract is 12 months, renewable for consecutive further terms of two years unless terminated under various clauses contained in the contract.
BCT's cost-effective and accurate technology
Body Composition Technologies (BCT) is focused on developing a cost effective, easily accessible and reliable smartphone-based body composition and anthropometric measurement tool for governments, insurers, medical organisations and the medical research markets.
The group strives to deliver a private, cost effective and accurate method for our users to identify, classify and monitor some of the primary markers of chronic diseases such as type 2 diabetes, coronary heart disease and stroke.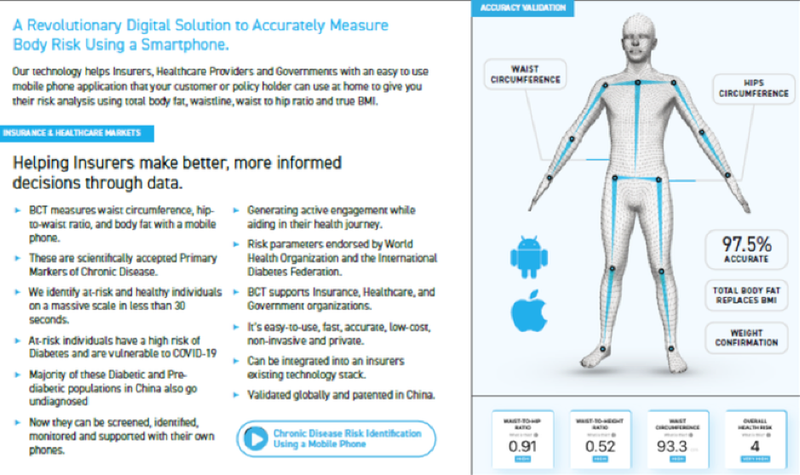 This early screening, assessment and long-term monitoring of the primary markers of chronic disease, is essential for reducing the spiralling healthcare costs and improving the quality of life for billions of people worldwide.
The group works with its partners to give them better engagement and understanding of their consumers/populations whilst empowering them through the technology to make better health decisions which in turn should deliver better health outcomes and lower mortality rates.
Health and fitness trends are immune to COVID-19
According to Monik Kotecha at Insync Fund Managers, the health and fitness megatrend is likely to accelerate as a result of COVID-19 and despite the coming recession.
One of the most significant drivers of the COVID-19 mortality rate in addition to age, according to research by Harvard University, has been obesity. Data from France, the US and UK have shown that a significant proportion of patients in intensive care also tend to be overweight and obese. In New York City, a study of 4,000 COVID-19 patients found that obesity is the second strongest predictor after age.
Insync anticipates the $4 trillion athleisure health and wellness industry to continue to expand for another 30+ years on the back of the current pandemic and well beyond, as people are now more aware of the issues caused by underlying health conditions including heart disease and obesity.
MyFiziq has a role to play in increasing awareness of these issues, as well as helping to combat them.
It is why the NASDAQ listing is so important for the company.
If MyFiziq can gain traction in the US by instilling confidence in US companies that it is working directly for those companies as a US listed entity, then this could provide a boon for its Australian shareholders as well.
---