Contract Renewals Confirm WhiteHawk Cybersecurity Expertise
PUBLISHED: 14-08-2019 10:02 a.m.
WhiteHawk's (ASX:WHK) best-in class cyber security products have attracted some major customers — from US Defense Industrial Base (DIB) company contractors, to top financial institutions and utilities, as well as US Federal government departments.
The company now has three contracts with separate US federal government departments — including a subcontractor role with Fortune 500 company Accenture (NYSE:ACN) on a US$2B government contract.
While news of these contracts was celebrated by company shareholders, it's not just the new customers, new contracts, and new partnerships that are grabbing attention.
A possibly even stronger endorsement of WhiteHawk, its products and its services, is that it is securing contract extensions...
Just another piece in the puzzle cementing our decision to name WhiteHawk as the Next Tech Stock's top pick of the year.
The latest re-signing is from a top 10 US financial institution that holds nearly US$400 billion (A$589B) in total assets and is well-known throughout the industry for its leadership.
The now multi-stage contract with the institution was first signed in May 2018 to provide continuous monitoring, alerting, and mitigation of its key supply chain companies' business and cyber risks, across its 50 most critical sub-contractors. The contract was then extended that following December, with today's extension bringing its total value to over US$850,000 (A$1.25M).
Not long before this, WhiteHawk secured a contract extension with a top 12 US Defense Industrial Base (DIB) company customer to provide for business and supply chain risk management. It includes continuous monitoring, alerting and mitigation of business and cyber risks for a total of up to 60 supply chain companies in real time.
Due to the sensitivity of cybersecurity risk focused work, specific company names cannot be released.
What I do know is that both are large tier 1 organisations, and their decision to adopt WhiteHawk's cyber security technology for an extended contract period is a strong endorsement of the group's products and it bodes well for revenue growth.
All the latest from our pick of the year,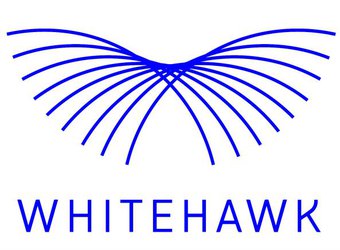 Share price: A$0.096 (at 13 August)
Market Capitalisation: A$15.1 million
Here's why WhiteHawk is the Next Tech Stock Pick of the Year: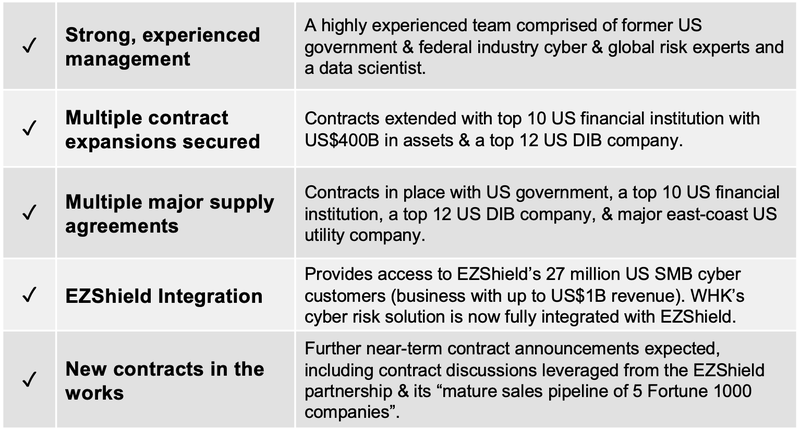 WhiteHawk Limited (ASX:WHK) is the first global online cybersecurity exchange and AI-driven cyber risk mitigation company, enabling small to mid-sized enterprises (SMEs) to take smart action to identify and address cyber risks.
WhiteHawk sells cyber products and services to SMEs — businesses with revenues of up to US$1 billion — from referrals or 360 Cyber Risk Framework vendor companies via its online cybersecurity exchange platform.
The company also sells its 360 Cyber Risk Frameworks and Risk Scorecards to large corporations and government organisations and their supply chain and vendor companies. Additionally, it provides executive cyber risk consulting services to large government and industry enterprises.
It's also the Next Tech Stock's top pick of the year.
We made that call back in May when the company announced it had been awarded two consecutive major sub-contractor roles working to secure US federal governments departments.
Since then then the stock has gained plenty of investor interest — the share price bouncing off a low of 4 cents last September to reach more than 15 cents per share in May.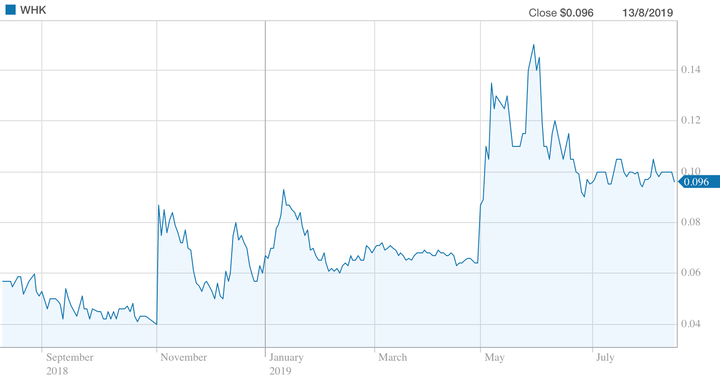 Contract extension with top 10 US financial institution
WhiteHawk today confirmed a contract extension with its top 10 US financial institution customer for business and cyber supply chain management, providing for cyber risk analytics for up to 50 companies.
The initial US$325,000 (A$479K) contract was signed back in May last year and was the company's first sale of its 360 Cyber Risk Framework. The contract involved identifying the financial institution client's exposure to business and cyber security risk through its 50 most critical sub-contractors.
As mentioned, it can't be named, but this customer, is a major US financial institution that holds nearly US$400 billion (A$589B) in total assets and is well-known for its industry leadership.
Not only has WHK successfully extended its existing contract, but it has transitioned the customer to its advanced offering of the 360 Cyber Risk Framework. This version includes the newly launched Business Risk Platform from Interos and the WhiteHawk Cyber Risk Scorecards.
This contract extension is the continuation of an initial multi-phase contract started in 2018 for a total of over US$680,000 (A$999K).
Framework continues to provide business and cyber risk continuous monitoring, alerting, prioritisation and mitigation services for over 50 vendor companies for US$249,000 (A$367K).
Long term contract open competition is still under deliberation, but this contract will allow the customer to continue to effectively execute their Vendor Risk Management Program on the comprehensive business ecosystem dashboard that includes business, technical, and security risks.
The customer contracted with WhiteHawk to implement a comprehensive 360 Cyber Risk Framework which includes provisioning of an online Software as a Service (SaaS) subscription augmented by cyber risk management consulting services.
Through regular automated reporting, the customer will maintain a Cyber Risk Rating baseline for key suppliers, receiving actionable business and cyber intelligence and gaining visibility and transparency into the cyber health and status of its suppliers.
The customer will receive WhiteHawk Cyber Risk Scorecards for 30 suppliers and Risk Portfolio reports. The Cyber Risk Scorecards provide detailed cyber risk reporting on an individual company basis.
These reports provide risk context and solution insights based on WhiteHawk Cyber Risk Analytics and vendor matching. The Risk Scorecards summarise the findings and solution options for each vendor to act upon, for increasing their cyber maturity and resilience and the Risk Portfolio Report allows the customer to view trends across the entire set of vendors, providing an executive level view of supplier performance over time.
WhiteHawk CEO Terry Roberts explained that "having important Financial Sector customers renew their 360 Cyber Risk Frameworks with WhiteHawk is critical to our credibility and growth".
WHK: Next Tech Stock's pick of the year
The above is the second contract extension won by WHK in recent months — the first being an extension with a top 12 US Defense Industrial Base (DIB) company back in mid-June for supply chain risk management.
WhiteHawk continues to make substantial progress in its technological developments, and along with its management team, its contract signings and partnerships accrued to date, plus opportunities still in the pipeline, confirm it as our Next Tech Stock pick of the year.
---