Can Vulcan's Zero Carbon Lithium™ Deliver Emission-Free Cars?
PUBLISHED: 22-11-2019 10:21 a.m.
There is a paradigm shift sweeping the globe right now – with trillions of dollars being poured into ethical investments.
Investing in companies that deliver social or environmental benefits – as well as benefiting investors back pockets is known as Impact Investing.
And if that's the first you have heard of this term – get ready to hear it a whole lot more:
Vulcan Energy Resources (ASX:VUL) is a little known, $5.8M stock at the vanguard of the Impact Investing movement – and this company has grandiose ambitions.
It's setting itself up to deliver a world first: a unique lithium production process that satisfies the world's desire for zero carbon electric vehicles, and its doing it in the heart of Europe – Germany – right where Elon Musk is building his first European gigafactory.
And whilst Elon gets the headlines, this is just one of many gigafactories being built in Europe over the coming years.
Germany is home to a number of large automakers including Volkswagen, BMW and Mercedes, who are seeking to supply Europe's hungry electric vehicle market.
While the widely-held image of electric vehicles is clean and green, their manufacture and raw material supply chains actually have a significant carbon footprint.
For instance, Europe has no domestic lithium production, the battery material is sourced from hard rock or salar-type brine sources, which is then processed and transported to battery manufacturers and automakers in Europe, generating significantly more CO2 emissions than the manufacture of vehicles with traditional internal combustion engines.
So not only does the EU produce no battery-quality lithium hydroxide, there is no carbon-neutral product available.
The nature of extracting lithium from planet earth is not something often discussed – and it's at extreme odds with the industry's environmentally friendly image.
It is an issue that urgently needs to be addressed.
Located at the heart of the European auto and lithium-ion battery industry, Vulcan is working to bring "Zero Carbon" lithium to Europe's EV supply chain.
Vulcan intends to produce battery-grade lithium hydroxide from hot sub-surface lithium-rich geothermal brines pumped from wells, while generating a renewable energy by-product.
The early stage company has by far the largest lithium project in Europe — a globally significant Exploration Target of 10.73 - 36.20Mt of contained Lithium Carbonate Equivalent (LCE), at its project in the Upper Rhine Valley of Germany.
Europe, being a densely populated region, has few locations where producing lithium is possible from traditional hard-rock sources even if lithium is present, so given this project's location, its low impact extraction method and its potential scale, it's in a perfectly position to serve the growing German and European EV industry.
This is an opportunity with significant potential that has not yet been reflected in the company's share price.
Consider that the company has a tiny Enterprise Value – with a current market capitalisation of just A$5.82 million — and A$3.9 million cash in the bank at September 30... plus what could soon be confirmed as Europe's largest lithium resource.
Let's unpack this emerging story in more detail: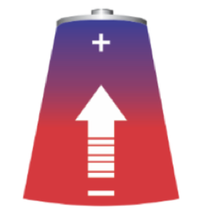 Vulcan Energy Resources
ASX:VUL, FWB:6KO
Market Capitalisation: $5.82 million
Share Price: $0.12
Cash in bank: A$3.9 million (at September 30)
Here's why I like Vulcan Energy Resources: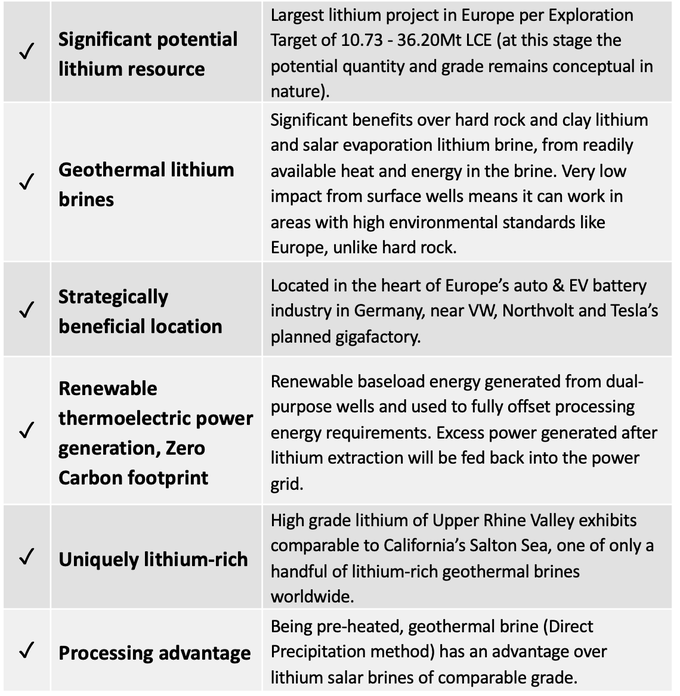 Aiming to become the world's first producer of Zero Carbon LithiumTM, Vulcan Energy Resources (ASX:VUL), formerly Koppar Resources (ASX:KRX), successfully completed the acquisition of the Vulcan Lithium Project in Germany's Upper Rhine Valley in early September.
The recent change of name better reflects the company's focus on its Vulcan Zero Carbon Lithium Project and the opportunities on offer in that space.
Vulcan is now close to completing a Scoping Study that it commenced in August, for which Hatch Ltd is process engineering lead. And in what could prove to be a major catalyst for the company, it intends to convert some of this Exploration Target to a maiden JORC resource during the fourth quarter of 2019 by generating new geochemical data and evaluating existing seismic and well data.
The project's Exploration Target ranges between 10.73 to 36.20 million tonnes of contained LCE, making it potentially the largest lithium project in Europe and globally significant.
The Vulcan Lithium Project is strategically located, in a region well-serviced by local industrial activity, at the heart of the European auto and lithium-ion battery manufacturing industry.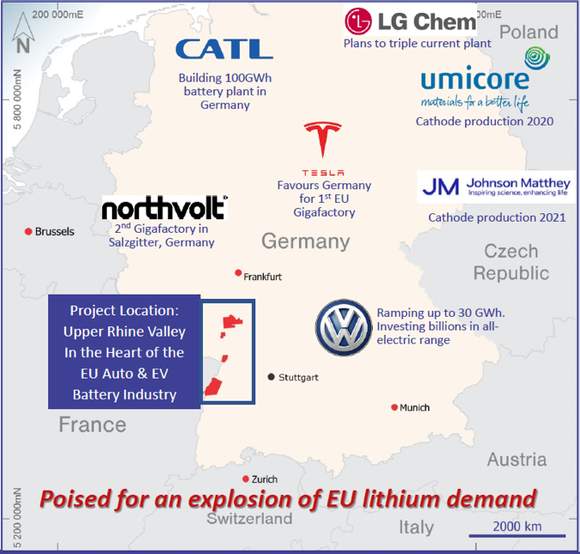 Vulcan is located in the heart of Europe's auto and EV battery industry in Germany — not far from Volkswagen, Northvolt and Tesla's planned gigafactory.
Germany has long been the home to many of the world's biggest car makers and is now emerging as the epicentre of EVs in Europe. It has major government support too — Chancellor Angela Merkel has just boosted incentives for EVs. Earlier this month for instance, it lifted cash incentives for consumers by 50% to as much as €6,000 (A$9,775) per electric vehicle.
Lithium market
Lithium needs investment of US$30 billion to meet long-term demand says Canaccord Genuity's Reg Spencer.
Yet the lithium global market was worth just US$4 billion last year, so the industry is going to need significant investment from equity markets to reach that US$30 billion and deliver adequate supply.
Spencer is positive on the long-term outlook for battery metals, speculating that this could lead to a return to the supply crunch and lithium prices back to levels last seen in 2017. Canaccord expects lithium demand to increase to almost one million tonnes per year by as soon as 2025 largely driven by demand for passenger electric vehicles.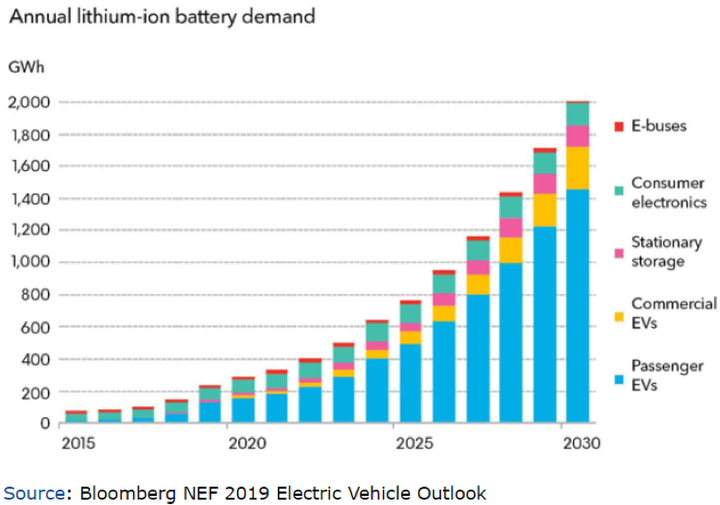 This comes as a severe battery-quality lithium supply shortfall is developing in the EU, yet no battery-quality lithium hydroxide produced there, let alone a CO2-neutral product.
This chart highlights the current and anticipated European battery production capacity and demand in 2019, 2023 and 2028. Clearly, there will be significant demand to be met by lithium producers.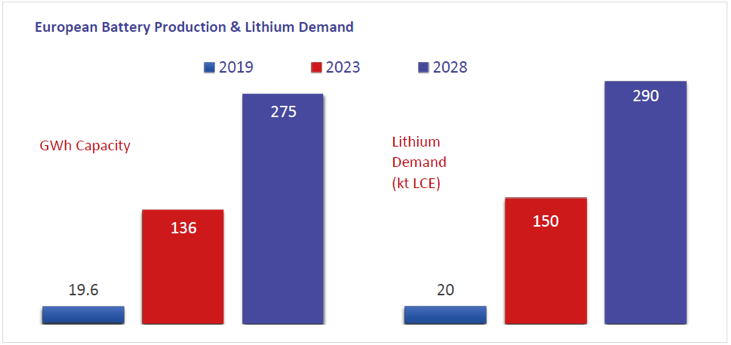 Forecast battery production in EU and associated lithium demand
Carbon neutral batteries
Battery electric vehicle raw material supply chains have a carbon footprint problem. There's no question here as it is impossible to producer CO2-neutral EVs through conventional lithium production.
As it stands, offsetting the current CO2 footprint of current lithium supply chain comes at a very high carbon cost.
However, manufacturers are actively trying to reduce the carbon footprint of their battery supply chains to bolster the credibility of their vehicles which will deliver premium pricing for lowering the carbon footprint in production.
The European Commission has taken a stance here, with a plan to issue "CO2 Passports" to battery electric vehicles detailing their full CO2 footprint.
Volkswagen (FRA:VOW), which owns the Lamborghini, Porsche, Bugatti, Audi and Skoda brands, is leading the way in developing the first carbon neutral vehicles. The company has committed to 100% green power in battery cell production along with 100% green power all the way through a vehicle's life.
The car maker is placing great importance on having a CO2-neutral production supply chain for its extensive new EV line-up. It has put sustainability on par with price, using a raw materials purchasing metric and has given its suppliers an ultimatum on carbon emissions.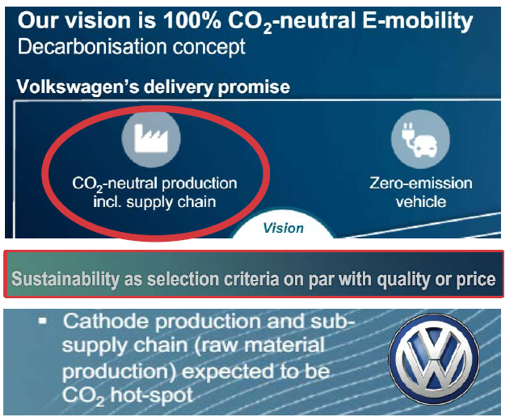 Volkswagen is committed to develop a CO2 neutral production supply chain for its new EVs
Like the wider market for EVs, demand for the low, or ideally zero carbon emitting vehicles will only grow with more manufacturers demanding carbon neutral production supply chains.
Zero Carbon LithiumTM is close - Vulcan Lithium Project
Achieving truly Zero Carbon EV production requires sourcing batteries made from carbon neutral lithium, or Zero Carbon LithiumTM.
There is no "zero carbon" lithium chemical product in the world at present as existing extraction, processing and transport routes are very carbon intensive, so offsetting the carbon footprint of the current lithium supply chain comes with a high cost.
Fortunately, the arrival of the Vulcan Zero Carbon LithiumTM Project will make the process a lot more straightforward for European manufacturers and their supply chains.
The project is on track to be Europe's and the world's first Zero Carbon LithiumTM project, a feat to be achieved by producing battery-grade lithium hydroxide from hot sub-surface geothermal brines pumped from wells. It will also produce a renewable energy by-product, without the need for environmentally damaging hard-rock mining or salar type brines operations.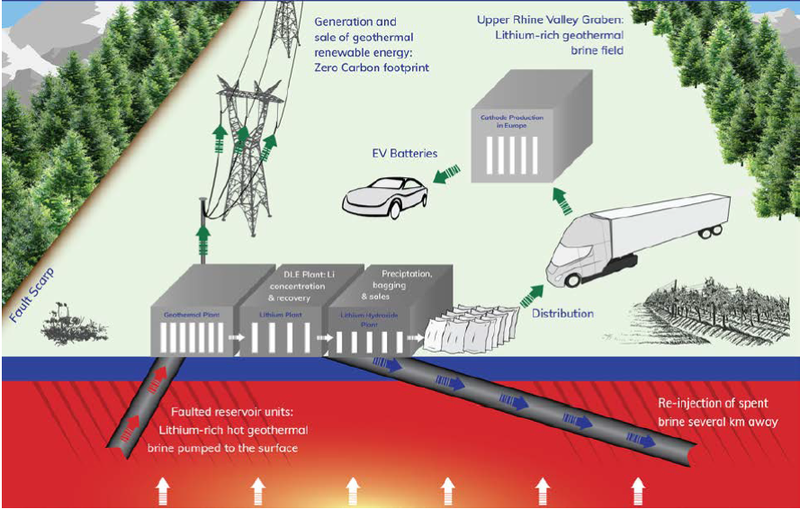 Schematic of the Zero Carbon Lithium project
In addition to its strategic location, there are a number of benefits of Vulcan's direct lithium extraction (DLE) from geothermal brines over lithium production from hard rock or salar brines.
Geothermal lithium is ready for deployment to produce consistent, battery quality lithium hydroxide (LiOH.H2O) products. It also has a much favourable processing time over other salar type brines and hard rock sources of hours instead of months, and it is not dependent on weather conditions.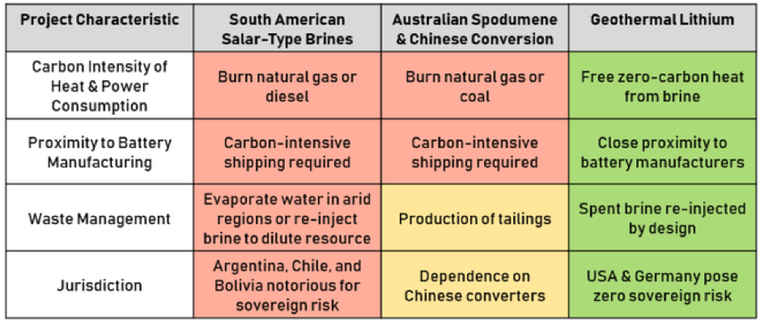 A more detailed comparison and explanation of geothermal lithium can be found in this Finfeed.com article: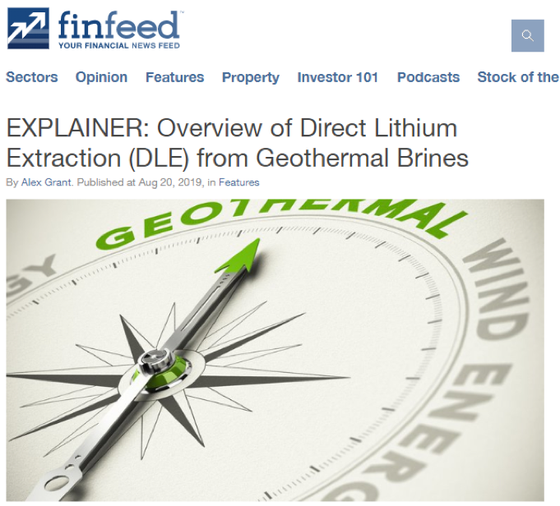 Vulcan has developed a unique flowsheet, making use of binary cycle geothermal electricity and heat to create Zero Carbon Lithium product: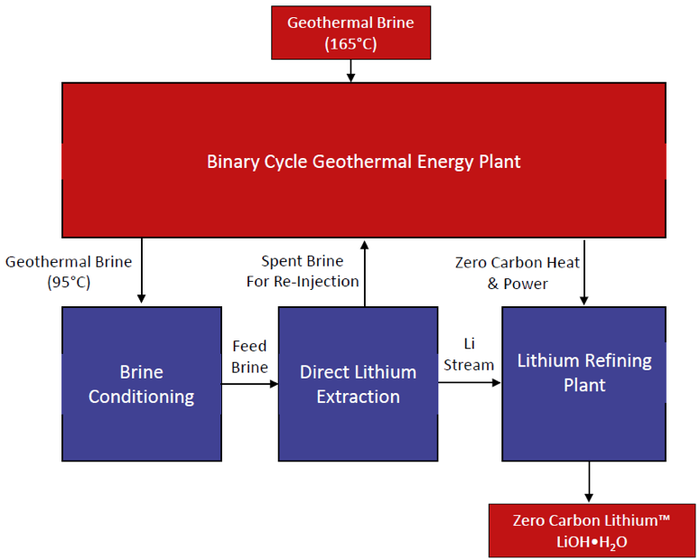 Zero-Carbon LithiumTM: Unique Flowsheet
Lithium peer comparison
While Vulcan is positioning to become Europe's first zero carbon lithium producer, let's take a look at the company compared its global peers.
Here you can see the contained lithium carbonate equivalent (LCE) of the Vulcan Lithium Project compared to that of A$398 million capped Lithium Americas (NYSE: LAC), A$648 million Orocobre (ASX:ORE), and A$122 million Millennial Lithium (CVE:ML) — along with the contained LCE of each.
The red bars represent contained LCE, while the blue line is market cap of each:

Chart compares resources from companies at different stages of development - Vulcan Lithium Project which is an Exploration Target expressed as a range of values
In summary, Vulcan Lithium Project has lowest market cap of the group at sub-A$8M, while its maximum exploration target is the highest of the group and its minimum exploration target is the second highest.
Upper Rhine Valley (URV)
As mentioned, Europe currently has no local battery grade lithium production, but the Upper Rhine Valley (URV) geothermal brine field — the location of the Vulcan Lithium Project — does exhibit lithium values one to two orders of magnitude greater than typical geothermal brines: up to 210mg/l lithium and commonly greater than 150mg/l lithium.
Typical geothermal brine fields have lithium values in the order of 1-10mg/l. While areas with heated brines are common, the fluids are rarely both lithium rich and high flow rate.
So while the Upper Rhine Valley has the same order of magnitude of lithium grade as South American lithium salar brines, it has the processing advantage of readily available heat and power.
In fact, the only other known geothermal field with similar lithium grades and flowrate is Salton Sea, California.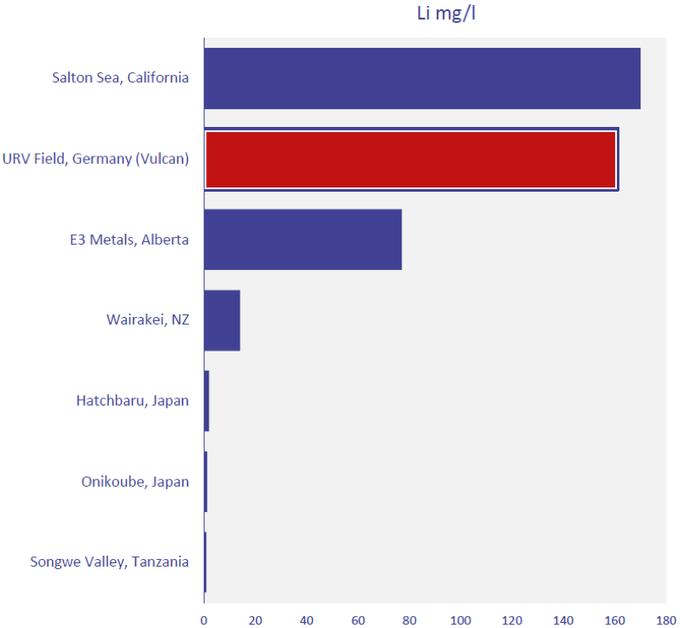 Here is the CO2 footprint every tonne of lithium hydroxide produced, as you can see the geothermal Vulcan Zero Carbon Lithium Project would have significantly net zero carbon emissions: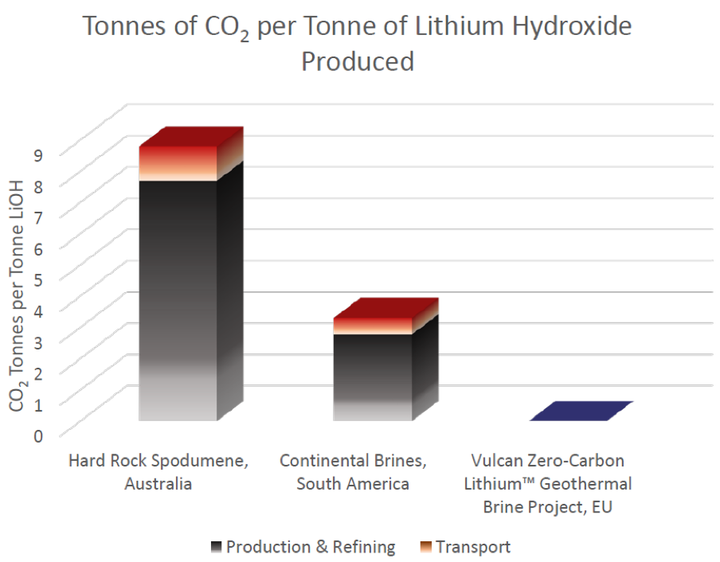 CO2 footprint of lithium sources relative to Vulcan Zero Carbon LithiumTM Project
Vulcan targeting 2023 Zero Carbon LithiumTM production
Vulcan is right in the thick of the battery electric vehicle revolution. Demand for EVs and the lithium-ion batteries that power them is expected to see massive growth over the coming few years.
Add to that the increasing pressure to deliver batteries produced via a carbon neutral supply chain along with its distance to battery and EV manufacturer customers and Vulcan looks even more attractive.
In the near term, Vulcan is soon to complete a Scoping Study that it commenced in August.
The company expect to then report a maiden JORC lithium resource during the fourth quarter of 2019. Keep in mind the project's current substantial Exploration Target of 10.73 to 36.20 Mt of contained Lithium Carbonate Equivalent (LCE). It is still early days and at this stage the potential quantity and grade remains conceptual in nature as there hasn't been enough exploration to date to estimate a Mineral Resource.
This could prove to be a major catalyst for the company and could see Vulcan's market valuation rise off its current sub-$10 million level to better reflect the worth of the company's assets and the huge potential on offer here.
From there, the company remains on track — although it's still in the early stages — to deliver the Europe its first Zero Carbon Lithium production in 2023.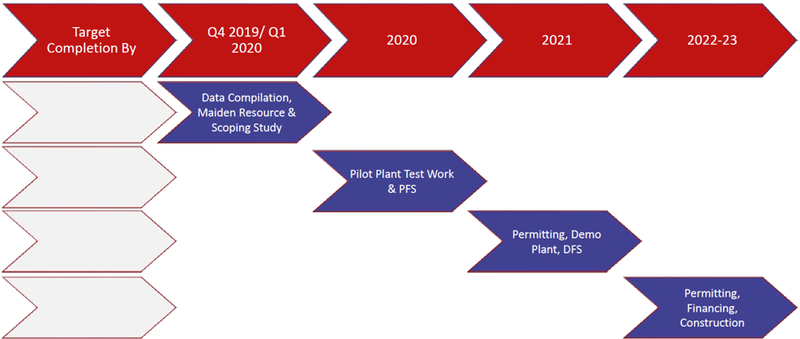 ---