AYR Enters Joint Venture With RIO: Is a Tenement Buy-Out Imminent?
PUBLISHED: 02-07-2018 10:29 a.m.
When Next Small Cap last set its sights on Alloy Resources (ASX:AYR), the company was heavily exploring its NSW's-based Ophara Gold Project in the hope of finding a large cobalt Resource.
Its proximity to Cobalt Blue's (ASX:COB) nearby Thackaringa Cobalt Project, which has produced 50,000 tonnes of cobalt so far, provides a positive sign that this company is in the right place at the right time.
In recent news, AYR announced that it found strong cobalt targets at Ophara, where first pass air core (AC) drilling will commence this month.
Ophara's western neighbour, Havila Resources (ASX:HAV), recently announced the discovery of high grade cobalt rock chip samples. Havilah's Taipan prospect sits on the boundary of the Ophara Project and is where AYR has discovered soil anomalies.
Over in the West, AYR was also making good progress at its Horse Well Gold Joint Venture Project, located 50 kilometres from $3.9 billion-capped Northern Star Resources' (ASX:NST) Jundee Gold Mine.
In late June, AYR announced high grade RC drill results. A total of 14 holes for 1877 metres were completed at the Warmblood, Filly SW and Dusk til Dawn prospects, with results showing the potential for high grade gold mineralisation which can occur over extensive strike lengths.
Further, AYR has acquired an option for the nearby gold-prospective Jindalee exploration licences.
We have seen a steady stream of news coming from the AYR offices including the addition of more ground at Horse Well and a capital raising that put $1.15 million in the coffers. However, it is the latest news that could put AYR right on the West's successful explorer map.
The news all has to do with mining giant Rio Tinto (ASX:RIO)...
Rio Tinto and Alloy Resources have entered into an exploration farm-in deal that would give RIO access to land abutting its southern boundary.
The agreement looks to be part of RIO's plan to tie up adjacent ground that, if rumours are true, is highly prospective for copper. Recent satellite images of drill holes and a worker camp on RIO's ground seem to support this rumour.
This is all positive movement for AYR at its Telfer Project, as it will use the intellectual knowledge garnered by RIO since 2015, to accelerate its own potential for gold mineralisation.
Of course success here is not guaranteed, so if considering this stock for their portfolio investors should seek professional financial advice for further information.
We will get into the details of the RIO deal shortly, but it is clear AYR isn't standing still with either its WA or NSW cobalt ambitions. The Rio Tinto JV is another big step forward for a company looking to vastly improve its $10 million market cap.
With that in mind, let's launch into the latest news from: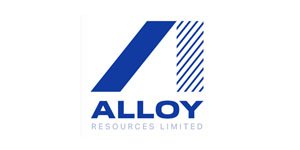 Alloy Resources

When we last caught up with Alloy Resources (ASX:AYR) in the article AYR Back on the Gold Horse With Cobalt Results Also Due in Weeks, the company was full steam ahead with multiple projects spanning serious territory across Australia.
There has been several significant developments since that article, with the most recent being the most eye-catching — a JV with $131 billion-capped Rio Tinto.
Going down to Rio
With territory that abuts RIO's Paterson Province exploration license, some may speculate that it was only a matter of time before AYR and RIO connected through AYR's Telfer Project.
Here's a look at the regional location map: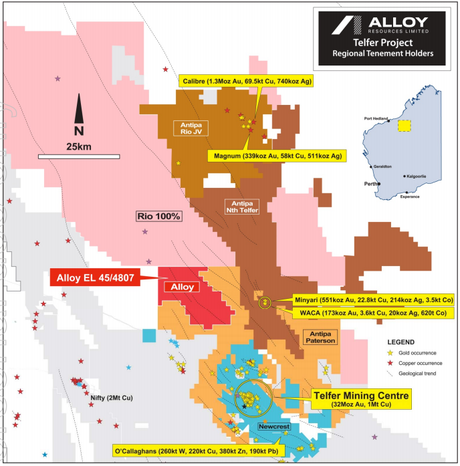 As you can see, RIO's large landholding (in pink) directly abuts AYR's tenements (red), which aren't small themselves.
The joint venture is with Rio Tinto subsidiary, Rio Tinto Exploration Pty Ltd (RTX), and gives the mining giant access to explore Exploration Licence EL 45/4807, as seen above.
Through the JV, RTX will reimburse AYR's previously spent $40,000 in costs and has the right to earn a 70% joint venture interest in the tenement by completing expenditure of at least $500,000 and at least 500 metres of drilling within three years.
Full details can be found in the relevant ASX announcement, but in short there are also provisions for RIO to accumulate 100% ownership of the tenement in exchange for a royalty prepayment of $1.5 million and an ongoing 1.25% royalty, subject to two elections by AYR for RIO to continue sole funding of the project.
AYR Executive Chairman, Andy Viner, believes RIO's interest will help accelerate definition of the potential for gold-copper mineralisation within the tenement.
The agreement has certainly attracted the attention of broader media organisations: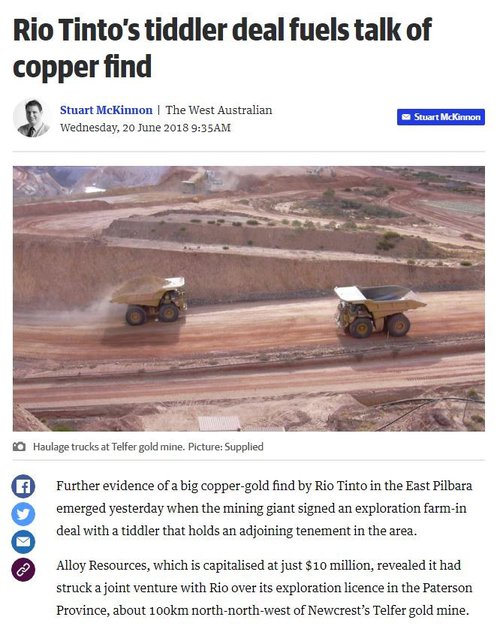 AYR has the backing of historic first pass copper and gold drill results dating back to the 1990s. And now, the company is in a strong position to see modern exploration techniques and apply geological models to this data as it fast tracks the project to make the most of the RIO agreement.
Full steam ahead
While the RIO agreement was being deftly handled in the background, AYR's exploration has been moving along at a steady pace since we last caught up with the company in the article: AYR Back on the Gold Horse With Cobalt Results Also Due in Weeks.
That was in March, just after the company had acquired an option for adjacent high-potential tenements at its highly prospective Horse Well Gold Project.
It was also busy exploring its Ophara Cobalt-Gold Project in NSW, searching for a similar sized cobalt Resource to neighbour Cobalt Blue, which discovered 50,000 tonnes at the nearby Thackaringa Cobalt Project.
Since that update, the news has flowed freely. So let's break this flurry of news down.
Out at Ophara
With $1.5 million in the bank following a successful capital raise, AYR completed infill soil sampling of anomalies, as well as grid extension sampling.
There were minor variations in the total of 604 samples collected for multi-element analysis.
The results of the soil sampling program were released just a couple of weeks ago and found the existence of an extensive new cobalt mineralisation trend, with the potential for 20 strike kilometres of extensions to its Great Goulburn prospect.
This is a prospective total at this stage, so investors should take all publicly available information into account before making an investment decision in AYR.
Here's a look at the regional location of Ophara: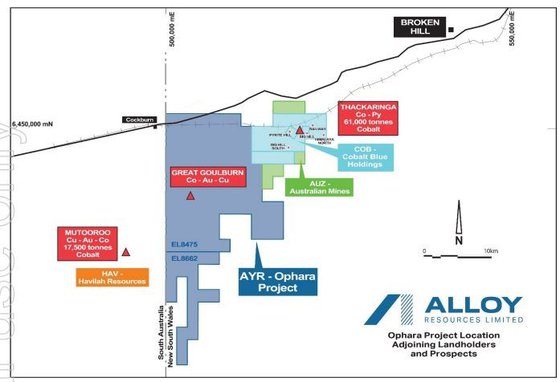 You can see how close it is to the $92 million capped Cobalt Blue and its 61,000 tonnes sitting at Thackaringa, as well as the $250 million-capped Australian Mines (ASX:AUZ).
Interestingly, this Broken Hill project has similar geology to Thackaringa.
As stated above, Ophara also neighbours Havila, which has just released exceptional cobalt results in the Mutooroo Cobalt District, reinforcing that company's belief in the prospectivity for major copper-cobalt discoveries. Havilah's Taipan prospect borders Ophara, where the infill soil sampling program has just been completed.
The infill soil sampling program occurred within a 60 square kilometre area surrounding the known Great Goulburn cobalt-gold prospect.
The aim of the program was to refine the definition of interpreted extensions and repetitions of the mineralisation outlined by initial soil sampling. Previous explorers did not conduct soil sampling programs as it was deemed to be ineffective due to transported cover.
However, AYR was able to reverse the trend and has been highly effective in defining strongly anomalous areas within the survey area that are extensive with individual trends being up to three kilometres in strike.
Importantly for AYR, infill sampling has shown the cobalt-gold mineralisation that outcrops at Great Goulburn continues under the soil cover over an extensive area.
Remember, the rock chip sampling has been limited to date, but seems to confirm gold and cobalt mineralisation on the trends... which is highly encouraging.
The company is planning to complete field inspection of the trends and rock chip anomalies and then will confirm where initial drilling will be completed, commencing some time around the end of June.
Horses for courses
While there has been plenty going on at Ophara, AYR's Horse Well Project is also moving along nicely. Back in April, the company added prospective ground to its project area after regaining full control of the Horse Well Gold Project Joint Venture.
AYR has pegged 114 square kilometres of vacant ground adjacent to Echo Resource's (ASX:EAR) Julius Gold Deposit north of Bronzewing.
The project, now known as Bronzewing North project, is located just 25 kilometres south of the recently optioned Jindalee ground at Millrose.
The area is highly prospective and initial reviews indicate limited exploration has been done previously, giving AYR a distinct advantage over this new area which comprises eight new Exploration Licence applications and 16 new Prospecting Licence applications.
You can read about the initial acquisition here: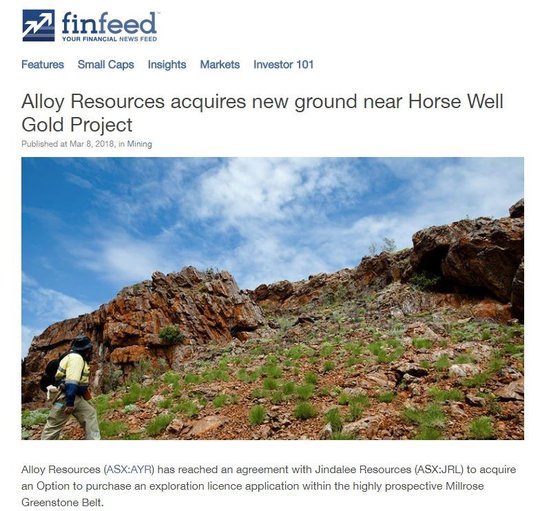 AYR completed a drilling program for a total of 1,877 metres total, with the results at Warmblood and Filly SW confirming that the Horse Well JV area has potential for high grade gold mineralisation that could occur over extensive strike lengths.
The company has stated mineralisation style can be narrow and in 'poddy' very high-grade shoots related to the Celia Shear system and needs tight targeted drilling. Within the project The Celia Shear has numerous prospects from soil anomalies to drill anomalies that demonstrates the significant exploration potential over a 60 kilometre strike length.
The Warmblood prospect has a well-defined mineralisation structure that extends over 700 metres strike length.
Warmblood RC drilling has confirmed high grade shoot development at depth. Results are:
AHWR 068
14 m at 8.38 g/t gold from 57 mdh, including
4 m at 20.08 g/t gold from 67 mdh, and
3 m at 10.05 g/t gold from 89 mdh
AHWR 069
15 m at 5.34 g/t gold from 83 mdh, including
7 m at 10.25 g/t gold from 85 mdh
Northern extension to high-grade Filly SW zone confirmed;
1 m at 18.15 g/t gold from 61 mdh
The kilometre long Warmblood-Filly SW mineralised zone is open to the north and south and at depth, with further aircore drill testing of extensions being planned.
The Dusk til Dawn prospect was previously drilled in 2014-15, yielding some excellent gold intersections, including:
DDRC014, 16 metres at 7.2 g/t gold from 109m, including 6 metres at 16.3 g/t from 116m.
DDRC001, 65 metres at 2.6 g/t gold from 50m, including 13 metres at 8.17 g/t from 50m.
AYR is searching for higher grade core to the mineralisation at Dusk til Dawn, with work to date strongly suggesting that the high-grade mineralisation is an intersection shoot not previously recognised.
A total of five RC holes were drilled for 1183 metres and 776 samples. Recently drilled holes have produced the following results:
ACDR011 8 metres at 1.91 g/t gold from 28 metres down hole
ACDR012 20 metres at 0.92 g/t gold from 100 metres down hole, and 13 metres at 1.04 g/t gold from 123 metres down hole
AYR is now waiting for final results for a major geochemical sampling program assessing new targets along the Celia Shear south of Warmblood. In addition it has also been reviewing JV drilling along the Celia Shear to the north of the Horse Well deposits at the Northern Dawn drill anomalies.
It is likely numerous targets will now be generated, with extensive first and second pass drilling required.
Looking forward
It's all about drilling and proving up its projects for AYR in the coming months. The agreement with RIO will help accelerate AYR's gold ambitions at Telfer: just the association with RIO and its potential to acquire the entire landholding could be enough to pique investor interest.
Although any acquisition is speculative and investors should seek professional financial advice if considering this stock for their portfolio.
Then there's the fact that the company holds large, underexplored tenements near Cobalt Blue's Thackaringa Project.
Meanwhile, AYR is progressing nicely at Ophara and Horse Well where drilling programs and assays are either in train or due shortly.
In short, AYR is in a strong position at all of its projects and is in a very active phase. So, as we turn into a new financial year, we'll keep an eye on the company's movements as it looks to grow its $10 million market cap.
---